My mom has been making these bars for years. My mother doesn't necessarily like to cook, but she does like to bake and she has a handful of select recipes that are super famous and popular in our family. This recipe for Chocolate Scotcheroos is pretty common and I've seen it a number of different places, including a Rice Krispies cereal box and Karo light corn syrup bottle, but that's not where my mother first came across it.
She actually saw this recipe in Seventeen Magazine back when she was in high school (so, approximately the late 1960s!) in an article called "Bake With a Boy." Hysterical. She says to this day that it was a "great article" and she has two other very popular, tried-and-true recipes from that same article (to be shared at a later date).
Also, according to her, one of the other included recipes, but not one we still use today, was for chocolate chip cookies baked in a pan and cut into bars – because that was a new concept then. Oh, the 60s. How I wish I could travel back to that  seemingly wonderful time!
These are great because they're really quick, easy, and don't require baking. My entire family loves them, but they are a very favorite of my brother's especially. As a kid, I wasn't personally very partial to the butterscotch component. While I love butterscotch, it wasn't my jam to toss it in with the ever-timeless combo of chocolate and peanut butter.
Chocolate and peanut butter are a dynamic duo all on their own and don't really need butterscotch's help. So for me, she used to spread half the pan with chocolate-only topping and then the rest would include the butterscotch chips. These days, I've grown to like the butterscotch and when I make these, I just follow the original. Other than doubling the topping…. because, well, why wouldn't you? And I may or may not be a bit imprecise about how I measure the peanut butter too….
Basically, these are just trashed-up Rice Krispie treats when you get down to it. But they are so, so good, and they are a tradition in my family. If you've never tried this very old, classic recipe, I hope you will now. Let me know what you think!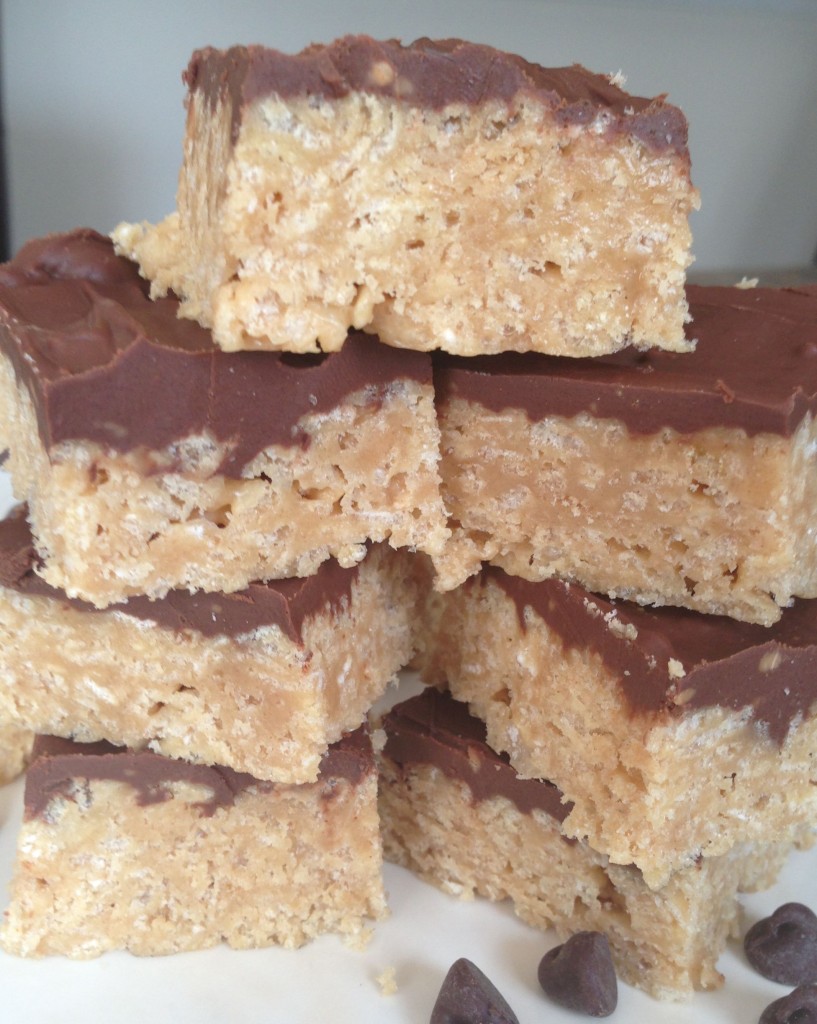 Chocolate Scotcheroos:
1 c. sugar
1 c. light corn syrup
1 c. creamy peanut butter
6 c. Rice Krispies or crispy rice cereal
1 c. (6oz.) semi-sweet chocolate chips
1 c. (6oz.) butterscotch chips
Combine sugar and light corn syrup in a large saucepan. Cook over moderate heat, stirring frequently, but only until mixture bubbles. Remove from heat. Stir in peanut butter and mix well. Add Rice Krispies and stir until well-coated. Press mixture evenly into a buttered 9×13 pan. Melt semi-sweet chocolate chips and butterscotch chips together over very low heat. Stir until well-blended. Remove from heat and spread over Rice Krispies mixture. Cool until firm. Cut into bars.