A soft and tender cake-like pumpkin cookie with pumpkin pie spices, slathered with an amazing brown butter icing! This Pumpkin Cookies with Brown Butter Icing recipe is the pumpkin recipe that started the whole pumpkin obsession for me, and they do not disappoint!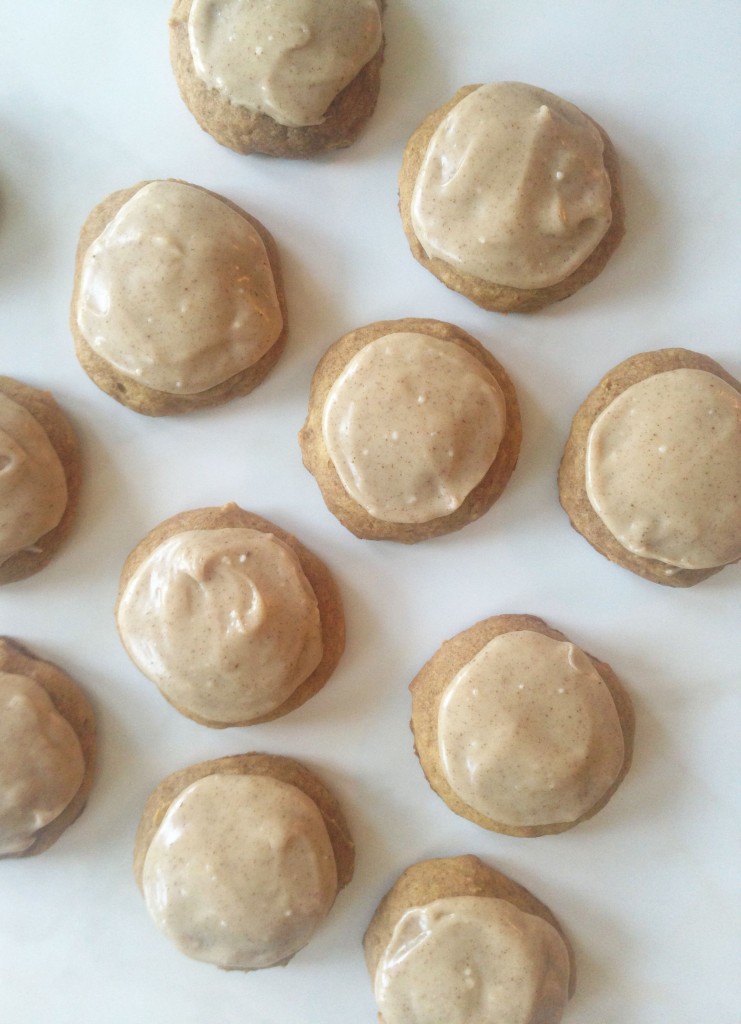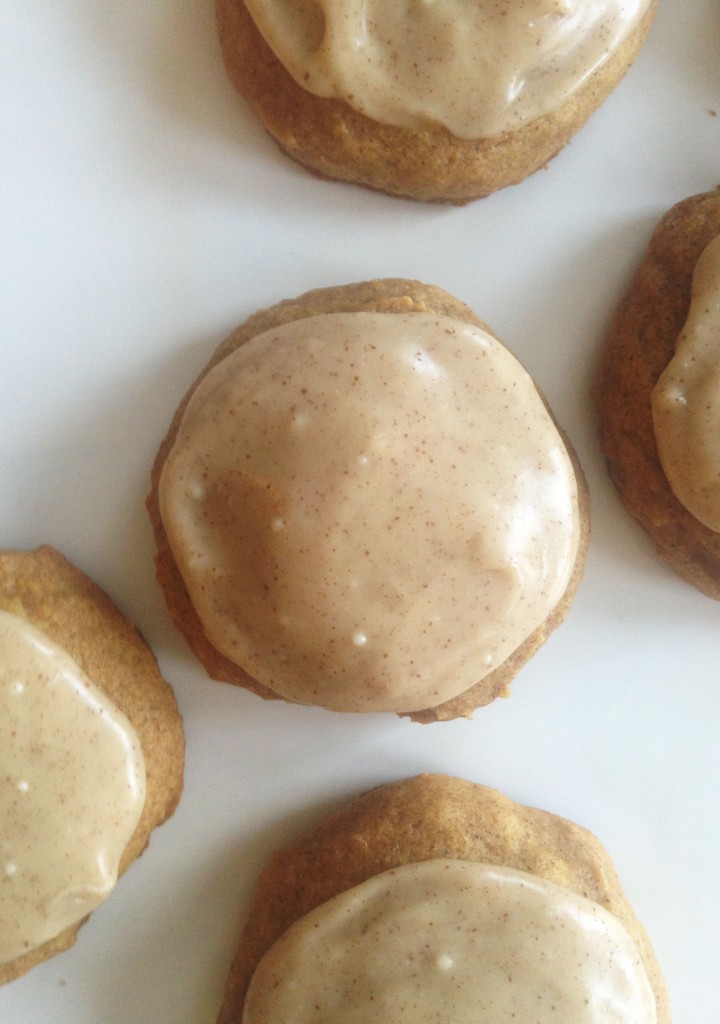 Hello, friends! How's everybody? Today we are chugging along with more pumpkin things. Are you sick of it yet? Good. Me neither! I'm going to level with you… these are cakey pumpkin cookies. Because, as of right now, I don't have a perfect chewy pumpkin cookie recipe that I really love. But I'm working on it. Just you wait. (The wait is over: you NEED to try these Pumpkin Spice Latte Cookies! They're the perfect chewy pumpkin cookie! They're loaded with spice, and a hint of coffee too.).
Today though, this is what I'm giving you: a cakey pumpkin cookie. A recipe for pumpkin mini-cakes labeled as cookies. No matter. These Pumpkin Cookies with Brown Butter Icing are still perfect and lovely. A cakey pumpkin cookie still has its time and place! These are ridiculously delicious. This recipe is old, old, old. It's another one that was born out of my law school days when the only life I had outside of studying was experimenting in my kitchen. It's tried-and-true deliciousness for the ages.
These Pumpkin Cookies with Brown Butter Icing are soft and tender little pillows of pumpkin goodness combined with the best fall spices. It doesn't stop there. They are then slathered in an amazing brown butter icing. If there is something better than brown butter in this world, then I'm not aware of it. You can also find it on these Brown Sugar Maple Bacon Scones, and a slew of other things on the blog. I'm obsessed with brown butter, basically. I even have a brown butter buttercream recipe. It's unreal.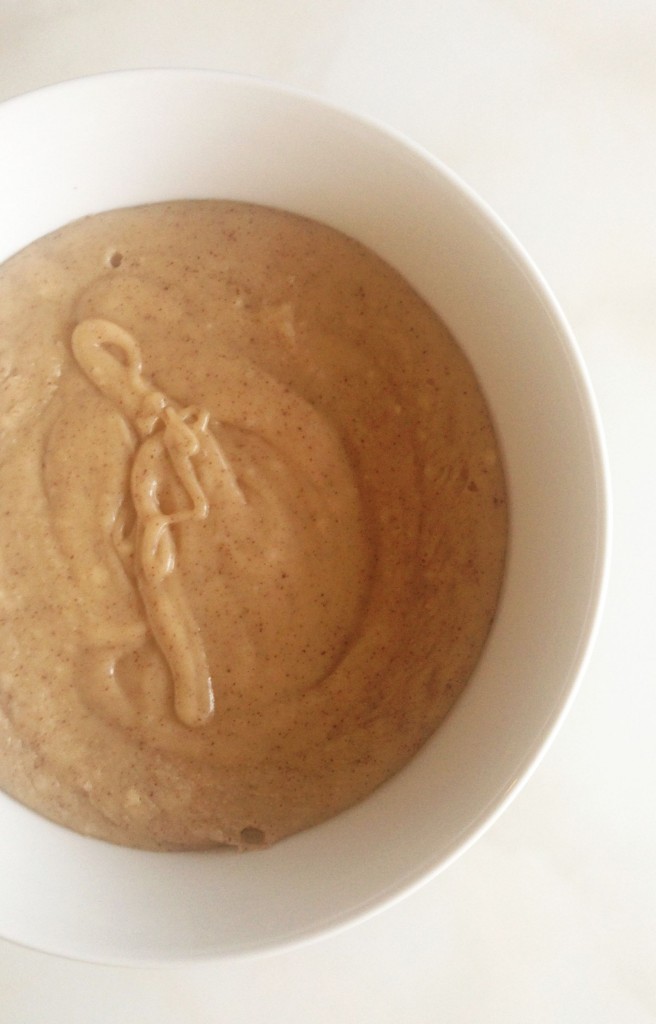 These Pumpkin Cookies with Brown Butter Icing are a perfect and balanced combination of some of the best flavors of fall. Like a party for autumn in a cookie (Errr, a mini-cake?). Have a fall party in your mouth! Make this pumpkin cookie recipe. You will not be sorry. I made them last week. We ate them all in about 2 days. And now they must happen again.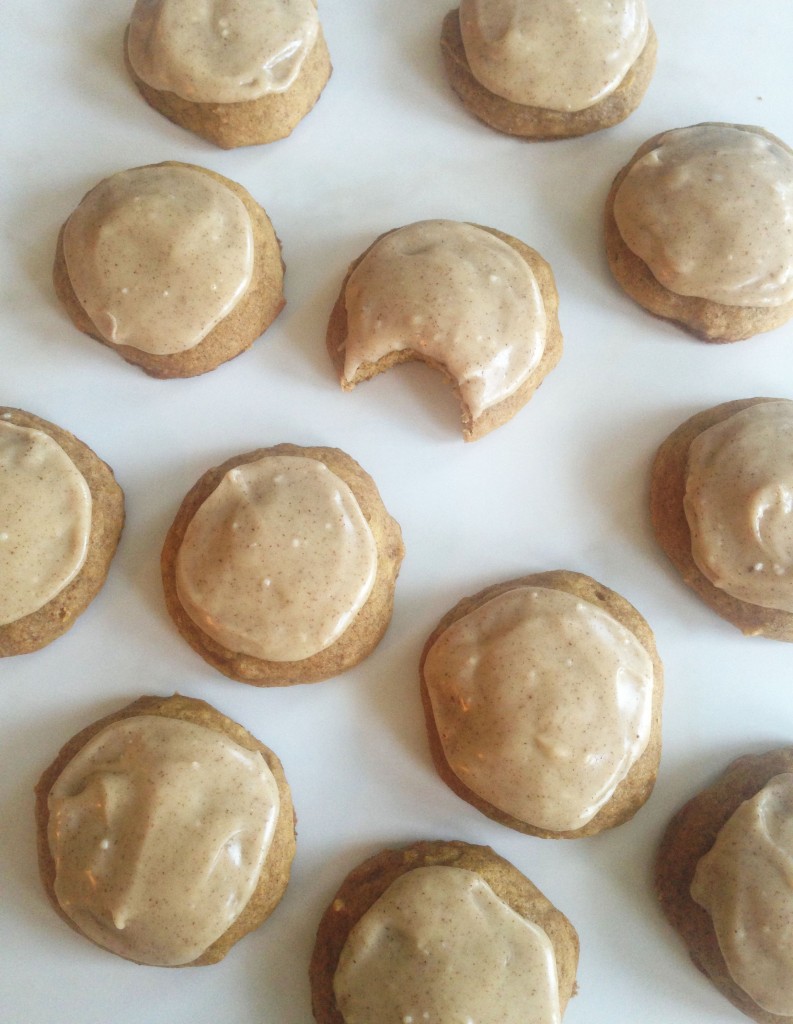 Yes, you caught me. There are little powdered sugar clumps in the icing. Let's pretend those aren't there, shall we? Also… the cookie with the bite looks like Pac-Man, doesn't it? Adventures in learning how to photograph food, people. That is what you're witnessing here. 🙂

Pumpkin Spice Cookies with Brown Butter Icing
A soft and tender cake-like pumpkin cookie with pumpkin pie spices, slathered with an amazing brown butter icing!
Ingredients
Cookies:
½ c. butter, softened
¾ c. white sugar
¾ c. packed brown sugar
1 c. canned pumpkin puree
1 egg
1 tsp. vanilla
2½ c. flour
1 tsp. baking powder
1 tsp. baking soda
2 tsp. cinnamon
½ tsp. nutmeg
¼ tsp. clove
1 tsp. pumpkin pie spice
Icing:
3 c. powdered sugar
½ c. unsalted butter
¼ c. evaporated milk
2 tsp. vanilla
Directions
Cookies:
In a large mixing bowl, cream together the butter and sugars.
Add pumpkin, egg, and vanilla; beat until well-blended.
In another large bowl, combine remaining ingredients (all the dry cookie ingredients).
Add dry ingredients to pumpkin mixture and beat until just combined.
Drop on cookie sheets by tablespoonfuls, and flatten slightly.
Bake at 350 degrees for 8-10 minutes, or until edges are lightly browned.
Remove cookies to a wire rack. Cool completely.
Icing:
Put the powdered sugar in a medium bowl, and set aside.
Melt butter in a small saucepan over medium heat, stirring frequently, until golden brown. (About 6-8 minutes.)
Remove from heat and immediately pour the browned butter over powdered sugar.
Whisk until somewhat mixed (it won't be quite enough liquid to saturate the sugar, but mix until butter is absorbed).
Add evaporated milk and vanilla, and vigorously whisk until smooth.
Spread approximately 1 tablespoon of icing onto each cookie. Enjoy!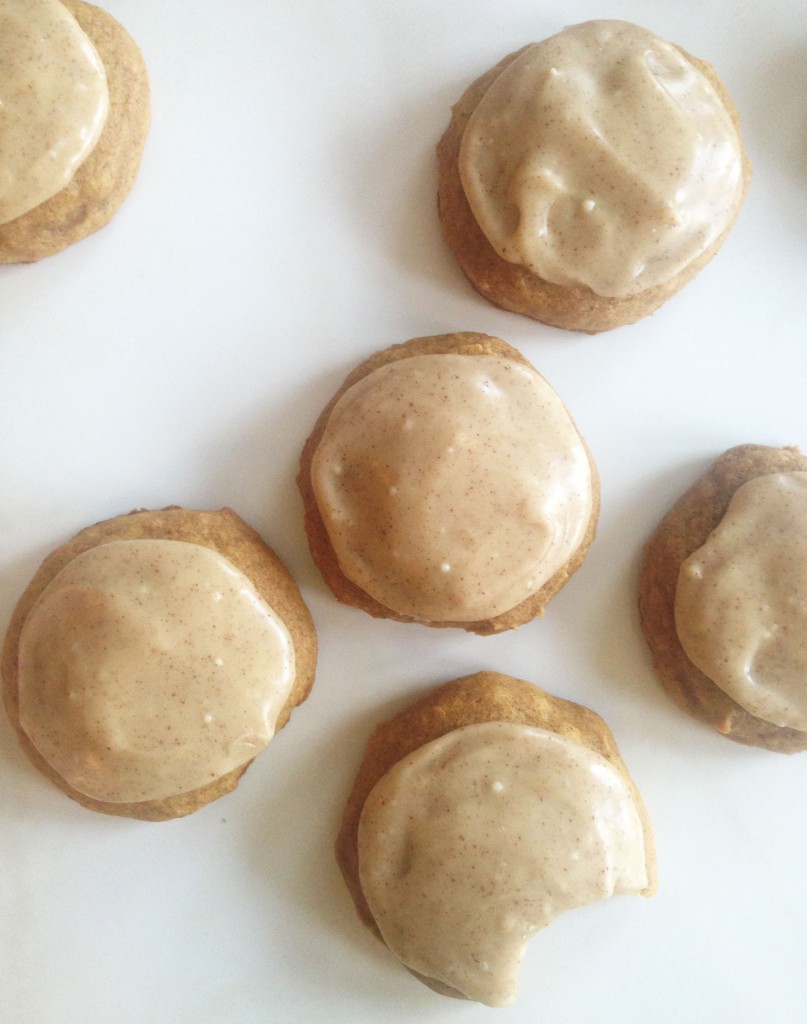 I hope you love these Pumpkin Cookies with Brown Butter Icing!! Please let me know if you try them!