This decadent and surprisingly easy dessert features a layer of fudgy brownie, a layer of mint chocolate chip cheesecake, and is topped with chocolate ganache!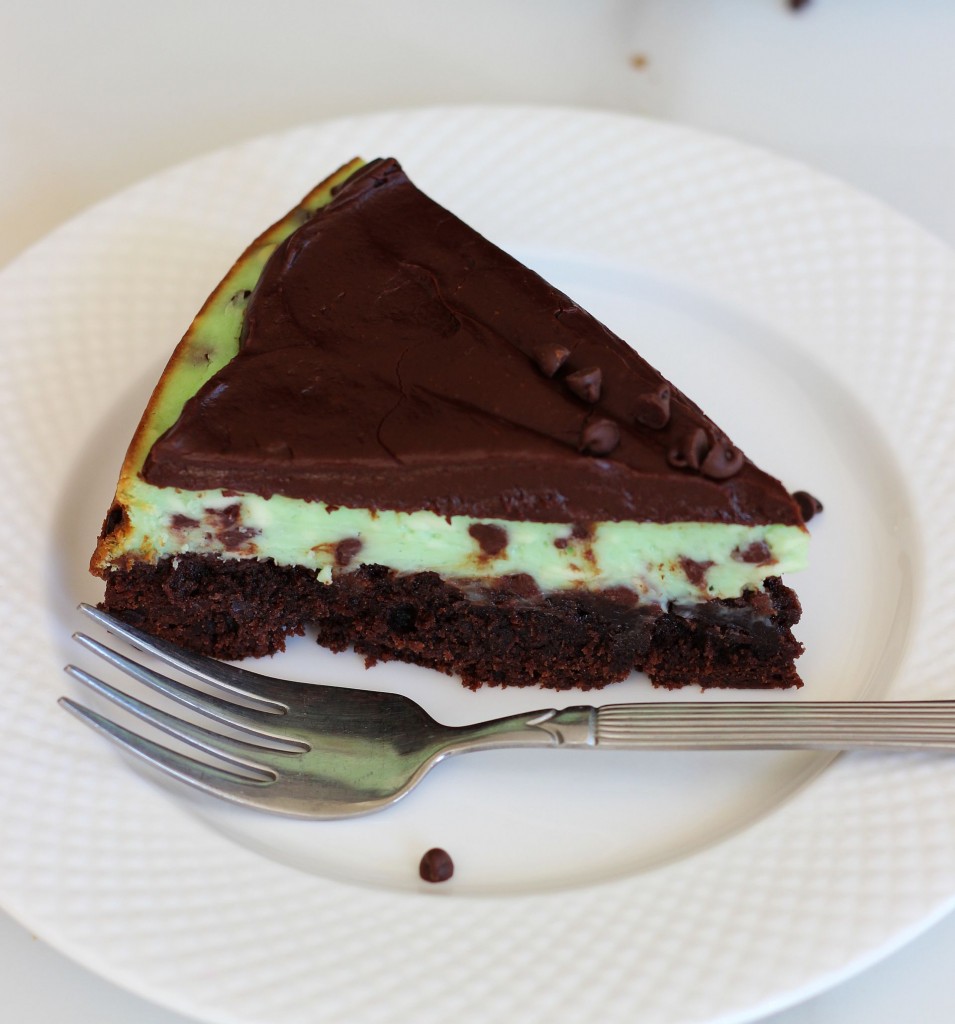 How in the world is it December already? I can't get over how fast this year flew by. Despite that I've been baking Christmas-themed desserts for a few weeks now, listening to Christmas music, watching my favorite holiday movies, and finally have all my decorations out, I'm still in denial that it's coming up in 3 1/2 weeks. WHAT!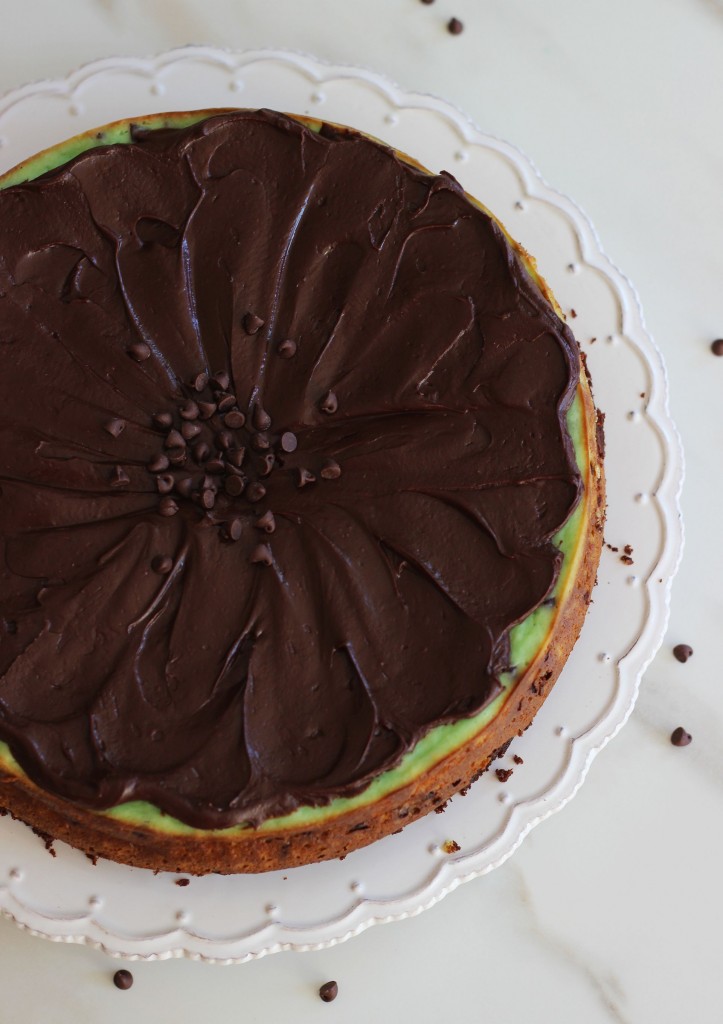 After we celebrated Thanksgiving early –  so early, in fact, that it was over Halloween weekend – I felt like Thanksgiving was over and I had total Christmas brain. Yep, I had Christmas brain the day after Halloween. Yet, now it's actually appropriate to be thinking about it, and I'm in shock that it's almost here already, and I feel totally unprepared.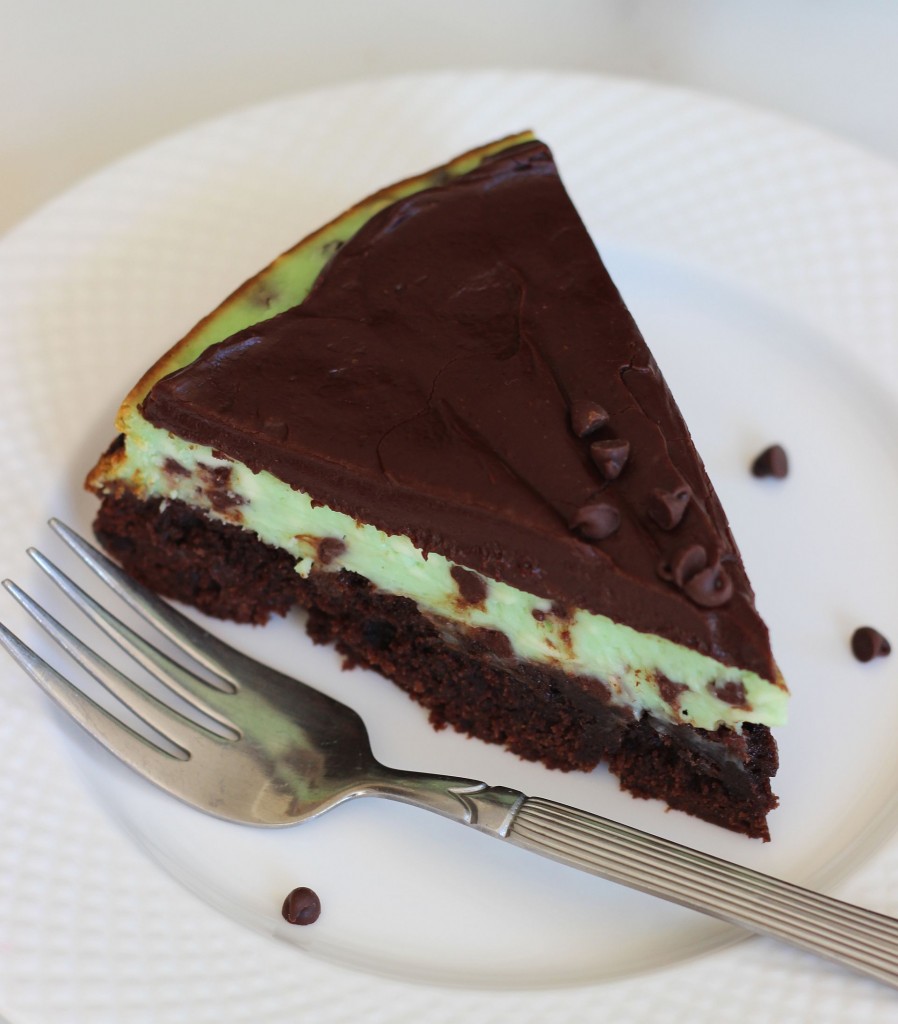 Mainly, I have not purchased a single gift yet and I have no idea what to get anybody. If you have good gift ideas, please share! I'm in desperate need of creative and original ideas. Thankfully, S.O. and I don't exchange gifts so it's one less thing to stress about! If I make him this Pumpkin Cheesecake, and he gets me a nice card, we are all set.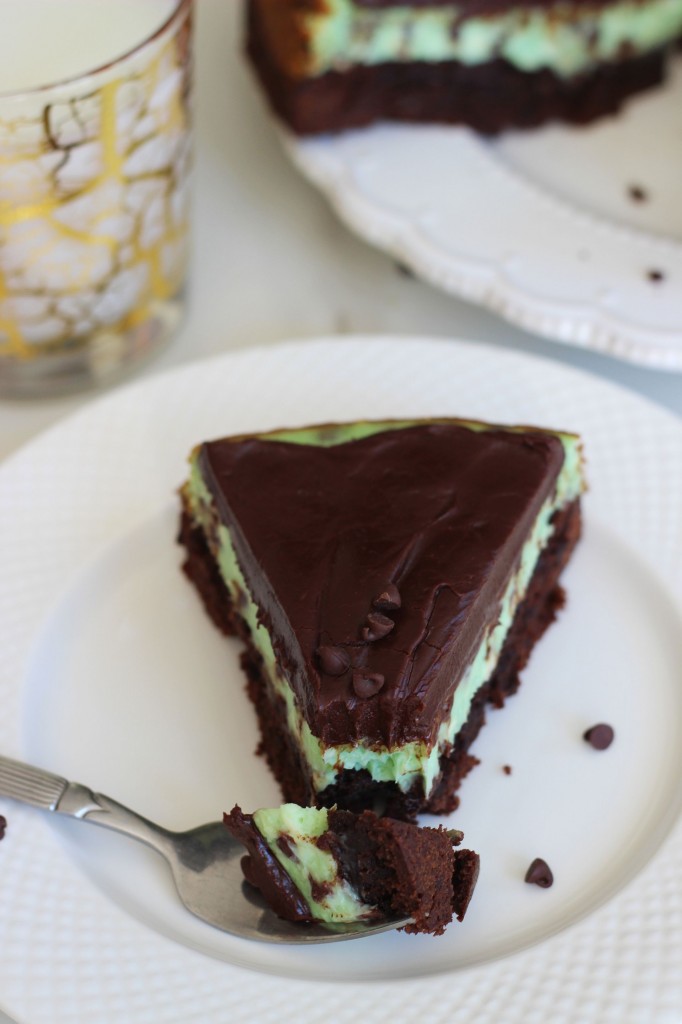 Do you think I can get away with shipping cheesecakes to my friends and family? Do you think this Mint Chocolate Chip Brownie Cheesecake with Chocolate Ganache Topping would ship well? Um, probably not. I know it would be well-received though!
This cheesecake is the ultimate in decadence. A fudgy and moist brownie layer dotted with mini chocolate chips provides the base for a creamy and rich mint chocolate chip cheesecake layer, and is topped with an easy chocolate ganache! It's not nearly as much work as it sounds, honestly. There's a shortcut or two involved. It's also worth every calorie… but this isn't the time of year to be thinking about that anyway!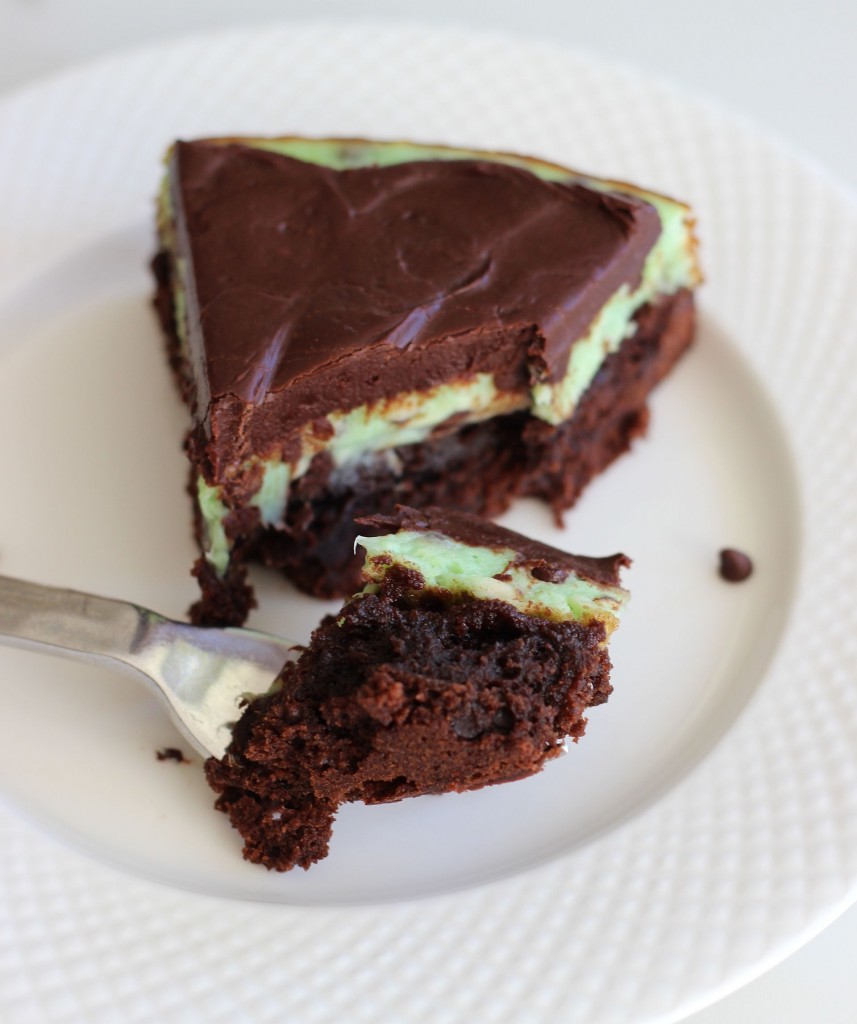 This is the time to be indulging in as many fabulous foods as you can! Save the resolutions for New Year's. For now, eat all the cheesecake.
Mint Chocolate Chip Brownie Cheesecake w/ Chocolate Ganache
This decadent dessert is a fudgy brownie layer, with a mint chocolate chip cheesecake layer, and topped with chocolate ganache!
Author:
Sarah @ The Gold Lining Girl
Recipe type:
Dessert - cheesecake
Ingredients
1 box chocolate brownie mix
½ c. mini semi-sweet chocolate chips
½ tsp. mint extract
2 - 8 oz. packages reduced fat cream cheese
½ c. sugar
½ tsp. mint extract
2 eggs
½ c. mini semi-sweet chocolate chips
a few drops green food coloring
1 - 12 oz. packages semi-sweet chocolate chips
⅓-1/2 c. evaporated milk or heavy cream
Directions
Prepare brownie mix according to box instructions.
Add in ½ c. mini chocolate chips and mint extract, mixing until blended.
Bake at 350 degrees for 20-25 minutes in a greased 8-inch springform pan until a toothpick inserted 2-inches from sides comes out with moist crumbs.
Cool on a wire rack for 15 minutes.
Meanwhile, in a large mixing bowl, beat cream cheese and sugar until smooth.
Add in mint extract.
Beat in eggs, just until blended.
Fold in ½ c. mini chocolate chips.
Spread evenly over brownie layer.
Bake at 350 degrees for 35-40 minutes or until cheesecake is still slightly jiggly in the center when shaken.
Cool on a wire rack.
In a small saucepan on low heat, combine 12 oz. bag of chocolate chips and ⅓ c. heavy cream.
Cook and stir until chocolate is melted and smooth, and milk is well-incorporated.
Spread evenly over cooled cheesecake.
Enjoy!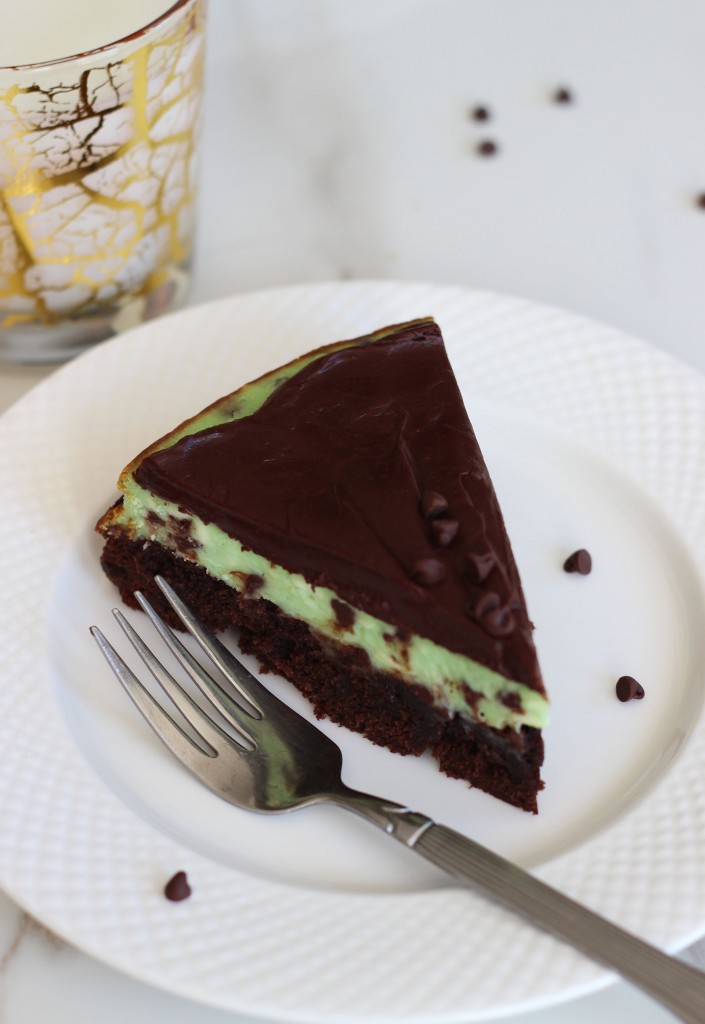 A hefty slice of this will be by my side tonight as I'm putting the finishing touches on my Christmas tree. I'm also using it to lure S.O. into hanging a few ornaments. We'll see how that goes!