A recipe for a ridiculously easy soup using a jar of light Alfredo sauce and chicken broth as a base, and tossing in delicious add-ins like rotisserie chicken, grilled mushrooms, gnocchi, arugula, and prepared pesto! It's hearty, filling, and super quick to make!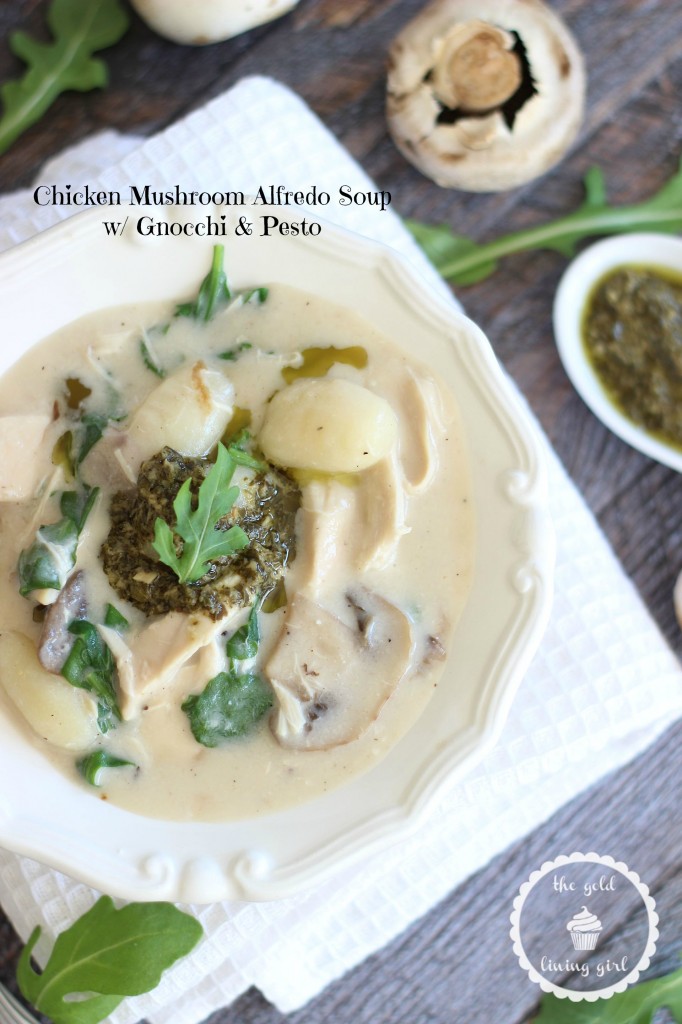 I am a soup nut. I'm crazy for it. I've said it before, but even during the peak of hot Florida summers, 90+ degrees and stifling humidity, I still LOVE soup. Bizarre, I know.
My Grandpa and I used to share that in common. We were 'soup people'. I hear there are people in the world that are not 'soup people', but who are these people? I cannot comprehend that. 🙂
It's the ultimate in comfort food though. So maybe that's it. I just find it so filling and warming and cozy.
It's the first thing I want when I'm feeling under the weather. At the sign of a cold, S.O. makes a huge pot of chicken soup. Besides meatballs (they're AMAZING), chicken soup is his specialty.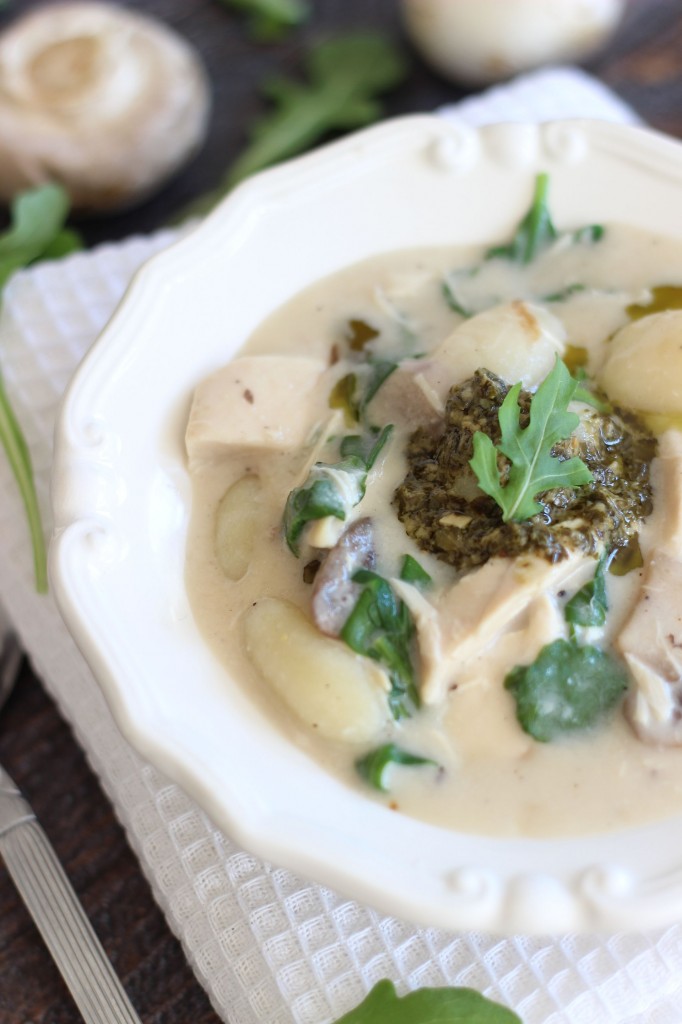 I also consider soup to be a perfect hangover food. I'm sure you don't all agree with me on that, and I definitely enjoy classic good ol' bacon and eggs the morning after a big night out, but soup does the trick for me too!
Now I'm not suggesting that we had imbibed too much the night before making this soup, but I will tell you that we ate the entire pot of this for lunch the next day, and we felt all the better for it. Thankfully, hangovers are few and far between for us these days, but even a little tinge of one, and I'm dreaming of a big bowl of soup. Try it – it works.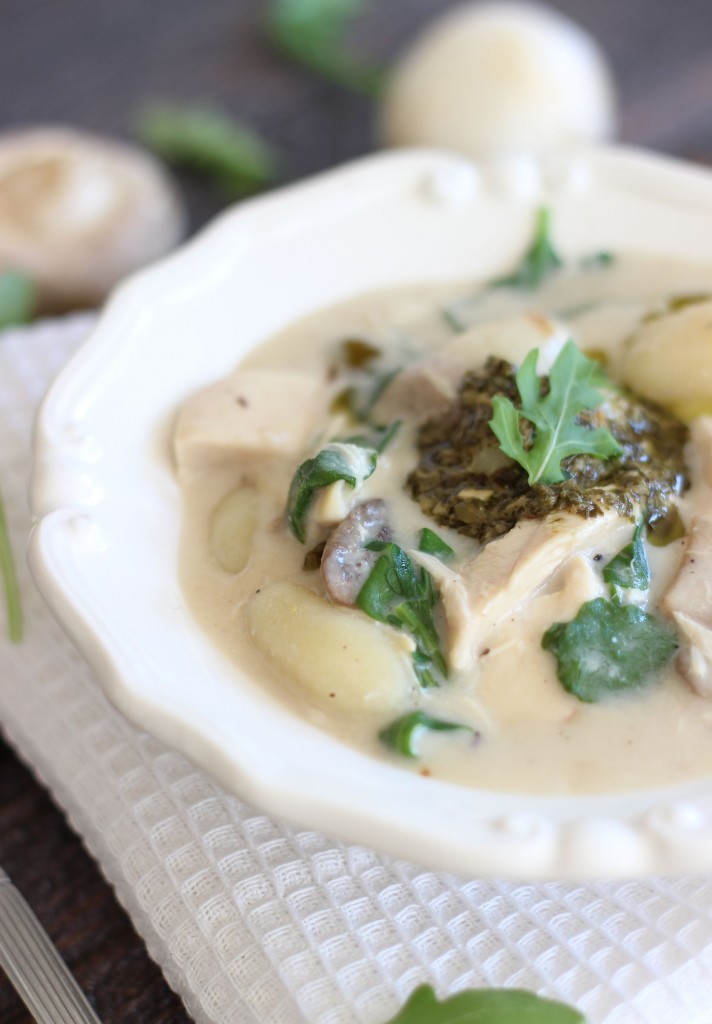 This soup is hearty and filling, with a creamy (but light!) Alfredo sauce and chicken broth base, so it's very rich without being heavy! I used a rotisserie chicken from the grocery store because that's just worlds easier than cooking it myself (not happening), and rotisserie chicken is soooo tender and juicy. Discovering those a few years back was a serious game-changer in my household. Buttery grilled mushrooms, peppery arugula, garlic, and a little pesto sauce all round out the robust flavors in this soup! If that's not enough to fill you up, this soup also has gnocchi. Little carb dumplings. Can't go wrong.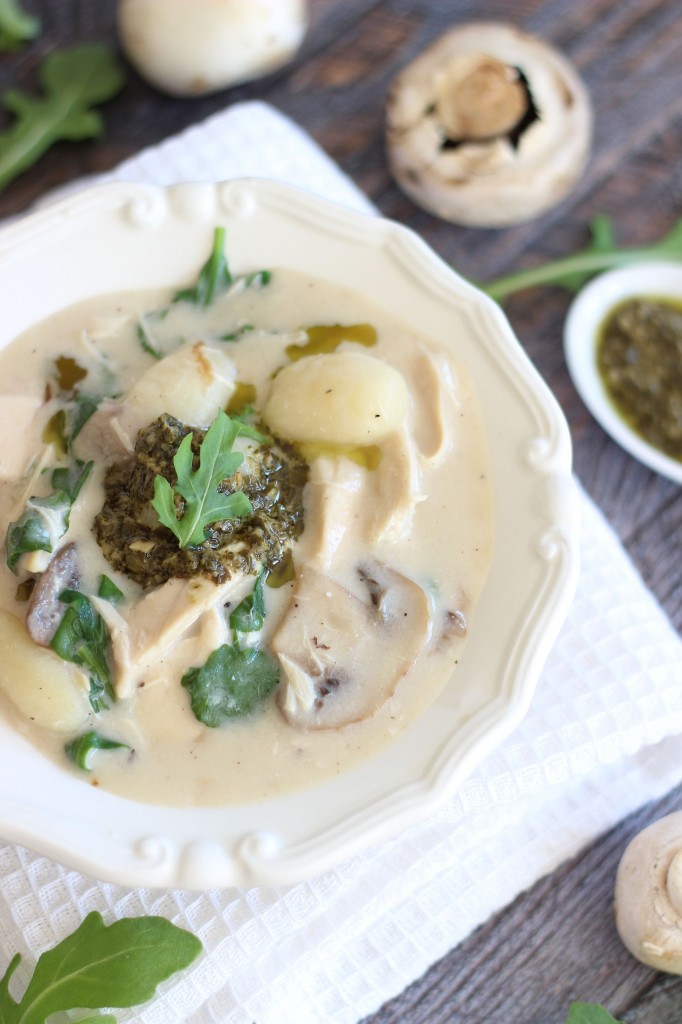 Chicken Mushroom Alfredo Soup w/ Gnocchi, Pesto, and Arugula
A ridiculously easy soup using a jar of Alfredo sauce and chicken broth as a base, and tossing in delicious add-ins like rotisserie chicken, grilled mushrooms, gnocchi, arugula, and prepared pesto!
Author:
Sarah @ The Gold Lining Girl
Ingredients
1 tbsp. butter
1 - 8 oz. container sliced mushrooms
1 - 15 oz. jar light Alfredo sauce
2½ c. chicken broth
2 grilled chicken breasts, sliced or cubed (I used a rotisserie chicken)
2 c. fresh arugula
¼ tsp. garlic powder
1 - 16 oz. package gnocchi
salt & pepper, to taste
2 tbsp. prepared pesto sauce
Directions
In a large saucepan over medium heat, melt the butter.
Add in the sliced mushrooms, and grill until tender and golden brown, about 7-8 minutes.
In a large pot over medium heat, add the mushrooms, Alfredo sauce, chicken broth, cubed chicken, arugula, and garlic powder.
Bring to a light boil or simmer, and add in the gnocchi.
Simmer for 3-4 minutes, or until gnocchi are soft and tender.
Add salt and pepper, to taste.
Either serve each bowl with a small dollop of pesto sauce on top, or you can mix the 2 tbsp. into the entire pot (I like to add it to the entire pot!). Enjoy!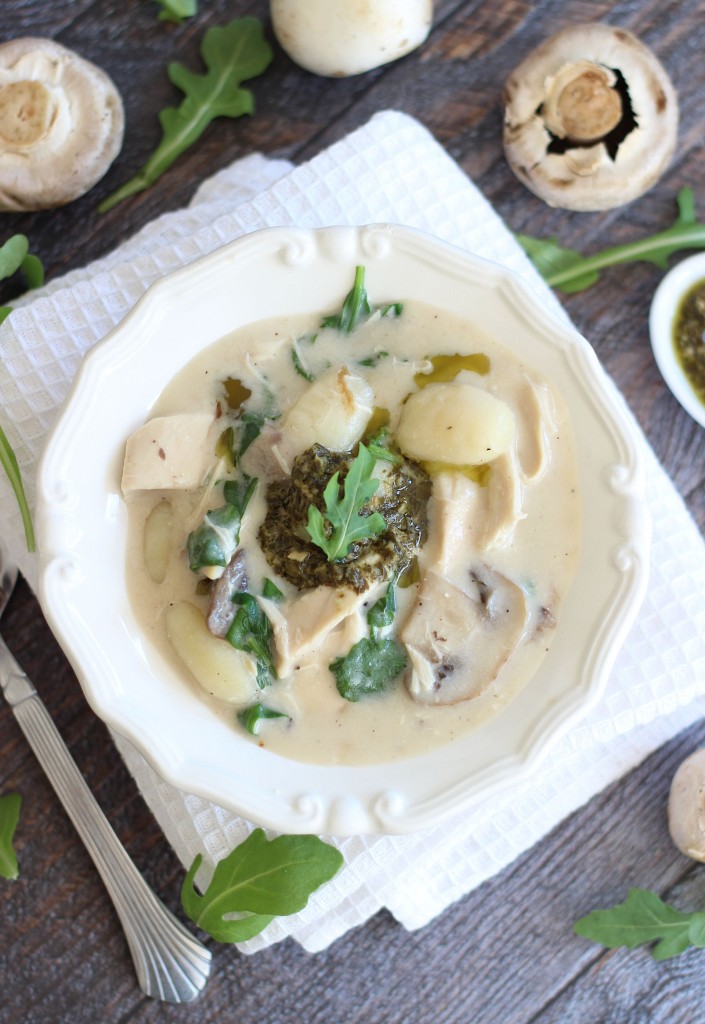 And I hear there's a cold front hammering everybody up north, so that's all the more reason to plan soup for your future. Yesterday I saw about a million pictures of pretty snowfall on Instagram! The snow looks beautiful, but it's even prettier when you're looking at it in a picture. Stay warm up there, friends!