Pumpkin pie is spiked with amaretto, and topped with a quick and simple almond brittle. The brittle complements the amaretto flavor perfectly, and makes for an unforgettable and unconventional pumpkin pie!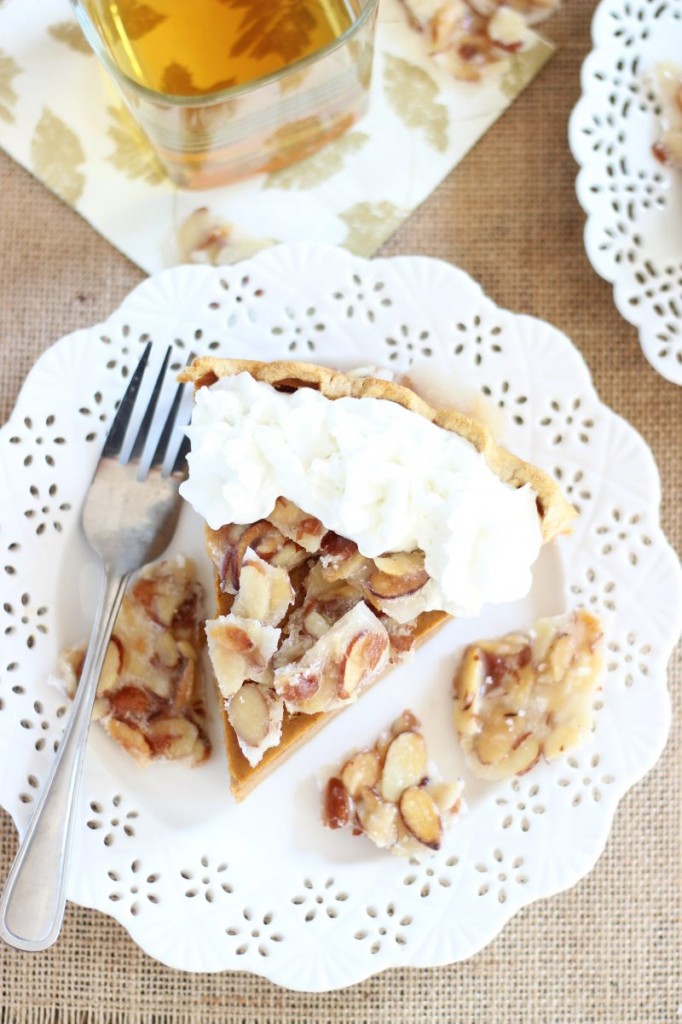 My S.O. ravages the fridge when he gets home from the gym in the evening, looking for anything and everything that would be a quick replenishment of fuel. He always gets home ravenous, and stuffs his face with the first food he can find. In this case, it was this Amaretto Pumpkin Pie.
He doesn't even sit down. He stands at the kitchen counter and attacks his food. Like, can we sit down and have a nice dinner?
No. Usually, no. It's his first of two dinners though, so it's fine. By the time I'm ready for dinner, he'll be all set to eat again – a proper meal.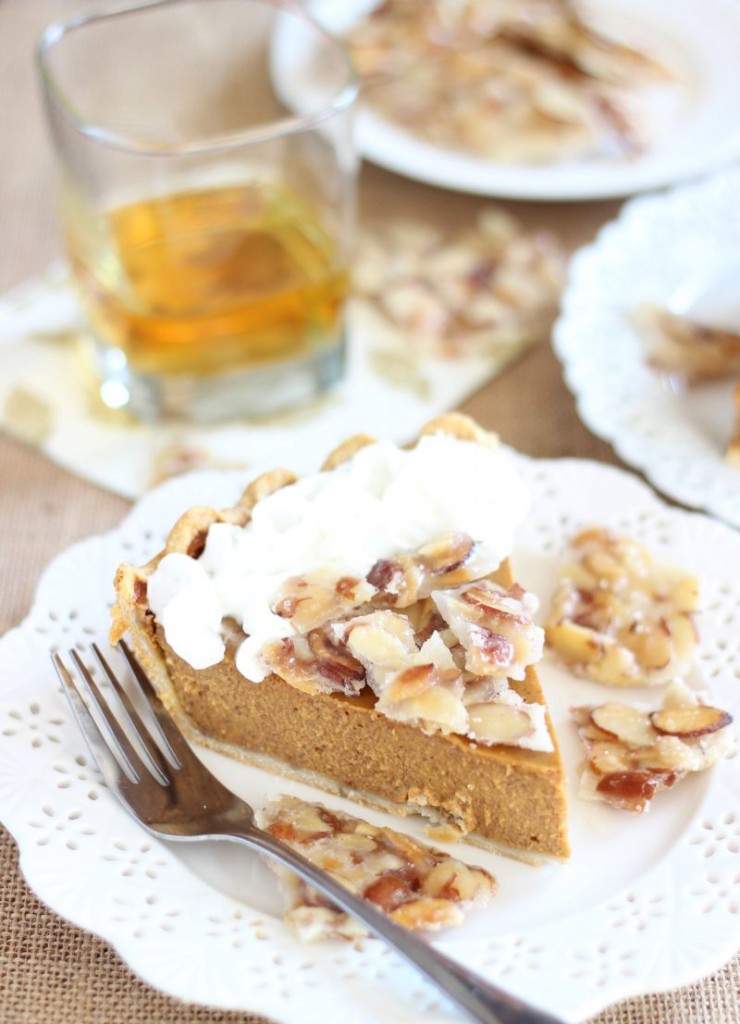 I didn't know he'd devoured a big part of the pie because I was in the bedroom packing my bags to visit my family for a few days.
He walked into the bedroom to say hello (AFTER stuffing his face first! Food trumps all!), and smelled like alcohol.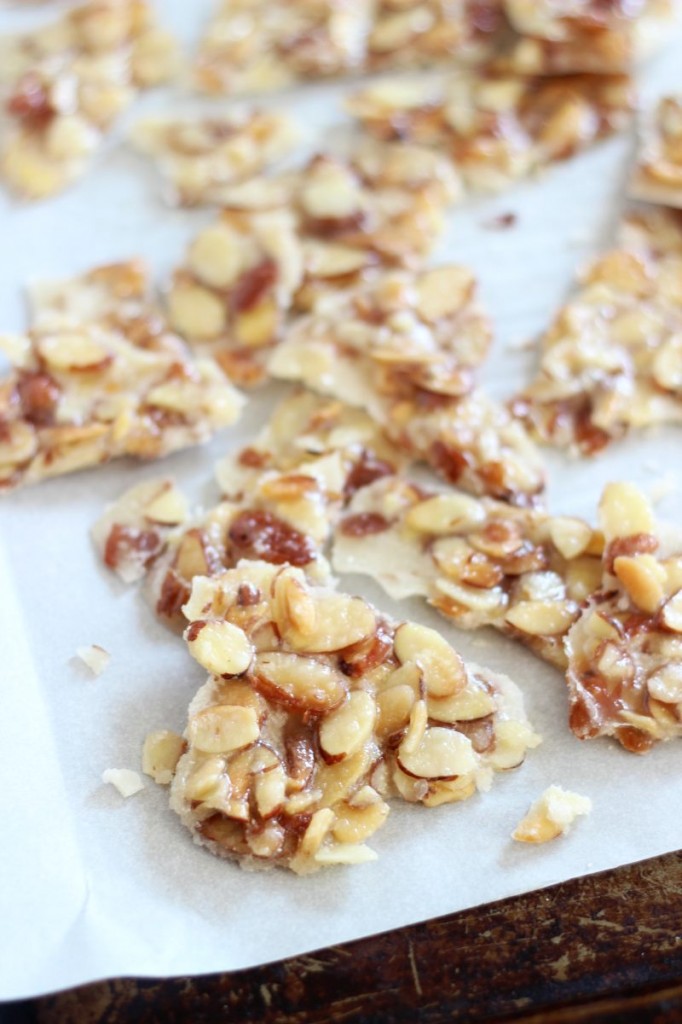 What the heck? Didn't you just get home from the gym??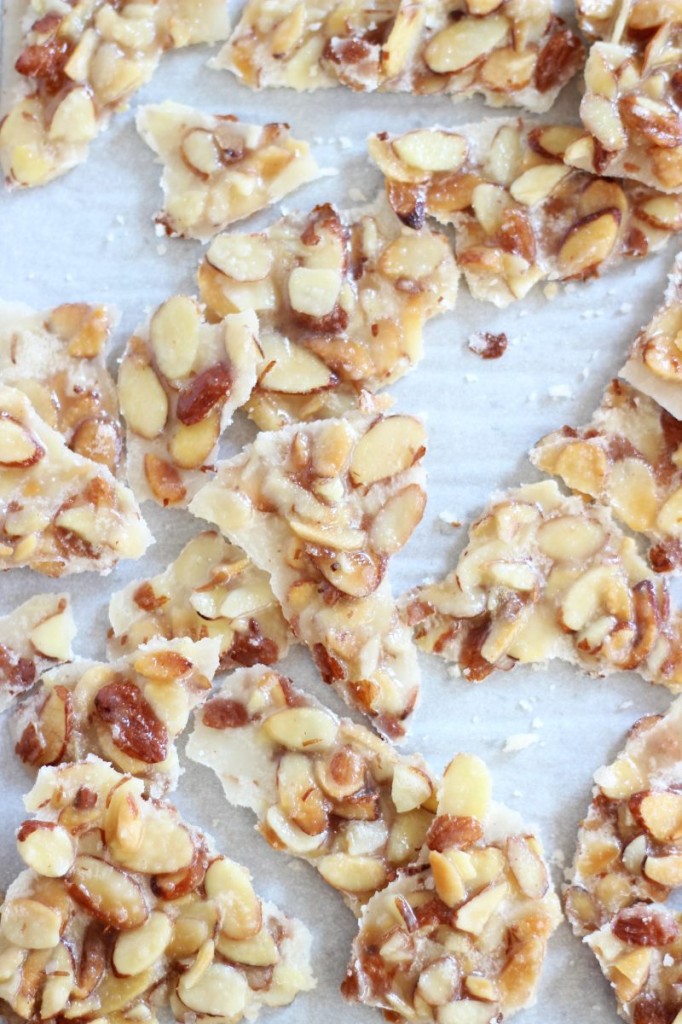 This pie is not THAT potent, but it does pack a lot of amaretto. Enough to make him smell like he'd just hit happy hour, apparently.
I love amaretto and it incorporates seamlessly into traditional pumpkin pie – both as a flavor, and in terms of how it bakes. Pumpkin pie spiked with amaretto is a great way to make a regular pumpkin pie feel a little fancier and more festive for the holiday. No ho-hum pumpkin pie here. If you are a attending a holiday party, this is the pie you want to take.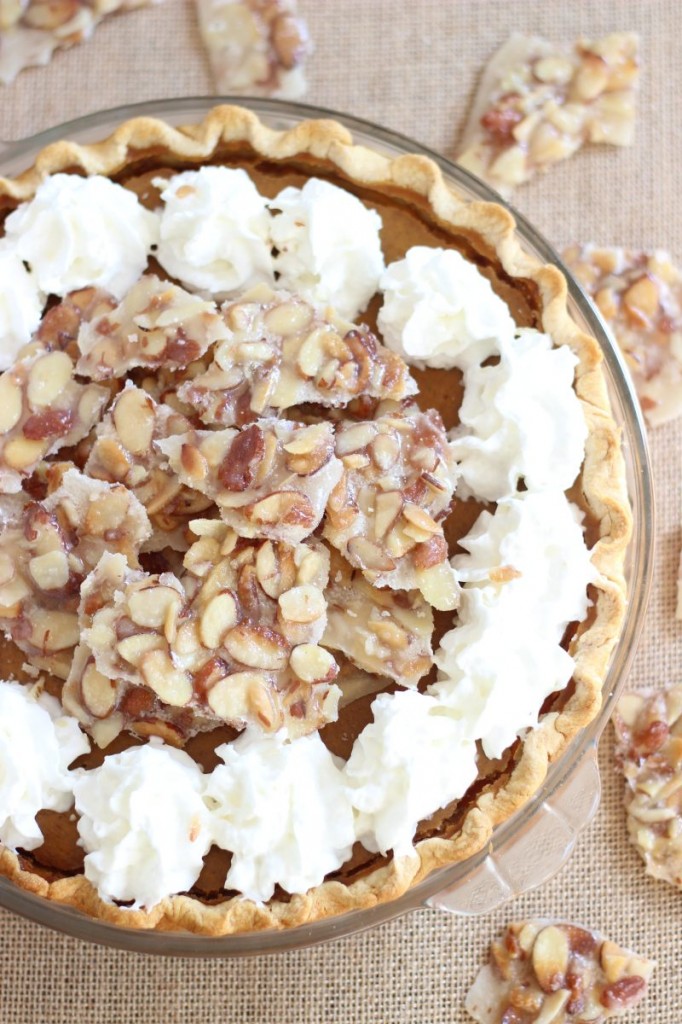 Besides the booze, it boasts a simple, but show-stopping almond brittle topping, so it's sure to be well-received and unforgettable. The brittle plays off of the amaretto flavor perfectly, and it came together in minutes. Aside from providing a lovely garnish and presentation to the pie, it also served as a sweet and nutty bit of crunch.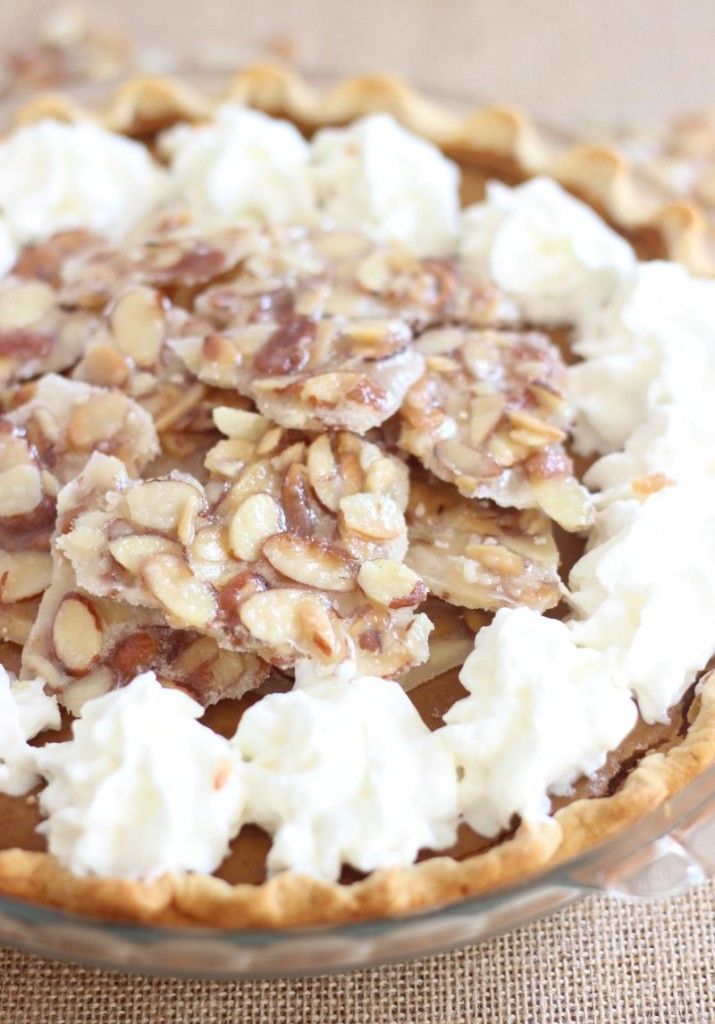 In nearly the same amount of time that you can make the pumpkin pie recipe on the back of the canned pumpkin puree, you could instead make this fun and playful Amaretto Pumpkin Pie with Almond Brittle!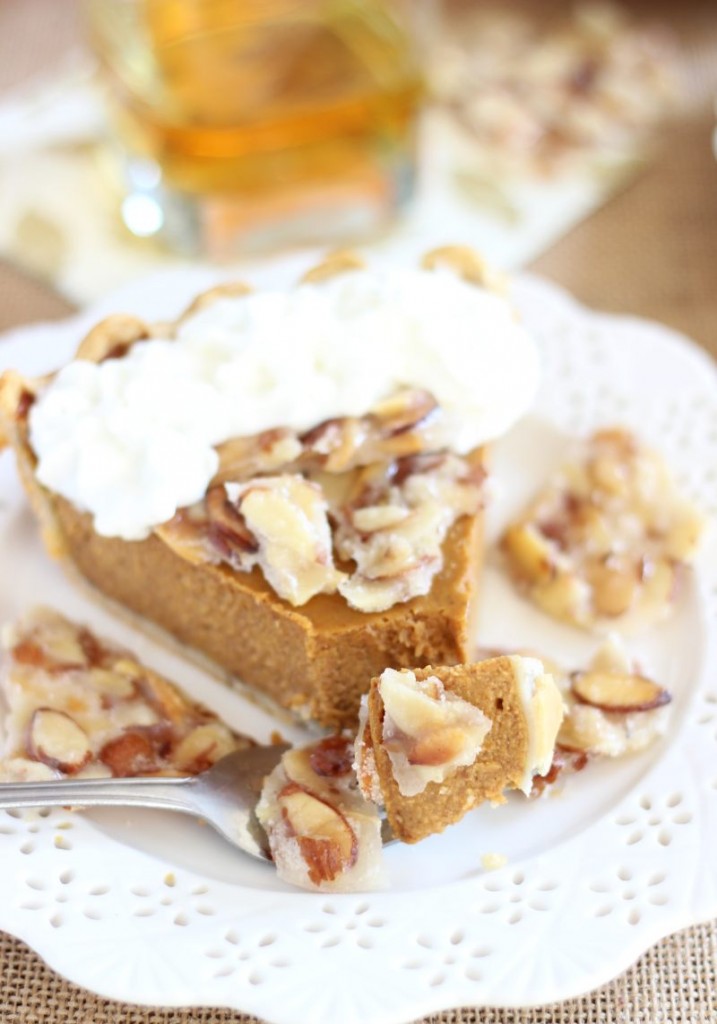 Amaretto Pumpkin Pie with Almond Brittle
Pumpkin pie is spiked with amaretto, and topped with a quick and simple almond brittle.
Author:
Sarah @ The Gold Lining Girl
Recipe type:
Recipe - pie
Ingredients
For Amaretto Pumpkin Pie:
1 unbaked prepared pie crust
1 - 15 oz. can pumpkin puree
1 - 12 oz. can evaporated milk
1 c. sugar
2 large eggs
⅓ c. amaretto
1 tsp. almond extract
1 tsp. cinnamon
1 tsp. pumpkin pie spice
½ tsp. ginger
¼ tsp. cloves
For Almond Brittle:
1 c. sugar
½ tsp. almond extract
1 c. sliced almonds
pinch of salt
Directions
Unroll the pie crust and fit it to a 9-inch pie plate. Scallop or crimp the edges.
In a large bowl, whisk together the pumpkin, evaporated milk, sugar, eggs, amaretto, almond extract, cinnamon, pumpkin pie spice, ginger, and cloves.
Pour into the pie crust.
Bake at 400 degrees for 15 minutes, then reduce heat to 350 degrees, and bake for an additional 40-45 minutes, or until a toothpick inserted near the center comes out clean.
Remove from heat to a wire rack to cool completely. Meanwhile, prepare brittle.
Line a baking sheet with parchment paper, and lightly coat it with non-stick spray.
In a small saucepan, combine the sugar with 2 tbsp. water.
Bring to a boil over medium-high heat, and cook, stirring frequently, for 5-6 minutes.
Remove from heat, and stir in almond extract, almonds, and salt.
Pour the mixture onto the prepared baking sheet, spreading it with a wooden spoon into a thin, even layer.
Cool completely, and break into pieces.
Top slices of pie with brittle, just before serving.