Pumpkin scones loaded with pecans, and topped generously with buttery brown sugar streusel!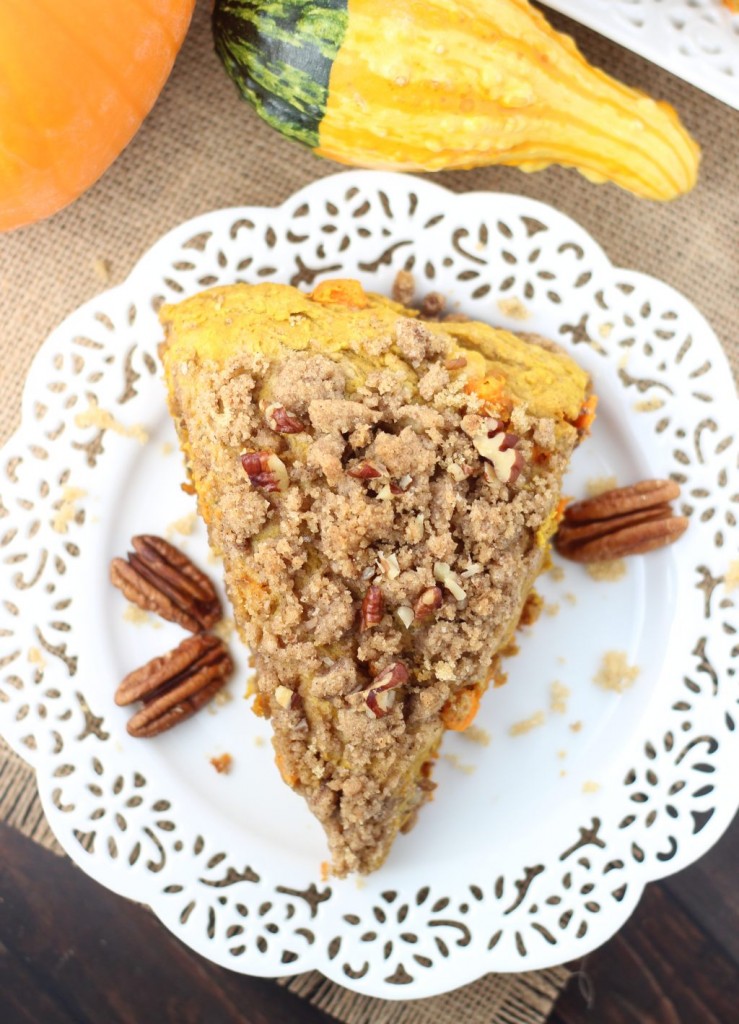 Happy Sunday!! Happy belated Halloween!! How are you feeling this morning, dear readers?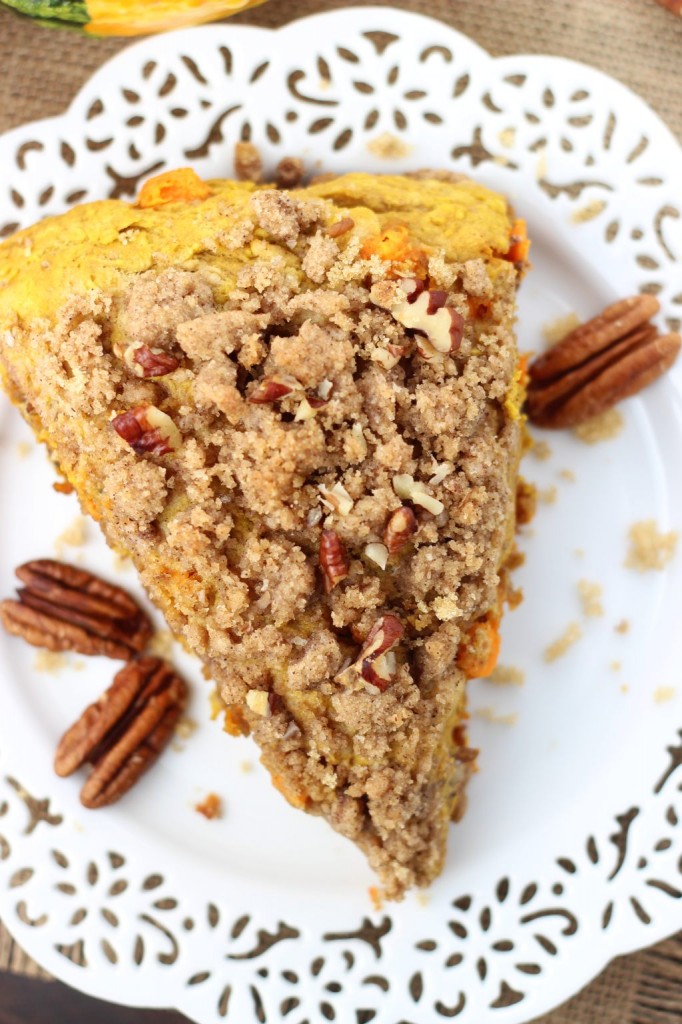 I write this on Halloween morning, and hope that tomorrow morning (today) I'm feeling as chipper and well-rested as I do right now. At this point, my Halloween night could go 1 of 2 ways: a costume/bachelorette party, or handing out candy. Very different evenings.
I am game for the former and can rise to that occasion, but am hoping for the latter. I like handing out candy and the fact that I would probably go to bed at a much more reasonable hour. 🙂 #old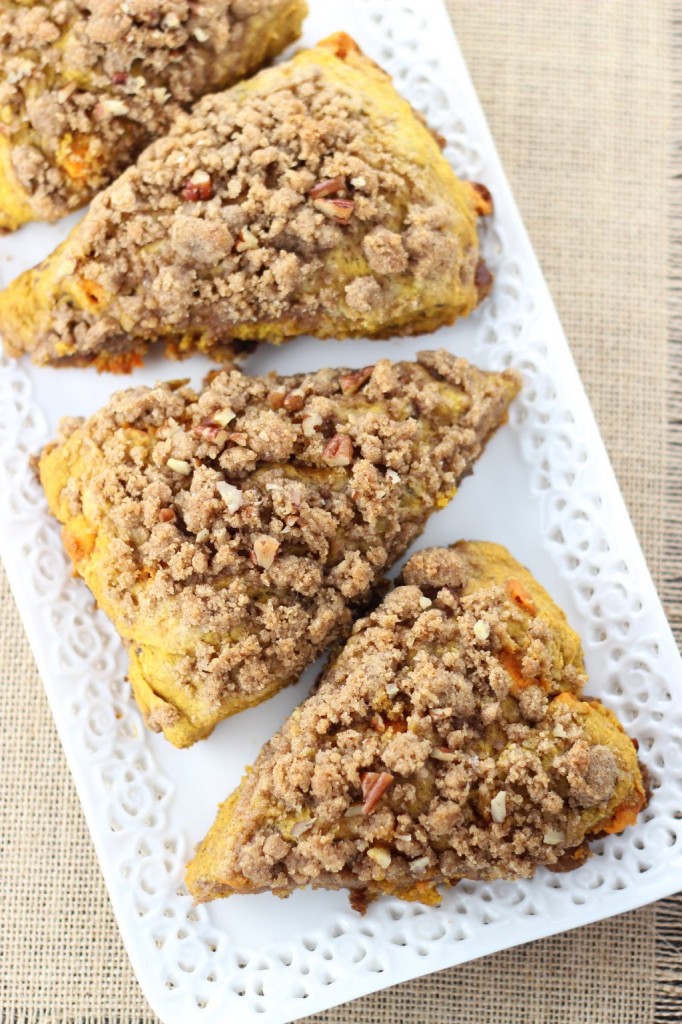 The house is currently very quiet, and I hope it foreshadows my evening! S.O. threw out his back so he's sitting around in bed doing absolutely nothing. The cat is sleeping in her favorite bowl on the dining table and snoring.
Yep. I have a nice quiet house to myself with a massive bowl of Halloween candy staring me in the face, a mug of freshly-brewed coffee, and leftovers of these Pumpkin Pecan Scones with Brown Sugar Streusel.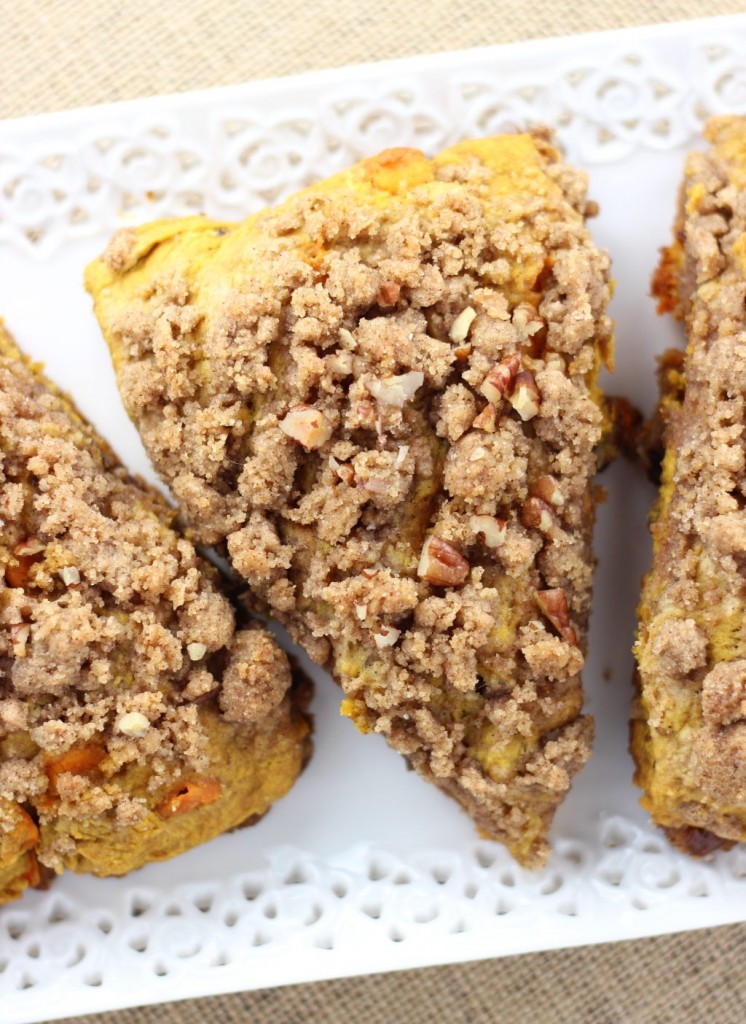 It's well-documented that I'm enamored with scones, and I just find that this basic recipe is very versatile. I can add fresh or dried fruits, nuts, chocolate chips, and even vary the wet ingredients to include flavored creamer, eggnog, sweet potato… basically, you name it. In this case, pumpkin.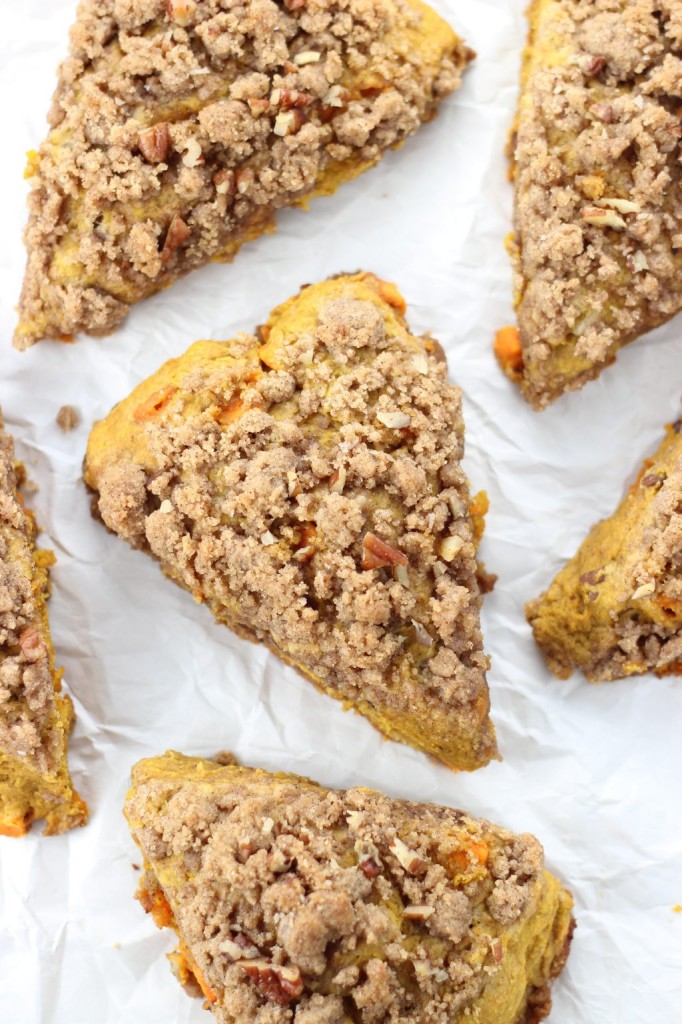 Is there anyone who doesn't love a pumpkin scone? These beat out any dry, crumbly, flavorless scones that you typically find in a bakery. Homemade is so much better, especially when it comes to scones. Even the Starbucks pumpkin scones that are all the rage… they have nothing on these.
These are flaky, tender, moist, and buttery. They practically melt in your mouth. They're a little crispy on the edges, but are moist and soft inside. They're full of flavor, thanks to pumpkin puree, brown sugar, spices, and chopped pecans. I also tracked down the limited edition pumpkin spice chips and threw some of those in, but they are definitely not essential if you can't locate them.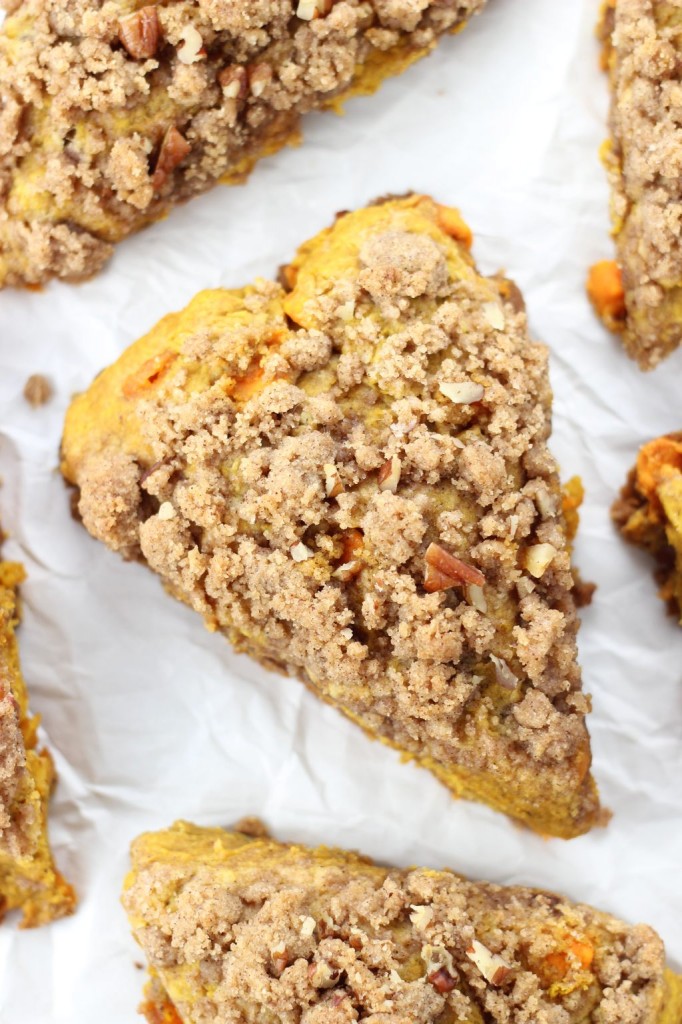 What truly sets these scones apart from other scones you've tried is the brown sugar streusel topping.
I've never seen a streusel-topped scone in my life, and I was proud when I came up with this idea. Even with the streusel, these scones are ready in just over a half hour, so they're perfect for weekend mornings when you have a little extra time to prepare a nice brunch!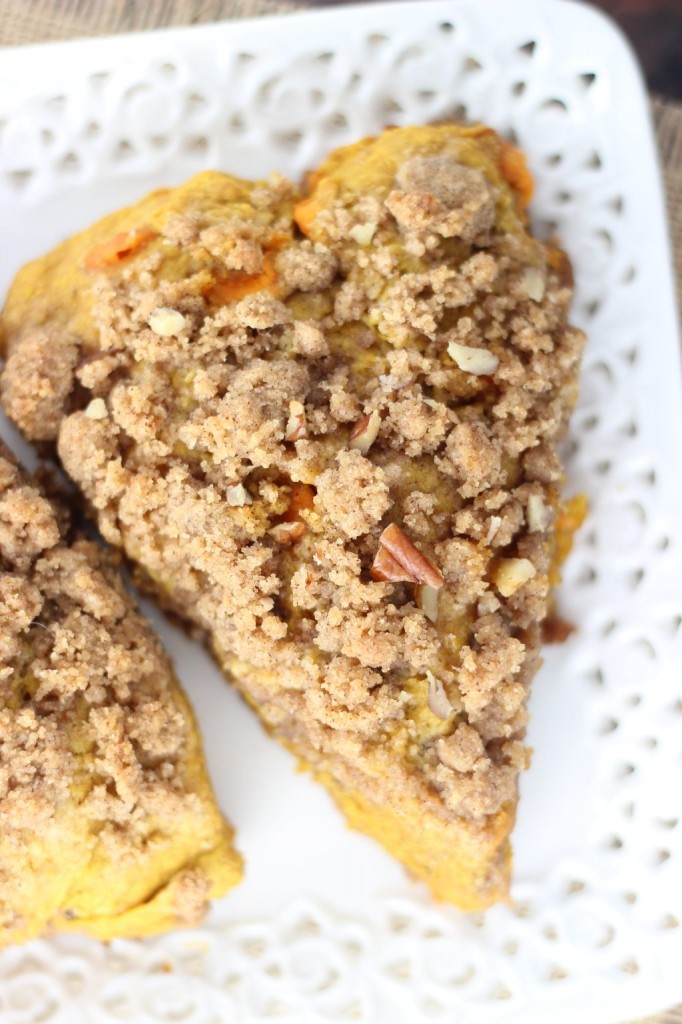 Pumpkin Pecan Scones with Brown Sugar Streusel
Pumpkin scones loaded with pecans, and topped generously with brown sugar streusel!
Author:
Sarah @ The Gold Lining Girl
Recipe type:
Breakfast - scones
Ingredients
For scones:
⅓ c. whole milk or evaporated milk
1 tsp. vinegar
2¼ c. flour
⅓ c. packed brown sugar
2 tsp. baking powder
2 tsp. pumpkin pie spice
½ tsp. salt
¼ tsp. baking soda
½ c. unsalted butter, cold
1 egg, lightly beaten
1 c. canned pumpkin puree
1 c. pumpkin spice baking chips (optional)
⅔ c. chopped pecans
For streusel:
½ c. brown sugar
½ c. flour
1 tsp. cinnamon
½ tsp. pumpkin pie spice
4 tbsp. unsalted butter, melted
Directions
In a small bowl, combine milk and vinegar. Set aside.
In a large bowl, combine flour, brown sugar, baking powder, pumpkin pie spice, salt, and baking soda. Blend well.
Using a grater, grate the cold butter into the flour mixture. Fold butter into flour mixture until well-blended.
In a medium bowl, combine the sour milk, egg, and pumpkin puree. Whisk until well-blended.
Add the pumpkin mixture to the flour, along with the pumpkin spice baking chips and pecans.
Mix altogether until just combined.
Turn onto a lightly floured surface, and knead 10-12 times. Gently form dough into a large ball.
Place the dough onto a well-greased baking sheet and flatten into a circle about 10-inches in diameter, and about ¾-inch thick.
For the streusel, combine all streusel ingredients in a small bowl, and mix until it resembles coarse crumbs.
Using one hand as a wall to keep the streusel onto the scone dough, sprinkle the streusel crumbs evenly over the scone dough. Keep as much of it off of the baking pan, and on top of the scones as possible. Press down lightly to press the streusel into the dough.
Using a long knife, cut into 8 wedges.
Carefully separate wedges on baking sheet, pulling them just slightly apart.
Bake at 400 degrees for 18-20 minutes, or until edges are golden brown.
Cool slightly, and serve!