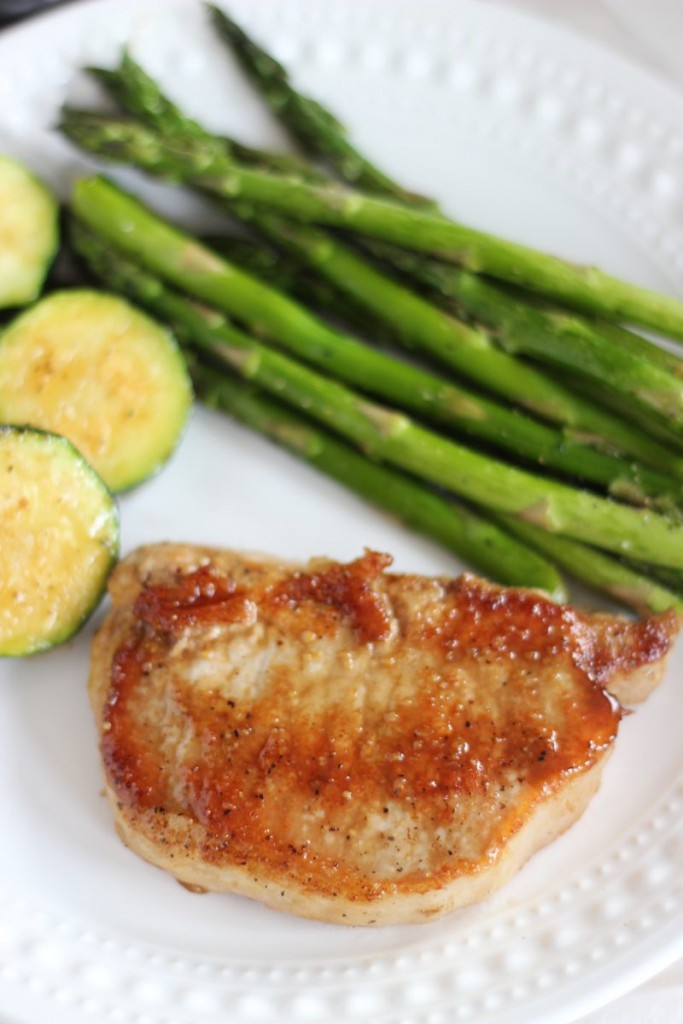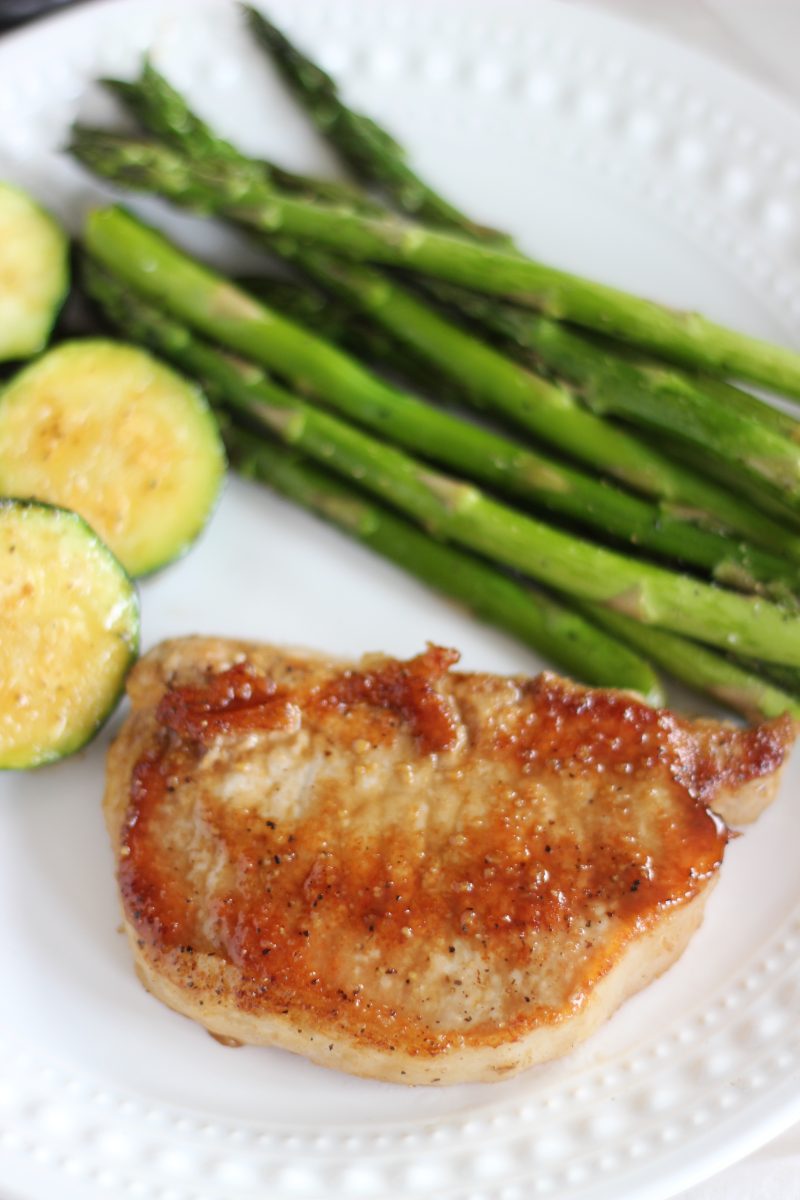 Baked pork chops with a dijon mustard, honey, and balsamic vinegar glaze! Dinner in under 30 minutes!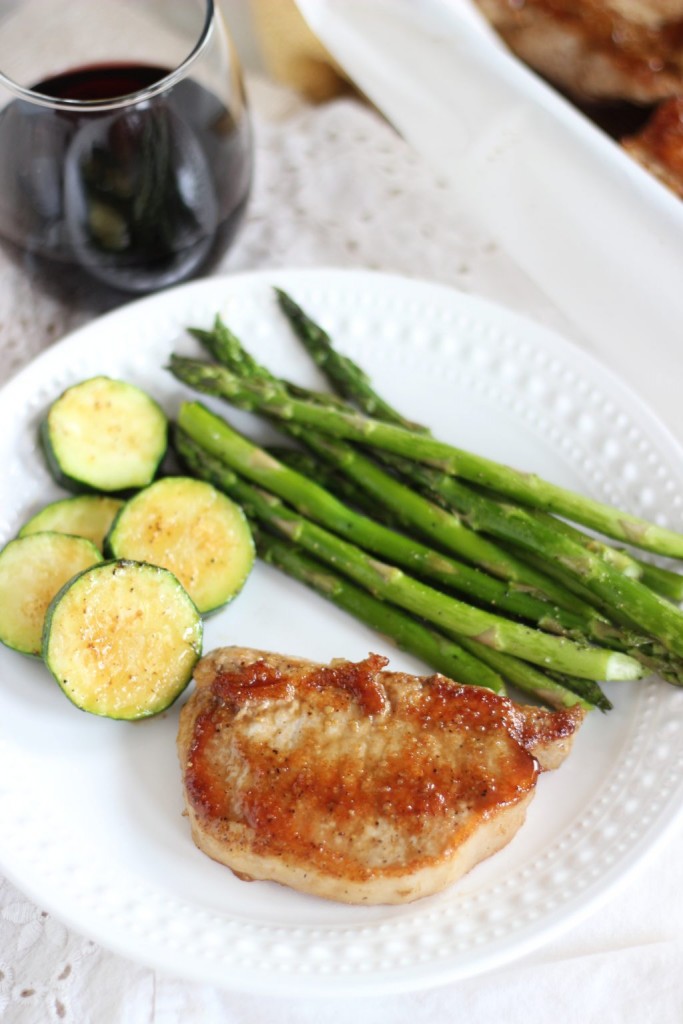 I have pork on the brain lately. A few nights ago, I prepared brown sugar BBQ sauce pork tenderloin in the slow cooker. It was absolutely incredible, and one of the easiest meals to prepare. I usually leave things to cook in the slow cooker all day while I'm at work, but I forgot to do it that morning. Instead, I added all the ingredients to the slow cooker in the evening, and let it cook overnight. I woke up to the house smelling like BBQ, which might not sound appealing for breakfast, but it really was, and it got me looking forward to having it for lunch and dinner too. It was sweet, but with a little spicy kick, and that's exactly how I love to prepare pork.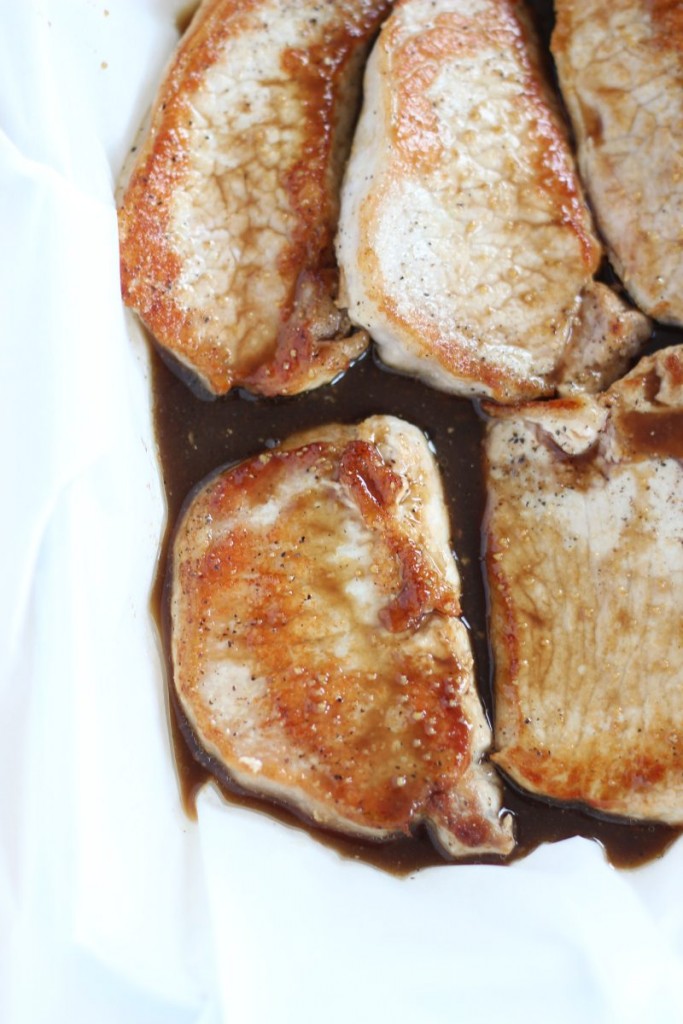 I love how many flavors complement pork, and it's such a versatile meat. It can be prepped in the slow cooker, baked, pan-fried… a variety of methods work well.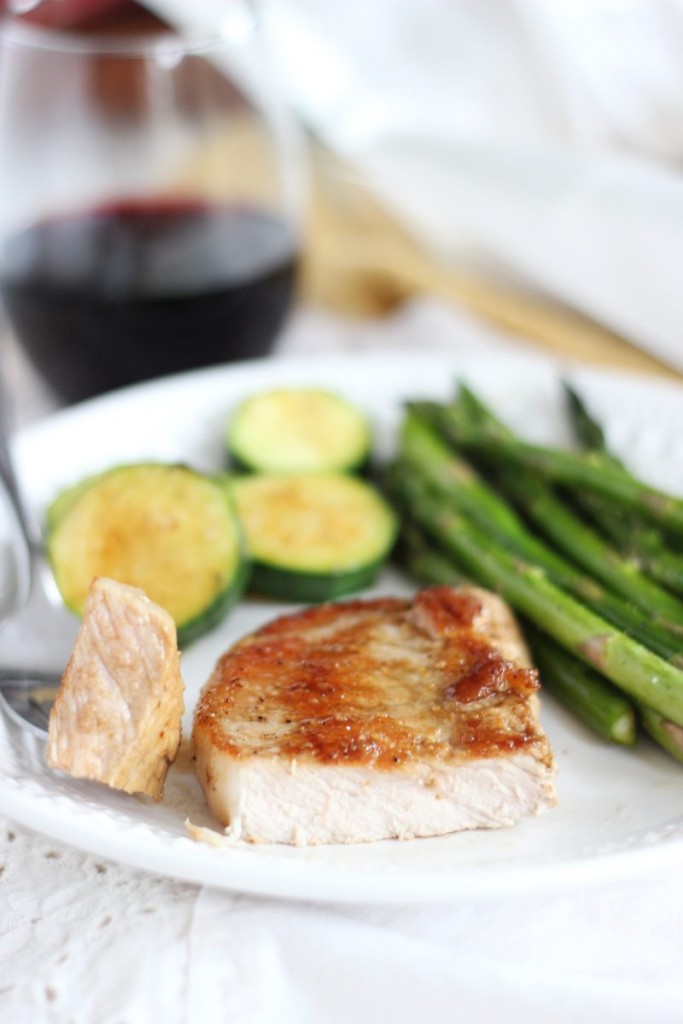 My preferred method for preparing pork chops is baking. I like to bake them because 1. baking is pretty quick, easy, and fuss-free, and 2. it keeps them really juicy and locks in all the flavors. Baking just locks in all the moisture and flavor, and keeps the chops really tender.
I first seared them on each side for about 2 minutes in olive oil before throwing them in the oven. I don't consider that a necessary step, but I do think it helps to lock in flavors by giving the pork chops a little bit of a crust. Either way, this is still a really fast meal. Whisk together a few ingredients for the glaze, and pop them in the oven for about 10-12 minutes. It's such a simple recipe.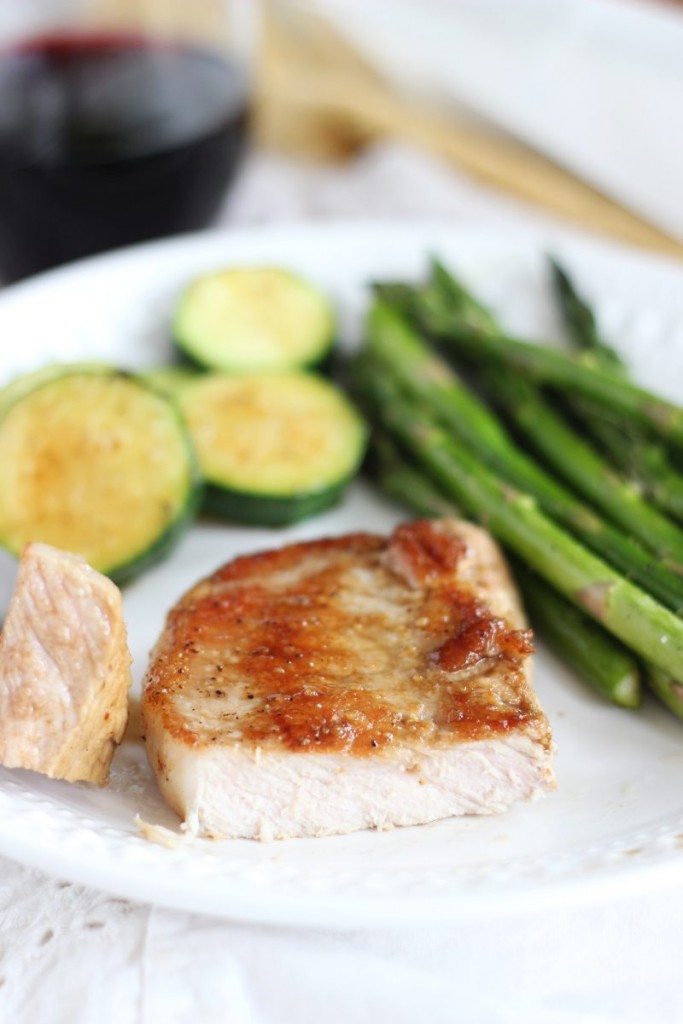 This is one of the easiest weeknight meals in my arsenal. I had these Honey Balsamic Baked Pork Chops plated in under 30 minutes, start-to-finish. Closer to 20 minutes, actually. This is a fantastic meal option for any night of the week. Weekdays are so busy, and sometimes I just don't have a ton of energy for cooking in the evening. This dish dresses up nicely for an elegant dinner and for easy entertaining, but it's also just an easy weeknight meal!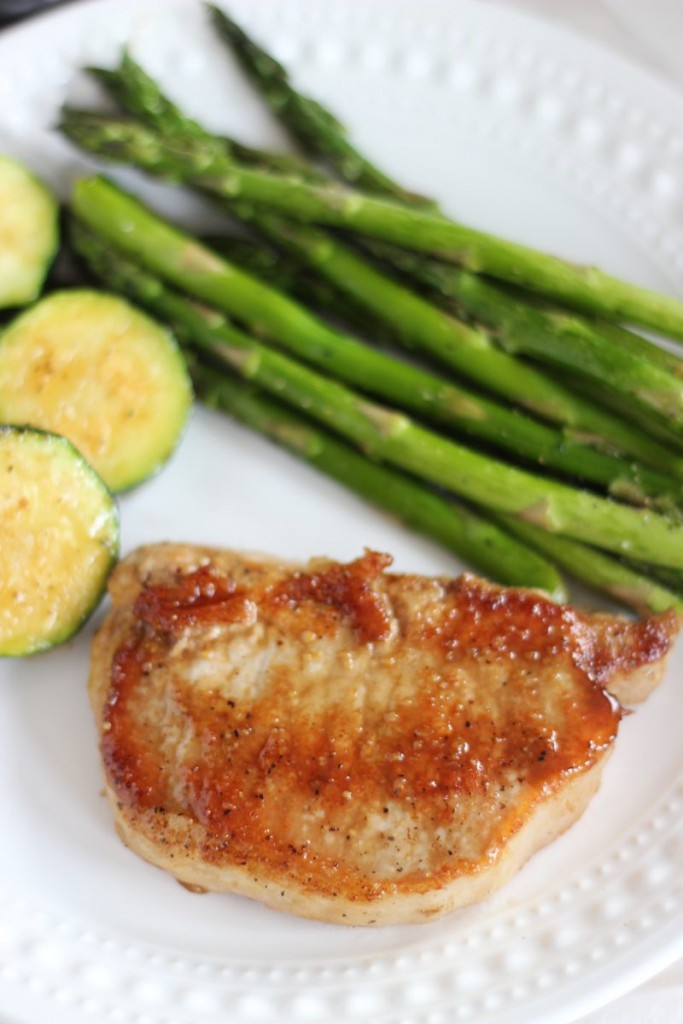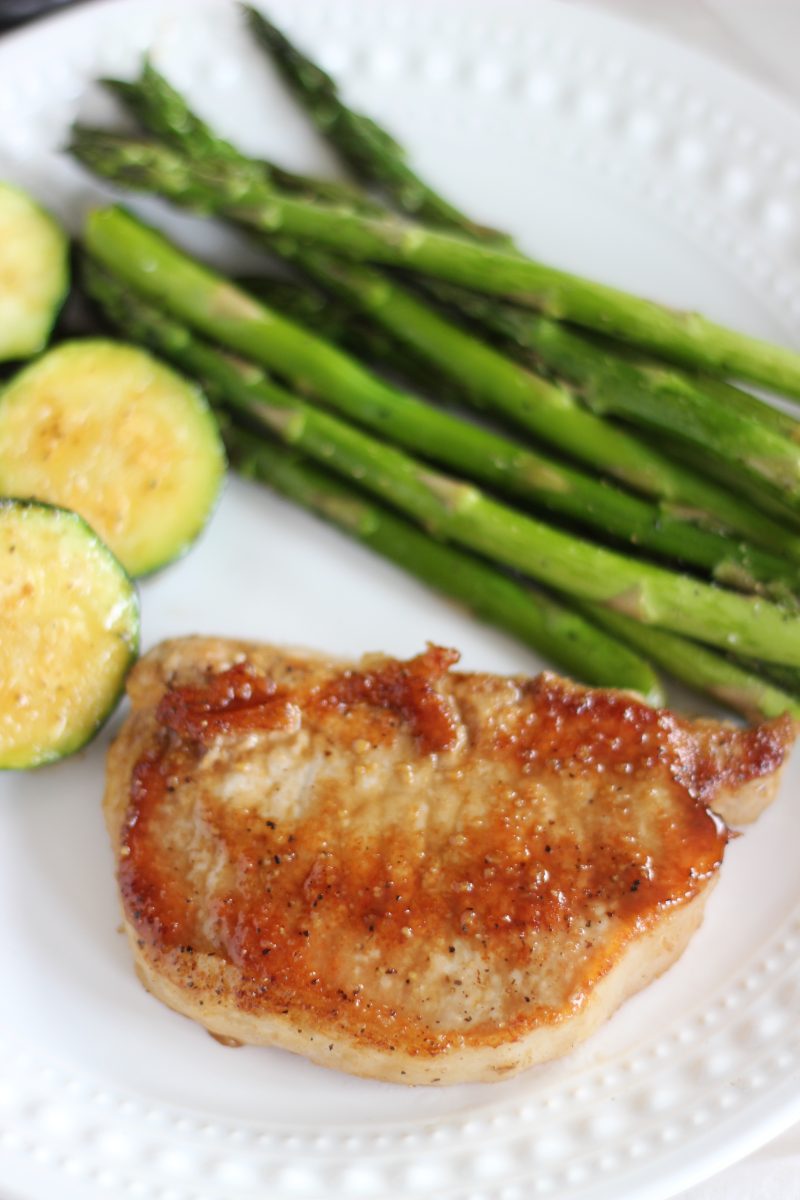 Honey Balsamic Baked Pork Chops
Baked pork chops with a dijon mustard, honey, and balsamic vinegar glaze! Dinner in under 30 minutes!
Author:
Sarah @ The Gold Lining Girl
Recipe type:
Dinner/Entree
Ingredients
2 tbsp. olive oil
1 lb. Smithfield All Natural Boneless Pork Chops
⅓ c. balsamic vinegar
⅓ c. honey
3 tbsp. dijon mustard
salt + pepper, to taste
Directions
In a large saucepan over medium-high heat, add the olive oil.
Add pork chops, and sear on each side for about 2 minutes, or until golden brown.
Transfer pork chops to a large baking dish lined with parchment paper or foil.
In a small bowl, whisk together balsamic vinegar, honey, dijon mustard, salt, and pepper.
Pour the glaze over the pork chops.
Bake at 350 degrees for 10-12 minutes, or until a meat thermometer measures 150 degrees.
Serve immediately.