Chocolate-ganache filled cake mix pistachio cupcakes with a homemade chocolate cream cheese buttercream frosting!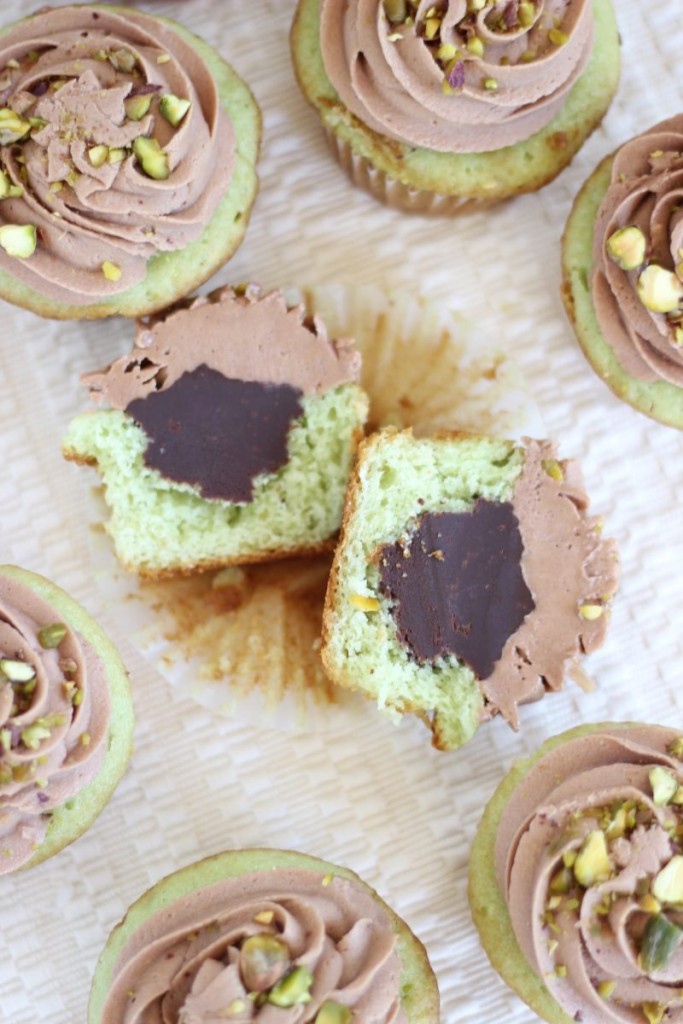 Every cupcake should be filled with ganache. I'm certain you won't disagree. If it doesn't have ganache in the center, I won't turn it down, but I would still argue that every cupcake should be filled with ganache.
Although, cupcakes filled with citrus curd are pretty great too. Or jam. Or marshmallow.
Okay, okay. There are other great fillings for cupcakes, but ganache will always have a special place near the top.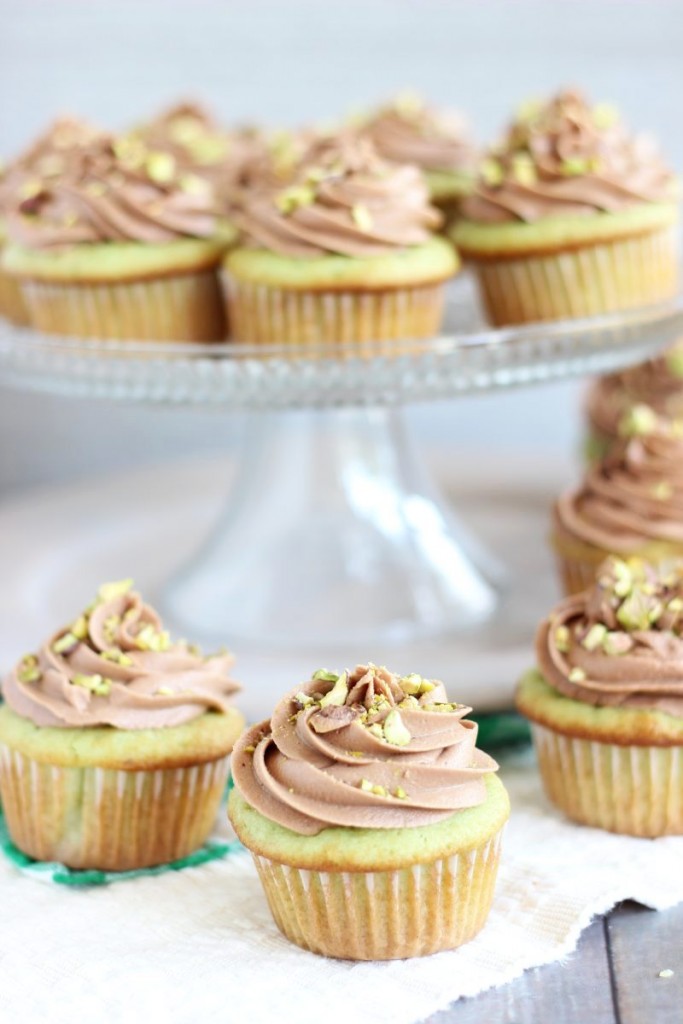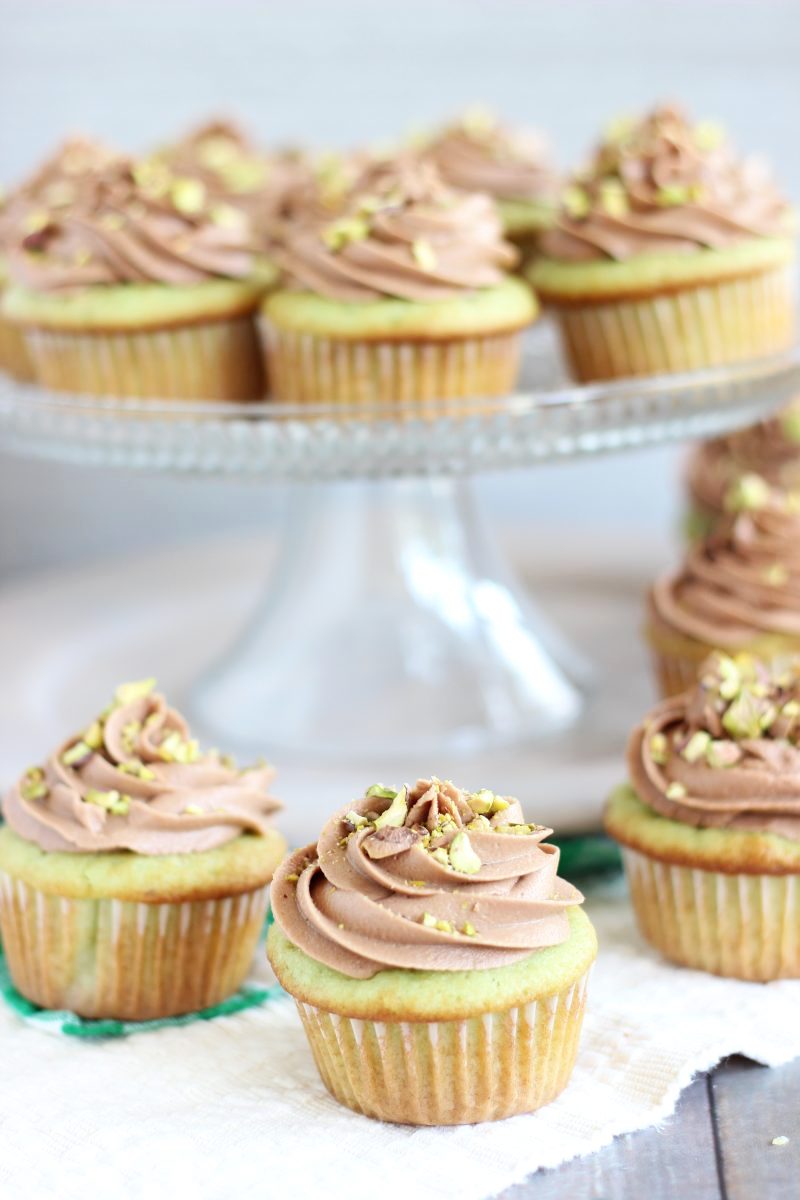 Case in point: these Guinness Chocolate Truffle Cupcakes with Bailey's Frosting. Next year for St. Patty's, do not leave those off the menu. They are an amazing cupcake without ganache in the center, but they are next-level because of it. Sink your teeth into a cupcake, and you're met with a silky, luscious, velvety, rich chocolate ganache center.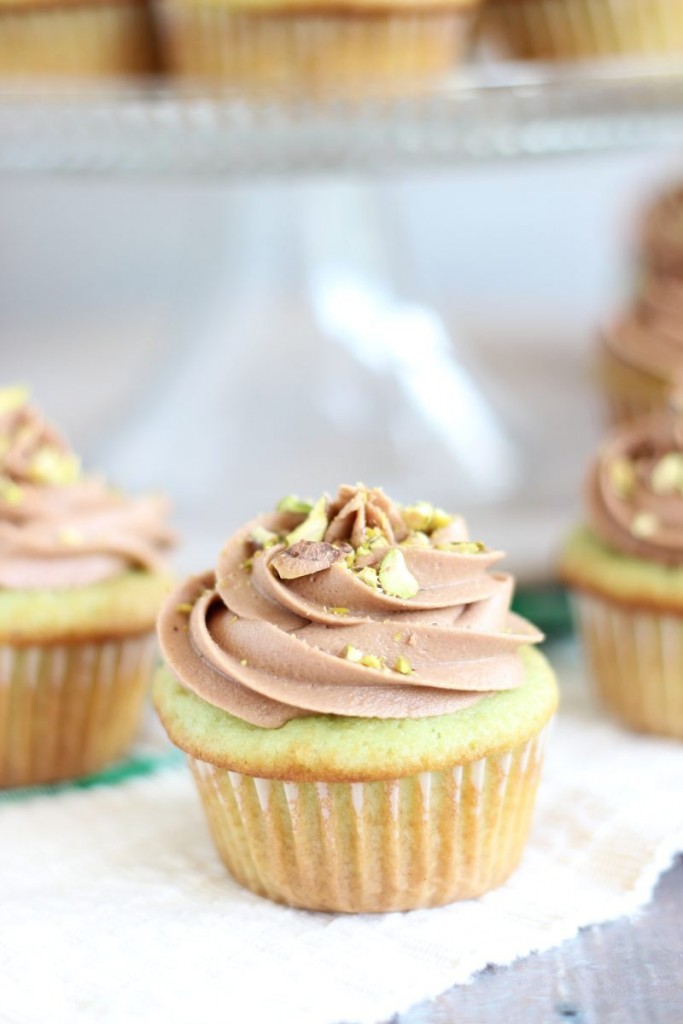 These here pistachio cupcakes are made with – what else – cake mix and pudding mix. How else do you get intense pistachio flavor but to use pudding mix? Pistachio pudding might be scary in color, but you know that stuff is good. Don't deny it.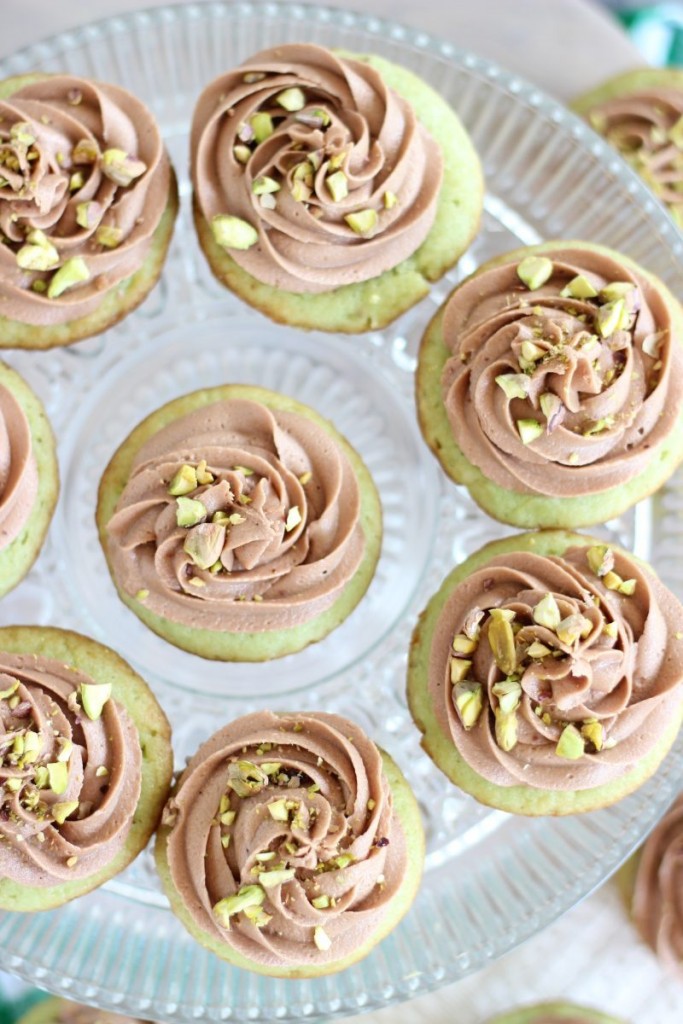 These crumby and soft pistachio cupcakes are filled with semi-sweet chocolate ganache, and topped with chocolate cream cheese buttercream. That buttercream. I really need to use it more. It's chocolatey, but not so strong that it overwhelms the cream cheese component. It's a nice balance of both. It would kinda taste like red velvet in a frosting if it was…. red.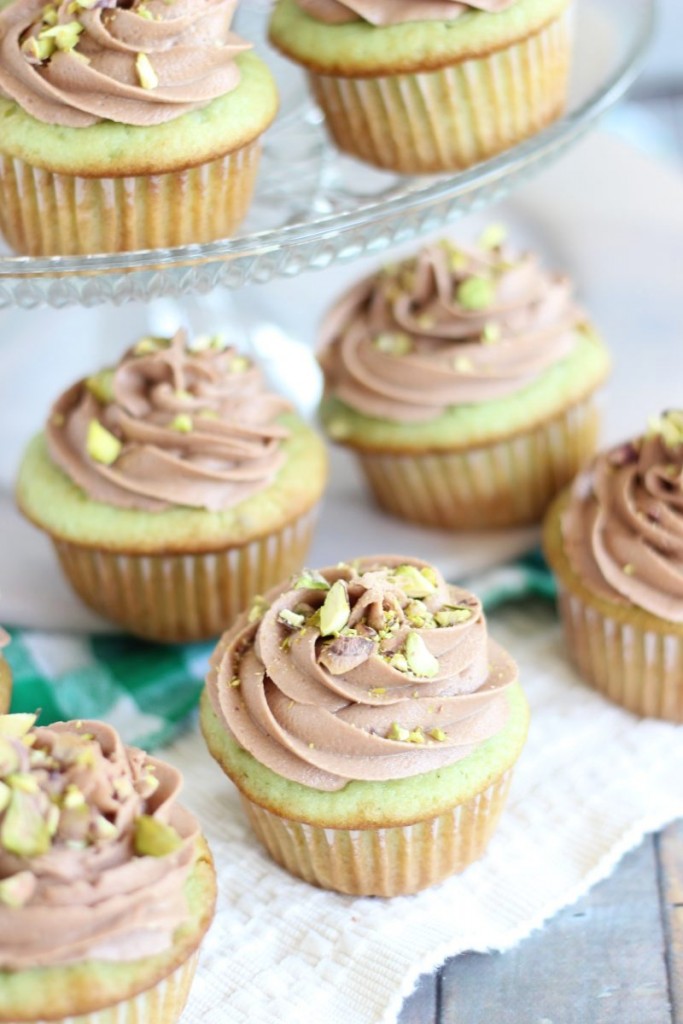 The combo of flavors in these cupcakes is the best. Chocolate and pistachio are a power team. Pistachio and cream cheese are a power team. The three together are a power trio.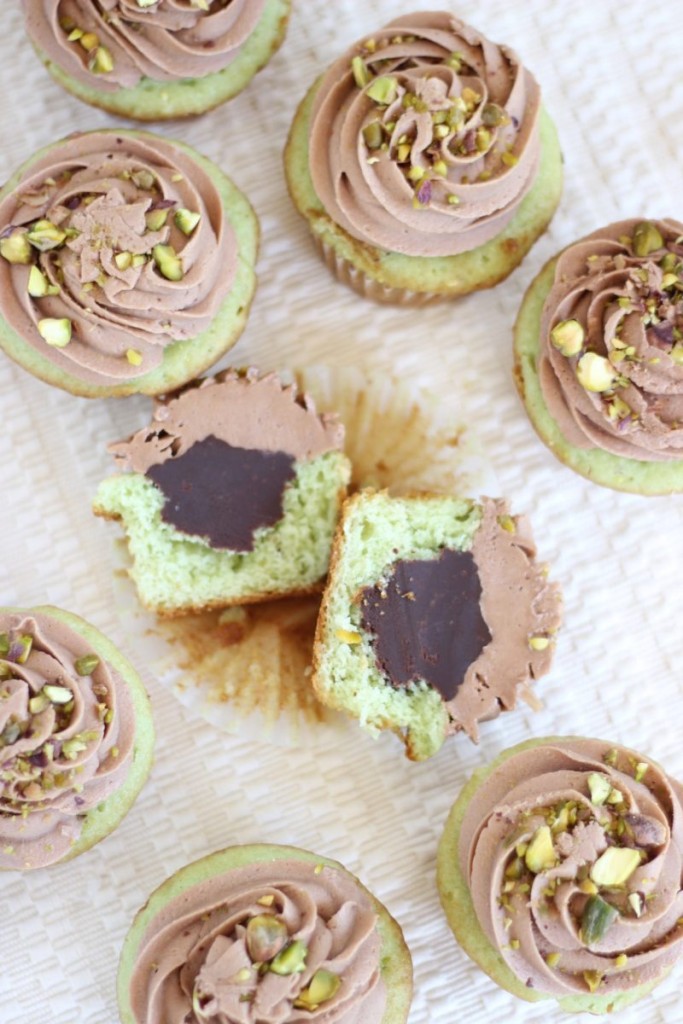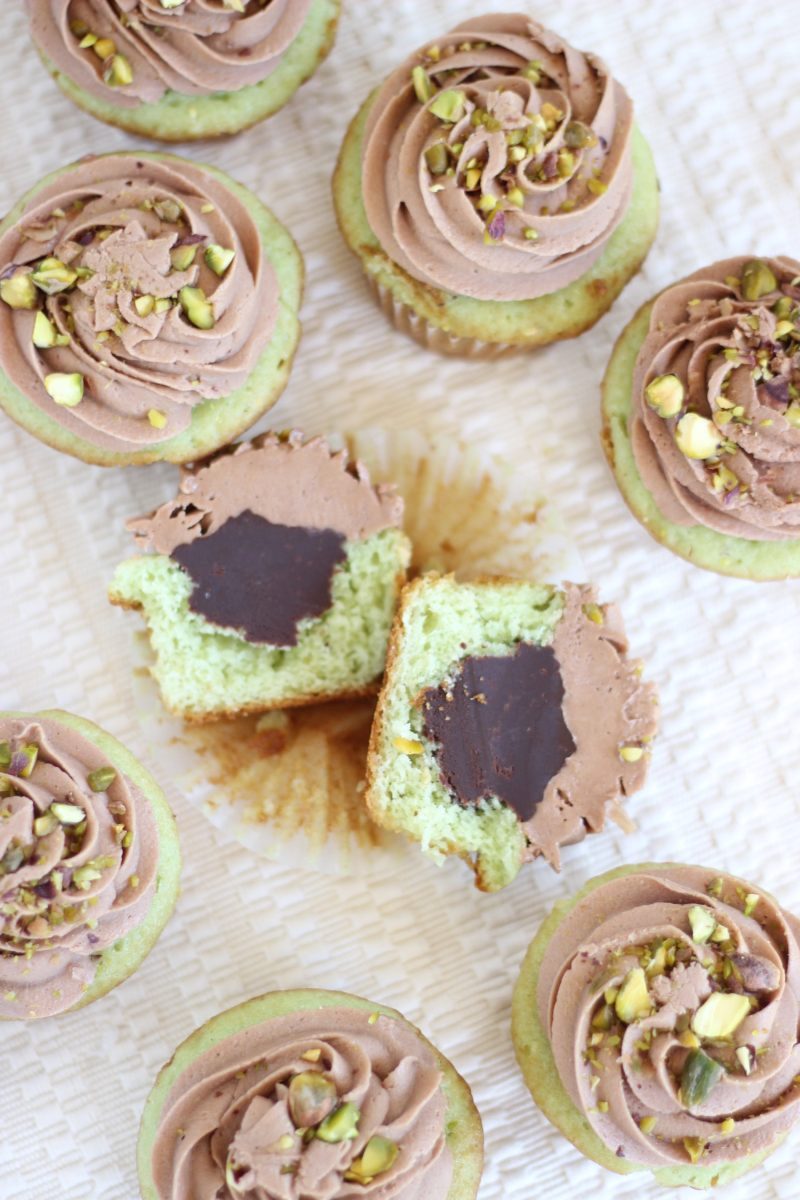 Chocolate Ganache Pistachio Cupcakes with Chocolate Cream Cheese Frosting
Chocolate-ganache filled cake mix pistachio cupcakes with a homemade chocolate cream cheese buttercream frosting!
Author:
Sarah @ The Gold Lining Girl
Ingredients
For pistachio cupcakes:
1 box white cake mix
1 - 3 oz. box instant pistachio pudding
1 c. Sprite or lemon-lime soda
1 c. vegetable oil
3 eggs
1 tsp. almond extract
For chocolate ganache:
1½ c. semi-sweet chocolate chips
½ c. heavy whipping cream
6 tbsp. butter
For chocolate cream cheese frosting:
1 - 8 oz. package reduced-fat cream cheese, softened
½ c. butter, softened
3½ c. powdered sugar
¼ c. cocoa powder
1 tsp. vanilla
2-3 tbsp. milk
⅓ c. chopped pistachios, optional garnish
Directions
For pistachio cupcakes:
Line 18 regular-sized baking cups with paper liners.
Fill half full with cake batter.
Bake at 350 degrees for 12-16 minutes, or until edges are golden brown, and a toothpick inserted near the center comes out clean.
Cool completely.
Meanwhile, prepare ganache and buttercream.
For chocolate ganache:
In a medium microwave-safe bowl, combine chocolate chips, heavy cream, and butter.
Microwave on high for 1-2 minutes, or until heavy cream just begins to boil.
Whisk until the chocolate and butter are completed melted, and the mixture is smooth.
Place in the refrigerator for 10-15 minutes to allow it to thicken.
Using a spoon or cookie scoop, scoop a 1-inch ball out of the center of each cupcake.
Spoon a rounded teaspoonful of ganache into the center of the hole of each cupcake.
For chocolate cream cheese frosting:
In a large mixing bowl, beat cream cheese and butter until fluffy.
Add powdered sugar, cocoa powder, and vanilla, beating until combined.
Add 1 tbsp. milk, and beat until combined, adding more milk as needed to achieve desired consistency.
Beat for 3-4 minutes, or until light and fluffy.
Frost cupcakes. Sprinkle with chopped pistachios. Enjoy!
Notes
I like my chocolate frosting to be more lightly chocolate-flavored. If you'd like the chocolate to be deeper and strong, you can add more cocoa powder, between ⅓ cup and ½ cup. You'll need to add slightly more milk to adjust the consistency. These taste even better the second day, once the flavors in the frosting settle, and the pistachio flavor in the cupcakes becomes stronger.