These flavorful pumpkin muffins are ultra-moist and sweet with the addition of grated apple! With lots of crunchy walnuts, and a sweet, buttery, cinnamon streusel on top!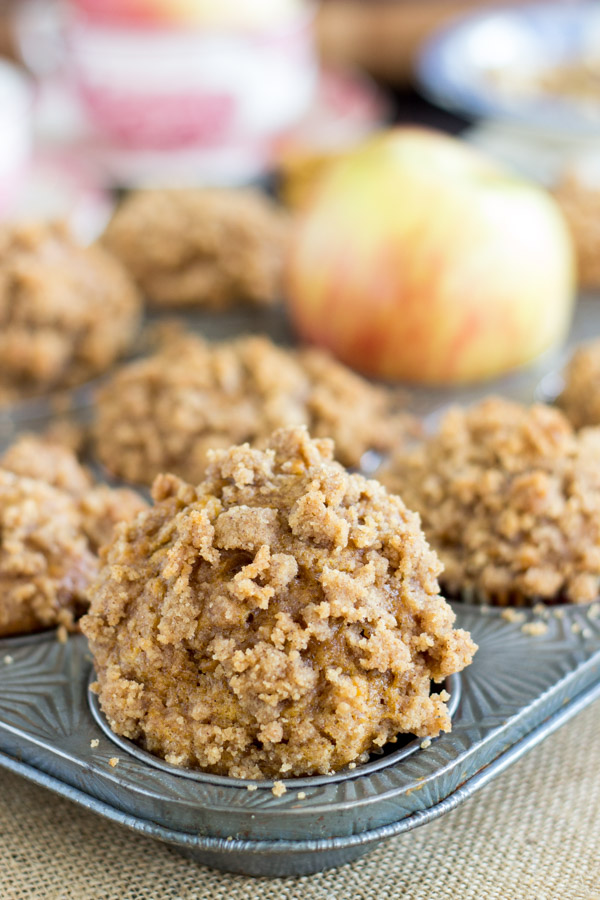 The day I made these, I was at the grocery store four times, and I still went again the next morning. I also made four cheesecakes that day (including this one), and a bread recipe. The oven was on non-stop for hours. Each cheesecake takes about an hour to bake, so it was a marathon.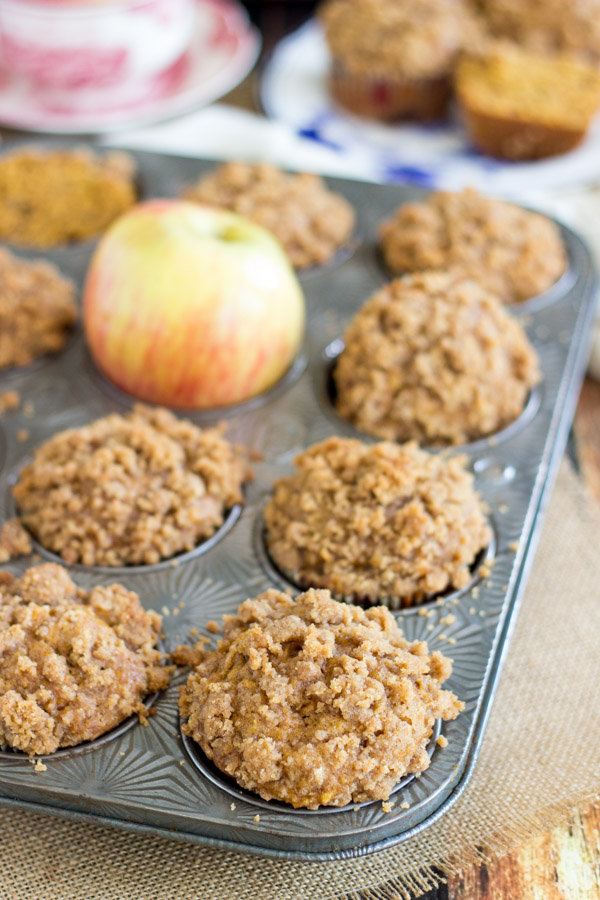 I never get everything I need in one grocery trip. Something always gets forgotten! In this case, I ran out of apples. There was a lot of apple stuff happening. I have an apple pie coming up, two apple crisp recipes, and an apple cake. I couldn't keep enough apples in the house.
But I really wanted to make these muffins. Back to the store, I went.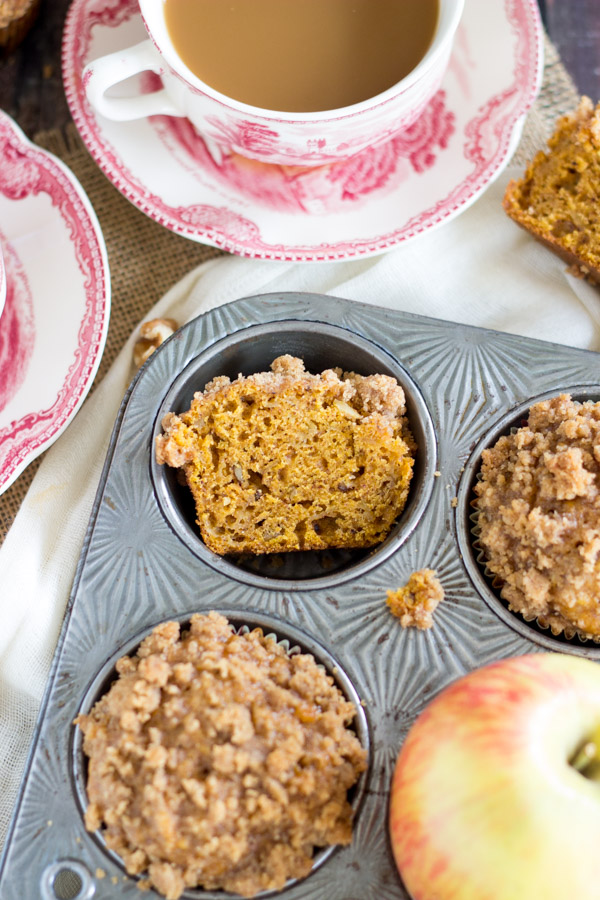 Then I needed brown sugar, then sweet potatoes (not for the muffins though), and then pumpkin pie spice. I blow through that stuff in the fall, and I wish they sold it in bulk from Sam's Club. Bulk pumpkin pie spice is a must.
All of these items scream fall, and the only thing missing that would complete the fall shopping list would be pumpkin, but I had the good sense to stock up on pumpkin weeks ago, so I was actually all set, as far as that goes.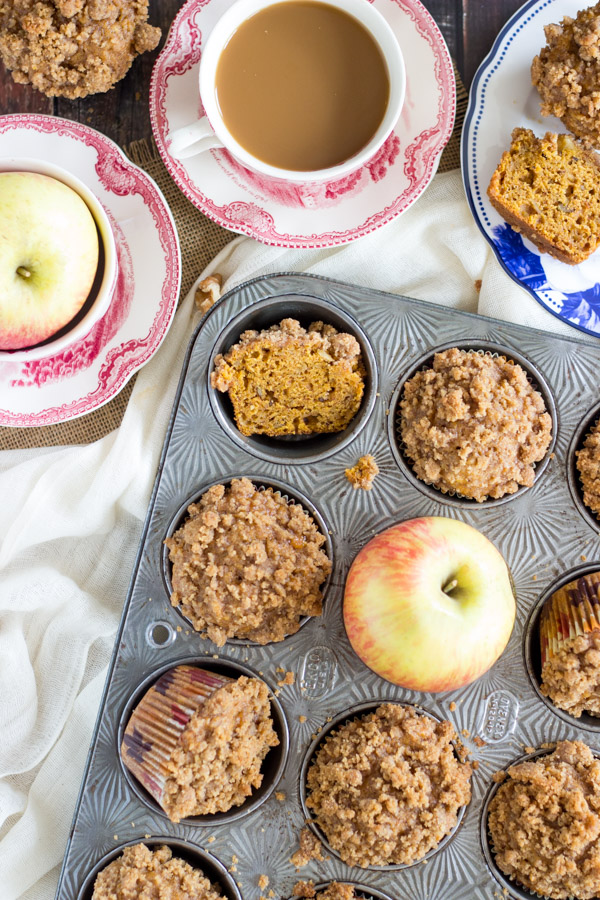 I don't love ending up at the grocery store as much as I do, but it's worth it when I turn out a recipe that I'm proud of, and that I look forward to sharing. I love that these muffins combine a bunch of fall favorites in one: apples, pumpkin, walnuts, and spice. You pick up on all flavors, and none dominates overwhelmingly, so it's a lovely marriage of everything.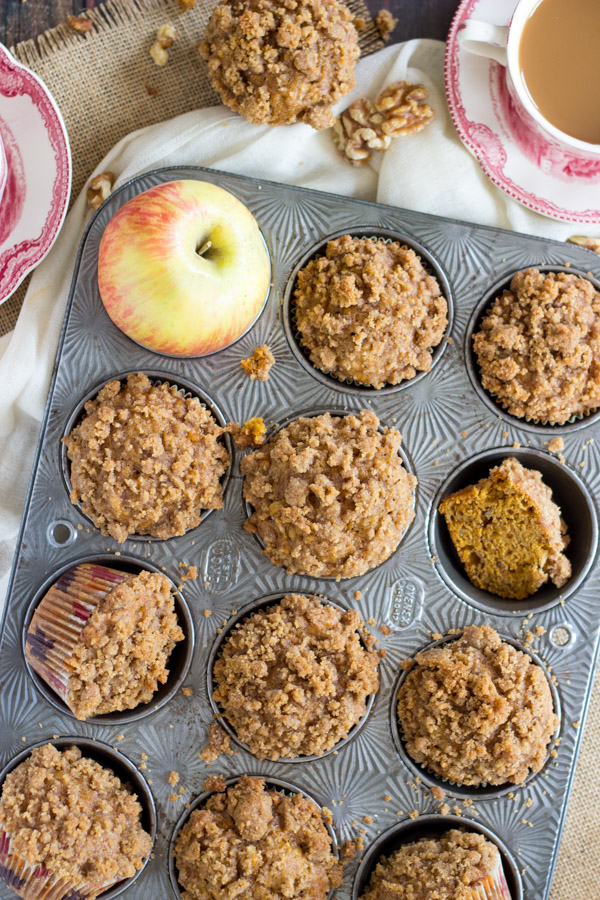 They're incredibly moist and sweet, and loaded with spice. If the muffin itself isn't wonderful (but it is, I promise), it's topped with a buttery, brown sugar-cinnamon streusel. I never met a streusel-topped baked good that I didn't like. These will have your whole house smelling like fall, and they make for a delicious breakfast to throw together on weekends.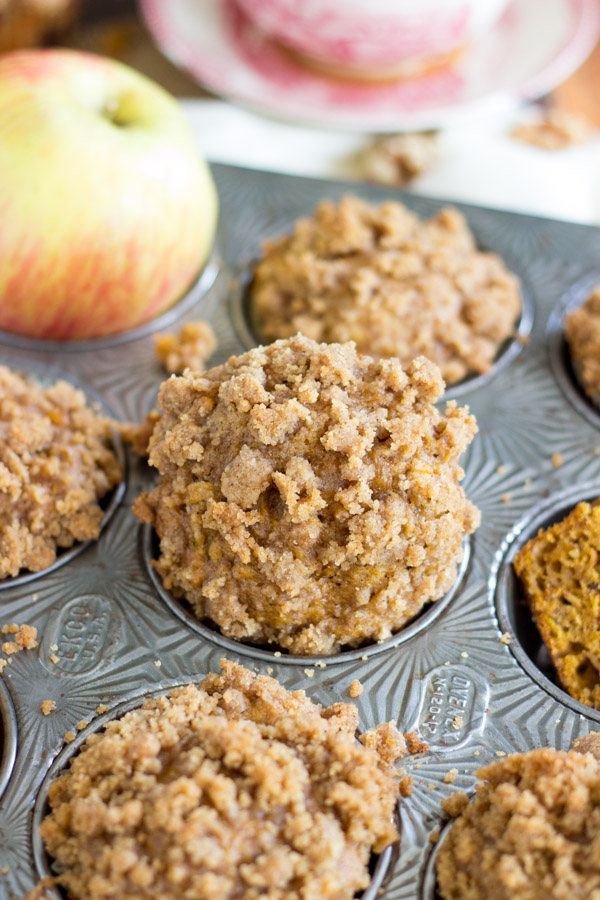 Pumpkin Apple Streusel Muffins
These flavorful pumpkin muffins are ultra-moist and ultra-sweet with the addition of grated apple! With lots of crunchy walnuts, and a sweet, buttery, cinnamon streusel on top!
Author:
Sarah @ The Gold Lining Girl
Ingredients
For pumpkin apple muffins:
2½ c. flour
1 c. sugar
1 c. packed brown sugar
1 tbsp. pumpkin pie spice
½ tsp. cinnamon
¼ tsp. ginger
pinch of clove
1 tsp. baking soda
¼ tsp. salt
2 eggs
1 c. pumpkin
½ c. vegetable oil
2 large apples, peeled, grated (I used Fuji)
1 c. chopped walnuts
For streusel:
1 c. brown sugar
1 c. flour
2 tsp. cinnamon
6 tbsp. butter, melted
Directions
For pumpkin apple muffins:
In a large bowl, combine flour, sugar, brown sugar, pumpkin pie spice, cinnamon, ginger, clove, baking soda, and salt, stirring until blended.
In a medium bowl, combine eggs, pumpkin, oil, and apples, stirring until blended.
Add the wet ingredients to the dry ingredients, and stir until just combined.
Fold in walnuts.
Line 24 regular-sized muffin cups with paper liners.
Fill ¾-full with batter.
For cinnamon streusel:
In a small bowl, combine brown sugar, flour, cinnamon, and butter, mixing until it resembles coarse crumbs.
Sprinkle a generous tablespoonful of streusel on top of each muffin.
Bake at 350 degrees for about 25 minutes, or until a toothpick inserted near the center of a muffin comes out clean.
Remove to wire racks to cool.