Chewy (not-cakey!) pumpkin cookies, loaded with spice, flavored with coffee, and drizzled with a coffee glaze! Your favorite fall beverage in cookie form.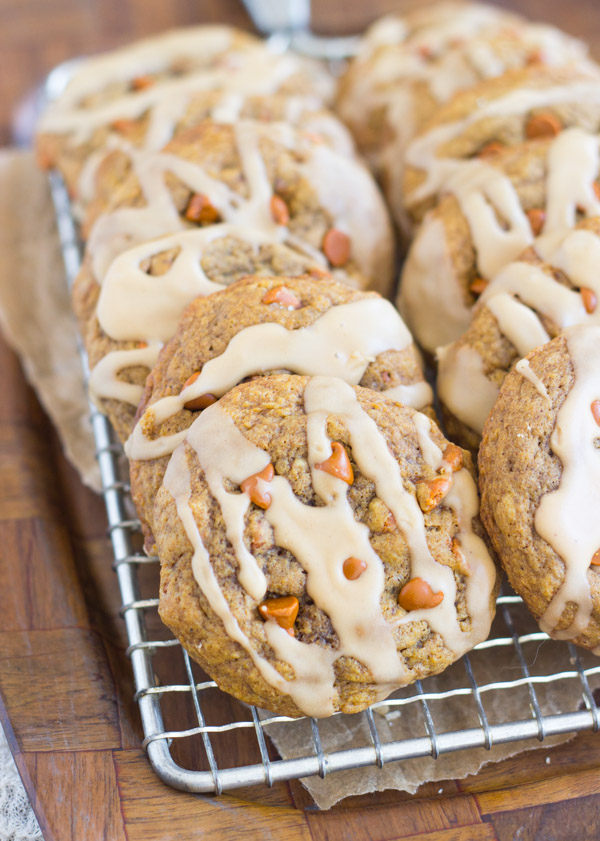 It's that time of year where the masses obsess over Starbucks PSLs. I'm not in that camp of people though. I love coffee, and I love pumpkin, and I love them together, but that beverage doesn't do it for me.
These cookies, however, do. They do it for me. And they will do it for you too, if you like pumpkin and you like coffee. And if you like Starbucks PSLs.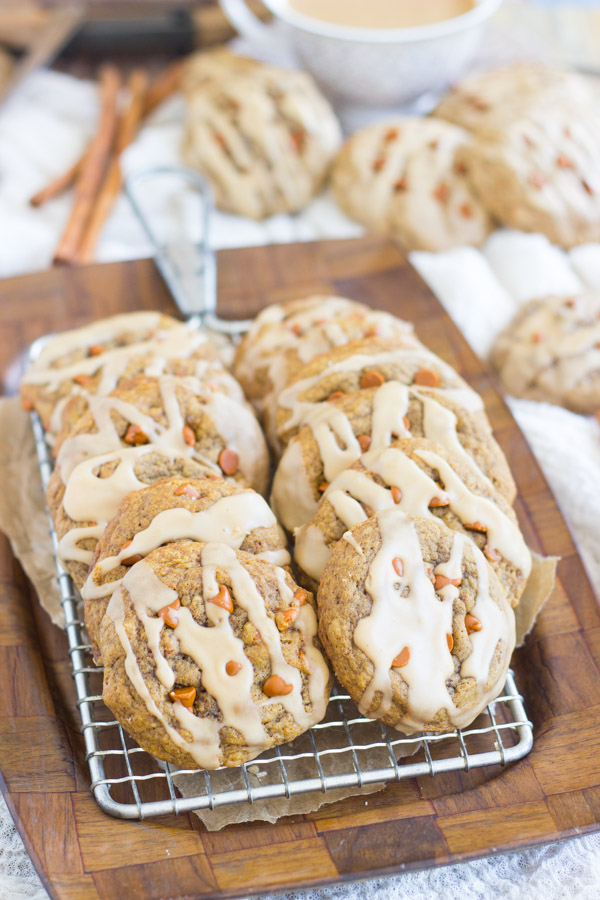 Even if you don't like Starbucks PSLs, like me, you're still likely to enjoy these cookies. If you're like my brother and SIL though, who hate coffee, than I guess you could skip these? I don't understand people that don't drink coffee!! Help me understand.
I made several batches of these, and was trying to decide which version I liked best. I passed them around to friends for taste-testing, and the group was split, but I was the lone dissent. My personal favorite version was ultra-chewy, in every possible way, but the majority of people liked these cookies with crispy edges and chewy centers.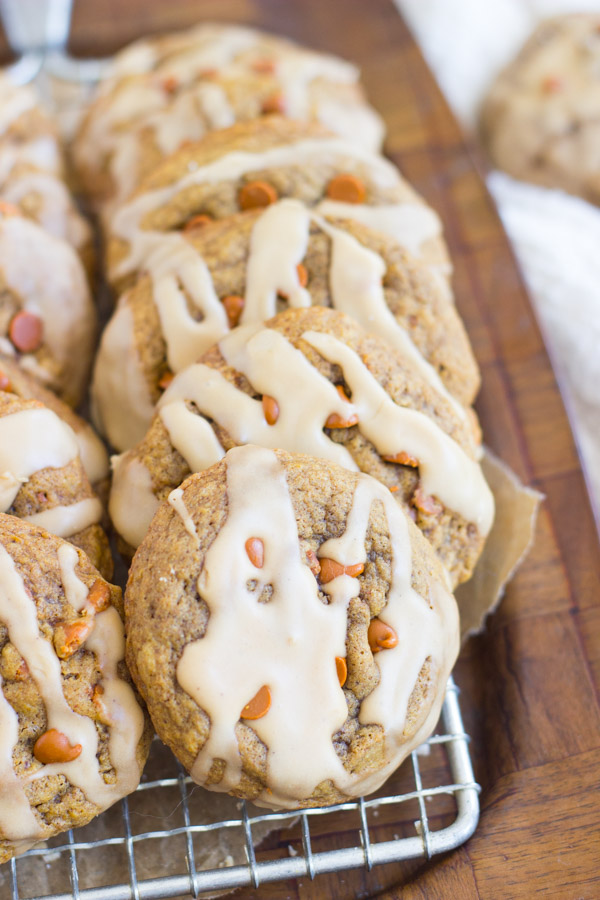 So that's what these are: they have crispy edges and chewy middles! They're soft, minimally cakey, and overall, very chewy. It seems like everything pumpkin touches becomes cakey. Not these cookies – they still have a substantial amount of pumpkin, and are strong on pumpkin flavor, but they do not turn out cakey.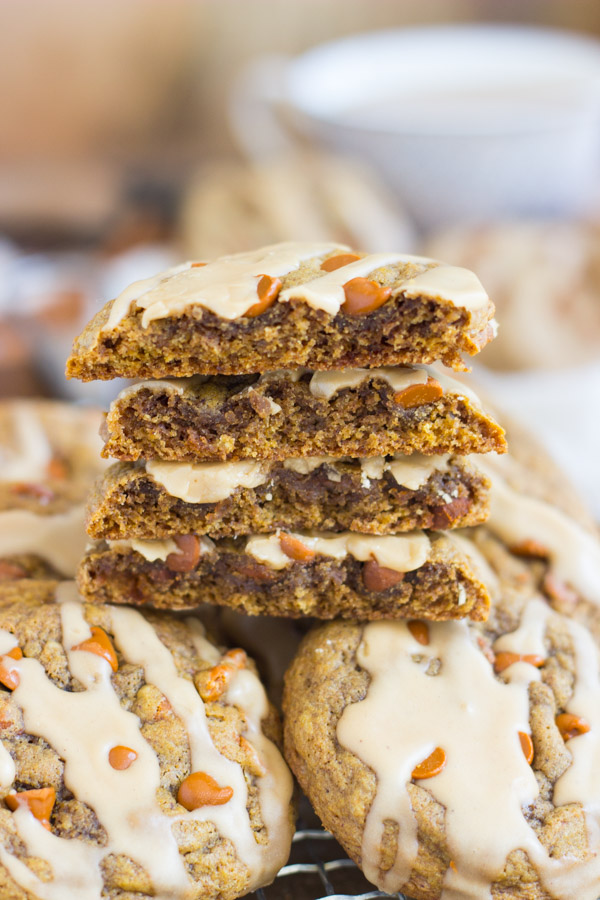 They're loaded with spice too. I love a pumpkin cookie that's pretty heavy and intense with pumpkin pie spice, cinnamon, ginger, and clove. If you're going to make a pumpkin cookie, what's the point if it isn't heavy-handed with spice? We want to represent this cookie's namesake too, so to make it more PSL-ish, it's heavy on warm, fall spices.
Cinnamon chips are a big bonus in these cookies. They add to the spice, and they are also great for texture. I love cinnamon chips for fall baking, and I usually find them at Walmart pretty easily this time of year.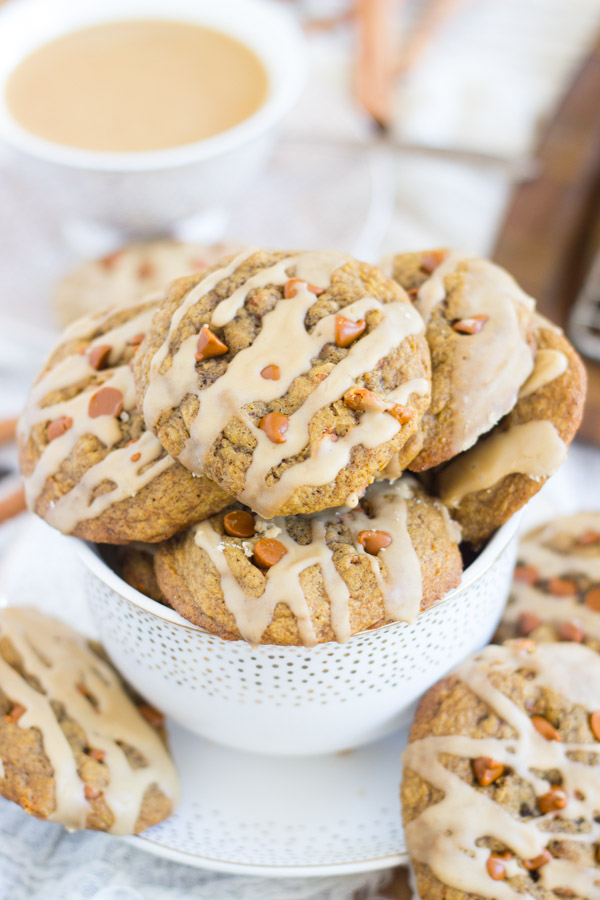 Lastly, there's coffee granules right in the cookie dough for latte oomph, and the latte flavor is accentuated with a quick and simple coffee glaze drizzled on top. I don't have an espresso machine (unfortunately!!) but you could just mix powdered sugar with a shot of espresso, or with strong-brewed coffee for the glaze, if you'd like. It's flexible. I love Starbucks Via instant coffee, and so I just stuck with instant coffee granules. You've got options when it comes to the glaze.
These cookies have all the main flavors that you look for in pumpkin spice lattes, and they are all prominent and balanced. You definitely get pumpkin, you definitely get spice, and you can't miss the latte component either.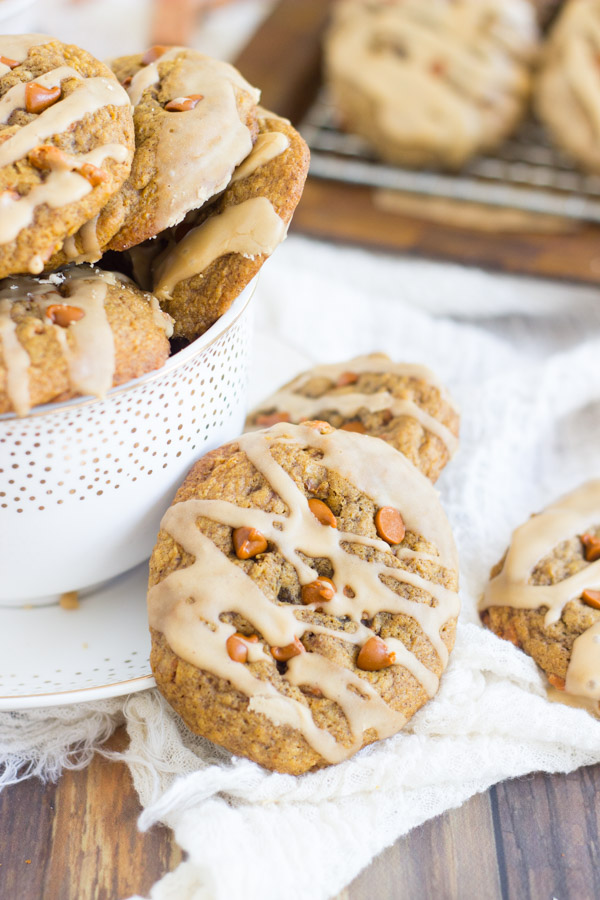 I had so many batches of these cookies from playing around with ingredients and spices that I stuck some in the freezer about a month ago. I got them out yesterday to defrost, and nearly two dozen were gone by this morning just between my S.O. and I. I'm seriously not exaggerating. That should be a promising indicator for this recipe.
Pumpkin Spice Latte Cookies
Chewy (not-cakey!) pumpkin cookies, loaded with spice, flavored with coffee, and drizzled with a coffee glaze! Your absolute favorite fall beverage in cookie form!
Author:
Sarah @ The Gold Lining Girl
Ingredients
For pumpkin spice latte cookies:
½ c. unsalted butter, melted, slightly cooled
1 c. packed brown sugar
1 large egg yolk
1 tsp. vanilla
⅓ c. canned pumpkin puree (not pumpkin pie filling)
2 tsp. instant coffee granules (I love Starbucks Via)
¼ tsp. salt
1 tsp. cinnamon
1 tsp. pumpkin pie spice
¼ tsp. ginger
¼ tsp. clove
¾ tsp. baking soda
1½ c. all-purpose flour
⅔ c. cinnamon chips
½ c. sugar (optional sugar coating) - SEE NOTES.
For coffee glaze:
1 tsp. instant coffee granules
2 tbsp. hot water
2 c. powdered sugar
Directions
For pumpkin spice latte cookies:
In a large bowl, whisk together butter, brown sugar, egg yolk, vanilla, pumpkin, and instant coffee granules.
In a medium bowl, whisk together salt, cinnamon, pumpkin pie spice, ginger, clove, baking soda, and flour.
Add the dry ingredients to the wet ingredients, and stir until just combined.
Fold in cinnamon chips.
Chill cookie dough in the refrigerator for at least 2-3 hours, until firm, and preferably overnight. Do not skip this.
Line cookie sheets with parchment paper or silicone baking mats.
Scoop the dough by tablespoonfuls, and shape into balls.
To make the cookies fatter and taller, rather than thin and flat, shape the balls into more of a tall cylindrical shape.
If you want the sugar coating, roll each dough ball in sugar before baking. (optional)
Bake at 350 degrees for 10-12 minutes, or until edges are golden, and the centers appear set. If you tap the top of the cookie, it should only slightly depress. You want to underbake these slightly so that they remain chewy in the center.
Remove from heat, and allow to cool on cookie sheets for 2-3 minutes before removing to wire racks to cool completely. They will continue to cook a bit on the sheets.
If desired, you can press additional cinnamon chips into the tops of the cookies while they're still warm to give them a nice bakery appearance.
Once cool, drizzle with coffee glaze.
For coffee glaze:
In a medium bowl, combine coffee granules and hot water.
Add 2 c. powdered sugar, whisking until smooth. If needed, add more water or powdered sugar to achieve desired consistency. It shouldn't be runny, but you should be able to drizzle it with a spoon.
Drizzle glaze over cooled cookies, and allow to set for 15-20 minutes. DEVOUR.
Notes
I made several batches of these cookies, and I accidentally rolled the dough balls into granulated sugar for one of the batches (I had ginger cookies on the brain). They're not supposed to have that, but it was very well-liked by my taste-testers, and if you prefer a cookie with a little crunchy sugar coating, then it's optional to roll the dough balls in sugar before baking. Those cookies are not pictured though.
You can sub 1 shot espresso for the coffee granules and hot water in the glaze. Just add powdered sugar straight to espresso til you reach the desired consistency.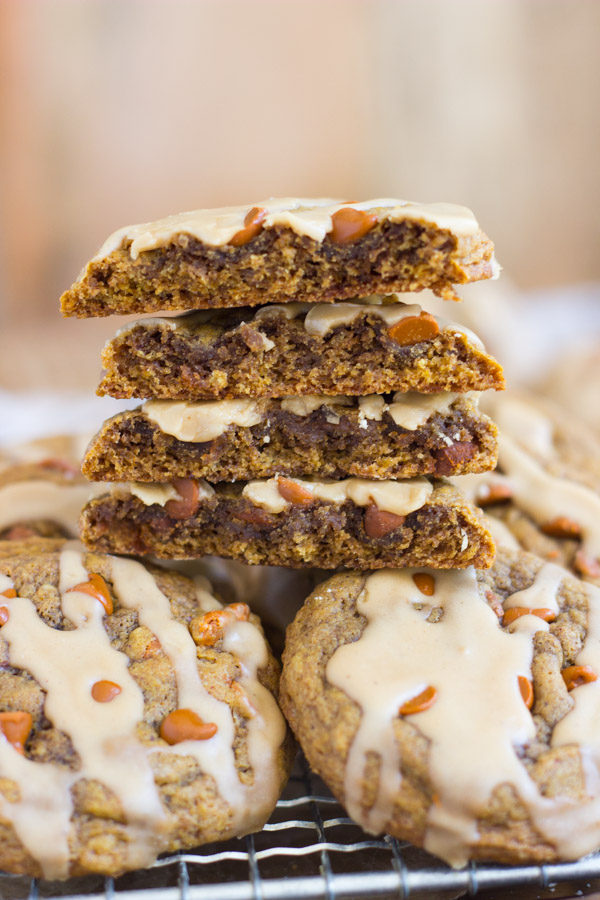 Please read the notes before making these cookies!! Since I made several different batches, and people had different preferences, there's small options for switching them up. I provided the recipe that was most popular with taste-testers though, and ALL versions were delicious, honestly, so you can't go wrong.