This Giant Pumpkin Caramel Pecan Skillet Cinnamon Roll is outrageously good. Like, wish-I-had-the-right-words-in-the-English-language-good. The title is also obnoxiously long. You can insert the ashamed-face emoji right here.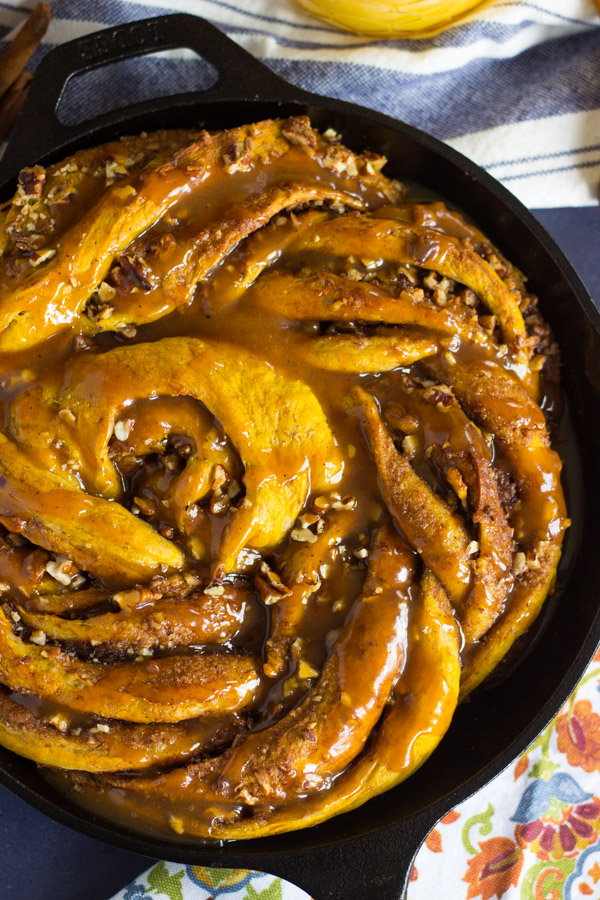 It is addictive. So much, in fact, that I made it, remade it, then decided to shoot video of it, so I made it twice more. Four times in about 2 weeks. There's a half-eaten one in the kitchen as I write, and another whole one in the freezer. I'm so happy that it's in there so I don't have to worry about running out of it soon.
The cinnamon roll part is perfect. It's chewy, fluffy, and pillowy soft. It's especially soft and chewy in the center where it nearly melts in your mouth. There's pumpkin right in the dough, and it's heavily spiced with pumpkin pie spice too.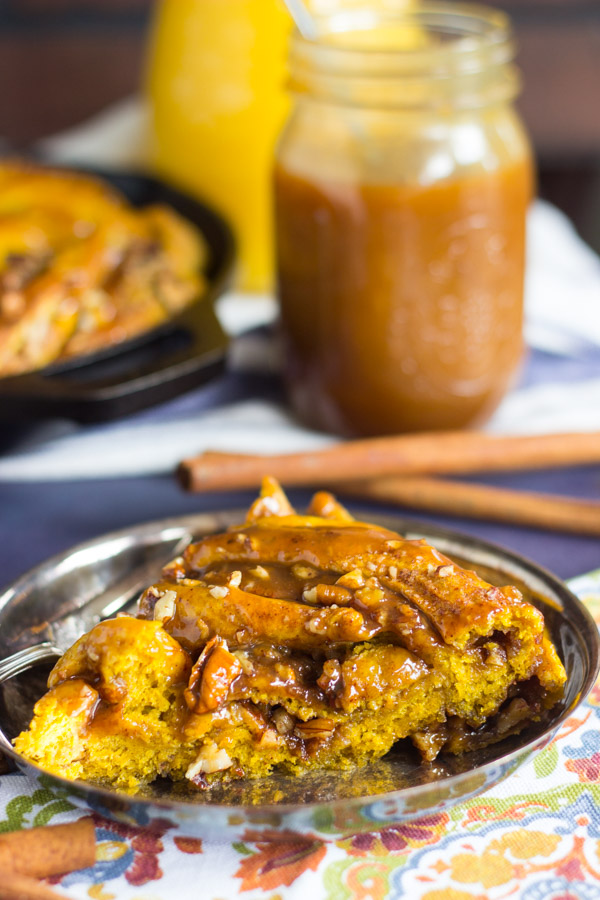 Because of the way the dough is cut and twisted, the butter, cinnamon, brown sugar, and pecans get intertwined in every bite. The butter soaks into every crack and crevice. The filling is ooey-gooey in the center where it's baked into the layers of dough, but it's caramelized and crispy on top.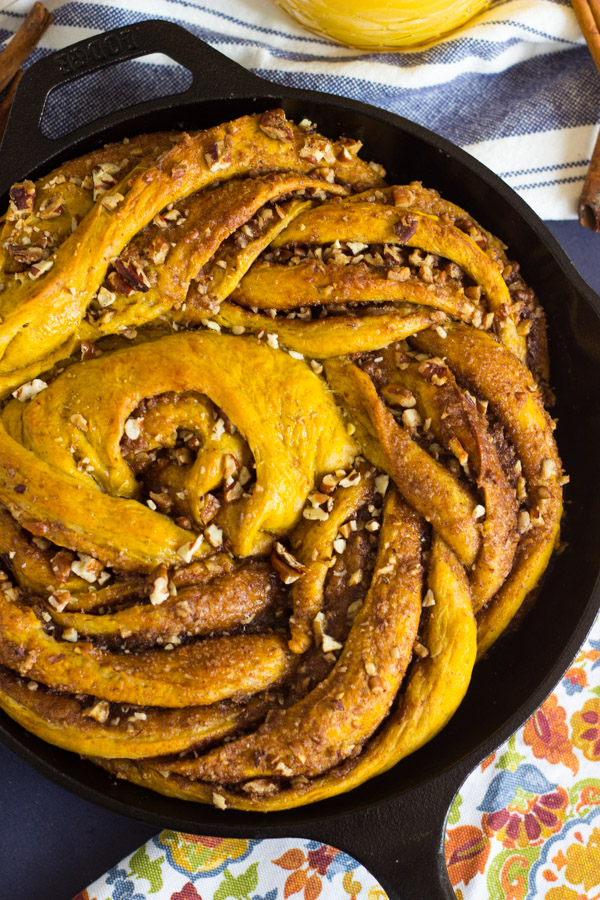 I smothered this cinnamon roll in Fireball Whiskey Caramel Sauce. I made that recipe again recently (because I want it on EVERYTHING I eat) and had an entire jar, so I poured a whole bunch on this Giant Pumpkin Caramel Pecan Skillet Cinnamon Roll, and it was pure heaven. The cinnamon whiskey enhanced all the cinnamon and pumpkin pie spice in this.
I drizzled the caramel sauce over the roll while it was still warm from the oven so that it melted and seeped into all the crevices.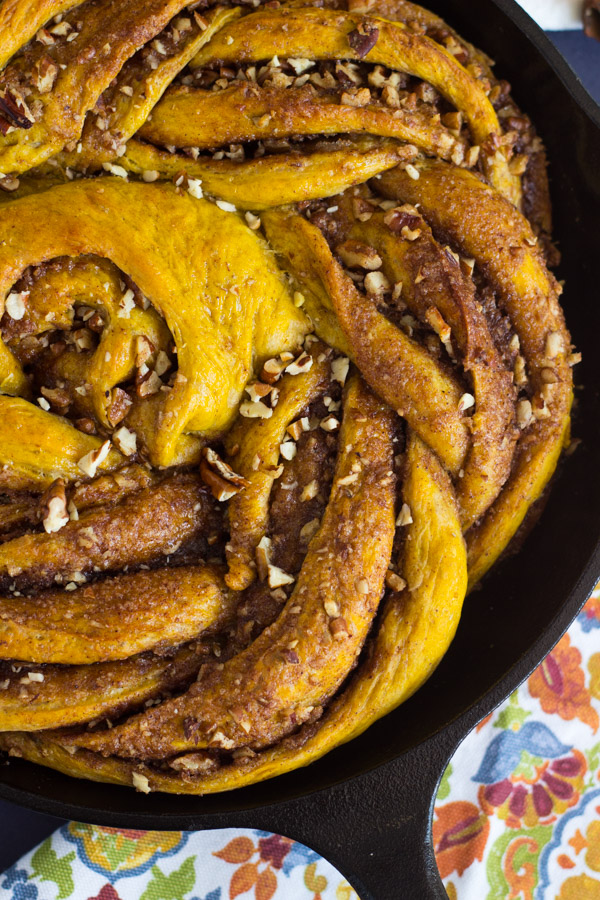 This is crazy easy to make, and I would not lie to you. The dough is just a few ingredients, and it comes together without any elbow grease if you have a dough hook for your mixer – no kneading. And the twist is not at all complicated or difficult. It looks like it might be, but it's totally not.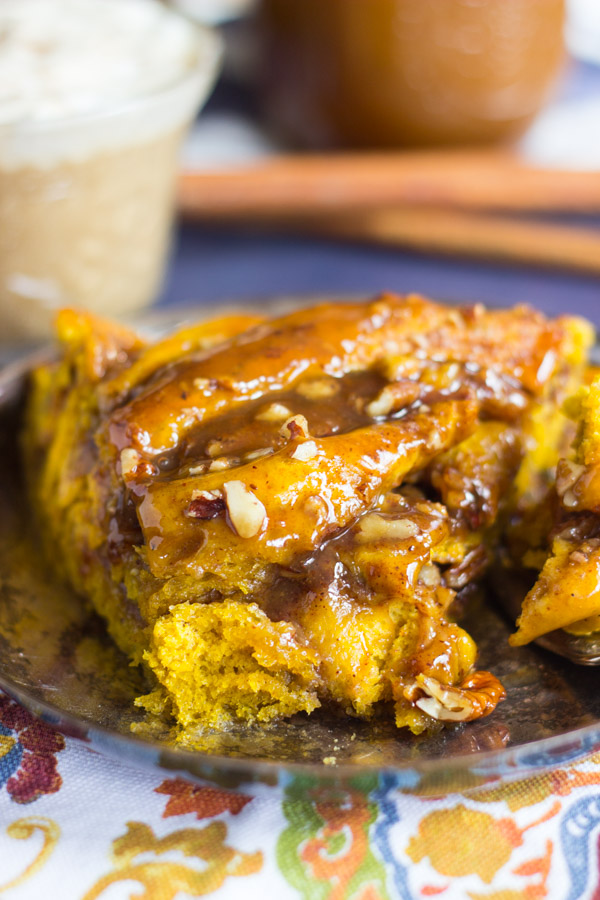 This Giant Pumpkin Caramel Pecan Skillet Cinnamon Roll makes for such an impressive brunch. Or dessert. Or afternoon snack. Or post-workout carbohydrate refueling, not that I know anything about that. It's a great recipe for holidays because it's not a ton of work, but it makes a statement.
Of all the things I made for fall this year, this might be my very favorite!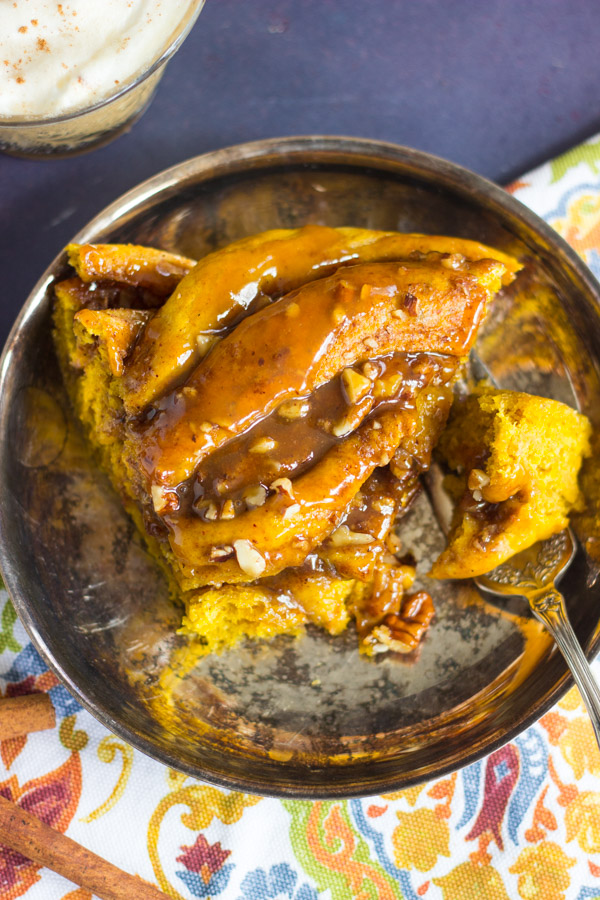 Giant Pumpkin Caramel Pecan Skillet Cinnamon Roll
Author:
Sarah @ The Gold Lining Girl
Ingredients
For bread:
½ c. warm water
2 tbsp. sugar
1 - ¼ oz. packet active dry yeast
2½ c. all-purpose flour
1½ tsp. pumpkin pie spice
½ tsp. cinnamon
1½ tsp. salt
2 tbsp. unsalted butter, melted
½ c. canned pumpkin puree
For filling:
½ c. unsalted butter, softened
⅔ c. packed brown sugar
⅔ c. finely chopped pecans
1 tbsp. cinnamon
1 recipe Fireball Whiskey Caramel Sauce
Directions
In a large mixing bowl fitted with the dough hook attachment, stir together water, sugar, and yeast.
Let stand for 5 minutes, or until the yeast foams and is frothy.
Add flour, pumpkin pie spice, cinnamon, salt, butter, and pumpkin puree to the yeast mixture.
Beat at low-medium speed for about 3 minutes, or until dough is soft, smooth, and elastic.
Place dough in a greased bowl, turning over once to coat the top, and cover.
Let rise in a warm place for about 1 hour, or until double in size.
Turn dough out onto a lightly floured surface.
Roll into a 12x16-inch rectangle.
Spread the dough with the softened butter to within ½-inch from the edges.
In a small bowl, stir together brown sugar, pecans, and cinnamon.
Sprinkle evenly over the butter.
Starting with the long side, roll dough jelly-roll style, and lightly pinch the seam and the ends to seal.
Cut in half lengthwise, leaving two inches at the top intact. Turn the two halves facing cut side up.
Twist the halves around each other, keeping the cut side up, while also forming it into a round - this process is WAY easier than it sounds. As you are twisting the halves, they naturally start to form a circle while you are trying to keep the cut sides up.
Once it's in a circle, carefully lift the dough round and place it in a greased 10-inch skillet.
Cover and let rise in a warm place for 1 hour, or until double in size.
Bake at 350 degrees for 25-30 minutes, or until the edges and top are golden brown, and the center feels set.
Drizzle with Fireball Whiskey Caramel Sauce. Serve warm.
I didn't include step-by-step photos of cutting and twisting the dough, but it's seriously easy to do. I got it right on the first try, and I've done it successfully ever since. I have a video of this recipe coming soon though. I just first have to figure out how to edit the footage. No idea what I'm doing, but it should be within a week or two. If you have any questions about twisting the dough, just holler and I'll walk you through it til the video is ready!
You may also like:
Snickerdoodle Pumpkin Nutella Muffins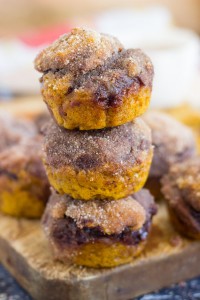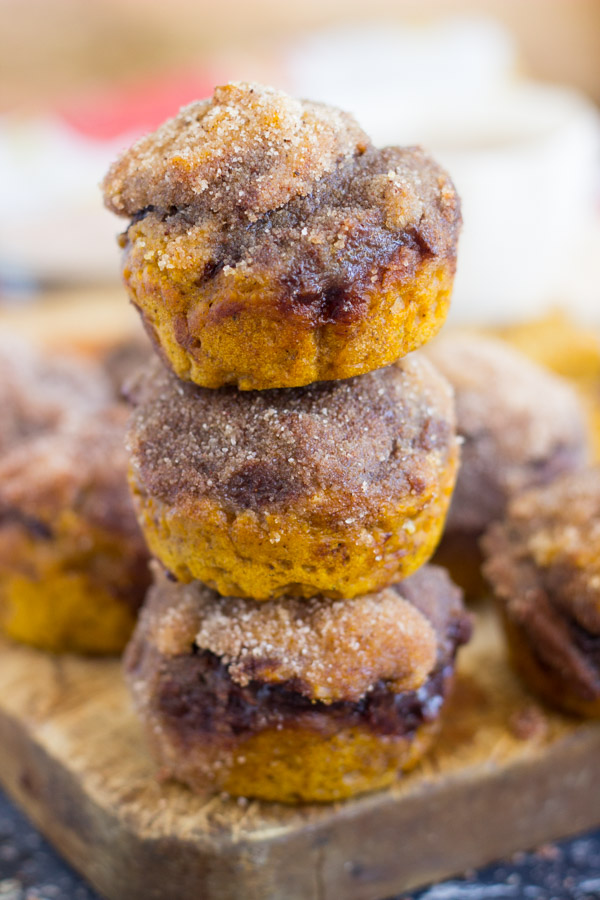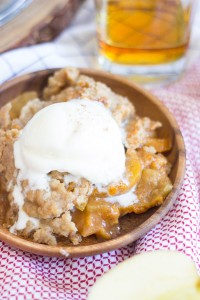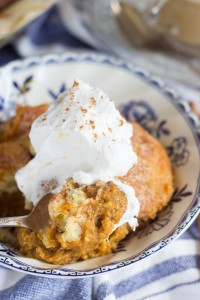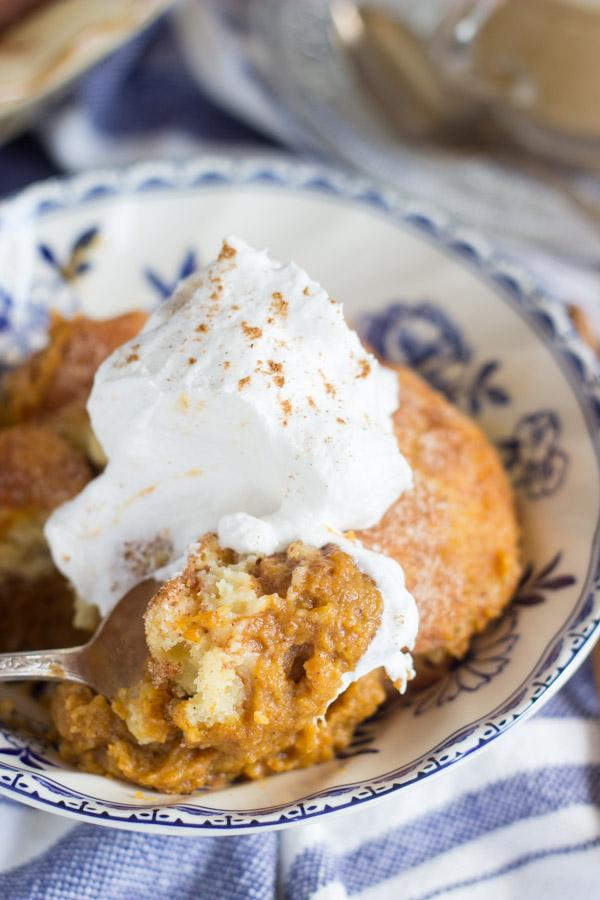 Pumpkin Pecan Scones with Brown Sugar Streusel