Creamy, rich maple cheesecake with a walnut shortbread crust, and a heaping maple-nut topping!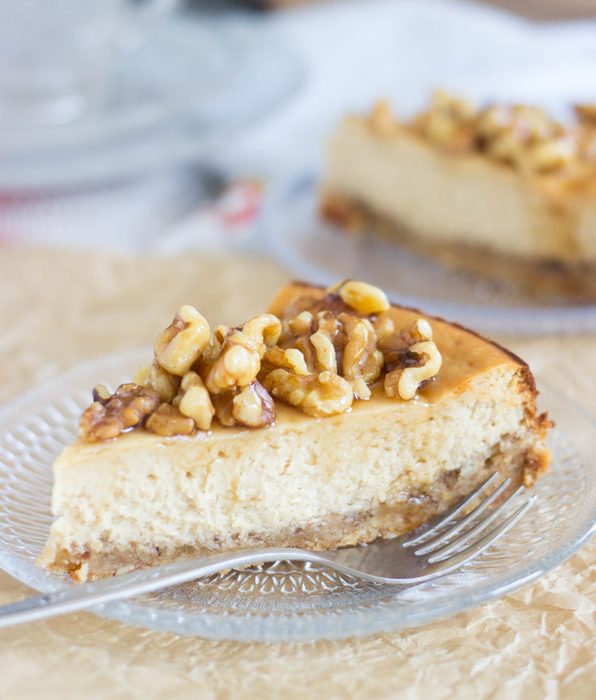 Good morning!! Oh wait, it's afternoon. How did that happen? Well, S.O. heard good things about the new HBO series, Westworld, and we got sucked into a binge-watching session of it all morning.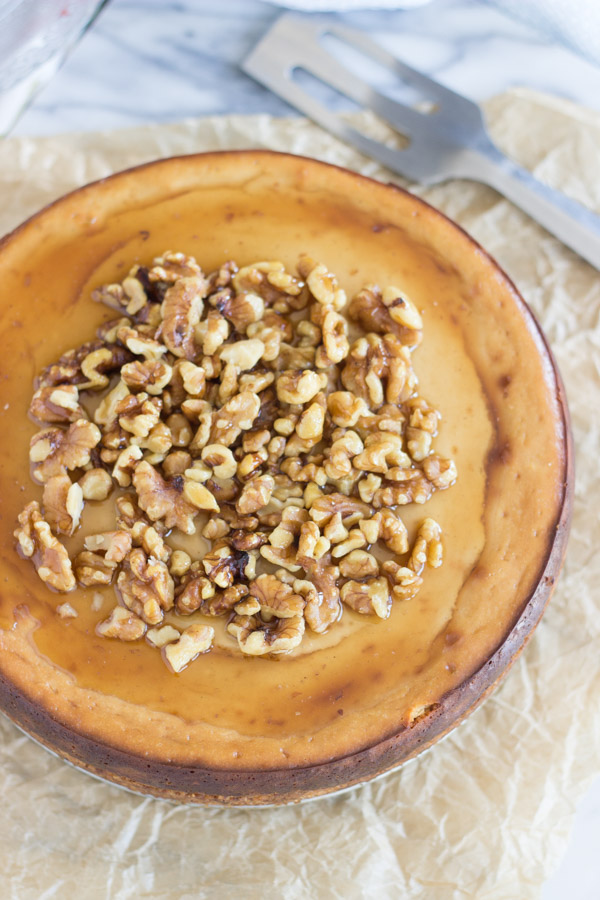 We started the pilot episode last night, but I couldn't stay awake after blogging for a few hours – check out these Classic Sugar Cookies, btw – so we picked up where we left off this morning, and before you know it, it's afternoon.
What a strange show. Is anyone else watching it? I like it, but it's weird. There is nothing about that world that appeals to me personally. It's not my kind of theme park, that's for sure.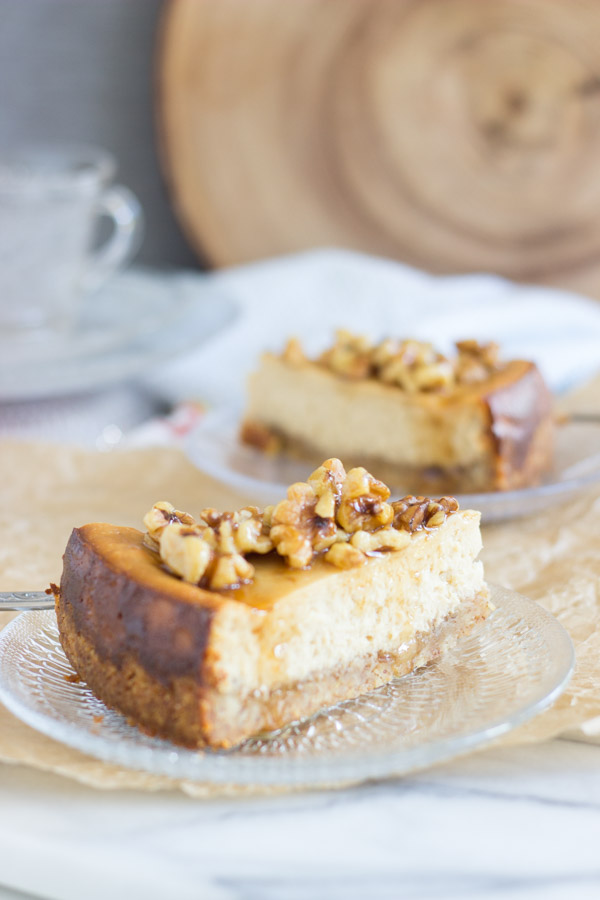 Before heading to bed last night, he wanted something sweet, and I had to dig around the freezer to see what I'd stuck in there. I found this Maple Nut Cheesecake with Walnut Crust, and this is the last of 5 cheesecakes I made for fall/winter. I don't know how I forgot to share it, but I need you to know about it before Christmas because it is a good one.
I couldn't keep my eyes open, so I went straight to bed without having any. By morning, it was more than half gone. I'm not kidding. This isn't totally uncommon in my house, but it still sometimes shocks me that half a cheesecake can disappear overnight. It happens though.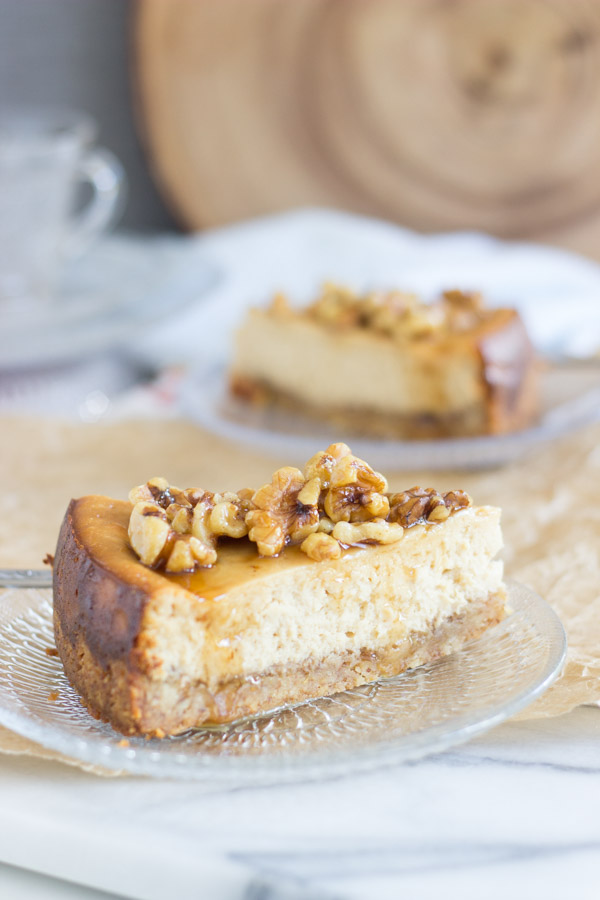 S.O. did that all by himself, of course. He said this Maple Nut Cheesecake rivals his love for my Double Layer Pumpkin Cheesecake, and that's really saying something because my pumpkin cheesecake is probably his favorite food on the planet.
I had some for breakfast, and cheesecake for breakfast is pretty dynamite. It really is wonderful. It was in the freezer with so many other things a few weeks ago that I forgot about it, but WOW, it is really a fantastic cheesecake.
I am not even a huge maple person, but this is a damn good recipe, and maple and walnuts belong together.
My favorite cheesecake crust, given any option, is shortbread. Buttery, sweet, crumbly, but soft, it's the best. This shortbread crust also features finely minced walnuts, so you get nuttiness built right into the crust.
The cheesecake layer has maple syrup right in the batter, but I always like things to have strong flavor, so I add maple extract too. I find this pretty easily, but it's not necessary if you can't locate it. The cheesecake is sweetened with brown sugar, and let me tell you what a difference that makes. It gives just a hint of extra flavor and enhances the maple.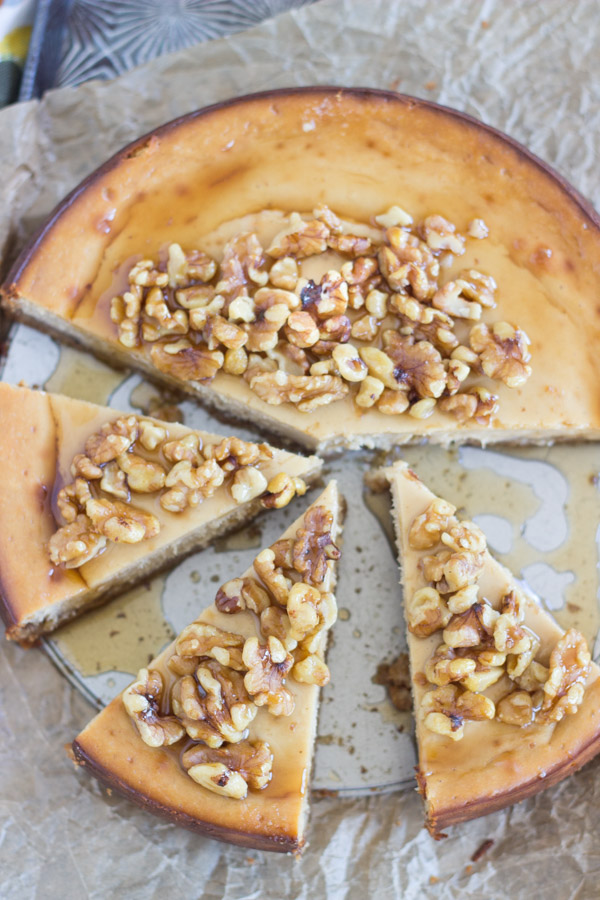 It's topped with a sweet and buttery maple-nut glaze. The glaze actually soaks into the cheesecake a little bit and it makes it all the sweeter and more flavorful, without detracting from the lovely texture of this creamy dessert.
We are big fans, and I know you will be too. If you are looking for other cheesecake options, I've got loads, and I'll share more ideas below!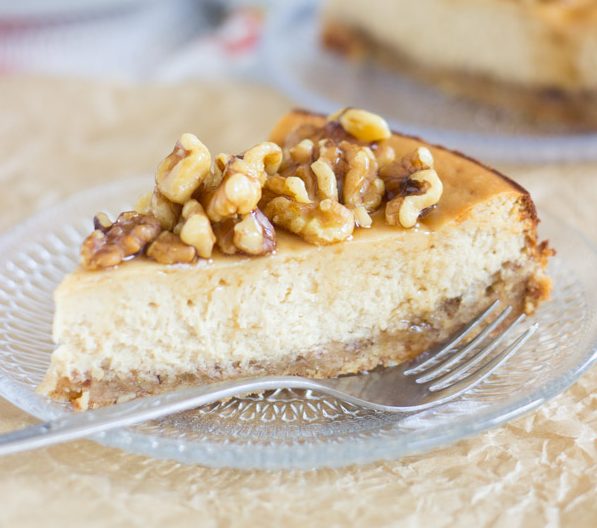 Maple Nut Cheesecake with Walnut Crust
Creamy, rich maple cheesecake with a walnut shortbread crust, and a heaping maple-nut topping!
Ingredients
For walnut shortbread crust:
1 - 11 oz. package classic shortbread cookies, crushed into fine crumbs
½ c. walnuts, minced finely
3 tbsp. sugar
4 tbsp. butter, melted
For cheesecake:
3 - 8 oz. packages reduced-fat cream cheese, softened
1 c. packed brown sugar
3 eggs, at room temperature
½ c. pure maple syrup
2 tsp. maple extract (I find Watkins brand easily at Walmart)
For maple-nut topping:
1 c. chopped walnuts
½ c. pure maple syrup
3 tbsp. butter, melted
Directions
For walnut shortbread crust:
In a small bowl, combine shortbread cookie crumbs, minced walnuts, sugar, and melted butter.
Press into the bottom of an 8-inch springform pan.
For cheesecake:
In a large mixing bowl, beat cream cheese until smooth.
Add brown sugar, beating until combined.
Add eggs, one at a time, beating well after each addition.
Add maple syrup and maple extract, beating until combined.
Pour cheesecake batter over crust.
Bake at 350 degrees for 45-55 minutes, or until edges are golden, and the center is still slightly jiggly, but almost set.
Remove to a wire rack to cool completely.
For maple-nut topping:
In a small bowl, combine walnuts, maple syrup, and butter, tossing to coat.
Spoon over the cooled cheesecake. Cut and serve.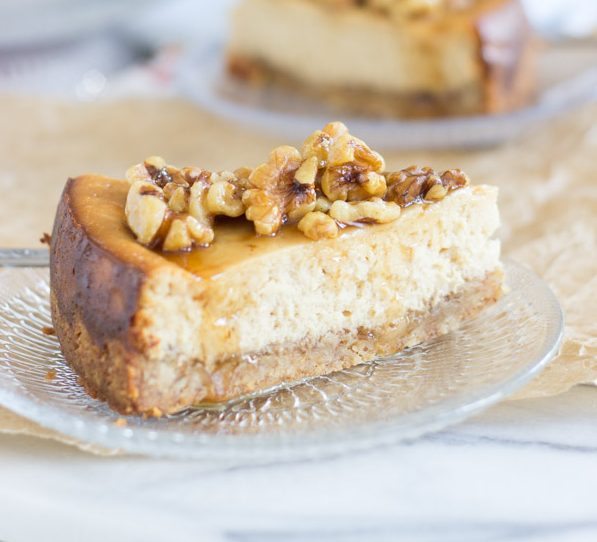 You may also like: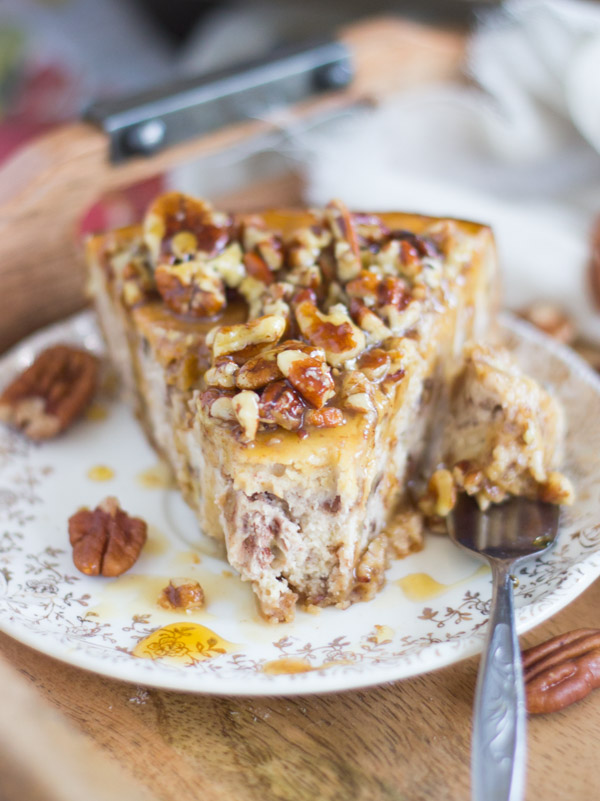 Caramel Apple Crisp Cheesecake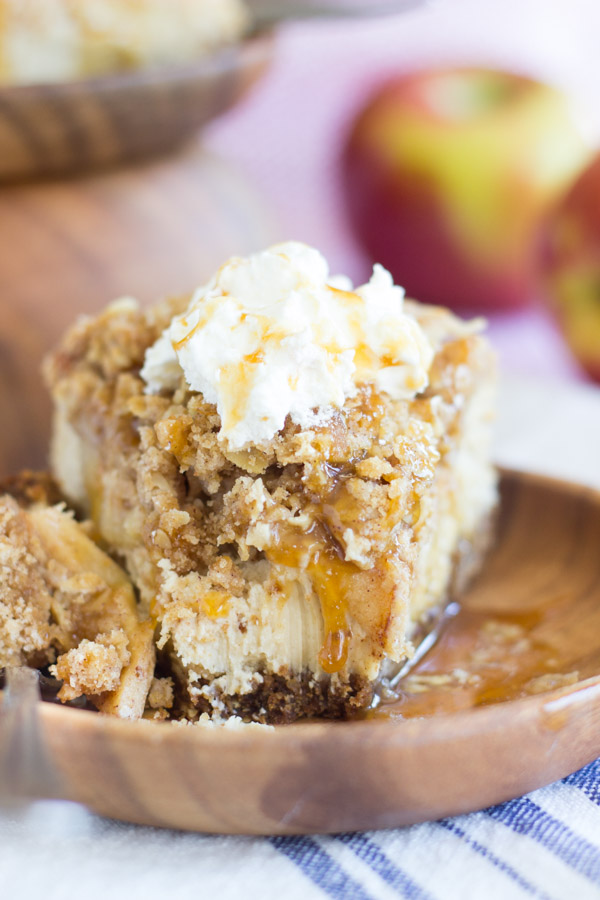 White Chocolate Pumpkin Cheesecake with Gingersnap Crust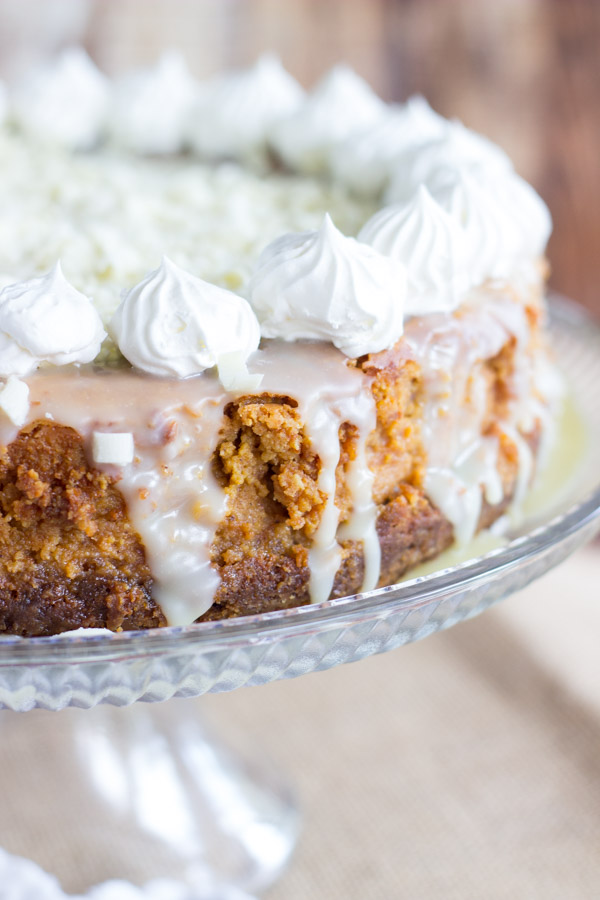 Double Layer Pumpkin Cheesecake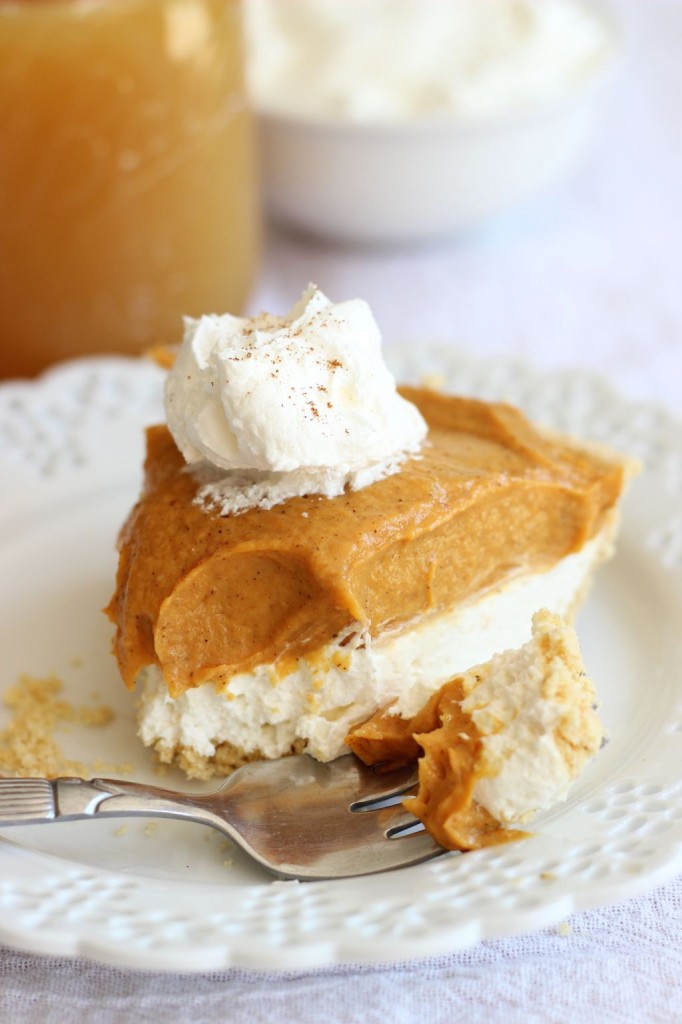 Pumpkin Chocolate Chip Brownie Cheesecake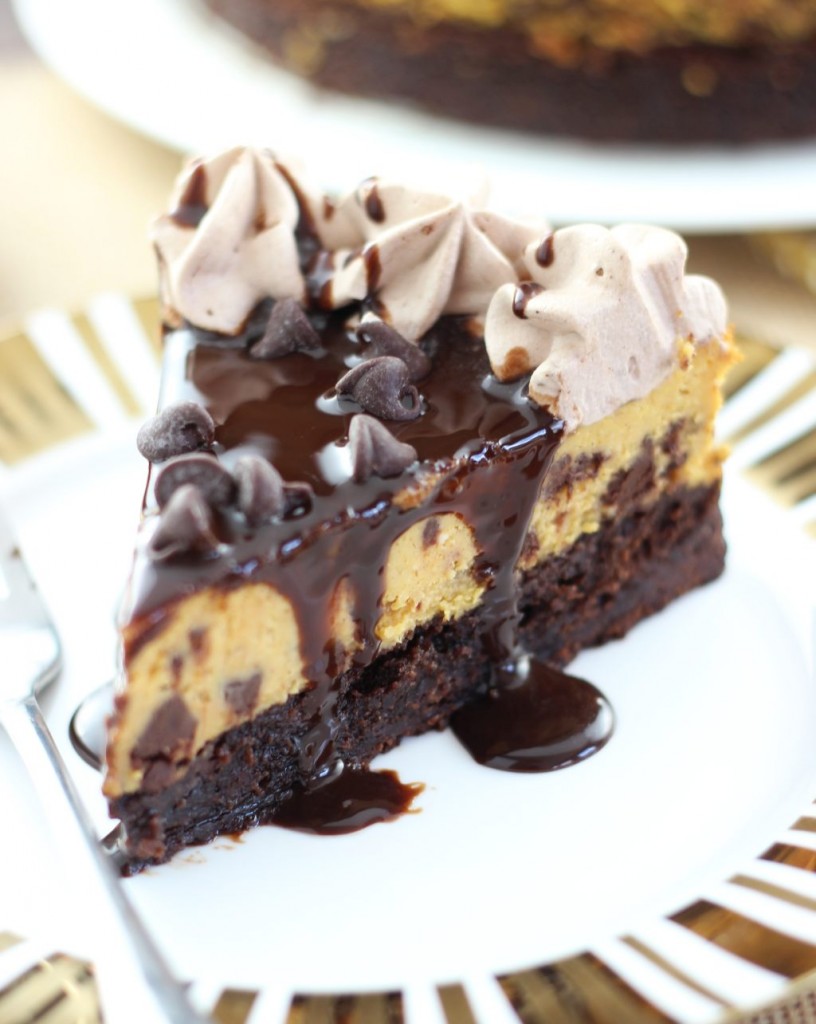 Cinnamon Roll Pumpkin Cheesecake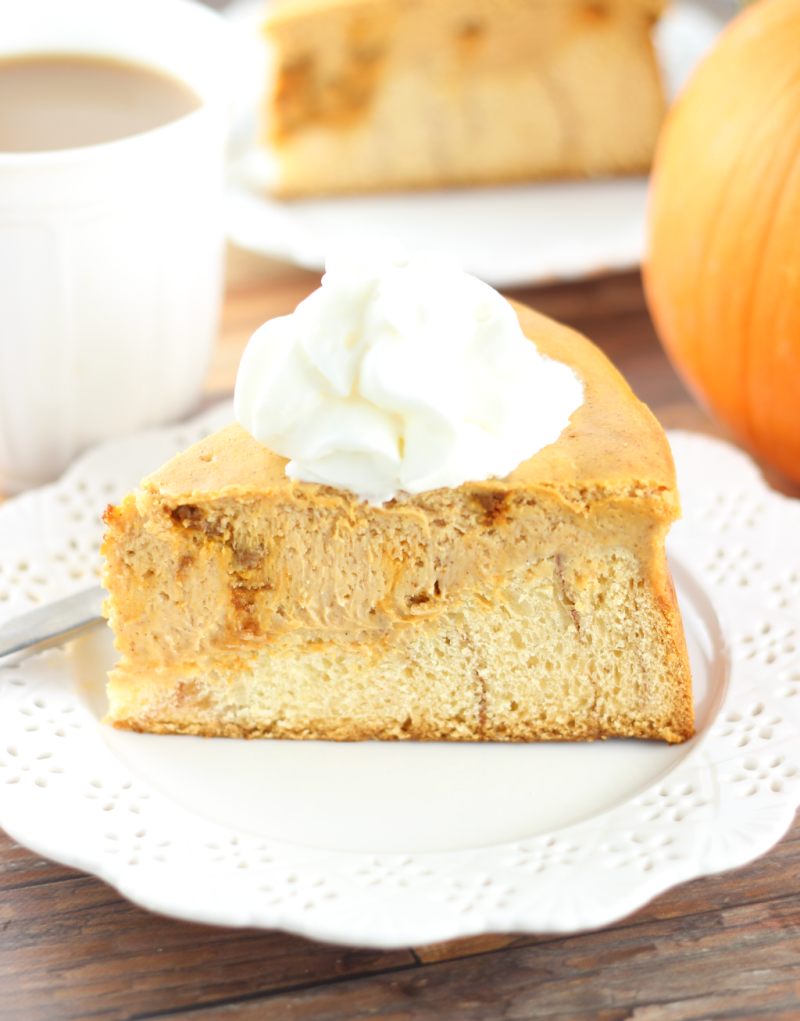 No Bake Eggnog Cheesecake with Gingersnap Crust