Mashed red-skinned potatoes with caramelized onions, garlic, and goat cheese! These Caramelized Onion Garlic & Goat Cheese Mashed Potatoes are simple, but deliver unmatched flavor.
I guess I could've shared this Caramelized Onion Garlic & Goat Cheese Mashed Potatoes recipe before the holidays, and I also could've probably shared the Bacon Apple & Caramelized Onion Brussels Sprouts beforehand too, but I'm just sharing things as we cook IRL, and this is how we cook IRL.
We make Brussels sprouts basically ALL the time, and mashed potatoes are still a regular thing for us – they're not just holiday foods for us, ya know? They're winter comfort foods, and just regular, easy foods. So that's what you're seeing.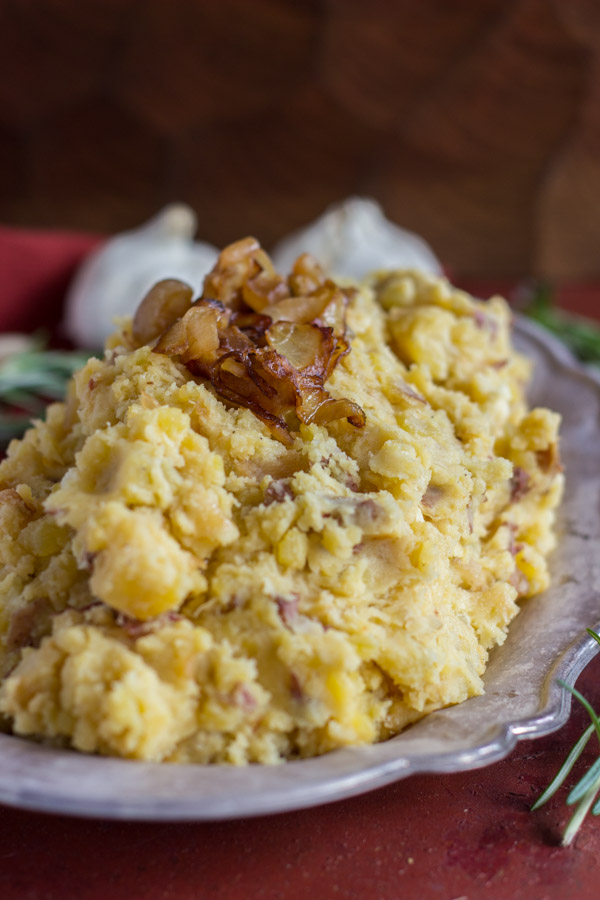 Potatoes are a vegetable that we almost always have on hand. You know, there's 1001 ways to prepare them, so that's what makes them so fun and versatile. Hashbrowns, smashed potatoes, mashed potatoes, hassleback potatoes… so many options. And you can adorn them in so many ways.
They're good carbs! I believe in potatoes being good carbs, even white ones.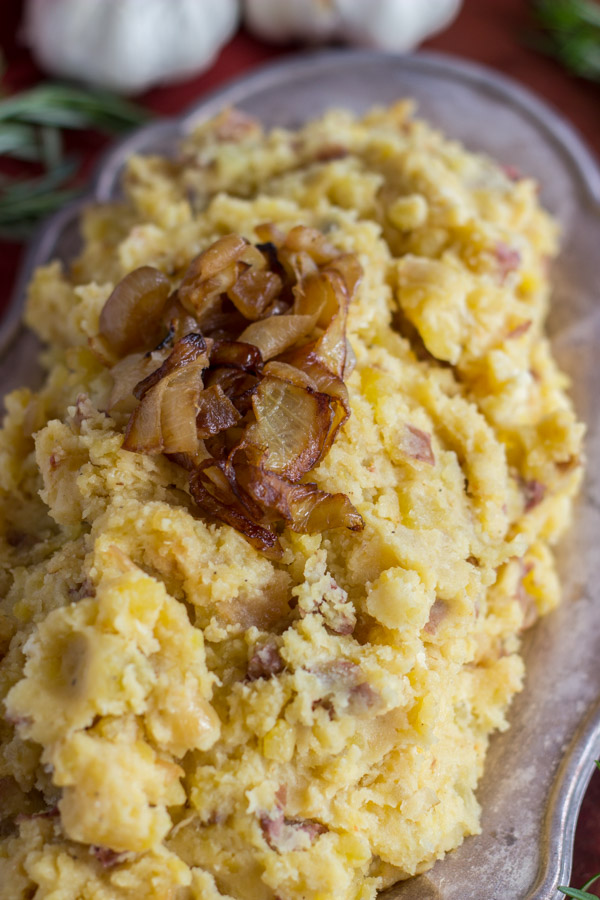 Red-skinned potatoes are probably my favorite, and I love them for easy mashed potatoes. They don't need to be peeled, and you can mash them by hand. You don't need to get out a mixer to beat the daylights out of them and make them smooth and creamy. They benefit from some lumpiness!
These Caramelized Onion Garlic & Goat Cheese Mashed Potatoes are a little extra work because of the cooking process to carmelize the onions and garlic, but the flavor is out-of-this-world. Caramelized onions = candy.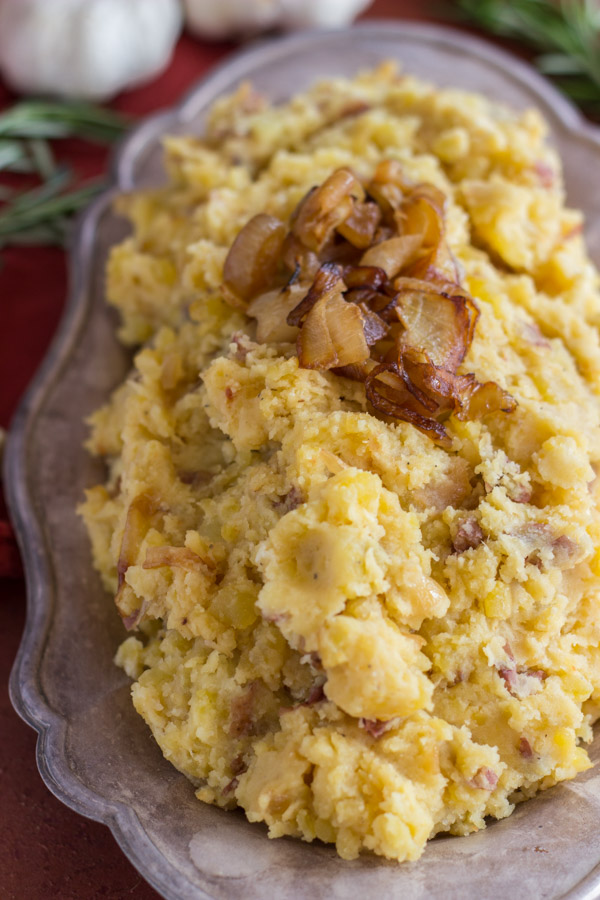 With smoky paprika for seasoning, plus a little salt and pepper, and a little brown sugar really brings out the onions and garlic. Sounds weird in mashed potatoes, but trust me on this. Heavy cream to make them creamy, and chicken stock to thin them out and to boost flavor.
Last but certainly not least: goat cheese. Also great for adding creaminess and richness, but also because goat cheese is simply delicious.
Food blogging is kinda hilarious sometimes because we make mashed potatoes on the reg, but only for the blog do I need to plate them on a silver platter and garnish them with fresh herbs.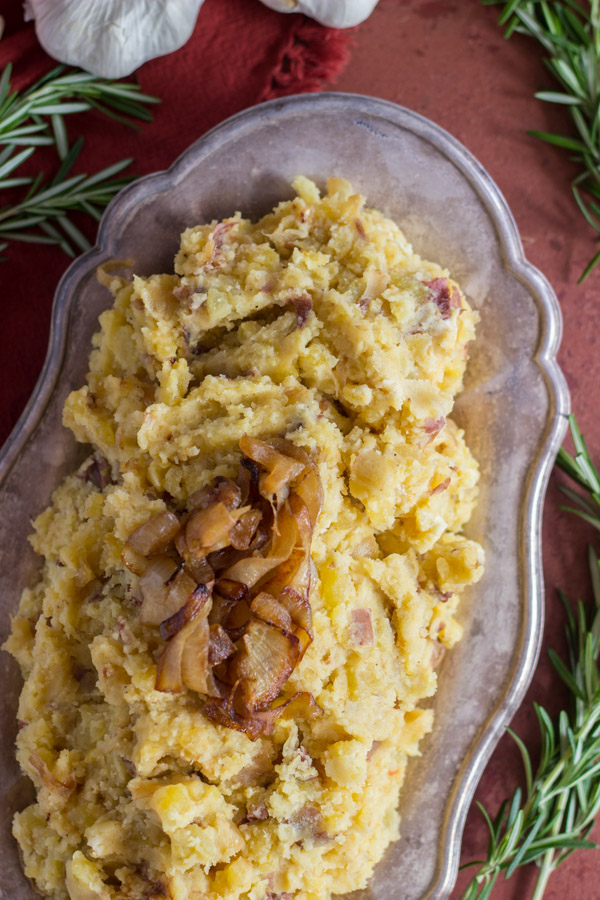 Like I would do that on a weeknight to serve to just the two of us. Yes, we are so fancy like that…. as we eat at our coffee table.
I'm lucky if food even makes it to S.O.'s plate, let alone a silver serving platter. Puhlllllease. He is known for standing around the kitchen counter shoveling food in his mouth before it even makes it to a plate.
I've been known to do it occasionally too. Nevertheless, here are pretty pictures of these mashed potatoes. As pretty as mashed potatoes can be, anyway!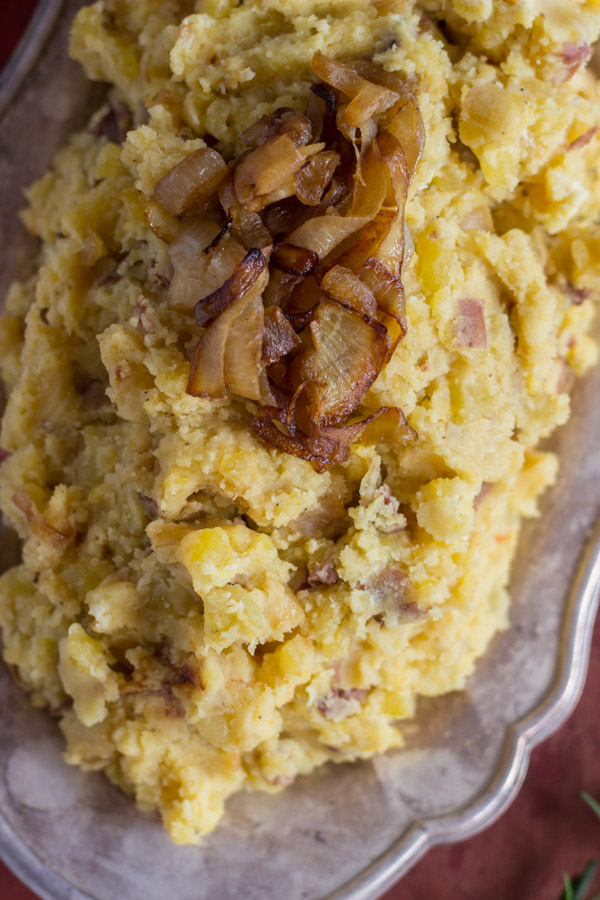 Caramelized Onion Garlic & Goat Cheese Mashed Potatoes
Simple hand-mashed potatoes with caramelized onions, garlic, and goat cheese. Buttery and flavorful too, so easy to make!
Author:
Sarah @ The Gold Lining Girl
Recipe type:
Side dish/veggie
Ingredients
3 tbsp. butter
2 medium yellow onions, sliced
8 cloves garlic, minced
5 lbs. red potatoes, rinsed, cut into quarters
1 tsp. salt
8 oz. goat cheese, at room temperature
6 tbsp. butter, cut into cubes
½ c. whoie milk or heavy cream
⅓ - ½ c. chicken stock
1 tsp. paprika
2 tbsp. brown sugar
salt & pepper, to taste
Directions
In a large saucepan over medium heat, melt the butter.
Add onions and garlic, stirring occasionally, cooking until golden brown and soft, about 10-12 minutes. Set aside.
Meanwhile, place potatoes in a large pot or Dutch oven. Fill ⅔-full with water.
Stir in salt.
Bring to a boil, and simmer potatoes for 10-12 minutes, or until soft and tender when pricked with a fork.
Drain potatoes, and return to pot.
Add onions and garlic, goat cheese, butter, heavy cream, ⅓ c. chicken stock, paprika, and brown sugar.
Mash to desired consistency.
Add salt & pepper, to taste.
If potatoes are too thick, add chicken stock to make them a little looser.
Serve hot.
You may also like:
Cream Cheese, Bacon, & Sour Cream Mashed Potatoes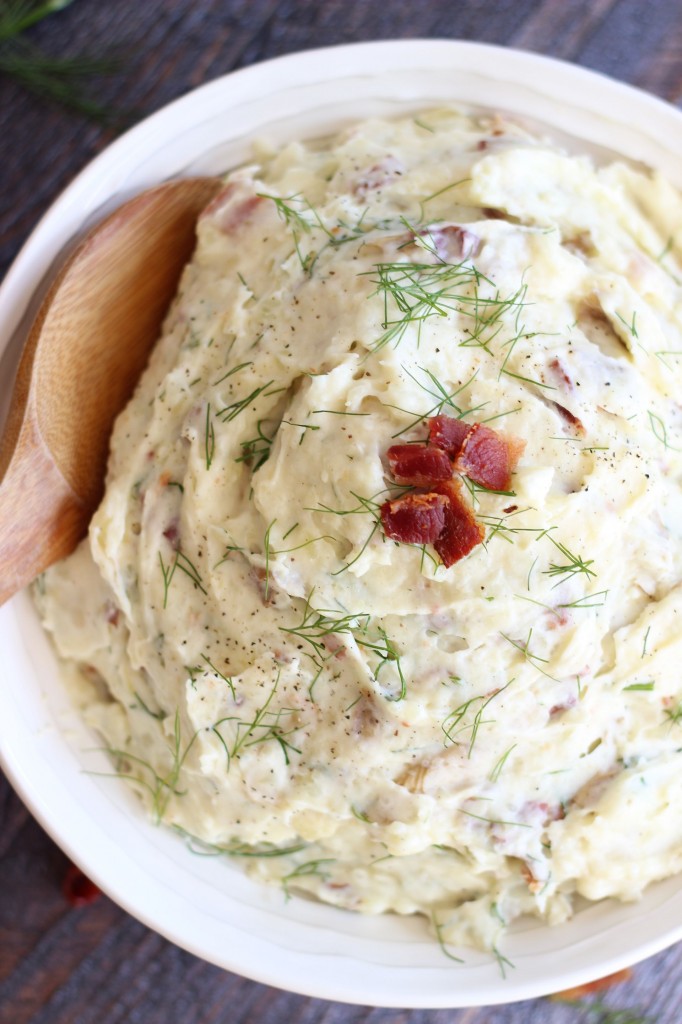 Grandma's Cheesy Potatoes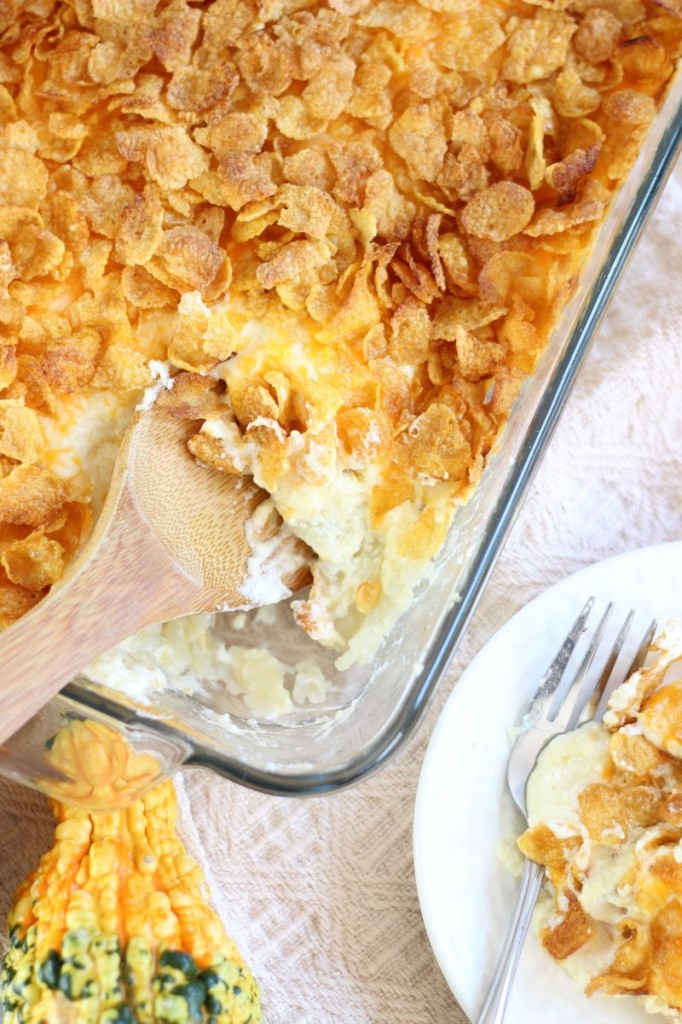 Bacon Apple & Caramelized Onion Brussels Sprouts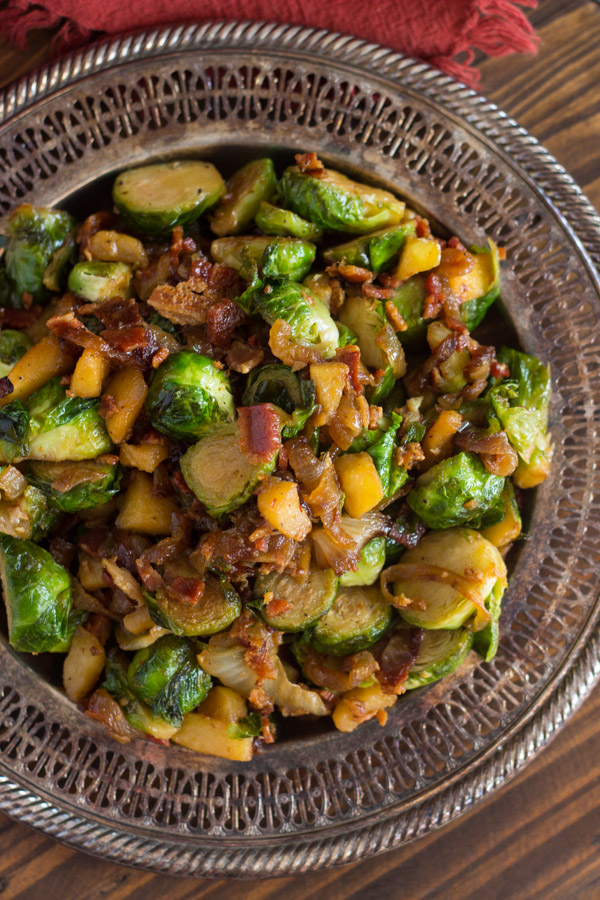 Cheesy Green Bean Casserole Amandine