My great-grandpa is a legend in our family. I never had the joy of meeting him, but I've heard so many stories and treasured moments about him. My grandmother is 88 herself and still wistfully talks about her father and misses him like crazy. She says he was her best friend. I think that's so dear and wish every father and daughter could have such a relationship. One of his traits was that he'd have sugar cookies for breakfast nearly every day, except Sundays when they went to the local bakery, Sonheimer's, and bought danishes. Gosh, why can't we go back to the 50s and 60s when no one knew better and it was acceptable to have basically sugar, butter, and vanilla for breakfast every day?! He had a major sweet-tooth, something that's been passed down generations, to be sure. My grandmother said that he liked to cook and bake every once in a while. One time while the rest of the family was out, he started to make a pie. When everyone got home, they saw something on the roof that looked very out of place. Apparently my great-grandpa wasn't too happy with how the crust turned out and he didn't want anyone to know about it, so he threw it out on the roof for the birds. He never expected anyone to see it and find out. My grandma said "he thought he was getting away with something! I can still picture the pie crust on the roof!" Cute, right?
Back to this fudge. As I said, decidedly a sweet-tooth, great-grandpa had a certain favorite candy. He loved Penuche. It's basically a simple brown sugar fudge. The ingredients are few, and the directions sound easy. I have attempted to make this candy several times but am yet to be successful. I think candy can be tricky since it's so scientific, and often needs to meet a specific temperature threshold without being overheated. I am a no-fuss baker, and busting out the candy thermometer and hoping for it to be accurate is really not my thing. So while this is authentic Penuche and is not my great-grandpa's original Penuche recipe, it's very similar and is no-fail. It would actually be difficult to mess up this fudge. Well, an easy candy recipe has a special place in my heart!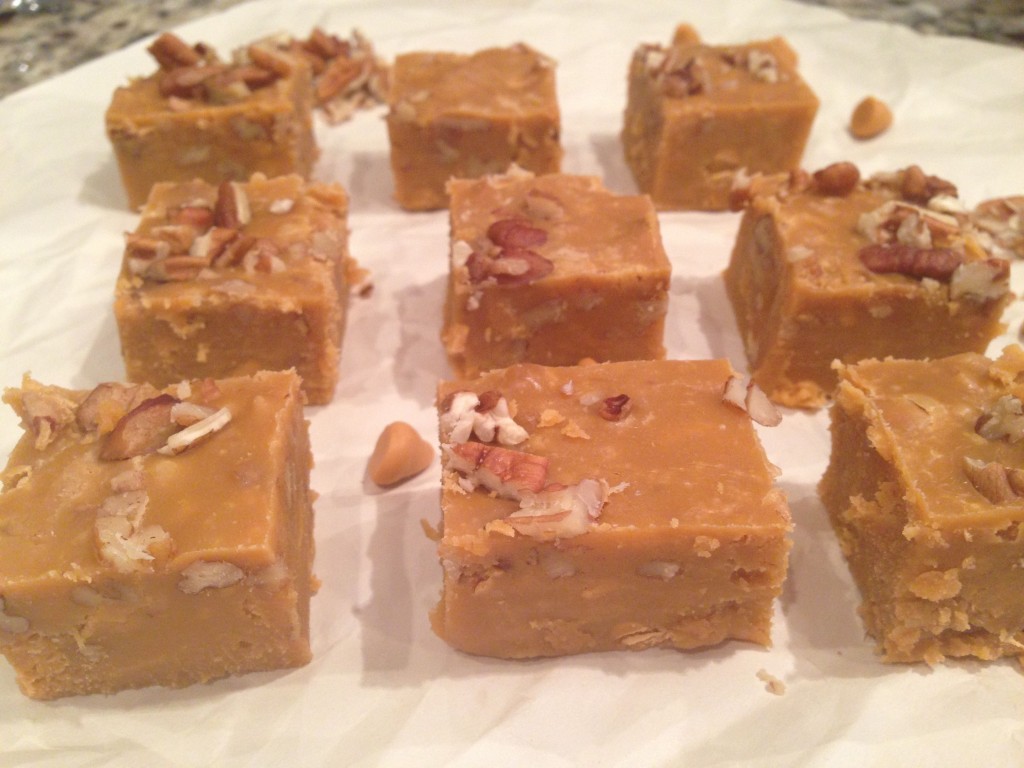 This fudge is so creamy, rich, and delicious. It has the kind of blended flavor that seems to compose of all other brown sugary flavors – butterscotch, caramel, and even a hint of maple. Of course, the primary flavor to hit your palate is obviously butterscotch. You can't miss it. Sweet, rich, creamy butterscotch that's perfectly balanced with bits of chopped pecans to add a soft crunch of texture. Buttery, nutty, amazing pecans. Only the best tasting nut ever. It's a festive recipe, great for fall, holidays, and Christmas. It's also simple. No, it really is. You can make this in 15 minutes and you'd really have to make effort to mess this up. I hope you enjoy!
Butterscotch Pecan Fudge:
1 1/2 c. firmly packed brown sugar
1/2 c. butter
1 (5 oz.) can evaporated milk
1 (7 oz.) jar marshmallow creme
1 (11 oz.) package butterscotch chips
1 c. chopped pecans
Grease bottom and sides of an 8-inch square pan. In a large saucepan, cook brown sugar, butter, and milk over medium heat. Stir constantly. One butter is melted, stir in marshmallow creme. Whisk well to combine. Heat to a rolling boil over medium heat. Once it reaches a rolling boil, continue to cook for exactly 5 minutes, stirring constantly, and then remove from heat. (If you're inclined to use a candy thermometer, the mixture should reach 234 degrees). Add butterscotch chips and stir vigorously until the butterscotch chips are mostly incorporated and the fudge is mostly smooth. Stir in pecans. Spread in pan and allow to stand for at least 2 hours or until firm. Cut into bars.
Yield: 36 pieces.