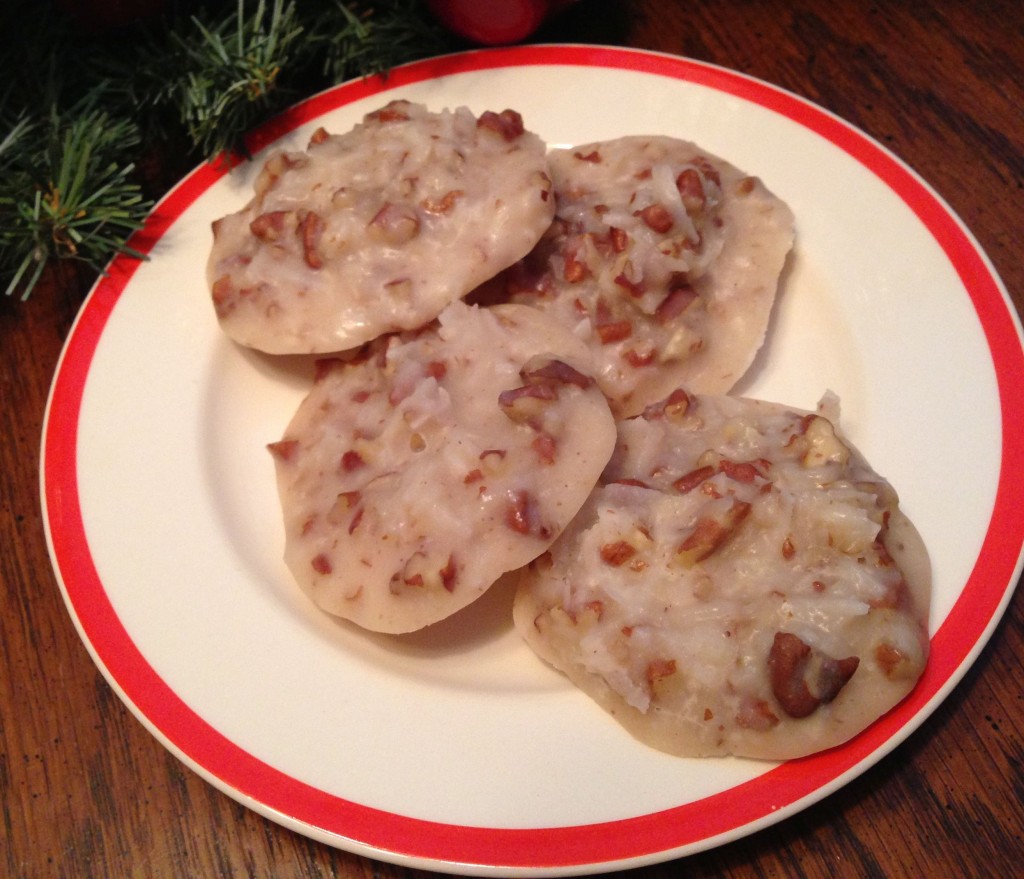 My beloved and oft-mentioned grandmother was incredibly close to her dad. She always talks about him so fondly, and still talks about him quite often, even though she herself is in her late 80s. I never had the joy of knowing him, but my great-grandfather evidently loved Penuche. Among many other sugary vices, he loved Penuche. A lot. I've made it a handful of times and my efforts have proved inconsistent for unknown reasons. Penuche can be a tricky little devil. Since pralines have a similar flavor and sounded downright amazing to make for Christmas (especially pralines that include coconut!), I decided to give these Coconut Pecan Pralines a whirl to see if I fared any better.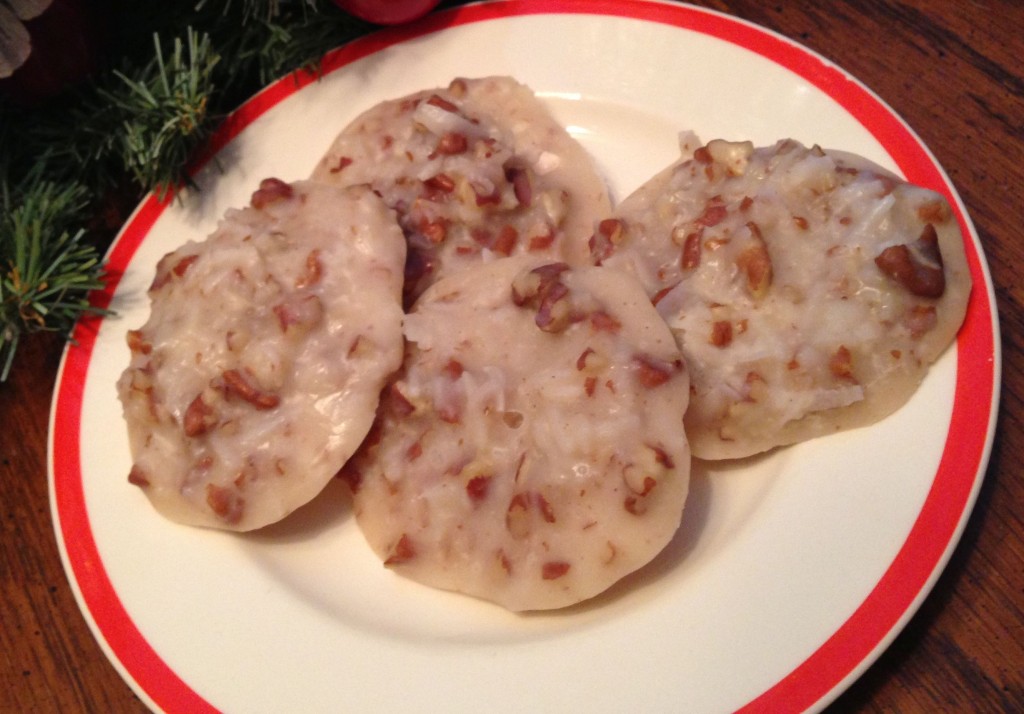 Given my uneven history with candy-making, I was hesitant to try making these. I just loathe to fail in the kitchen. I haaaate a flop. I detest a nonsuccess! How else can I say that I strongly dislike a recipe bust?! Soooo, I was initially apprehensive, but these were actually surprisingly simple and straight-forward to make for a candy. Coconut was the *perfect* addition, indeed. What else could complement and enhance traditional pecan pralines better than coconut?! Not chocolate…not caramel… nothing else can offer what coconut can for pralines. The result? Nailed it! These deliver. They are truly delish. They are ultra-decadent. So rich and sweet. You won't repeatedly stuff these in your mouth mindlessly eating them by the dozen. But you'll have one or two and your sweet-tooth will be pretty darn satisfied, savoring each sublime bite like a delicacy! Just as suspected, my family and I all agreed that these taste a lot like Penuche, but are much more predictable to make, fortunately.
What's more, these really stand out on a dessert table over everyday, run-of-the-mill cookies and desserts. They would be fabulous to take to a party, make for the holidays, or to package in tins and pretty boxes for gifts. And even better, people will think you put in waaaaay more work and effort than you actually did, and that's always a plus.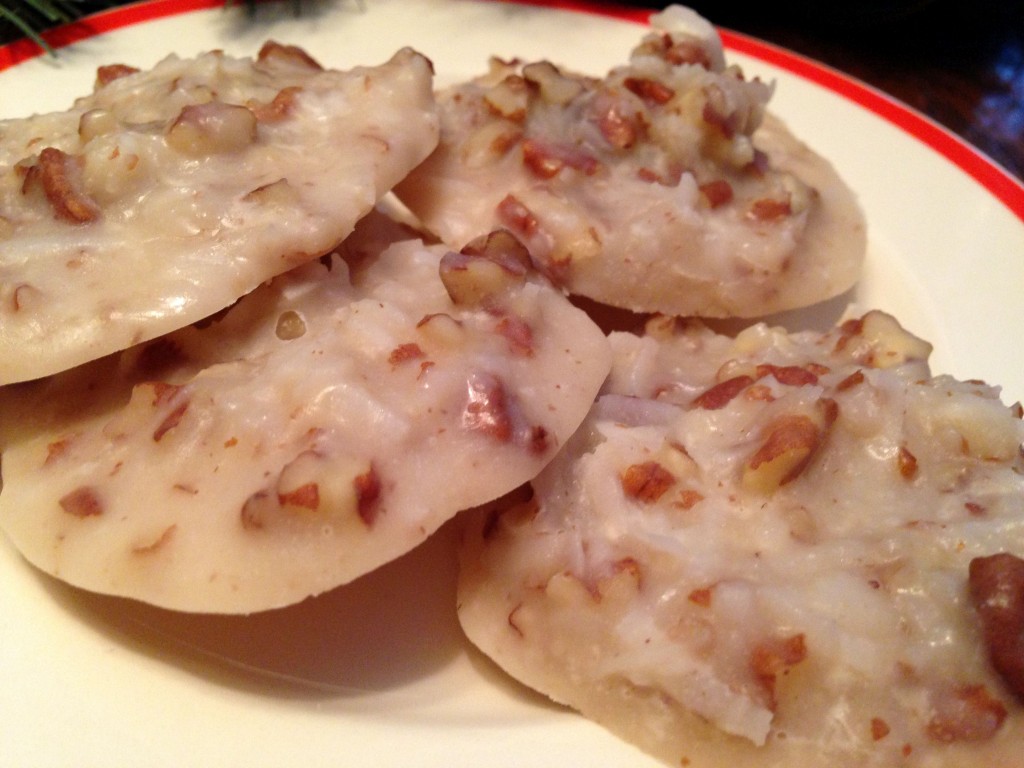 Coconut Pecan Pralines:
2 1/2 c. sugar
1/2 c. evaporated milk
1/2 c. light corn syrup
1/2 c. butter
1 tsp. vanilla
2 1/2 c. chopped pecans
2 c. shredded coconut
Combine coconut and pecans in a medium-sized bowl and set aside. In a large saucepan over medium heat, combine sugar, evaporated milk, light corn syrup, and butter. Bring mixture to a full rolling boil. Stirring constantly, set timer and allow to boil for 4 minutes. Remove from heat and stir in the vanilla, and coconut-pecan mixture. Mix well and continue stirring for about 5 minutes, or until mixtures starts to cool and thicken a bit. Drop onto wax paper by heaping teaspoonfuls. Allow to cool and set completely at room temperature. Once set, store in refrigerator.
Yield: Approximately 36 pralines.