Here's the thing: I live with a gorilla. Well, no. Not really. But the person with whom I share a home eats 3 or 4 bananas a day. Seriously. That is not an exaggeration. Not only does he consume mass quantities of them, but he eats them 24 hours a day. It's not uncommon to find a banana peel sitting on the counter in the morning when I wake up, despite leaving the kitchen mostly spic and span before retiring for the night. Yeah, he's not exactly neat either… but that's a story for another day. Sometimes he will eat half a banana and will put the rest in the fridge just sitting on a shelf, peel and everything. Whaaaat? So weird. Needless to say, we buy bananas in bulk. As previously mentioned a number of times, we love shopping at the Club! Even with my housemate's aggressive banana eating behavior, we still manage to have extras sitting in the fruit bowl getting overly ripe. I've had to get very creative in finding ways to use them up so they don't go to waste. Among many, many, many permutations of banana bread, I've found a few other favorite banana recipes to keep on hand.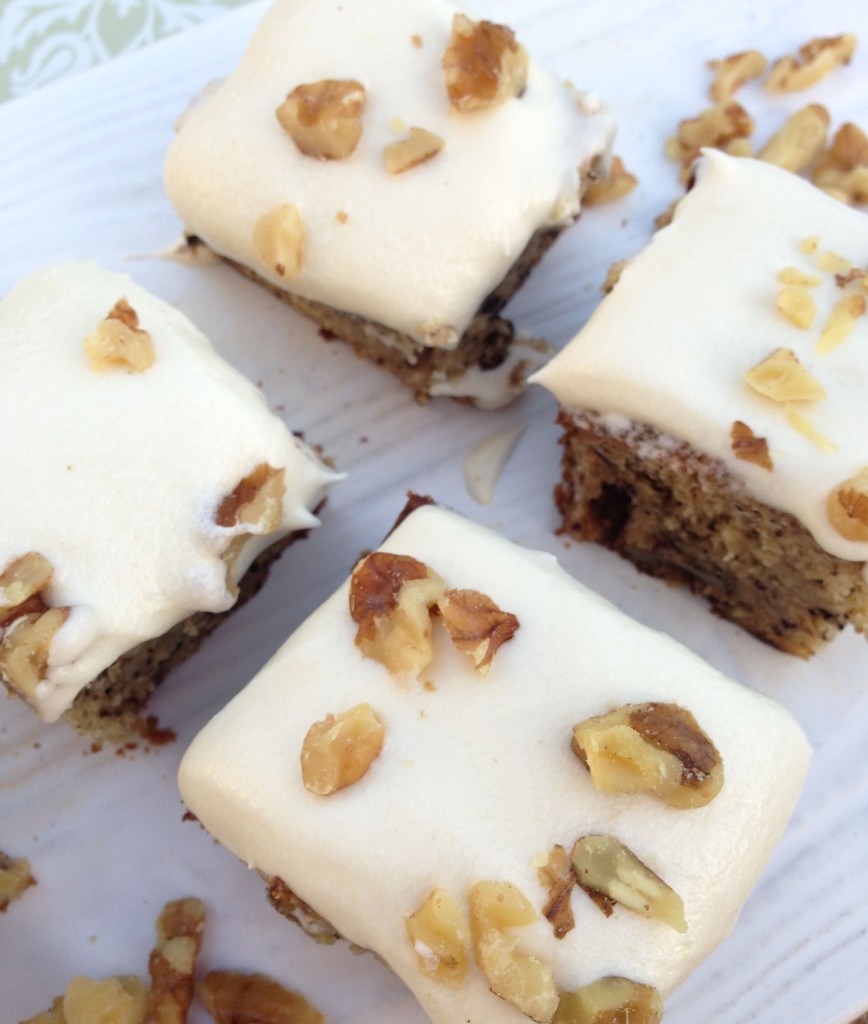 I've been making this Banana Walnut Rum Cake with Cream Cheese Frosting for a number of years now, and it's always a hit. The cake is so moist. It has the perfect amount of banana flavor so that it's strong, but not overwhelming. The rum extract makes this cake more sophisticated than your average banana bread or banana cake. Throw in some crunchy walnuts and slather on some cream cheese frosting and you really can't go wrong. I've never known a dessert where cream cheese frosting didn't automatically make it better. This cake is no exception. It's easy and simple enough to take to a picnic or casual dinner, but is sophisticated and complex enough in the flavors that you could serve it at a fancier event or holiday too. We love it and it disappears fast around my gorilla-inhabited household.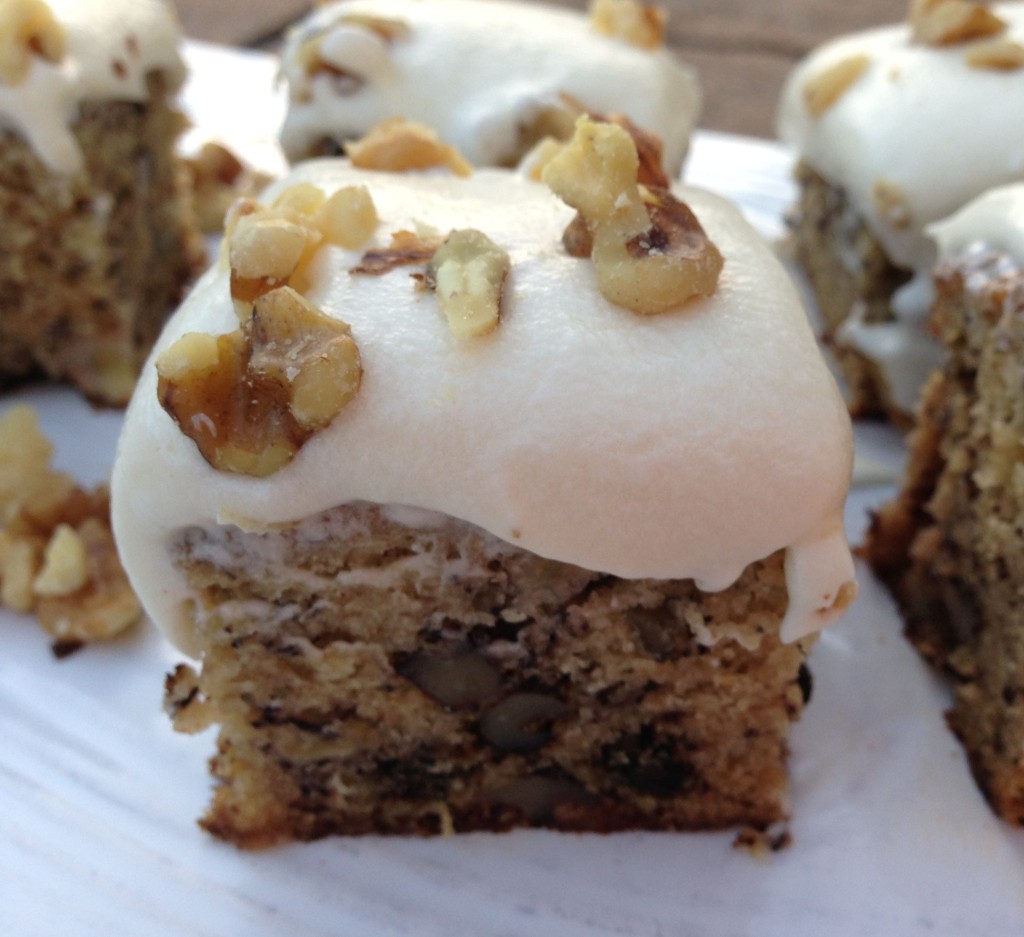 Banana Walnut Rum Cake with Cream Cheese Frosting:
Cake:
1/2 c. softened butter
1 c. sugar
2 eggs
1 tsp. vanilla extract
1/2 tsp. rum extract
1 1/4 c. flour
1 tsp. baking soda
1/2 tsp. salt
1 c. mashed banana
1/2 c. chopped walnuts
Frosting:
1/4 c. softened butter
4 oz. softened cream cheese
2 tbsp. water
1 tsp. vanilla extract
1/2 tsp. rum extract
3-4 c. confectioners' sugar
Topping:
1 c. chopped walnuts
In a large mixing bowl, cream butter and sugar. Add eggs and beat well. Add vanilla and rum extracts. Combine the flour, baking soda and salt. Add flour mixture to mixing bowl, beating until just combined. Fold in banana and walnuts. Pour into a greased 8×8 pan. Bake at 325 degrees for 35-40 minutes or until a toothpick inserted near the center comes out clean. Allow to cool completely. In a small mixing bowl, cream butter and cream cheese. Add in water, vanilla and rum extracts, and enough confectioners' sugar for a thick, but spreadable, frosting. Frost cake. Garnish with chopped walnuts.