Happy Valentine's Day, friends! Any special plans for the day? Not us… me and the S.O. are pretty scrooge-y about Valentine's Day and never really do anything to celebrate it. Pathetic, right? But it's just not our thing and that's okay. Every day is truly great with my S.O. anyway! But enough about that… let's talk food!!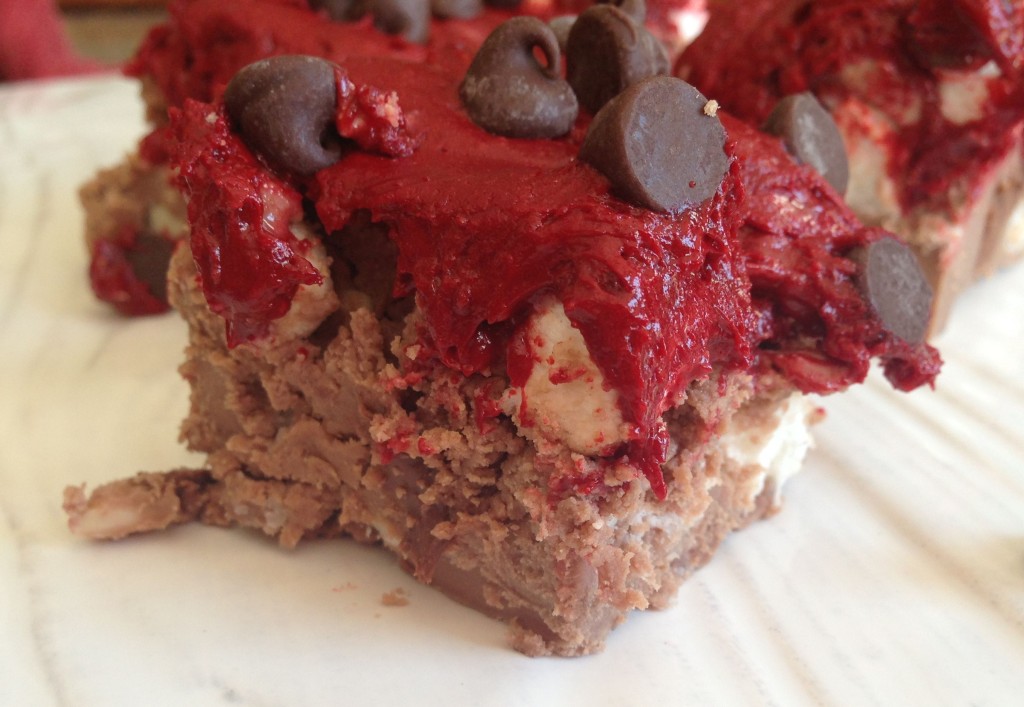 Red velvet cupcakes are one of my favorite desserts. That really says a lot. Because, see, I love all things involving sugar and barely discriminate. Plus, think of all the dessert possibilities in all the world, and red velvet is still in my top three. Do I even need to explain why? It's divine and sublime and positively delicious. I have tested many a red velvet cream cheese frosted cupcake at many a bakery! One of my favorite red velvet cupcakes is at Crumbs in NYC. It's totally cliche, but their cupcakes are really fabulous.
Anyway, after that long-winded and boring intro, one that my S.O. would deem a "nap-inducing monologue", my point is, red velvet is one of my favorite things. I always gravitate toward recipes involving red velvet and I have good intentions of incorporating it more in my baking. I figure, what better time than Valentine's Day? I dug one out that I've been wanting to try for months now. It's not my own creation though I surely wish it was! It's from Oh, Bite It! and if you're not following that blog then you are *really* missing out. I've included the original recipe down below and provided a few notes following it for the minor changes I made.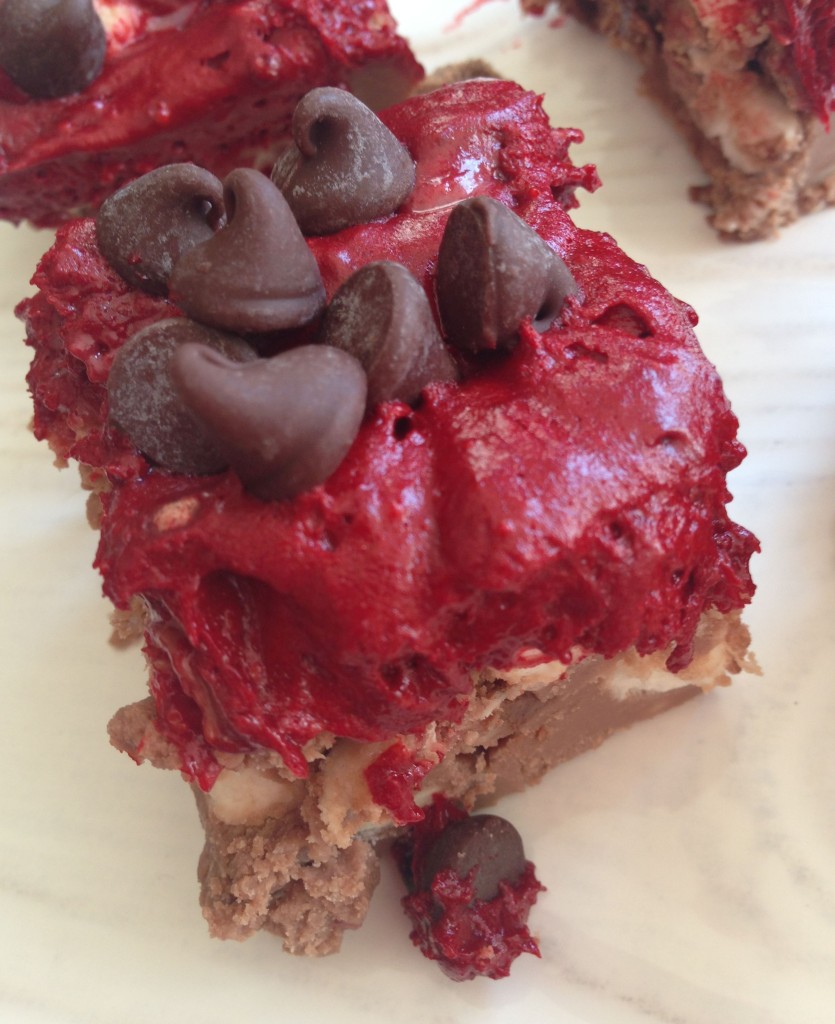 Um, spoiler alert: I am in love with these. They are just awesome. The fudge layer is creamy and rich, but punctuated with a little texture from the chocolate chips and marshmallows. The red velvet cake mix topping serves as an extra boost of red velvet flavor but isn't heavy – more like a light, fluffy frosting. Holy crap, these are sooooo good. I will definitely be making them again. These are a keeper, for sure. P.S. They're ridiculously easy to make.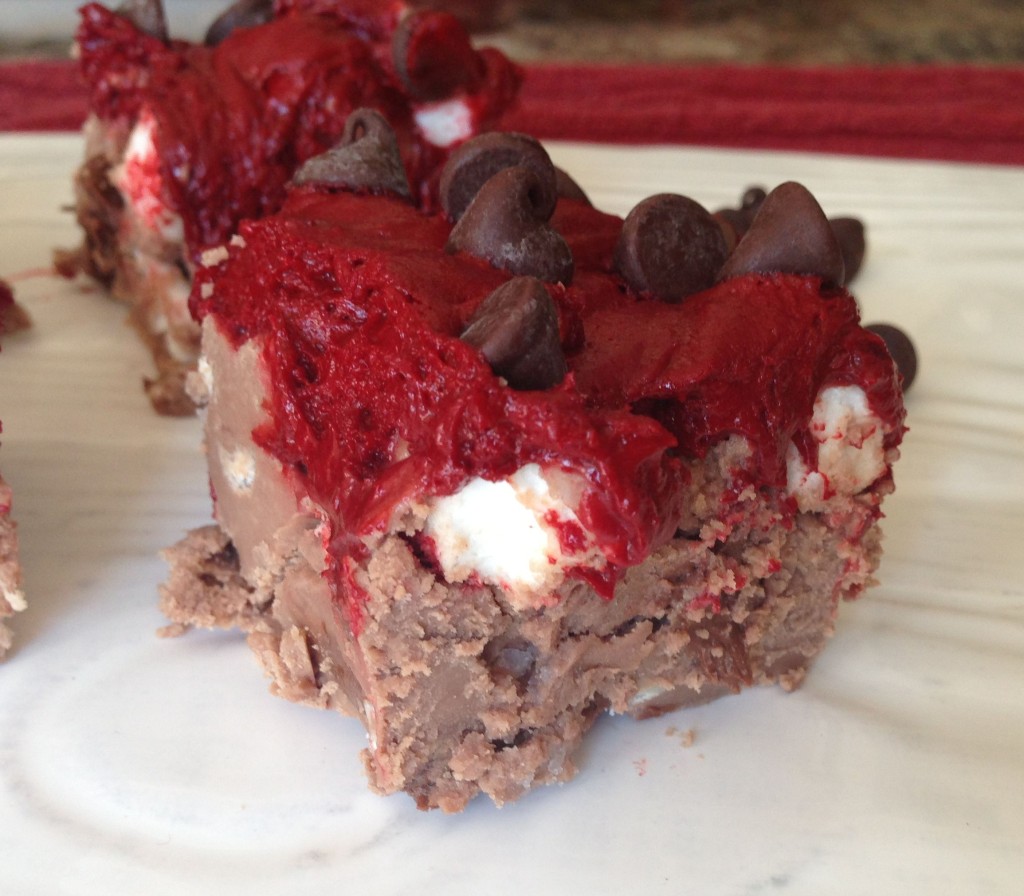 Red Velvet Fudge (via Oh, Bite It!):**
1 – 12oz. bag white chocolate chips
1 – 16oz. tub cream cheese frosting
2 tbsp. cocoa
1 c. red velvet cake mix
1/3 c. water
1 c. semi-sweet chocolate chips
jar chocolate fudge sauce for drizzling (optional)
Combine white chocolate chips, cream cheese frosting, and cocoa in a large saucepan. Stir over low heat until white chocolate chips are melted and mixture is smooth. In a medium bowl, combine cake mix with water. Spread the white chocolate mixture into an 8×8 greased pan. Swirl in cake mix with a knife. While warm, sprinkle with chocolate chips. Allow fudge to set and store in the refrigerator. If desired, drizzle with chocolate fudge sauce.
**My additions and notes (optional):
1/2 c. semi-sweet chocolate chips
1 c. mini-marshmallows
All I did was add both these items directly to the white chocolate mixture before spreading it into the pan. This fudge layer sets up rather quickly, so I would move somewhat fast. Once the pan with the white chocolate mixture is removed from heat, allow to cool for about 1 minute. Stir in the 1/2 c. semi-sweet chocolate chips and 1 c. mini-marshmallows. (Surprisingly, they don't melt and turn into a mess.) Then spread it in the greased 8×8 pan. As in the original recipe, proceed to knife in the red velvet cake mix and sprinkle the other 1 c. semi-sweet chocolate chips as usual. I didn't do the optional chocolate fudge sauce drizzle because these are so rich and sweet as it is! And, they're a little on the messy side already! I didn't think it was needed so I skipped that part.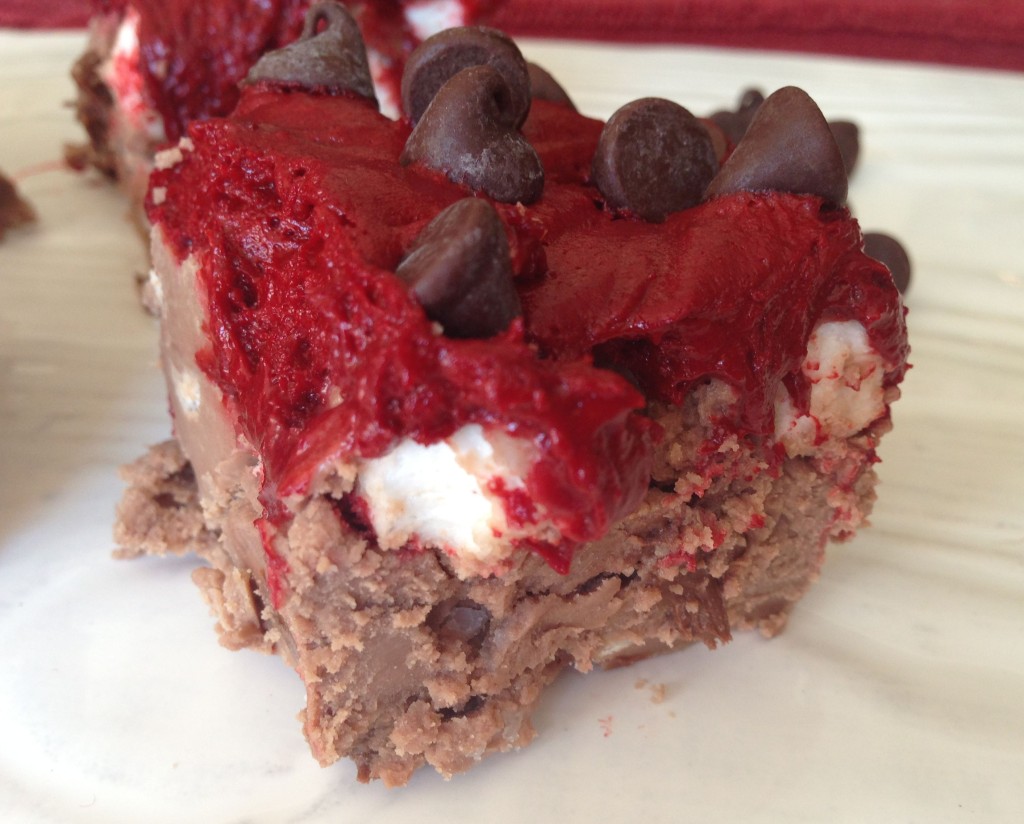 I didn't make changes because the recipe needed it, by the way. I'm sure it's perfect the way it is! I made a few tweaks merely because I absolutely love marshmallows and like to cram those puffy white sugar clouds into anything I can as long as it seems half-appropriate. Also, I added a few extra semi-sweet chocolate chips right into the fudge layer so that it had a bit of texture. I love a straight-up creamy fudge too, but I was really feeling some texture when I made these. I am thrilled with how they turned out. They're simply amazing.
Happy Valentine's Day, friends! Hope yours is wonderful!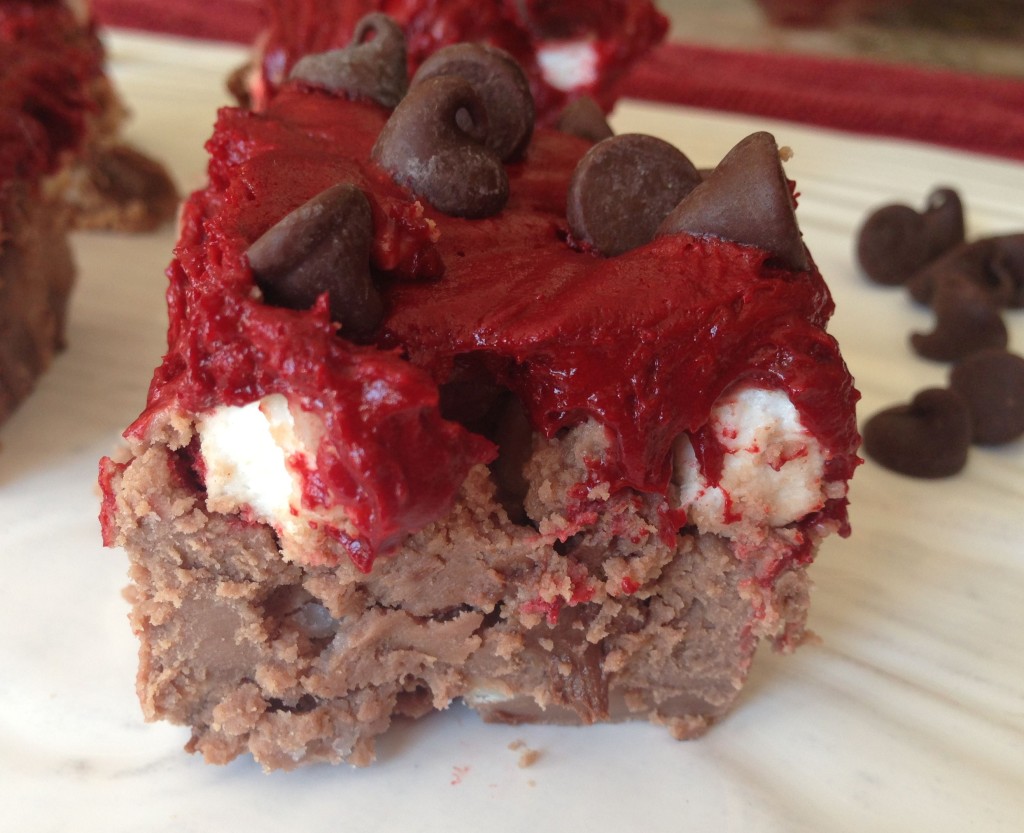 Related articles