I have to confess… I really wasn't sure how these would turn out. I was a skeptic. I thought: These could be peaches, or could be meatloaf. I'm sure now YOU are thinking: Wait, what?? I don't totally get the expression either, but it's a saying that my S.O. and his close friends have used for years. I don't know where it came from… whether they made it up themselves, or it came from somewhere else, or if they even know where it came from. However, it's become an accepted saying in my own house to convey that something could be really great, or could be really awful. Which is which though? Like, one person might looooove meatloaf and think peaches are disgusting, or think peaches are nectar of the gods and that meatloaf is atrocious. But, we can save the philosophical discussion for another day. We're here to talk about cupcakes after all.  🙂
These aren't good in the way that they're just better than expected. No, they're actually, truly good. I mean, REALLY good. Fabulous, in fact. I guess I thought maybe they were just too out there? Even if they are, it's irrelevant. Because they taste awesome. That's kinda what counts.
The cake is insanely moist, tender, springy, and light, and the flavor of the Blue Moon really comes through. Just like the ale itself, orange is a perfect flavor accompaniment to this cupcake. It accentuates and complements the ale perfectly. To me, orange flavors in a recipe are further highlighted and amplified by spices like ginger and cardamom. I debated which spice to incorporate, and ultimately, decided on both. Why not? I was a little worried it might be overkill on the flavors, but it was a risk worth taking, and the gamble paid off.
The Blue Moon ale, orange essence, cardamom, and ginger all meld together beautifully. The whole flavor profile is citrus-y and refreshing, but a little warm and spicy too. I'm so impressed with the end result. They're a consummate summer cupcake.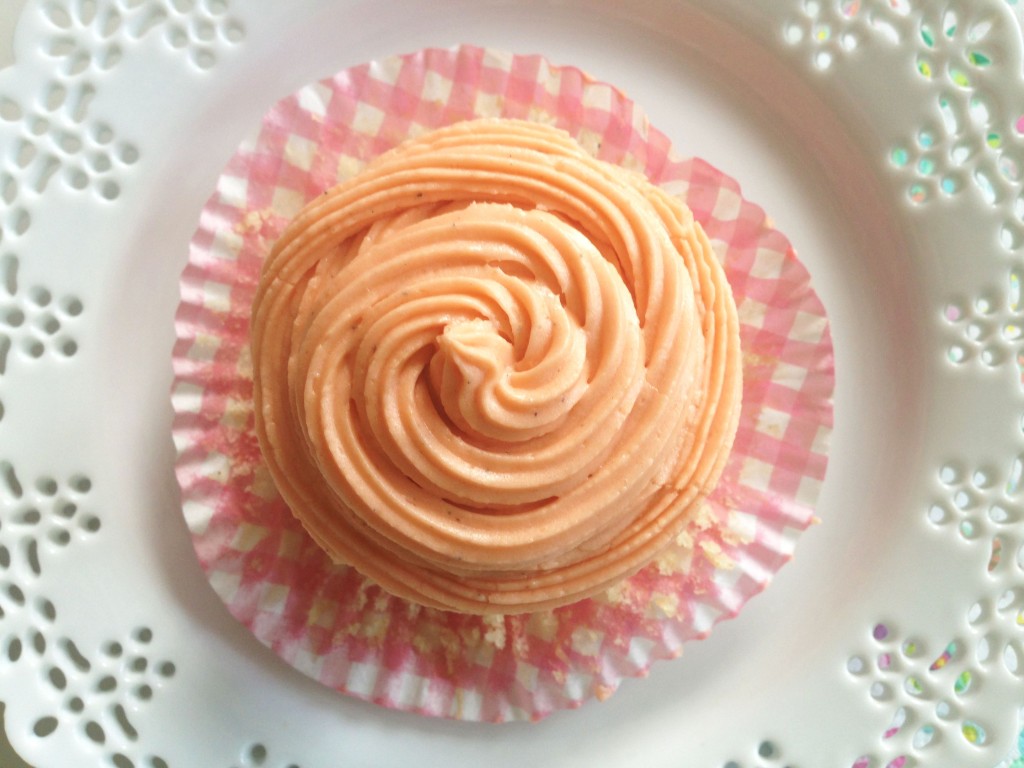 Blue Moon Orange Cardamom and Ginger Cupcakes w/ Buttercream Frosting: inspired by this recipe.
Cupcakes:
1 box white or vanilla cake mix
1 1/2 cups Blue Moon Wheat ale or similar Belgian White Belgian-style beer
1/3 c. vegetable oil
2 eggs
1/4 tsp. ginger
1/4 tsp. cardamom
1 tsp. vanilla extract
1 tsp. orange extract
Buttercream frosting:
1 lb. powdered sugar
6 tbsp. butter, softened
1/4 – 1/2 c. Blue Moon Wheat Ale or similar Belgian White Belgian-style beer
1 tsp. orange extract
pinch of ginger to taste
pinch of cardamom to taste
Preheat oven to 350 degrees. Using regular-size muffin pans, place a paper muffin cup in each of the 24 cups. In a large mixing bowl, beat the cake mix, beer, vegetable oil, eggs, ginger, cardamom, and extracts with an electric mixer on low speed for about 2 minutes. Divide batter evenly among muffin cups, filling about 2/3 full. Bake for 14-16 minutes or until a toothpick inserted near the center comes out clean. Cool completely.
In a large bowl, beat frosting ingredients with an electric mixer on medium-high speed until smooth and creamy. Adjust spices to taste, and add beer accordingly to achieve a consistency that is thick, but spreadable. Frost cupcakes. Store in refrigerator.
Enjoy!