Confession: I did not create this recipe, and this was also my first time making it, so I can't claim that it's original, or even that it's "tried and true." However, my first run at it was a smashing success, so I think it's safe to say that this is a keeper. I feel perfectly comfortable recommending this recipe to you all, and I hope you enjoy it.
It called out to me because I just thought it was such a cute and creative way to fancy-up strawberries for a fruit appetizer or picnic snack. I mean, how charming are these? I wanted to take them to the annual 4th of July family picnic at my in-laws, but we couldn't swing it with all the traveling we were doing. Instead, I whipped them up for just myself and the S.O. to enjoy with dinner Friday night.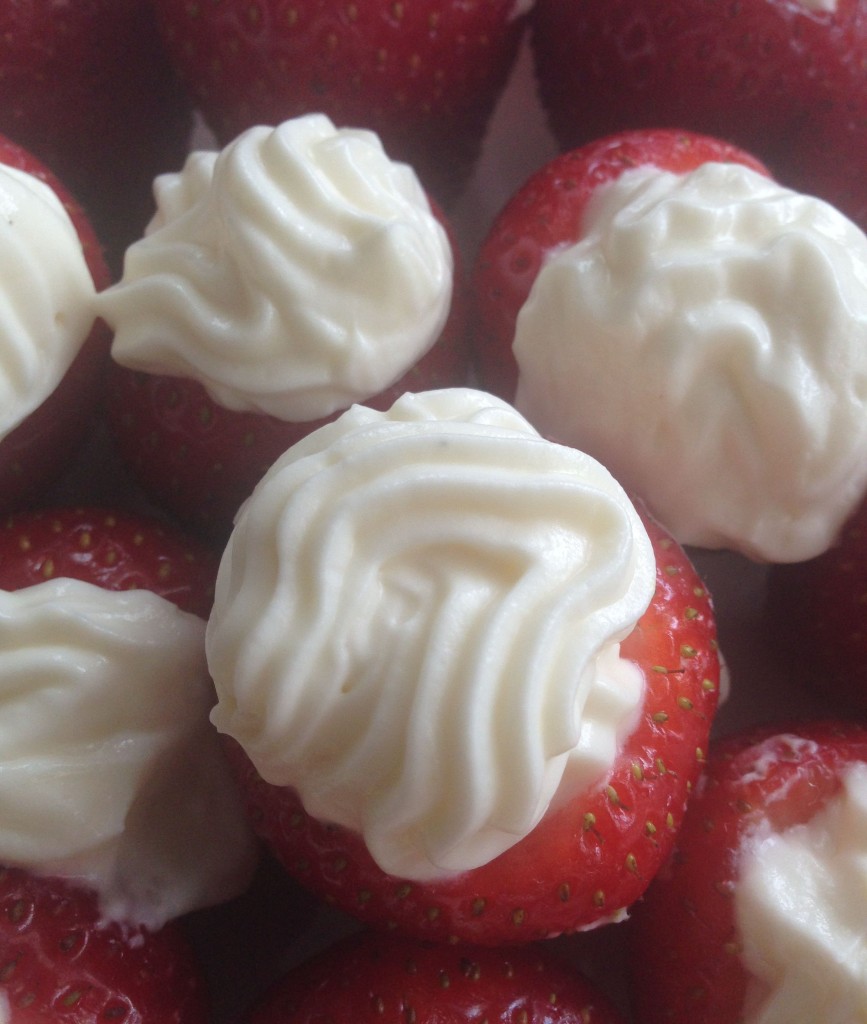 They were a hit. These little snacks are a lot like enjoying a little bite of strawberry cheesecake, but without all the guilt and self-loathing that follows. Or is that just me? You could further lighten these up with a few easy substitutions if you'd like, but I stuck pretty true to the ingredient list for my first attempt at these. They were both pleasing to look at, as well as delicious. A perfect summertime appetizer for a casual dinner party or picnic. But, I recommend practicing your piping skills a little bit for tackling these. I definitely could've used some brushing up. Ooops.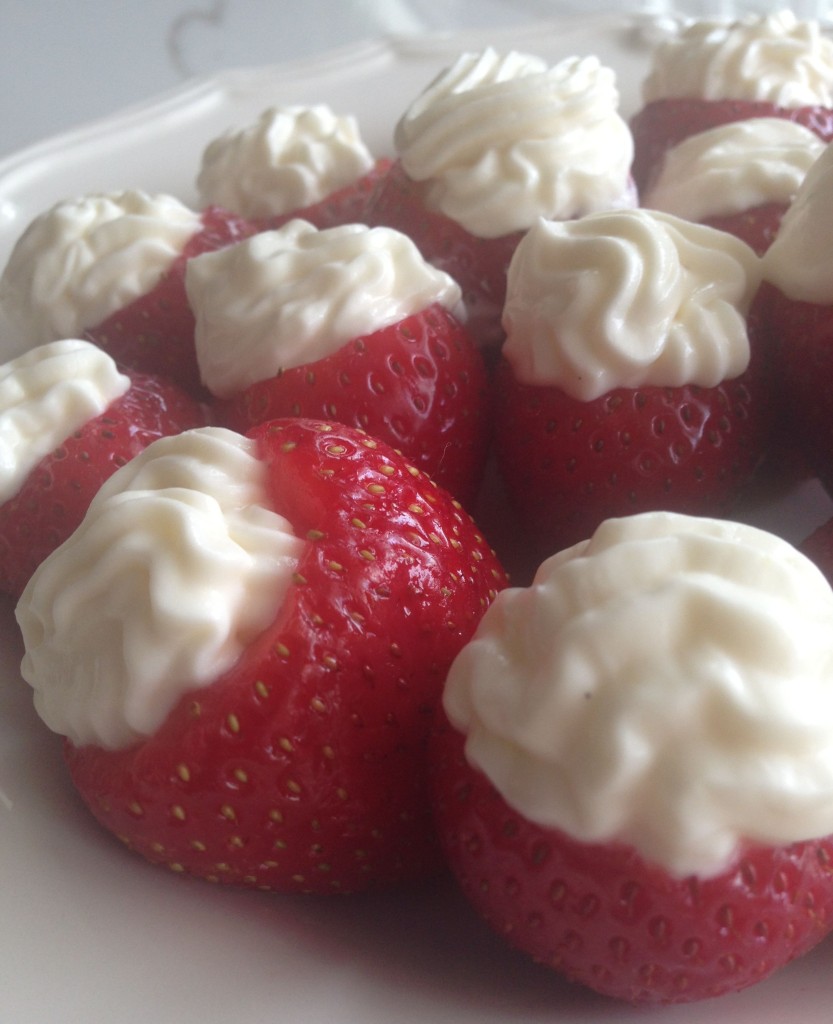 Cheesecake Stuffed Strawberries via EveryDay with Rachael Ray Magazine:
1 – 80z. package cream cheese, softened
3/4 c. sugar
1/4 c. sour cream (I subbed low-fat vanilla Greek yogurt)
1 lemon, zested, plus 2 tbsp. juice
2 tsp. vanilla extract
1 c. heavy cream
30 large strawberries, hulled, tips trimmed
In an electric mixer, beat the cream cheese, sugar, sour cream, lemon zest, lemon juice, and vanilla until smooth. In another bowl, using an electric mixer, beat the heavy cream on medium-high until stiff peaks form, about 2 minutes. Fold the whipped cream into the cream cheese mixture. Using a piping bag fitted with a star tip (I used a different tip and they did not look quite as fancy and professional! Ooops.), pipe the mixture into each strawberry. Refrigerate until ready to serve.
Notes: I did not trim the tips from the strawberries… which was obviously a colossal mistake because then they couldn't sit upright! I will not overlook that step again. I do recommend it because otherwise the filling can melt off the side of the strawberries easily. I also really need to refine my piping skills… admittedly, it's been a while since I had picked up a piping bag. Eek. Lastly, you could substitute low-fat or fat-free Cool Whip for the heavy cream and shave off a lot of fat and calories. I think the resulting consistency and flavor of the filling would not be noticeably changed!
Let me know if you've tried these and what you thought!