I like bananas well enough, but they're not my favorite fruit. Not even close. However, as I've mentioned before, my S.O. is like a gorilla. I'm not exaggerating when I tell you that he eats 3-4 bananas a day. We buy 2 or 3 massive bunches at the club every weekend and I can barely get him to leave a few behind for making banana bread. In order to make this recipe, I had to remind him several times that I needed 3 bananas, and I wrote a little note next to them with an arrow saying "No." Too extreme? The thing is, as you know, the bananas need to be super ripe! Lots of brown spots, and almost going bad. Those are the kind that make the best banana bread. So it's not like I can go to the store to just pick up a few more! Right? I managed to get my hands on some and I made one of my classic recipes. Even though I steal a few of his bananas, he's always happy with the end result. We both love this banana cake.
Back when S.O. and I were dating and didn't share a home, it was much easier for me to keep bananas around. I made this bread ALL.THE.TIME. I still love to make it whenever I can, as long as I can actually obtain overly-ripe bananas. It's delicious, easy to make, and one of my favorite things about it is that it's been healthified. It is practically guilt-free. As much as I love creating more decadent desserts, most of the time, we eat pretty healthy. I always find it fun and challenging to clean up our favorite treats by making healthier substitutions wherever it makes sense. But don't let the 'healthy' label steer you away. This cake is super moist, full of banana  flavor, crunchy walnuts, and mini chocolate chips get you a quick chocolate fix! It's perfect for a snack, dessert, or even breakfast. Grill it up with a little butter and top it with maple syrup? Oh my gah. To die for. I hope you enjoy!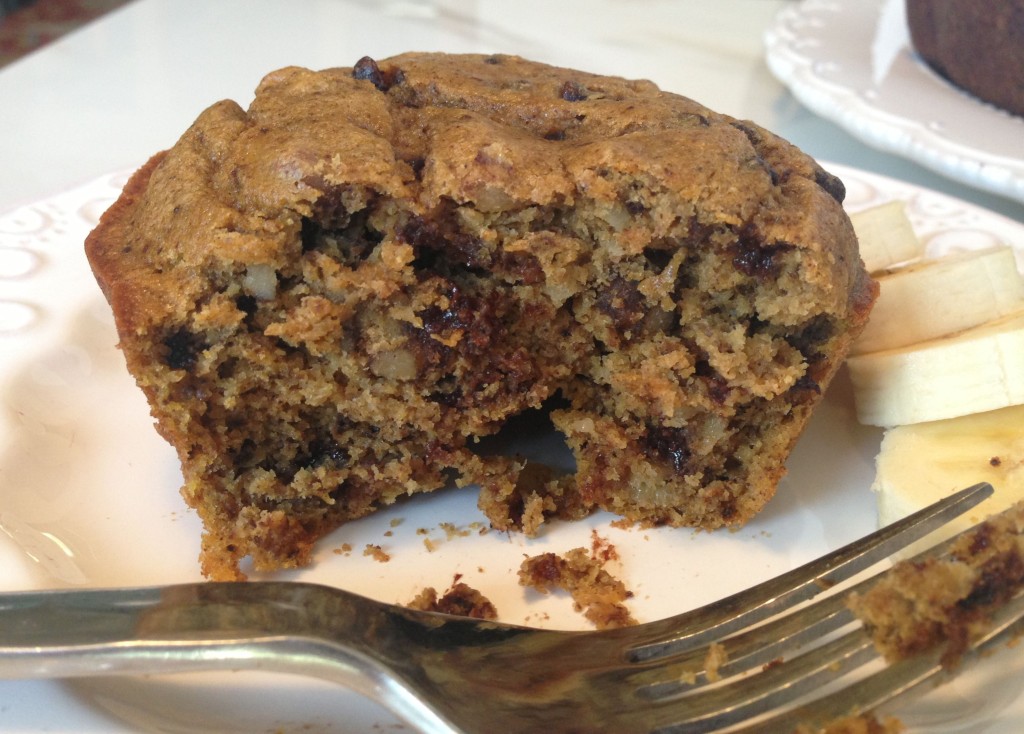 Chocolate Chip Banana Bundt Cake:
2 c. oat flour or whole wheat flour
3/4 tsp. baking soda
1/2 tsp. baking powder
1/2 tsp. salt
1 tsp. cinnamon
3/4 c. sugar
1/4 c. canola oil
1/2 c. applesauce
3 egg whites
1 tsp. vanilla
1/2 c. buttermilk
3 medium bananas, mashed
3/4 c. walnuts, finely chopped
1/2 c. mini semi-sweet chocolate chips
Grease a bundt pan or 9x5x3 loaf pan. In a medium bowl, mix the oat flour, baking soda, baking powder, salt, and cinnamon. Set aside. In a large bowl, beat together sugar, oil, applesauce, egg whites, and vanilla until well combined. Alternately add the dry ingredients and buttermilk in two additions. Gently fold in the bananas, nuts, and chocolate chips. Pour the batter into the pan. Bake at 350 degrees for 45-50 minutes, or until a toothpick comes out clean. Allow to cool. Serve!
Store in refrigerator for up to 1 week.