I've bored you to tears plenty of times before about how S.O. is a nut for bananas. But get ready for it again. I mean, the guy is an actual gorilla. He eats about 4 bananas a DAY. #notexaggerating.
He usually eats 1-2 of those in the middle of the night. I'M REALLY NOT EXAGGERATING. This is not hyperbole. I am not dramatizing for effect. He eats 24 hours/day. A lot of the time, his overnight snacks are bananas. He just loves them.
We used to buy 2 huge bunches/week and it was insufficient. So now we buy 3. It's really kinda crazy. And even with major bulk-purchasing, I still sometimes can't get my hands on a few of them to make banana bread or other baked goods and desserts. They're gone. So fast. He just… eats them all.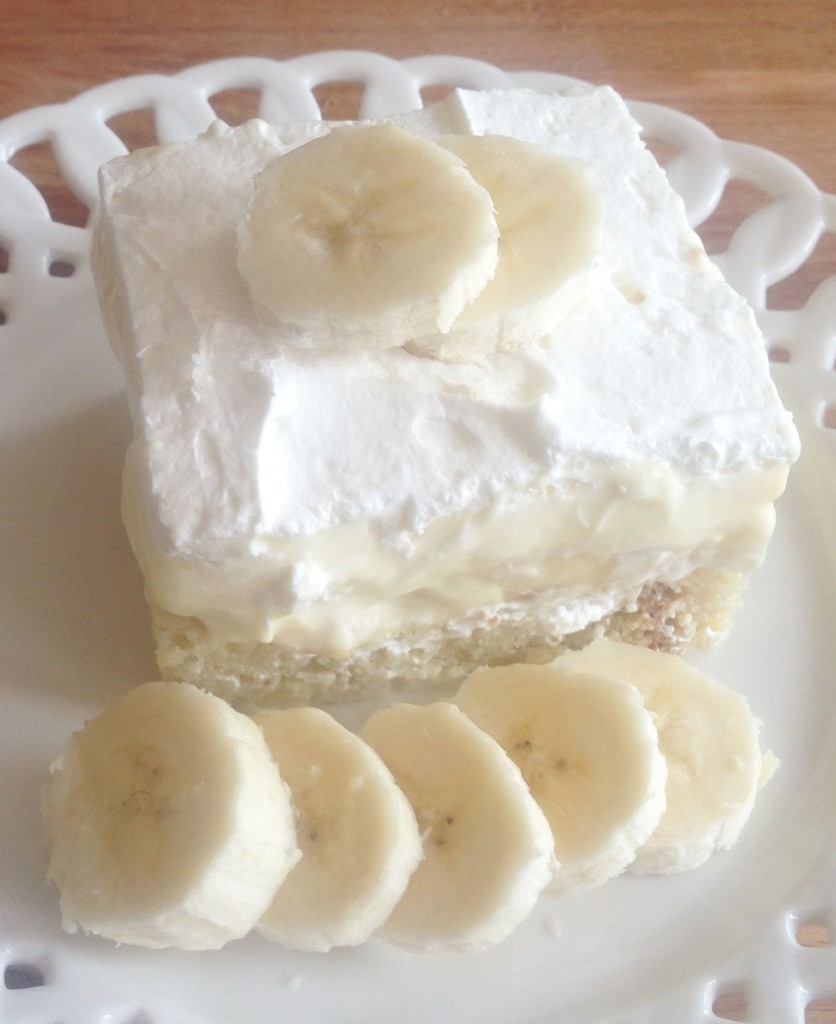 It's Thanksgiving tradition on his side of the family to make Banana Pudding every year. You know, like the old recipe from the back of the box of 'Nilla Wafers. Yes, THAT Banana Pudding. His stepmother Pam (who is the sweetest person in the universe, btw) makes 3 huuuuuge pans of it. It's her thing. It's what she does. It's just a holiday staple to her. That pudding totally rocks too. That recipe still kicks around for good reason…. it's really quite delish. It's decadent, but light. You wouldn't initially think to serve it at Thanksgiving at first blush, but it pairs perfectly because it isn't too heavy after having a serious turkey + gravy + potatoes + stuffing kind of dinner. It totally works. 3 huge pans for about 8 people. GONE.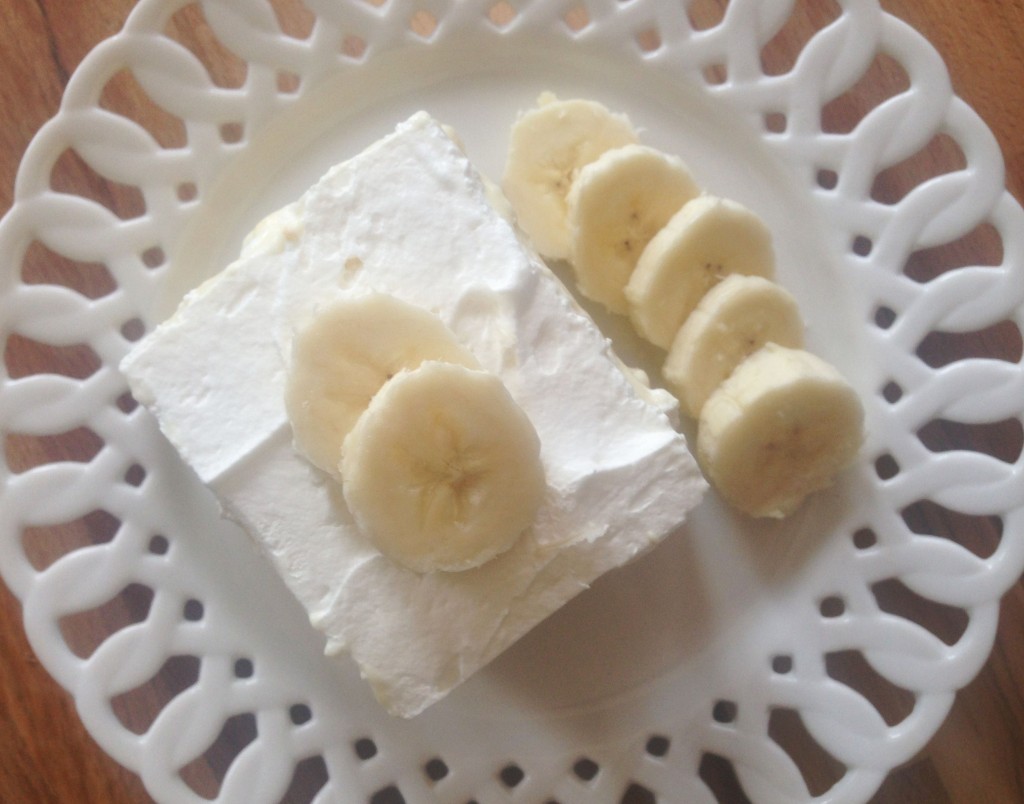 That's where this dish comes in. The flavors are so much like the Banana Pudding, but this is a little fancier. The homemade pound cake layer really takes it to the next level. It's a little extra work, but it's SO worth it. Today we are doing a rare fancification. We are usually simplifying things a notch on this here blog, but today we are steppin' it up. Um, make no mistake though, it's still a very simple and easy dessert. It's so light and delicious, you'll stand over the pan with a fork stuffing your face endlessly without even realizing what you're doing. Can't stop. One more bite.
Bananas & Cream Layered Pound Cake Dessert: via Taste of Home
Pound cake:
1/2 c. butter, softened
1 1/2 c. sugar
3 eggs
1 tsp. vanilla extract
1 1/2 c. flour
1/4 tsp. salt
1/4 tsp. baking soda
1/2 c. buttermilk or sour milk
Layers:
2 c. 2% milk
1 – 3.4oz. box instant vanilla or banana pudding mix
1 – 8oz. package cream cheese, softened
1/2 c. sweetened condensed milk
1 – 12oz. container frozen whipped topping or Cool Whip, thawed, divided
5 medium-sized ripe bananas
Preheat oven to 325 degrees. In a large mixing bowl, cream butter and sugar until light and fluffy. Add eggs, one at a time, beating well after each addition. Add in vanilla extract. In another bowl, combine the flour, salt, and baking soda. Add to creamed mixture alternately with buttermilk, beating after each addition until just combined. Transfer to a well-greased 9×5-inch loaf pan. Bake for 40-50 minutes or until toothpick inserted near the center comes out clean. Cool in pan for 15 minutes before removing to a wire rack. Cool completely.
In a small bowl, whisk 2% milk and pudding mix for 2 minutes. Set aside. In a large mixing bowl, beat cream cheese and condensed milk until smooth. Fold in pudding. Fold in 1/2 the container of whipped topping.
Cut cake into 10 even slices and arrange on the bottom of an ungreased 13×9-inch dish in 2 columns of 5 slices (see image for reference). Slice bananas and arrange over cake. Spread pudding mixture evenly over top of banana slices. Spread remaining whipped topping evenly over top of the pudding mixture. Cover and refrigerate. Serve chilled.
Enjoy!