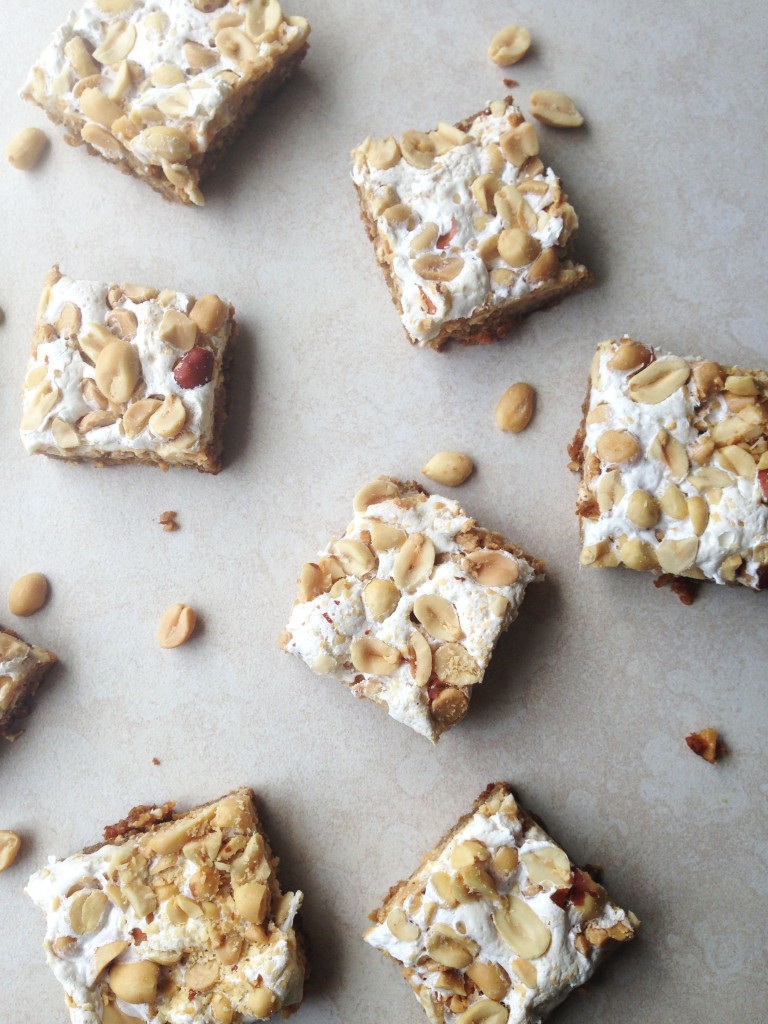 I am obsessed with peanut butter. That is not a secret to you all. I never get tired of it and I could eat it all day every day. I don't, but I sooooo wish I could sustain on PB alone. I do eat 3 spoonfuls a day though. That's a fact. I will document it if you don't believe me. For eating straight off the spoon, crunchy is my fix of choice.
I also have a soft spot for marshmallows. They are basically just sugar and not much else, but what makes them taste like soooo much more? Marshmallows are something special, that's for sure. And marshmallow fluff?? It's food for the gods.
In my dream world, I would dip my 3 daily spoonfuls of PB directly into a tub of marshmallow fluff before consuming…. BUT, I only do that occasionally. My dream world would also contain unlimited quantities of donuts, especially chocolate-glazed creme-filled. OMG donuts. Ugh, they are another weakness of mine. But I digress.
These bars are the masterful combo of PB and marshmallow fluff on a spoon, but in proper dessert form. They've been stuffed with peanut butter in every possible way I know how, and there's no shortage of marshmallow madness here either. I love a lot of power duos in the dessert world, but there are few I love more than fluffernutter. Aaack… so good. Make these. Do it now. Seriously.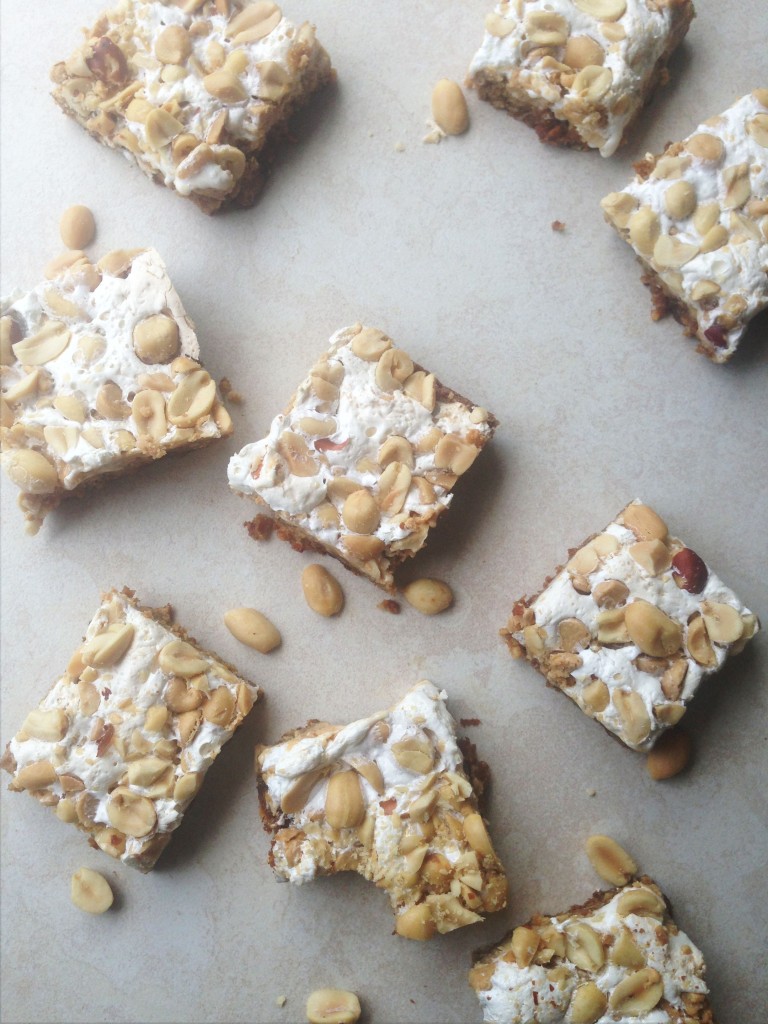 Fluffernutter Cookie Bars:
1 c. salted peanuts, chopped
3/4 c. flour
3/4 c. quick oats
2/3 c. brown sugar
1 tsp. salt
1/2 tsp. baking soda
1 egg
1/4 c. butter, softened
1/4 c. creamy peanut butter
1/3 c. peanut butter chips, coarsely chopped
Topping:
1/2 c. creamy peanut butter
1 – 7 oz. jar marshmallow creme
1/2 c. peanut butter chips
1 1/2 c. salted peanuts, chopped
In a mixing bowl, combine the first 8 ingredients. Mix until well-blended. Stir in peanut butter chips. Press into a greased 9×13 baking pan. Bake at 350 degrees for 8-10 minutes or until lightly browned. Dollop peanut butter over hot crust and carefully spread it evenly. Dollop marshmallow creme over top the peanut butter layer, and carefully spread evenly. Sprinkle with peanut butter chips and peanuts. Bake for 15-20 minutes or until lightly browned at the edges. Cool completely. Cut into bars.
Enjoy!