It's happening… it's officially that time of year where my kitchen is bombarded with a dozen cans of pumpkin, loads of butterscotch chips, and extra containers of pumpkin pie spice. Prepare yourself for an onslaught of pumpkin recipes and other traditional fall flavors. #sorrynotsorry. I wait all year for it to be appropriate to bake with pumpkin again! So what if it was early August when I was already turning the corner on summer and ushering in fall?! You're all probably incredibly sick of hearing me wax poetic about fall for the thousandth time, but it's TRUUUUE. I just love it so much.
I'm spending the week in Erie, Pennsylvania, visiting my family. Although it's not a vacation in the most exotic sense of the word, it is a vacation to me because this place is the one place in the world where I truly relax. Typical vacations full of sight-seeing and touristy stuff are amazing too, but in a different way. This vacation is straight-up relaxation. Food + family. That is all I need. It's also helping that the weather has been perfect and quintessentially fall-like. Indian Summer type days. Warm (not hot – thankfully) and sunny, but cool breezes. The air smells like leaves. Love it all!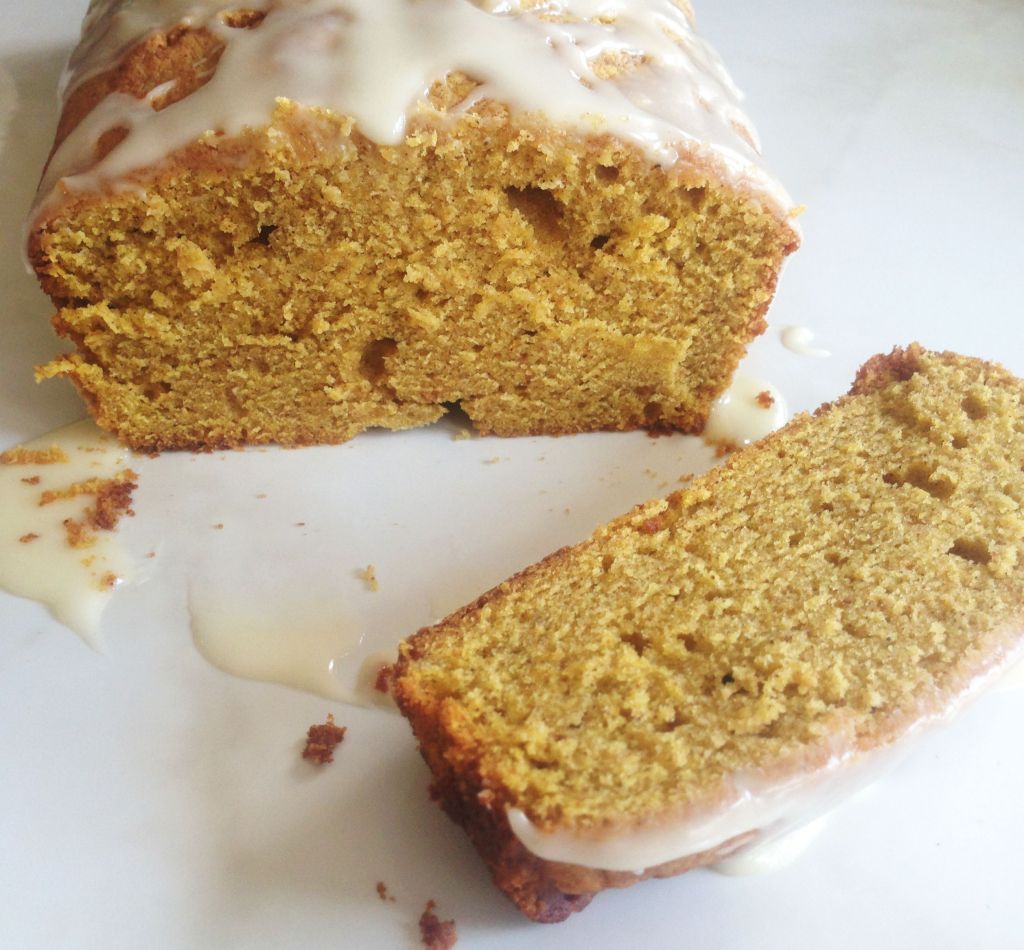 Here's what YOU will love so much. This pumpkin pound cake! It is moist and dense, but fluffy. Rich without being heavy. It's got great pumpkin flavor without being overpowering. It's so satisfying!
An icing or frosting would be overkill, but the lemon glaze is perfect. Lemon is a beautiful complementary flavor to pumpkin. Not sure why the two work out well together, but they just do. The glaze is tangy, but sweet, and adds some pizzazz to the warm flavors of pumpkin and spices. Just drizzle it on while the cake is hot and let the glaze soak on in. Gaaah. This dessert is divine. What are some of your favorite pumpkin desserts? Please share because I'm *always* hunting for more!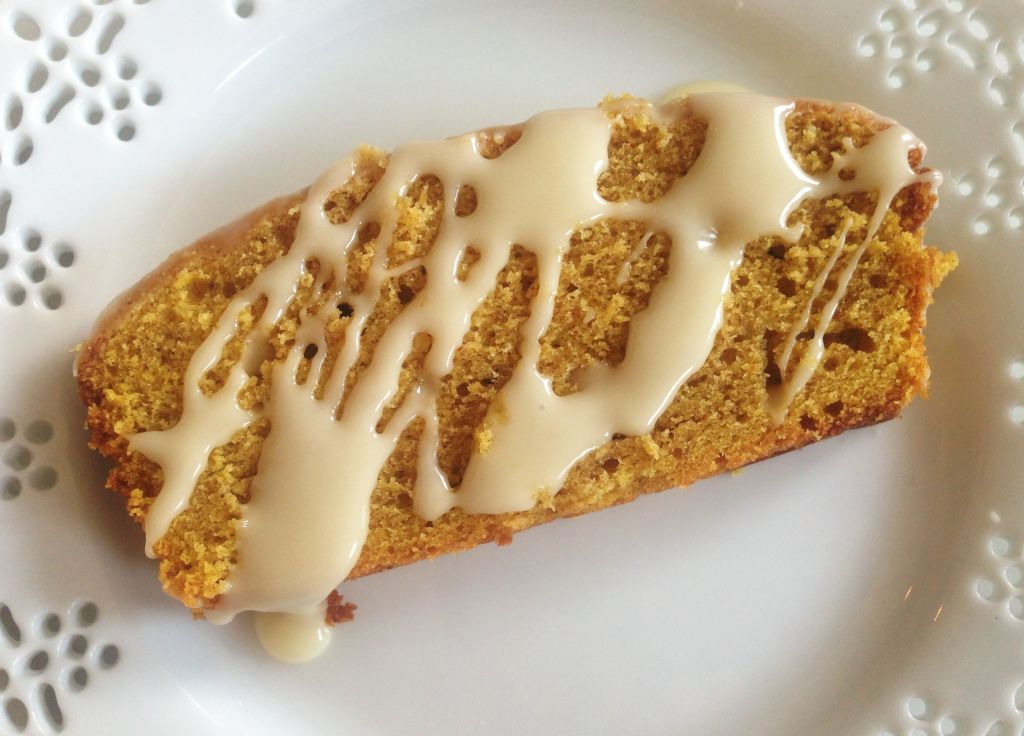 Pumpkin Pound Cake with Lemon Glaze:
Cake:
1-1/2 c. butter
2-3/4 c. sugar
6 eggs
1 tsp. vanilla
3 c. flour
1 tsp. cinnamon
1 tsp. pumpkin pie spice
1/2 tsp. ginger
1/4 tsp. clove
1 tsp. baking powder
1/2 tsp. salt
1 c. canned pumpkin puree
Glaze:
2 c. powdered sugar
up to 1/4 c. lemon juice
1/2 tsp. lemon extract
In a large mixing bowl, cream butter and sugar. Add eggs, one at a time, beating well after each addition. Add in vanilla. Combine the dry ingredients and add to creamed mixture alternately with pumpkin, beating until just combined. Pour into two greased and floured 9×13-inch loaf pans. Bake at 350 degrees for 60-70 minutes or until a toothpick inserted near the center comes out clean. Cool for 15 minutes before removing from pans to wire racks to cool completely.
To prepare glaze, whisk together powdered sugar, 2 tablespoons lemon juice, and lemon extract. Add lemon juice as needed to achieve desired consistency.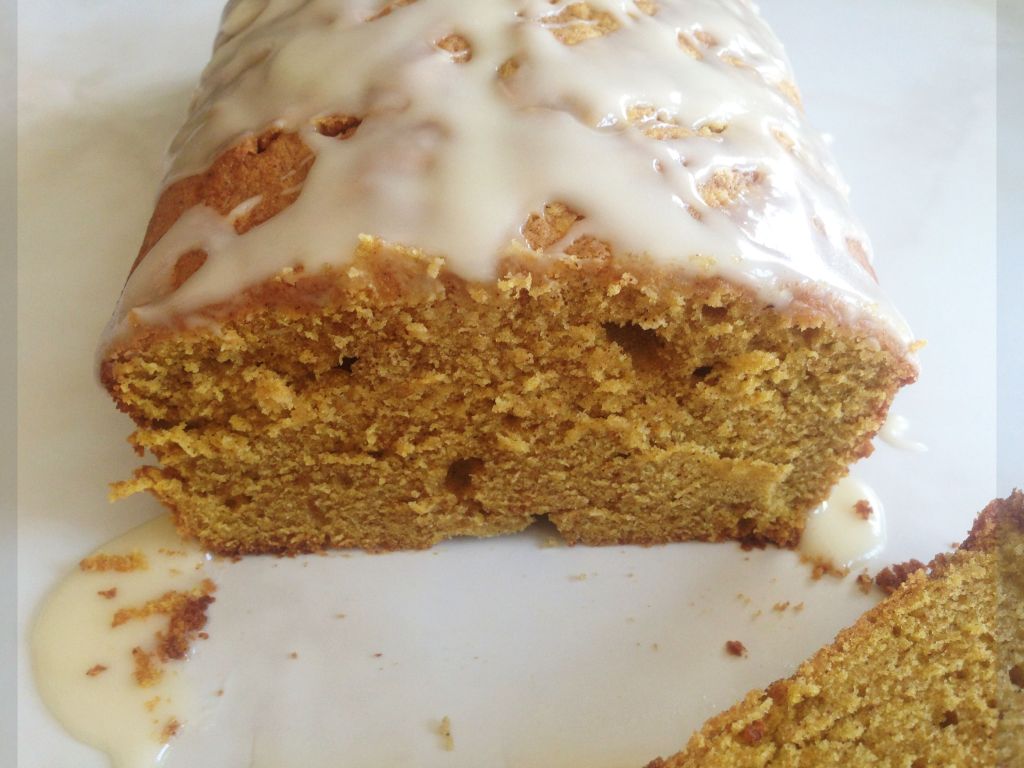 Let me know if you try it! I want to hear all about it!