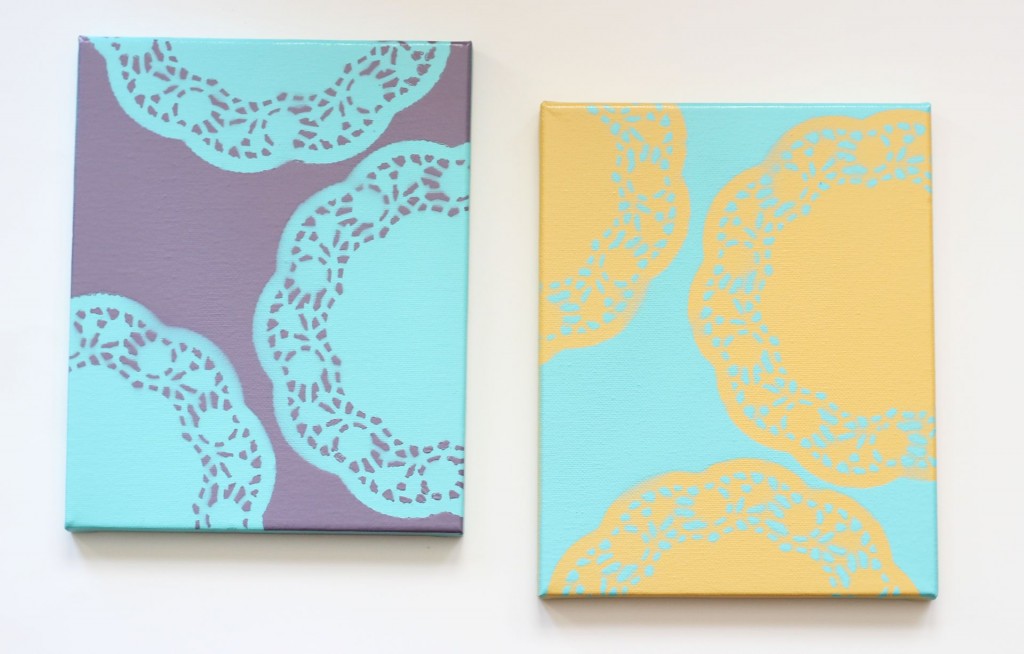 I'm a serious crafter at heart. Pretty sure it's genetic. My Grandma used to paint ceramics, do embroidery, and do latch hook rugs and wall hangings. My mother dabbles in a little of everything and you never know what she's up to. Her latest endeavor is collecting seashells and beach glass at the shores of Lake Erie to decorate wood picture frames. You can't walk into a little shop or boutique without her pointing out 3 or 4 items saying, "We could make that!" Crafting is truly a family affair because even my older brother has been known to participate on occasion!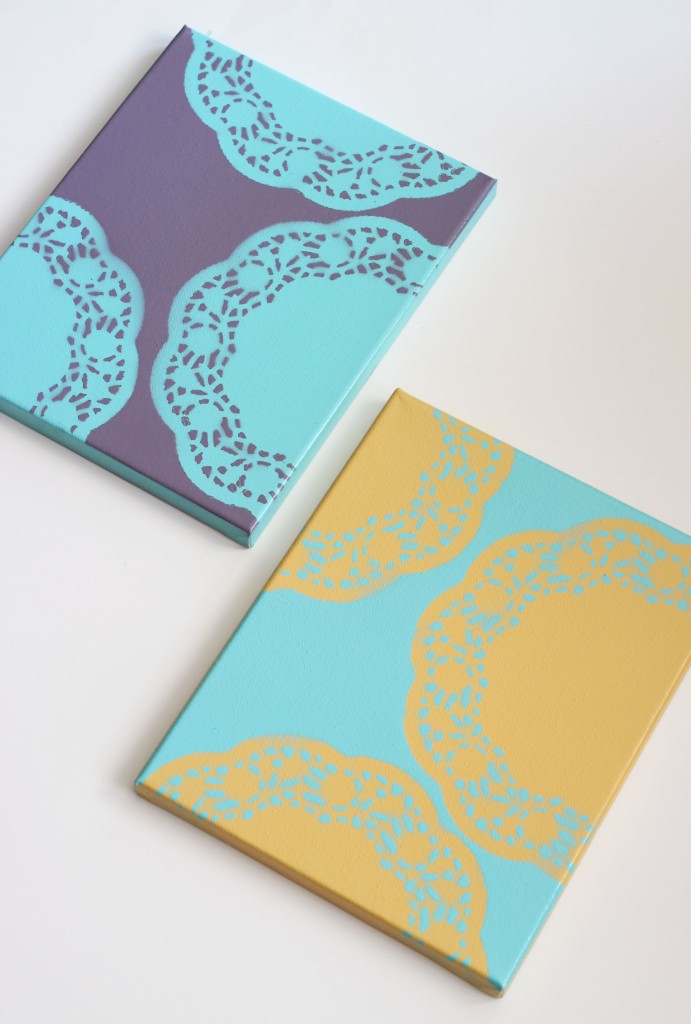 One of my favorite craft activities is DIY wall art. You will not find a blank spot on my walls. I just have to fill an empty space – I can't help it. Obviously wall art adds so much character and personality to a home though. Someone else who lives under my roof might argue that our house is cluttered, but I prefer to think of it as organized chaos. Because it is organized. It's just that there's a lot. 🙂
You might remember that I recently took a stab at making celery stamped wall art. It was ridiculously easy, inexpensive, and super fast. Seriously, a cinch. Also, it was SO.MUCH.FUN. The DIY wall art thing has since snowballed because canvases went on sale at Michaels, and well, I bought them in bulk. The wheels were turning on how I could use them when I also spotted doilies in the $1 section. It all came together for me in the aisles of a Michaels store, as these crafty things tend to do!
This next attempt at easy DIY wall art was just as fun, even easier, and also very inexpensive. You only need a handful of supplies that are all affordable, and a half hour time-slot. That is all.
 To see how I made it, keep reading!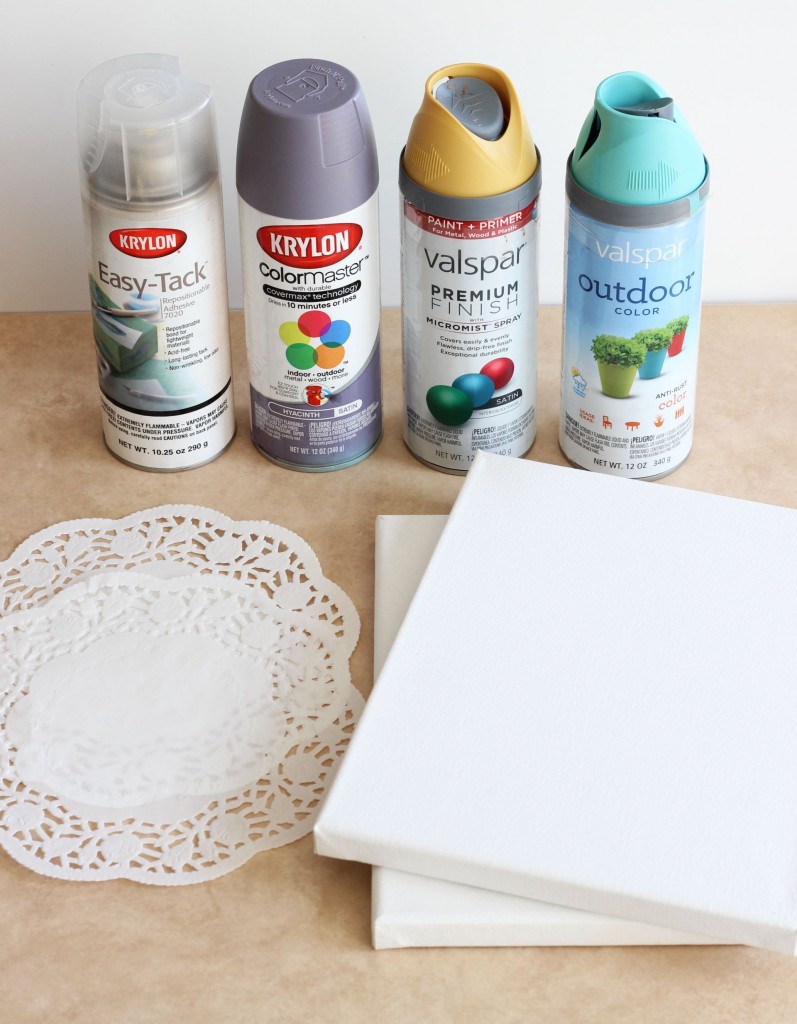 Supplies:
2 or 3 colors of spray paint
1 can of Krylon Easy-Tack Repositionable Adhesive spray
6-8 paper doilies – I used 8-inch size
newspaper or large piece of cardboard
2 canvases – I used 8x10s
Step 1: Decide which colors you want to layer. I wanted to do one of these in teal w/ purple overlay, and the other in yellow w/ teal overlay. Outside, on newspaper or a large piece of cardboard, spray the canvases accordingly with one even, opaque coat. I sprayed one teal, and the other yellow. Allow to dry, about 10-15 minutes.
Step 2: Lay out the doilies and decide on their placement. Once you've decided, use the Easy-Tack Repositionable Adhesive spray to lightly spray the doilies, and lay them in place on the canvases. The spray will gently attach them, but they'll easily peel off, and they won't remove paint. Make sure they're pressed onto the canvases smoothly.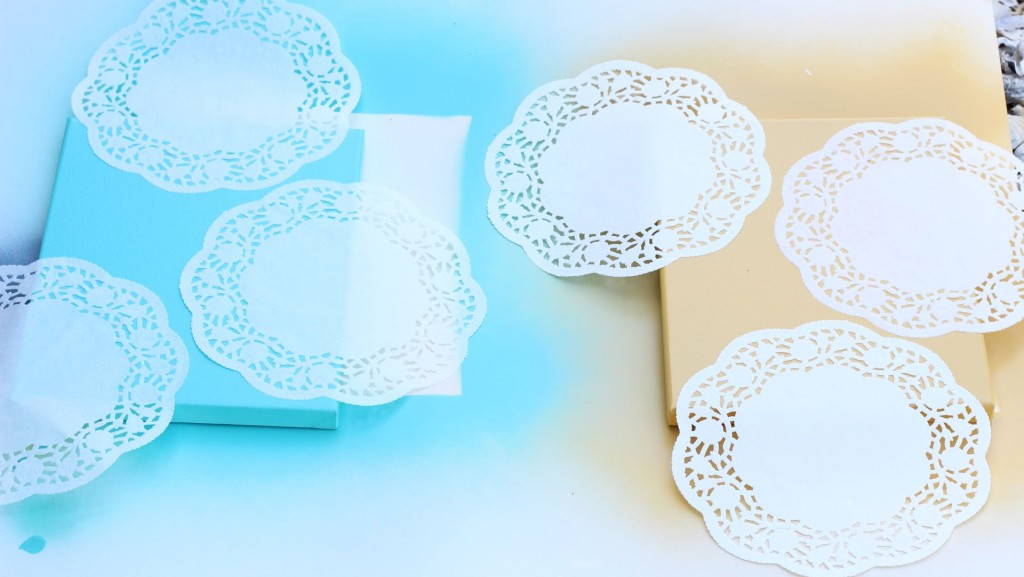 Step 3: Spray each canvas evenly and opaquely with the overlay color. I sprayed the teal canvas with purple, and the yellow canvas with teal. Allow the paint to dry for about 5 minutes. You don't want it to be completely dry because the paint might peel when we remove the doilies, but you don't want it so wet that it runs or drips. 5 minutes is just right.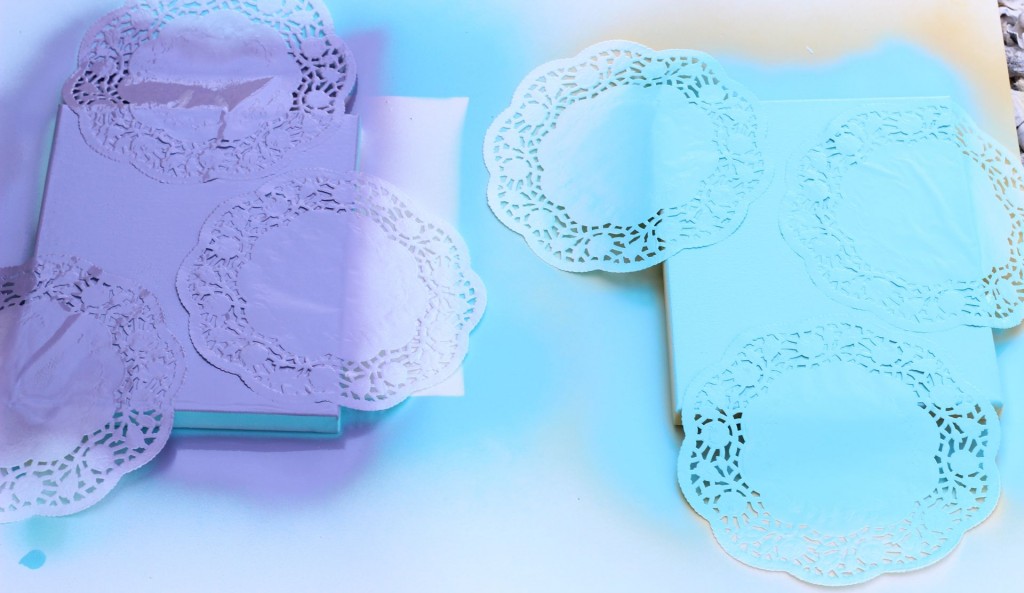 Step 4: Gently peel off the doilies, and allow the canvases to dry completely!
That's it! They're ready to hang! Super fast and easy DIY. Let me know if you try it!