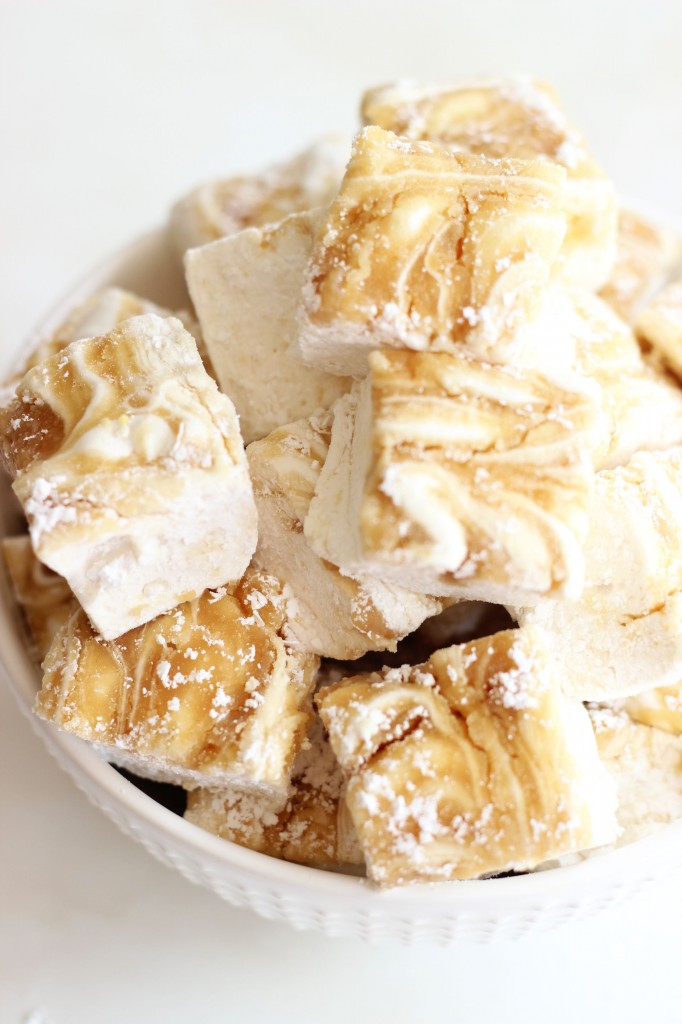 I know what you're thinking: why go to the trouble of making homemade marshmallows when you can conveniently buy a whole big bag of  'em at any grocery store. After all, when you get down to it, they're pretty much just sugar, right? How different can they be? Something seriously magical happens when you personally whip the sugar into fluffy, puffy, pillowy, wonderful, little melt-in-your-mouth marshmallows. So much more than just doctored-up sugar (although they are kind of that too).
I first learned how to make them when I was living in San Francisco. I didn't know a single soul in the entire city (or the entire state of California for that matter!) and out of utter boredom, I signed up for a plethora of classes – sewing, cake decorating, pottery, you name it. Anything I could find for something to do with my evenings! A local bakery included a lesson on marshmallows as part of another class, and after trying them from scratch, I never looked back!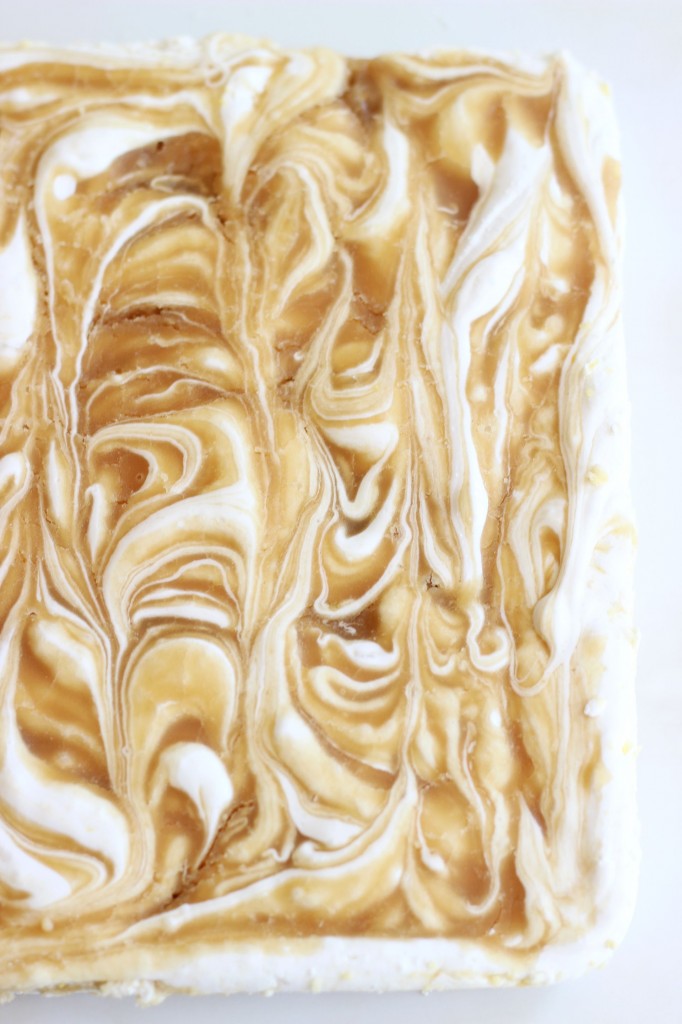 Homemade marshmallows are not even very hard or time-consuming, and they're worth every second. Believe me, I flat-out suck at making candy. Baking – I've got that down pretty well. Cooking – not shabby. But candy… it's tricky business. I've had my kitchen fails. The thing is, you usually have to break out the candy thermometer or try to use the water glass method to test whether it's in the right stage. Well, that's just a lot of hoopla and I never get it right. Not my thing.
Here you don't need special gadgetry. Just a timer, and you'll be fine. This recipe produces bouncy, light, and airy marshmallows in the easiest way possible. They are delightful without any extras, but your options for flavoring are endless. Whatever you fancy for the most part.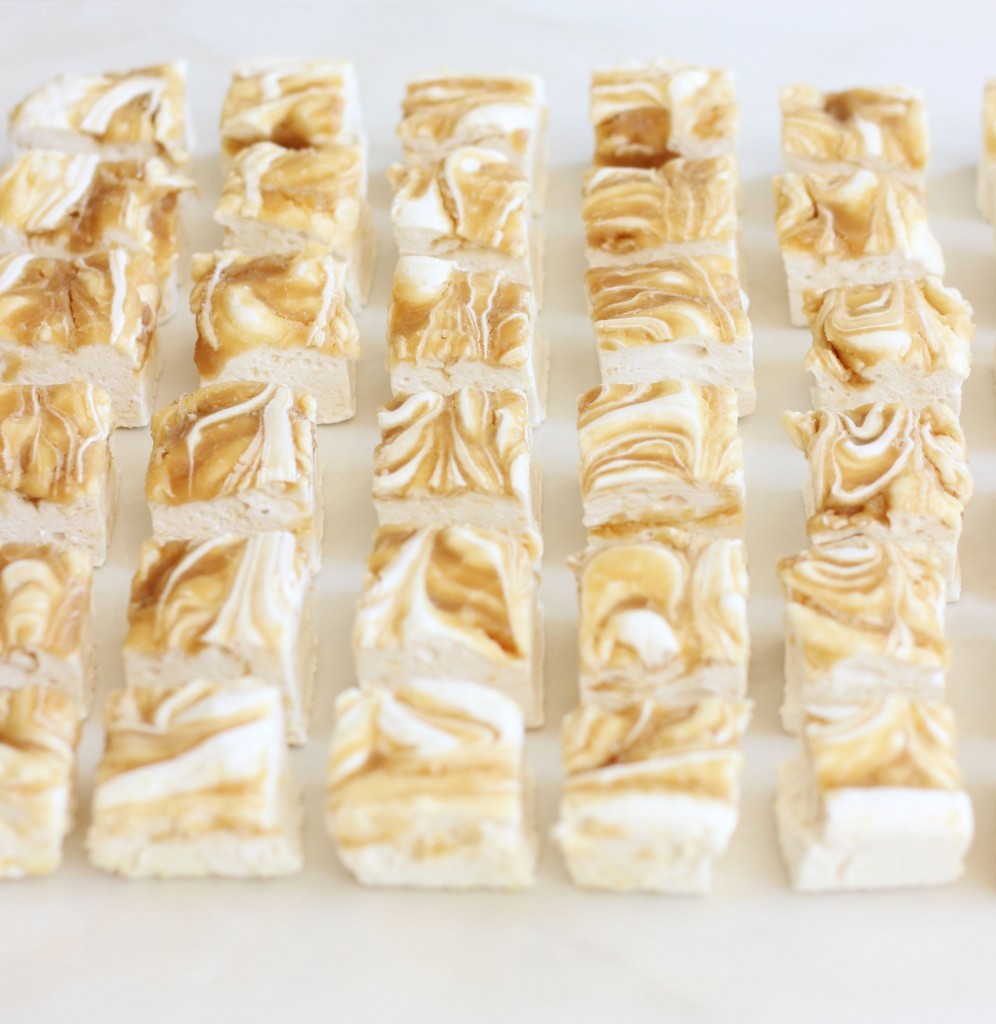 I went with caramel and malted milk powder. There's something very nostalgic and "1950s diner"-ish about malted marshmallows and I love the subtle malt flavor. Since I had leftover homemade caramel sauce from these, I swirled it in because caramel both tastes good and looks pretty. Not that I care how my food looks as long as it tastes good, but it's always a nice bonus.
Rich caramel, subtle malt flavor, and puffy marshmallows. A cozy fall treat.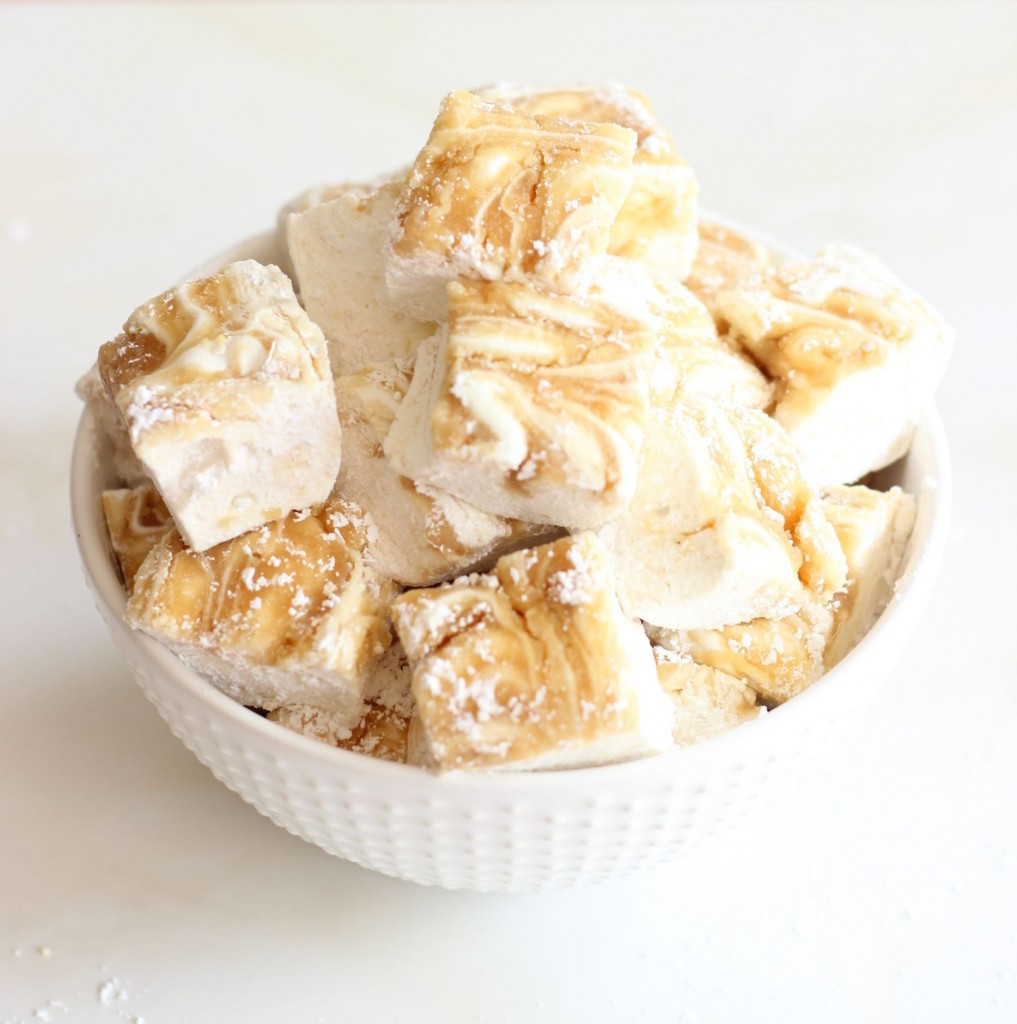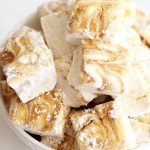 Homemade Marshmallows - Malted Caramel Swirl
Ingredients
1/4

c.

cornstarch

1/2

c.

powdered sugar + more for dusting pan

1/3

c.

water

2 - 1/4

oz.

packets gelatin

1 1/4

c.

granulated sugar

2/3

c.

light corn syrup

2

tsp.

vanilla

1/3

c.

malted milk powder

1/2-3/4

c.

caramel sauce

homemade or store bought
Instructions
Lightly grease a 9-inch square pan and generously dust the bottom and sides with powdered sugar.

In a medium bowl, sift together cornstarch and powdered sugar (or whisk thoroughly), and set aside.

Pour the water in a large mixing bowl.

Sprinkle the gelatin over the water, and allow to stand for 10 minutes, or while following the next steps.

Meanwhile, in a large saucepan over medium-high heat, combine granulated sugar and corn syrup.

Cook until granulated sugar is dissolved, about 6 minutes.

With the mixer on the lowest setting, very slowly drizzle the sugar mixture into the gelatin mixture. It's obviously extremely hot, so you want to make sure the sugar mixture doesn't splash.

Gradually increase the mixer speed to medium for 1 minutes, or until the mixture begins to thicken.

Then increase the speed to high, and let it beat until the mixture turns very thick, white, and fluffy, about 10 minutes.

Add the vanilla and mix until incorporated.

Add the malted milk powder and mix until incorporated.

Spoon the marshmallow mixture into the prepared pan and spread evenly.

Drizzle the caramel sauce over the marshmallow mixture, and use a knife to swirl it.

Allow marshmallow to set for at least 2 hours, or overnight.

Cut into pieces with a wet knife, and toss in the cornstarch/powdered sugar mixture.
Recipe Notes
When spreading the marshmallow mixture into the pan, I find it can be helpful to lightly grease my fingers to spread and smooth the marshmallow. It's less of a sticky mess.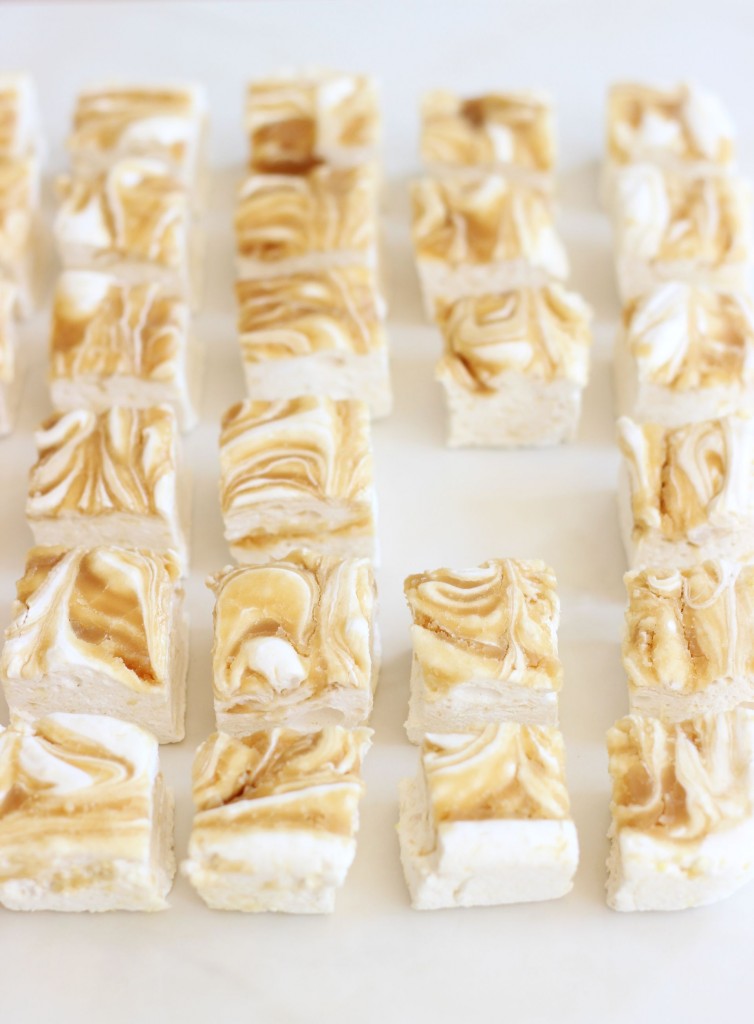 Give them a go. Let me know how you do!