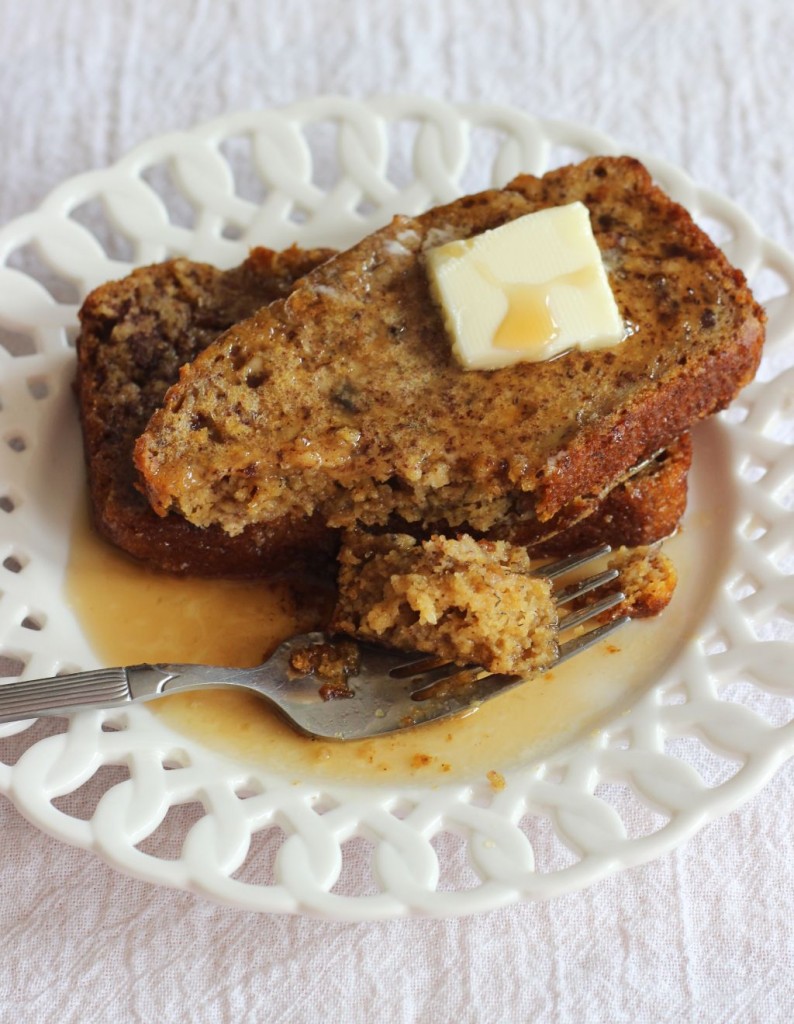 Hiiii! It's Saturday morning, so this should be your brunch. Except it's almost lunchtime now. So maybe make this for Sunday morning breakfast instead! I know I am.
I'm very habitual about foods sometimes. A few years ago, I ate sauteed spinach like 3x/day for about 5 months. I couldn't get enough. I couldn't stop! Then one day I just got over it and have hardly eaten spinach since. I went through the same phase with omelettes, and then most recently I've been eating French toast about twice/day. Although I've been making it with whole wheat bread, egg whites, and low sugar maple syrup, but still. That's a lot of French toast, and it's been a few months running now! I just go through food phases. Anybody with me on that?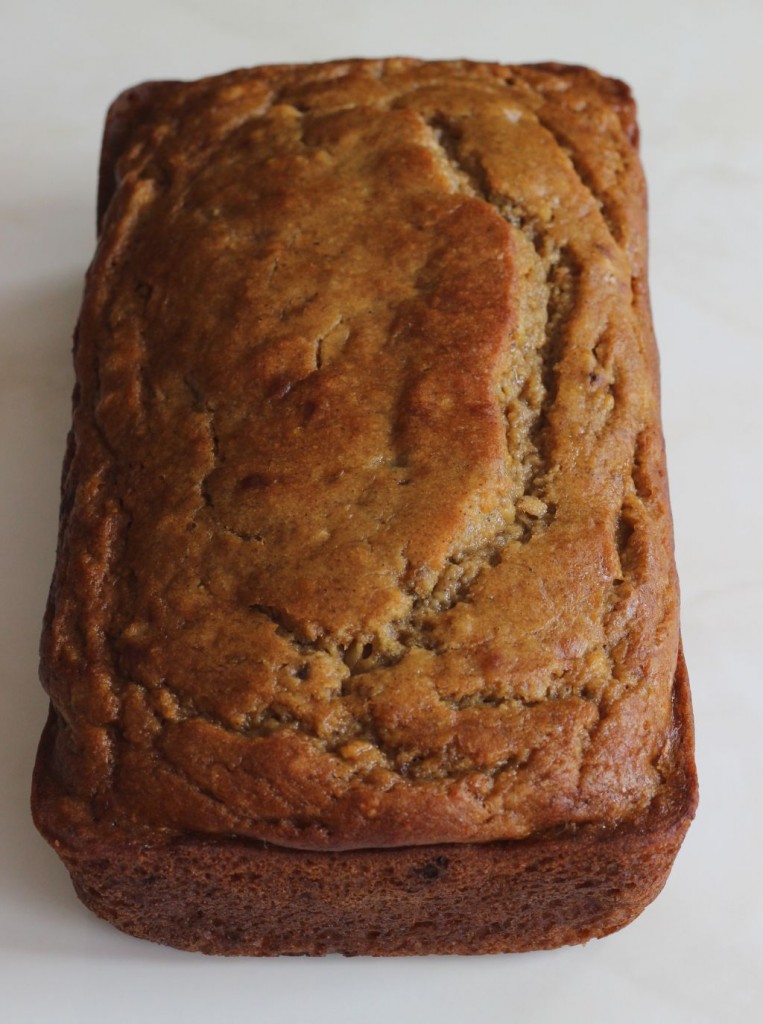 Since I'm already on a French toast kick, and I'd just made this incredible pumpkin banana bread (because nothing can be without pumpkin this time of year), it was the natural next step. I read in a magazine or something, yeeeeears ago, the idea to make French toast from quick breads. I thought it was *brilliant.* Because it is! It's brilliant! I'd never considered it before that, but what a revolutionary concept! It's fun, easy, different, and delicious. It's pretty rich and heavy though, so it's the kind of thing we save for weekends.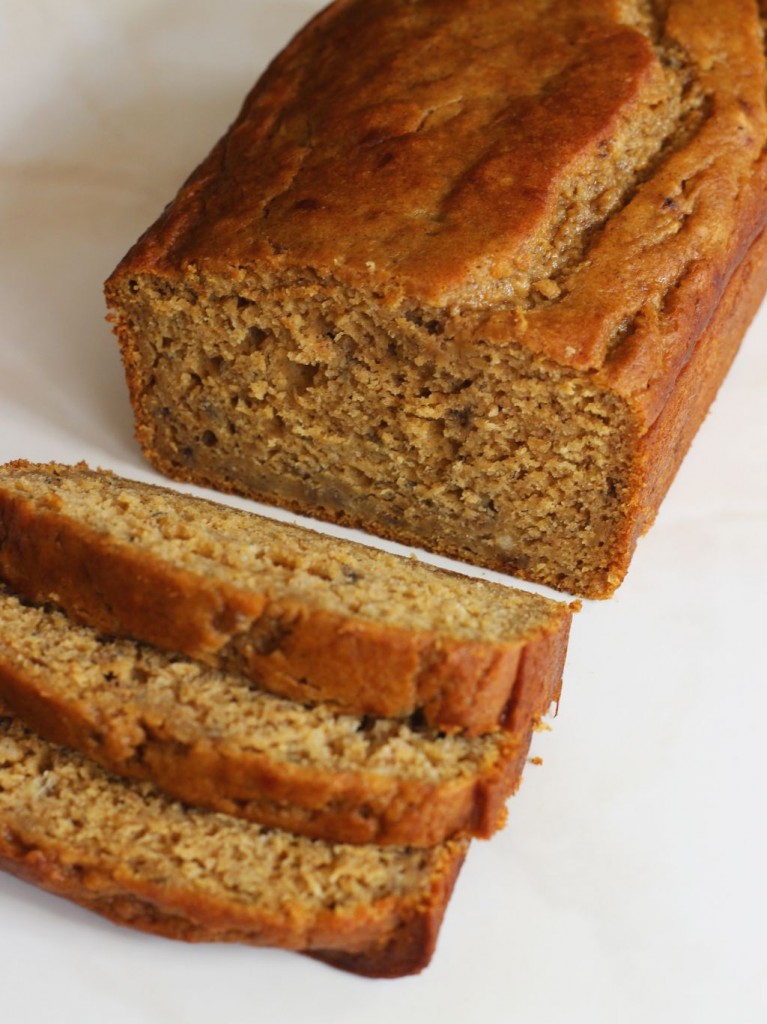 We're a quick bread household anyway. There's almost always banana bread around. Chocolate zucchini bread is another staple. Now that it's fall… hello, pumpkin bread! We love having quick breads on hand for fast breakfasts and snacks, but after you've made about 8,000 loaves, you do start to look for creative ways of using it up. This is one of those options!
Let's not lose sight of the fact that this is also a delicious bread! Pumpkin + banana bread. It had to happen. It's dense, while still being fluffy and springy, and it's a lovely balance of two flavors we all know and love.
Just dunk it, grill it, give it a pat of butter, and douse it with maple syrup. The best French toast you've ever had!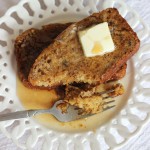 Pumpkin Banana Bread French Toast
Homemade pumpkin banana bread is sliced and dunked into eggs, milk, and vanilla to make French toast! Topped with maple syrup!
Cook Time
1
hour
15
minutes
Total Time
1
hour
30
minutes
Servings
5
-6 servings of 2 slices
Ingredients
Pumpkin Banana Bread:
2

c.

flour

1

tsp.

baking soda

1/2

tsp.

baking powder

1/2

tsp.

salt

1

tsp.

cinnamon

1

c.

brown sugar

1/3

c.

oil

2

eggs

1

tsp.

vanilla

1

c.

pumpkin puree

1/2

c.

buttermilk or sour milk

3

bananas

mashed
French toast:
2

whole eggs + 3 whites

1

tsp.

vanilla extract

1

tsp.

cinnamon

splash of milk

butter

maple syrup
Instructions
To make bread:
In a medium bowl, combine the flour, baking soda, baking powder, salt, and cinnamon; set aside.

In a large mixing bowl, combine the brown sugar, oil, eggs, vanilla, and pumpkin.

Add the dry ingredients to the sugar mixture alternately with the buttermilk, beating until just combined.

Fold in the mashed bananas.

Pour batter into a greased 9x5-inch loaf pan.

Bake at 350 degrees for 55-65 min, or until a toothpick comes out clean. Allow to cool.
To prepare french toast:
Once bread cools, slice it into approximately 3/4-inch slices, or about 10-12 even slices.

In a medium bowl, combine the whole eggs, egg whites, vanilla, cinnamon, and splash of milk.

Dunk each side of the bread into the egg mixture, allowing a few seconds for it to soak in.

In a large saucepan on medium heat, cook bread slices for 2-3 minutes on each side, or until lightly browned.

Serve with a pat of butter and a drizzle of maple syrup!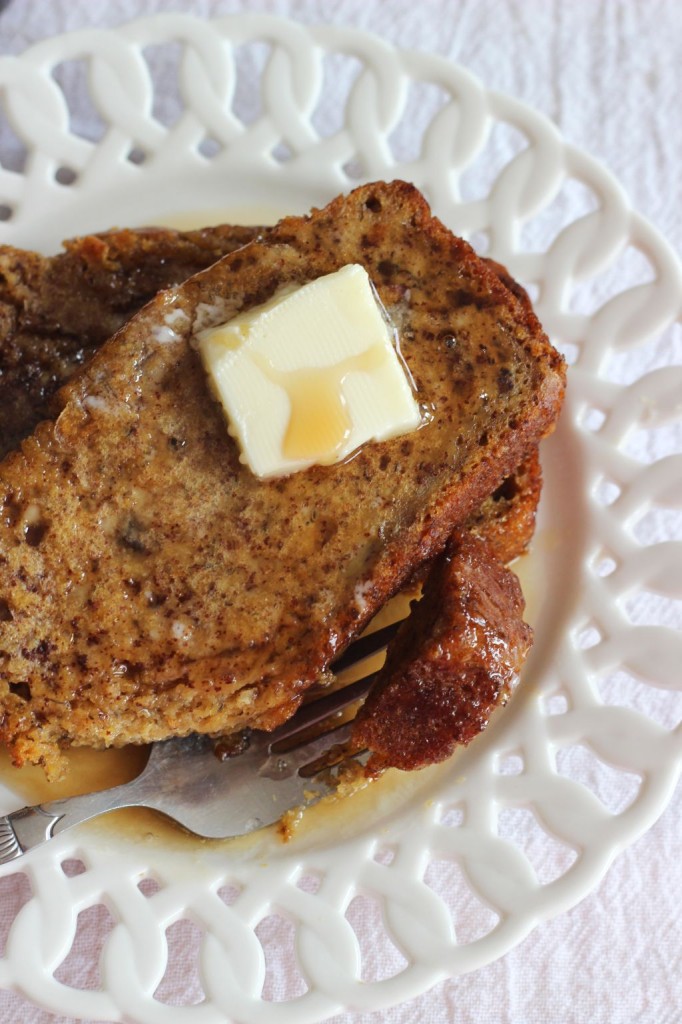 Notice I'm always looking for a way to have dessert for breakfast? At it again. Also, you just watched butter melt.