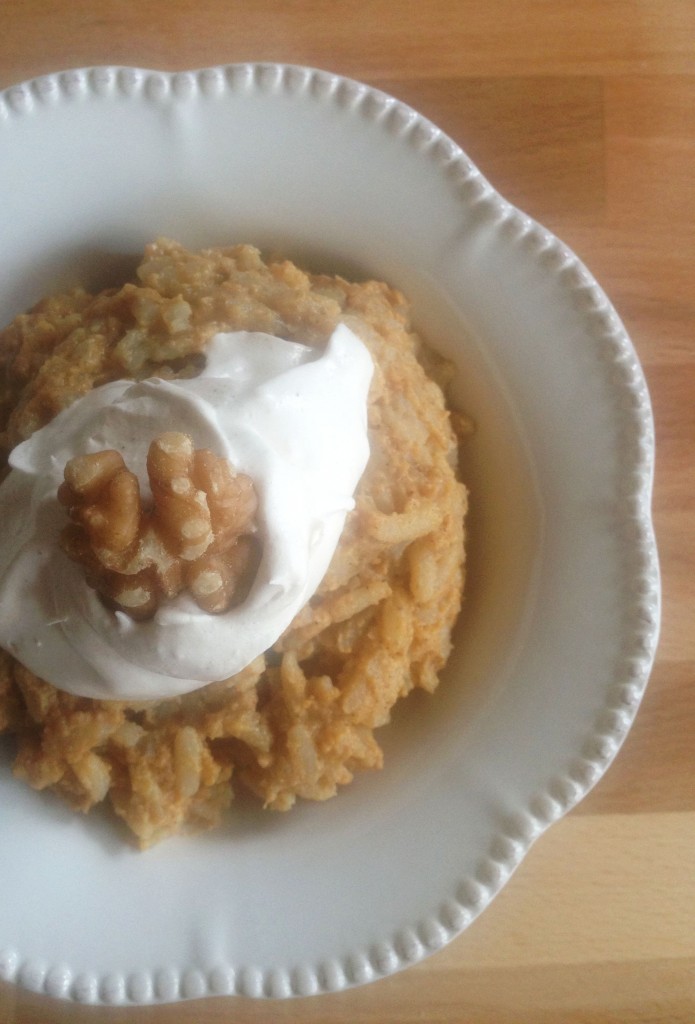 Yes, more pumpkin stuff. I can't get enough of pumpkin things. I keep asking if people are sick of seeing pumpkin recipes and nobody complains, so until somebody screams at me "ENOUGH WITH THE PUMPKIN!" then I'm charging on. It's just that I'm all: FALL is here!! But who isn't?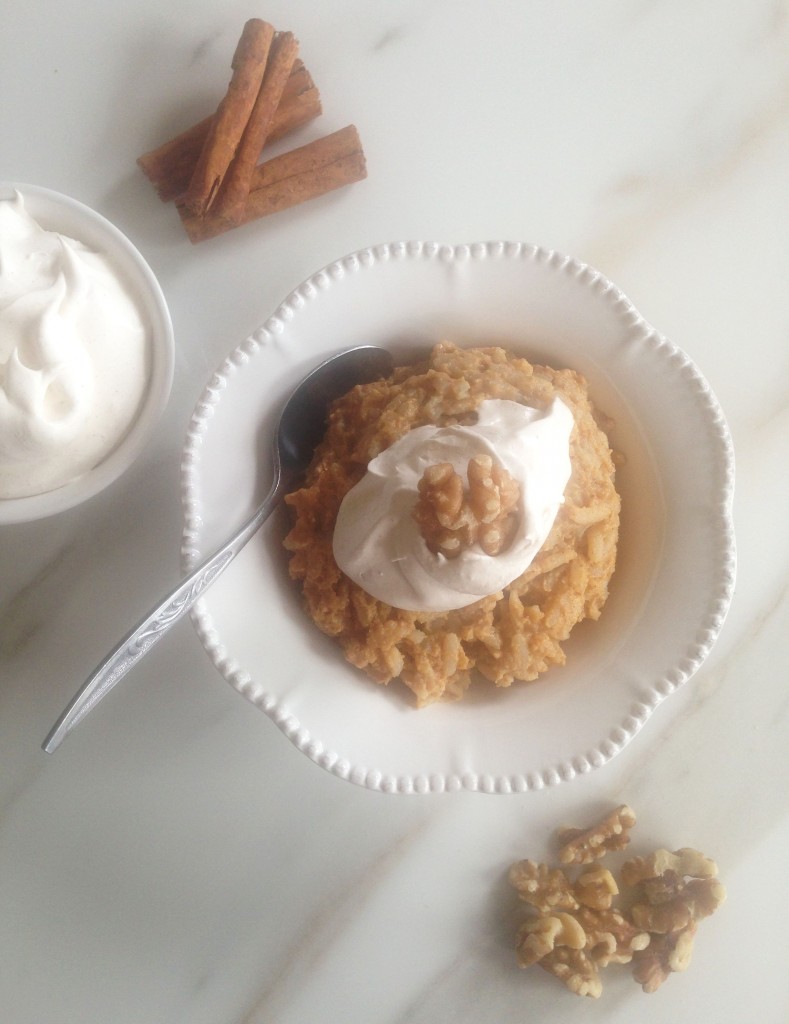 This pumpkin brown rice pudding though – we tore this up. Worse than how the Chiefs tore up the Patriots on MNF. Worse than the shellacking of the Vikings last night by the Packers. Worse than… I think you probably get it.
By the way, the S.O. and I both agreed that watching the Chiefs dismantle the Patriots was one of our favorite games of all-time where our team, the Buffalo Bills, weren't even playing. The Bills and Patriots are intense rivals and of course they always annihilate us because… we usually suck and they're usually awesome. It's probably more fair to say that they are our intense rival and the Patriots don't think twice about us because some seasons we can't even be taken seriously. Such is football. I'll stop now.
Let me apologize to any Patriots fans out there, but we reeeeally enjoyed ourselves on Monday. You understand, right? It's all in good sports fun. 🙂 Forgive me.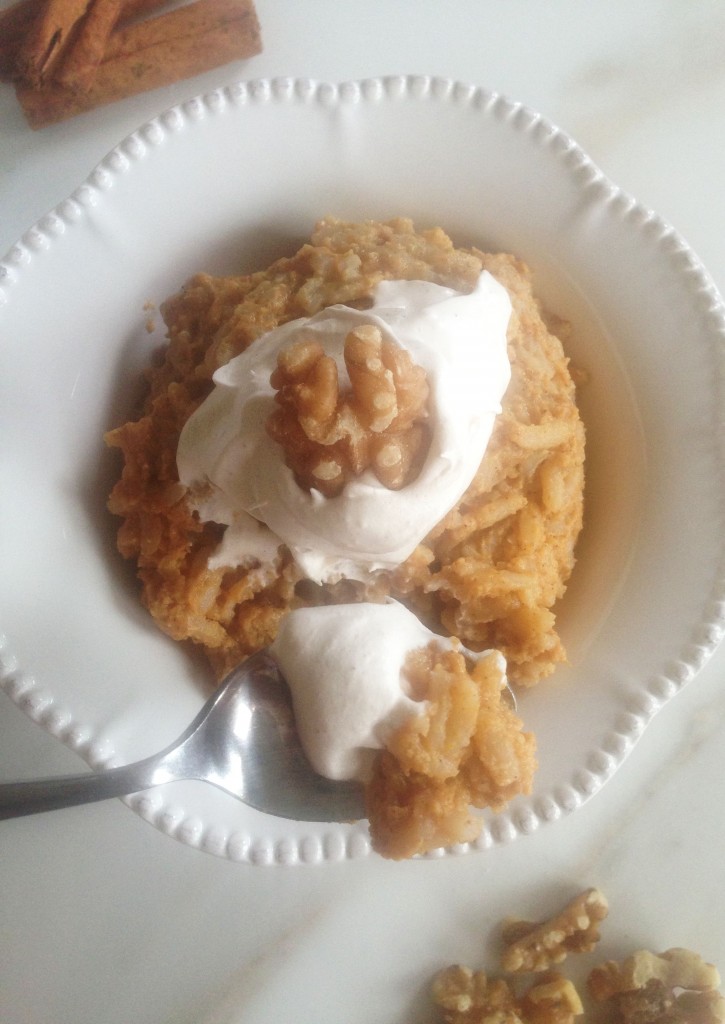 Food. Let's get back to the real matter at hand. Brown rice is beautiful for rice pudding. It's hearty and nutty, but still gets nice and creamy with the right love. We also prefer it because it's allegedly more nutritious. Just mix up some cooked brown rice with lots of fall spices, loads of pumpkin, touches of brown sugar, and honey, and you won't be able to turn it down.
It's delicious by its lonesome, but I quickly whisked cinnamon and maple syrup into trusty ol' Cool Whip, and that will seriously tickle your tastebuds. Whole.new.level. I'm not purposefully being overly dramatic to talk up this dessert. It's just truly super delicious. Would I lie?
It's also not hard. It's easy. It isn't the fastest because it bakes for a while, but it's not difficult at all.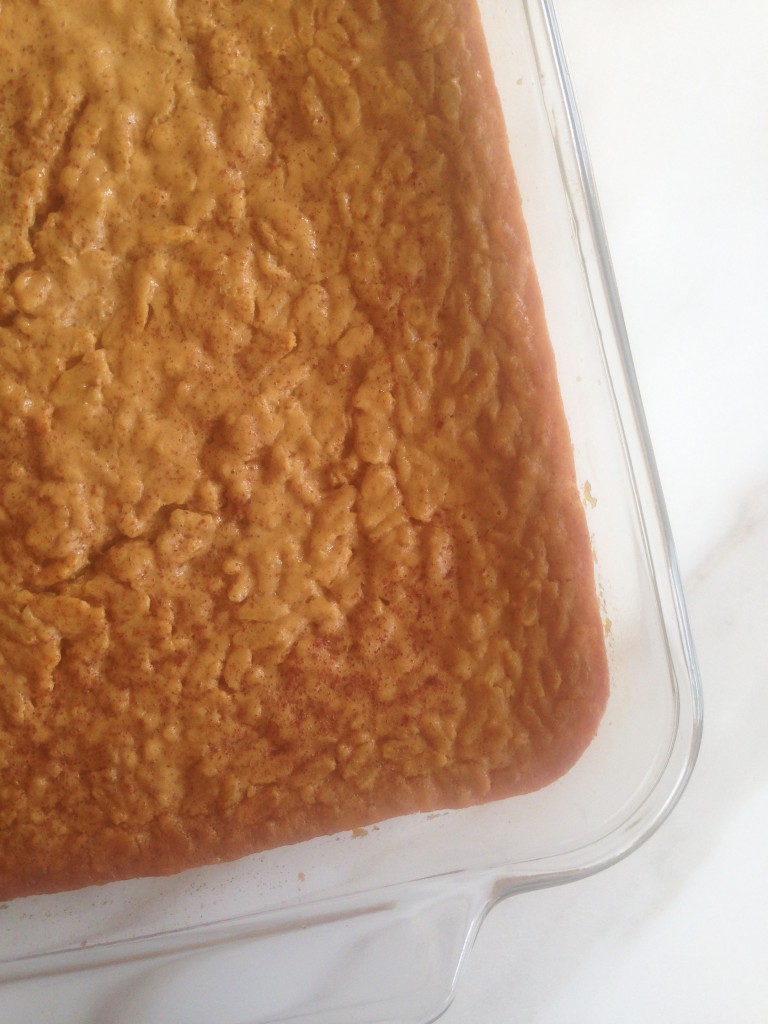 Also, in the interest of full disclosure, it won't be the prettiest dessert in terms of presentation. You'll want to doctor up the appearance a little if your concerned with that. I am not. It's nice if my food also happens to look pretty too, but let's be honest, I'm in it solely for taste. Presentation is an easy fix anyway. A dollop of the cinnamon-maple topping and you're good to go.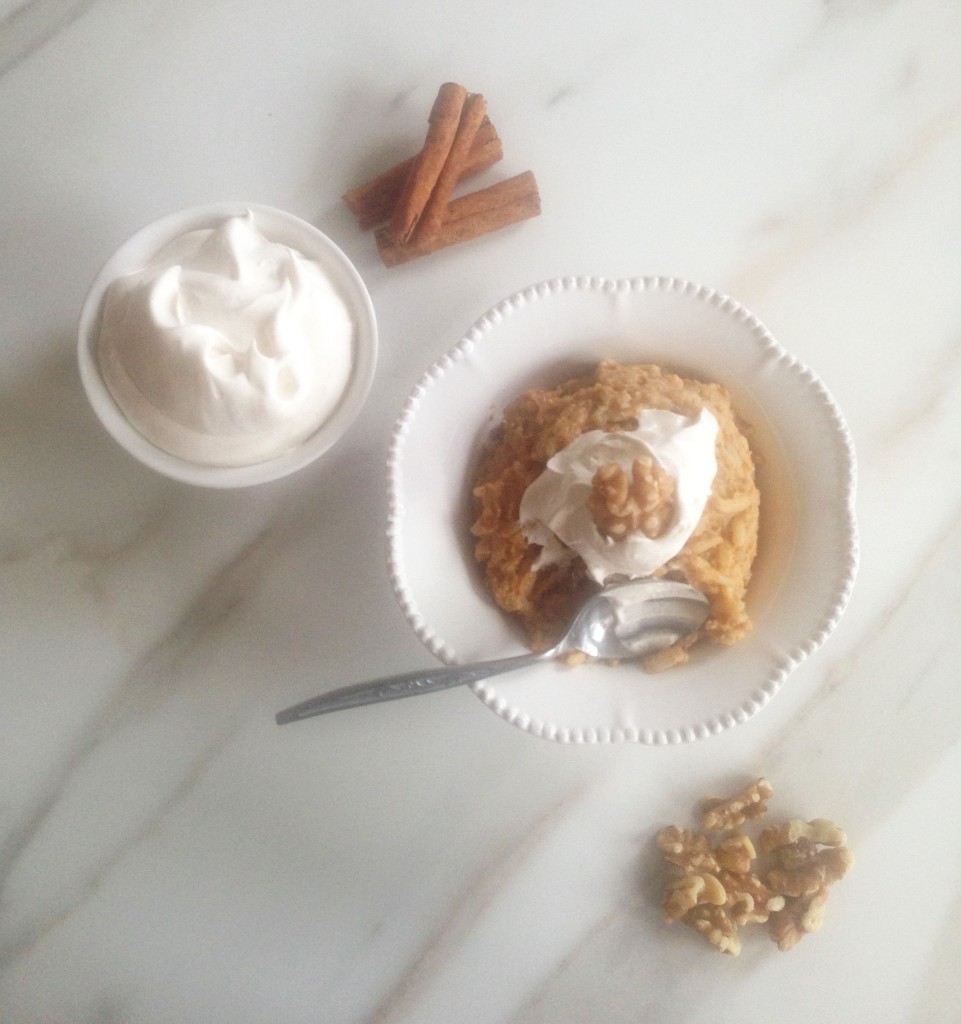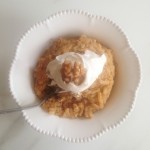 Pumpkin Spice Brown Rice Pudding with Cinnamon-Maple Whipped Topping
Brown rice, pumpkin, spices, maple syrup, and brown sugary goodness come together in this delicious, but light, festive fall dessert!
Total Time
1
hour
50
minutes
Servings
8
-10 1/2 c. servings
Ingredients
Rice Pudding:
4

c.

cooked brown rice

1 - 12

oz.

can evaporated milk

1

whole egg

2

egg whites

1 1/2

c.

pumpkin puree

1/3

c.

honey

1/2

c.

packed brown sugar

1

tsp.

vanilla

2

tsp.

pumpkin pie spice

dash ginger

dash nutmeg
Cinnamon Maple Topping:
1 - 8

oz.

container Cool Whip

thawed

1/4

c.

maple syrup

1/4

tsp.

cinnamon

1

tsp.

vanilla
Instructions
For Rice Pudding, combine all rice pudding ingredients in a large bowl.

Pour into a lightly greased 2-quart baking dish.

Bake at 350 degrees for 40-50 minutes, or until nearly set in the center. Serve warm.

For Cinnamon Maple Topping, combine all topping ingredients until blended.

Serve a dollop of topping with pudding. Garnish with chopped walnuts, if desired.
Recipe Notes
This recipe calls for cooked brown rice. I make mine in a rice cooker, but just prepare the brown rice according to the package directions!
If you'd like it to be a little creamier, you can substitute unsweetened almond milk or milk for part of the required water. When I made this most recent batch, I used an even split of water and almond milk.
It's better served warm, but it's great cold too!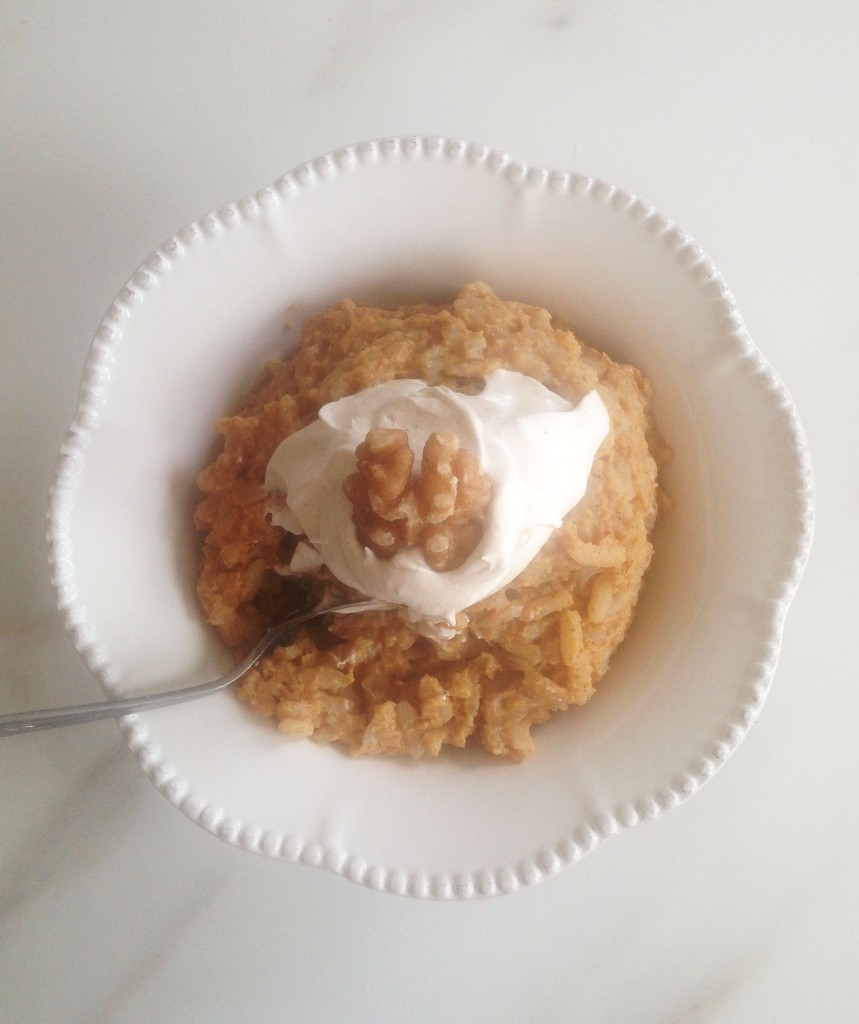 Time for a carb-induced nap.
Happy Friday, friends! Have a fabulous weekend!