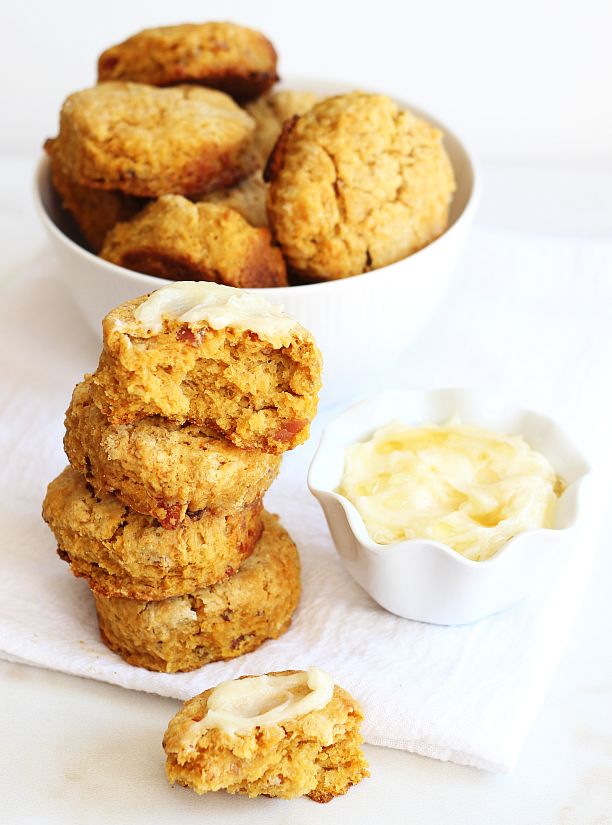 Hi, these have bacon in them! Okay, good talk. See you later.
Wait! Wait! Stay for a second, I actually could say more.
These are flaky and tender whole wheat sweet potato biscuits with bacon! And since they were made with whole wheat flour, we can call them healthy. Hooray! Also, the bacon was low sodium. More health food.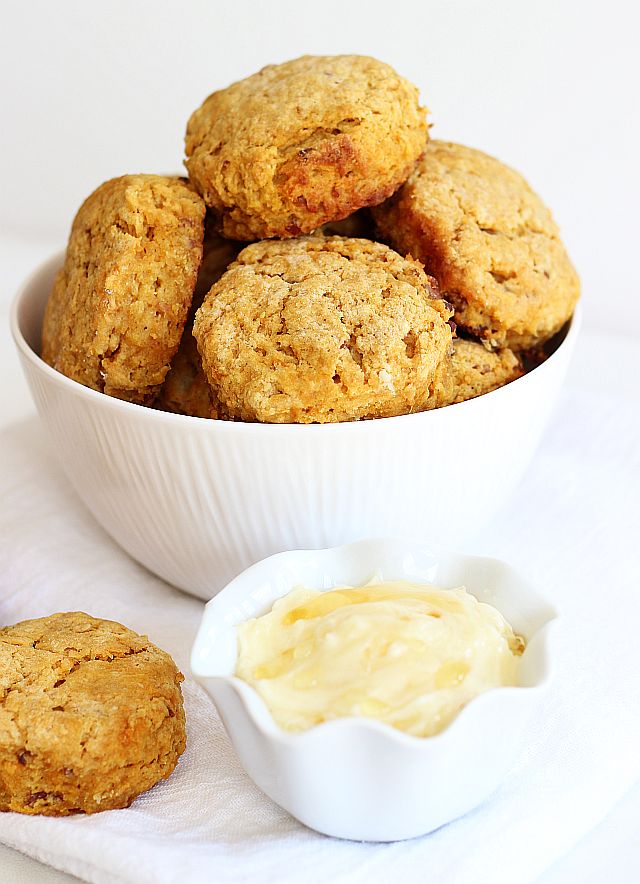 Seriously though, these contain a lot of sweet potato, whole grains, and center cut bacon. They're not so bad. They do get their flakiness from a lot of butter though, so there's that. They're a tiny bit sweet from the natural sugar of the potatoes, but the saltiness of the bacon tempers that beautifully. They're the perfect bread-y side dish for Thanksgiving dinner. I made a honey butter to slather on these warm from the oven, but they'd also be delicious covered in gravy and turkey, or maybe some cranberry sauce? So many options.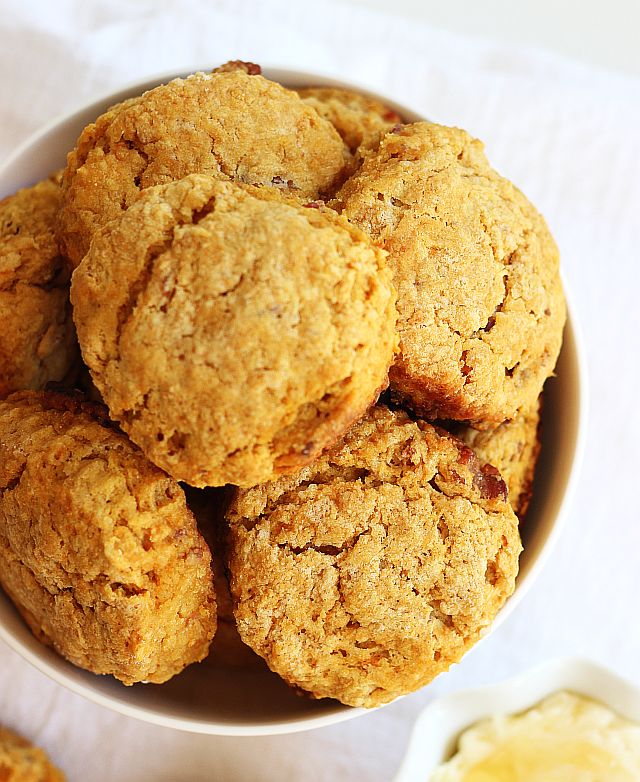 Needless to say, with these biscuits around over the weekend, I really overdid it on carbs. Big time. That's what weekends are for though, no? Whenever I do this, I like to say I'm 'carb-loading' for a week of really good workouts. (Ahem, sure). From the time I made these biscuits around 9:30am on Saturday morning, until the early afternoon, I ate five of them and NOTHING else. Nothing. It was… carbtastic.
Around 4pm, I popped out to the corner grocery store for chocolate chips (that's normal) and was sucked in by a box of Little Debbie brownies shaped like pumpkins, and a bag of…. Riesens?? I don't think I've had a Riesen in at least a decade and I don't know what possessed me to buy them. I ate a brownie on the way home, and two Riesens. Sadly, the store is less than a mile's drive. I was on a carb rampage, apparently.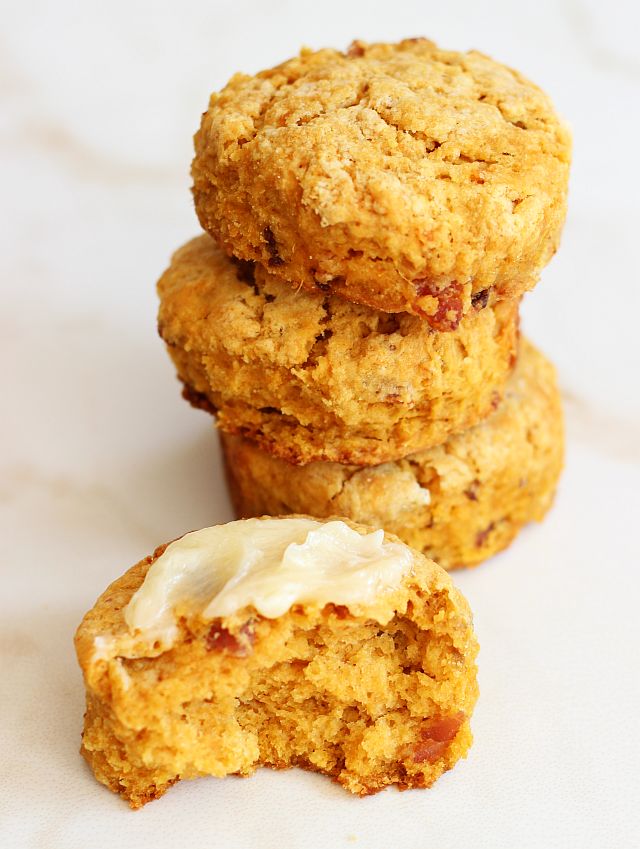 It wasn't until dinner that I finally consumed protein. The whole day was pretty awesome, if I do say so. I blissfully ignored any semblance of the food pyramid or balanced nutrition. Maybe not the kind of diet one should maintain daily, but for a rare treat, it was quite nice. And now I'm carb-loaded for a week of intense workouts. Yessss. That was my plan all along. Really, it was. 😉
Whole Wheat Sweet Potato Bacon Biscuits w/ Honey Butter
A flaky and tender whole wheat sweet potato biscuit with bacon and honey butter!
Servings
1
dozen biscuits
Ingredients
Biscuits:
1 3/4

c.

white whole wheat flour

3

tbsp.

brown sugar

2 1/2

tsp.

baking powder

3/4

tsp.

baking soda

8

tbsp.

cold butter

1

c.

sweet potato puree

cold (about 1 medium sweet potato, mashed)

1/3

c.

buttermilk or sour milk

I always use sour milk because I rarely have buttermilk on hand.

8

slices

bacon

fried or baked, and diced

1

tbsp.

butter

melted
Honey butter:
4

tbsp.

butter

softened

1

tbsp.

honey

1/2

tsp.

cinnamon
Instructions
For biscuits:
First and foremost, make sure to cook and mash the sweet potato, and cook the bacon, if not already done so.

In a large bowl, combine flour, sugar, baking powder, and baking soda. Blend well.

Using a grater, grate the cold butter into the flour mixture.

Mix until coarse and crumbly.

In a small bowl, combine sweet potato, and buttermilk or sour milk, and stir it into flour mixture, along with the diced bacon, until just combined. Do not overmix or biscuits will be tough.

On a lightly floured surface, shape dough into a large ball, and flatten into a round and even disk, about 1-inch thick.

Using a floured 2-inch biscuit cutter, cut out as many biscuits as possible. Reshape remaining dough gently to cut more biscuits until no dough remains.

Butter a 9x13 pan, and arrange biscuits in pan about 1 inch apart. Brush with melted butter.

Bake at 425 degrees for 18-22 minutes, or until golden brown on the edges.
For honey butter:
In a small bowl, combine butter, honey, and cinnamon. Mix until well-blended.

Serve with warm biscuits. Enjoy!
Recipe Notes
-I prefer white whole wheat flour to regular whole wheat flour. It's still a whole grain but has a less gritty texture, and more mild flavor.
-We love center cut, thick cut, low-sodium bacon, but any bacon will work. I like to make it in the oven for the easiest clean-up and most even cooking. Use a jelly roll pan or baking pan with edges, cover with foil, and bake the bacon at 400 degrees for about 15-18 minutes, flipping halfway. Drain on paper towels, and just throw away the foil.
-For sour milk, add a splash of vinegar to regular milk. Roughly a teaspoon for each half cup.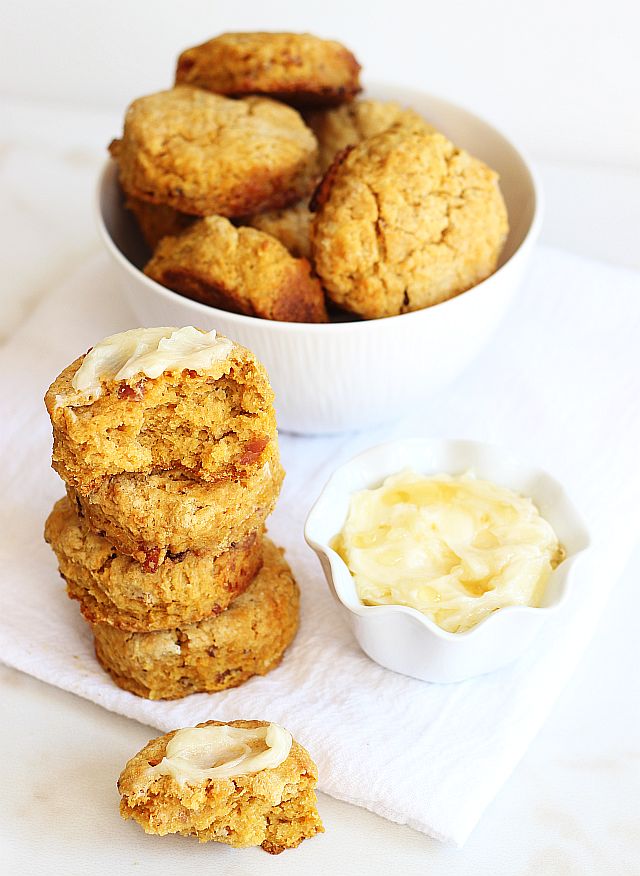 The recipe doesn't call for a full package of bacon but obviously you should just make it all because you're going to want to snack on it as you're making these. Don't deny it. You know it to be true.