These cinnamon chip blondies have cinnamon chips melted into the batter, and mixed into the batter, with a ribbon of brown sugar pecan streusel through the middle. They're chewy and gooey, and taste like the best cinnamon rolls in bar form!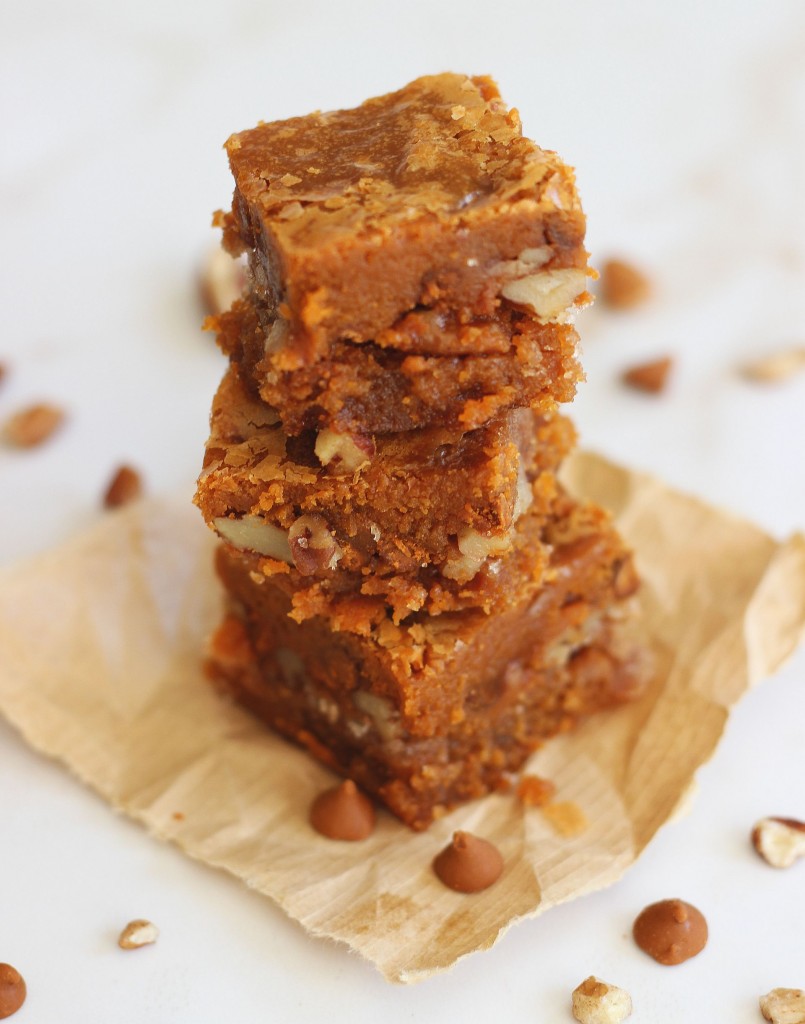 I have more kinda ugly food for you today. I really must work on this. You'll have to scan the ingredient list real quick before you pass on trying these, and then I think you'll understand why they deserve your love and attention. Then again, I've basically laid all out for you in one of those obnoxiously long titles, so you can see like ALL the ingredients in the name! 🙂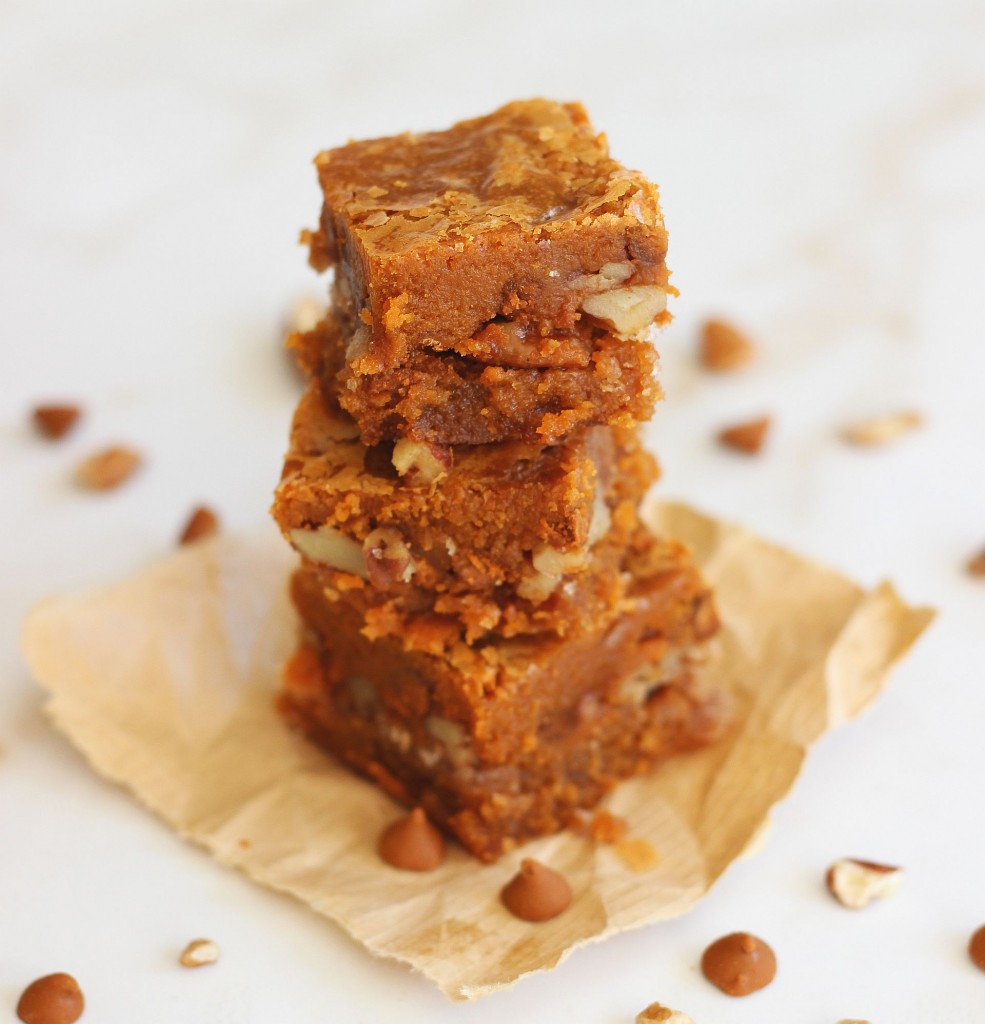 Since these bars aren't much to look at though, however else would I entice you if I weren't extremely thorough in naming them? They're exterior really belies how many wonderful flavors these unpretentious little bars have to offer!
Here was my thought process and inspiration: I feel like I neglect cinnamon chips and that's simply a mistake. Uh, hello, they're fantastic. What rock have I been living under? I hardly use them though, and I felt like I needed to show them some love. It paid off because they are what really make these bars so fantastic. Actually, the brown sugar pecan streusel plays a tremendous role in that too, but the cinnamon chips… they're also dynamite.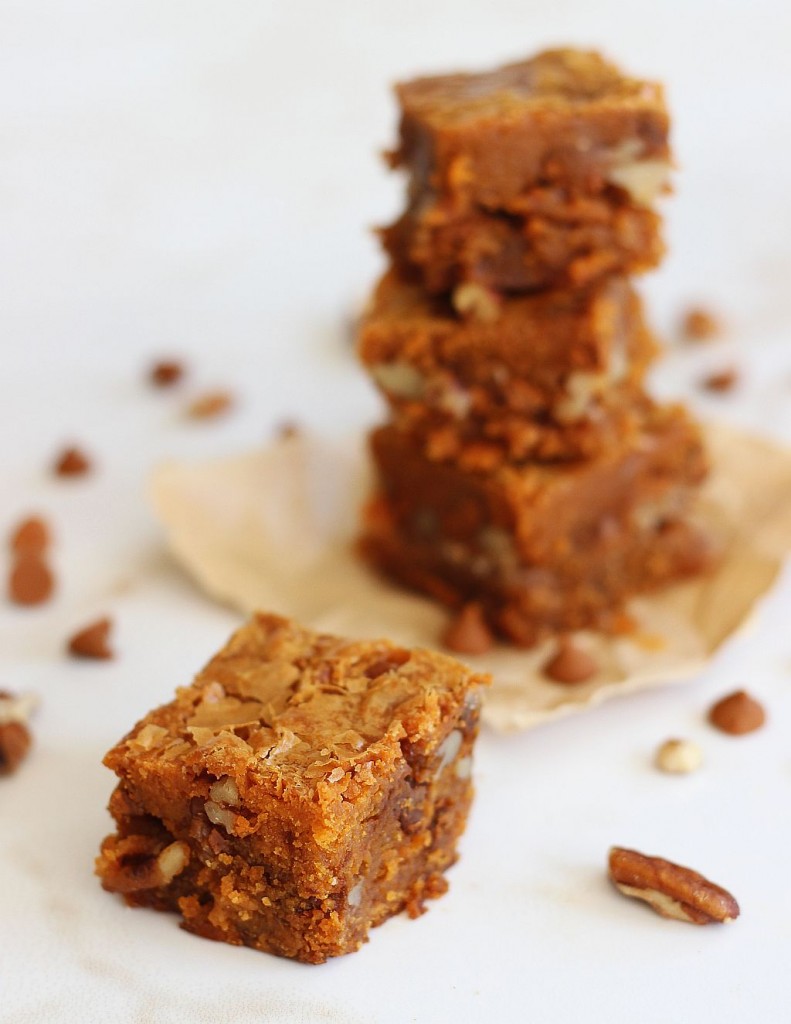 These bars have cinnamon chips both melted into the batter, and just stirred into the batter. You follow me? That was hard for me to articulate! In other words, all forms of cinnamon chip got crammed into these. 🙂 There's also a ribbon of brown sugar and pecans that splits right through the middle of these bad boys. You can't actually see it because the batter is the same color, but trust me, it's there.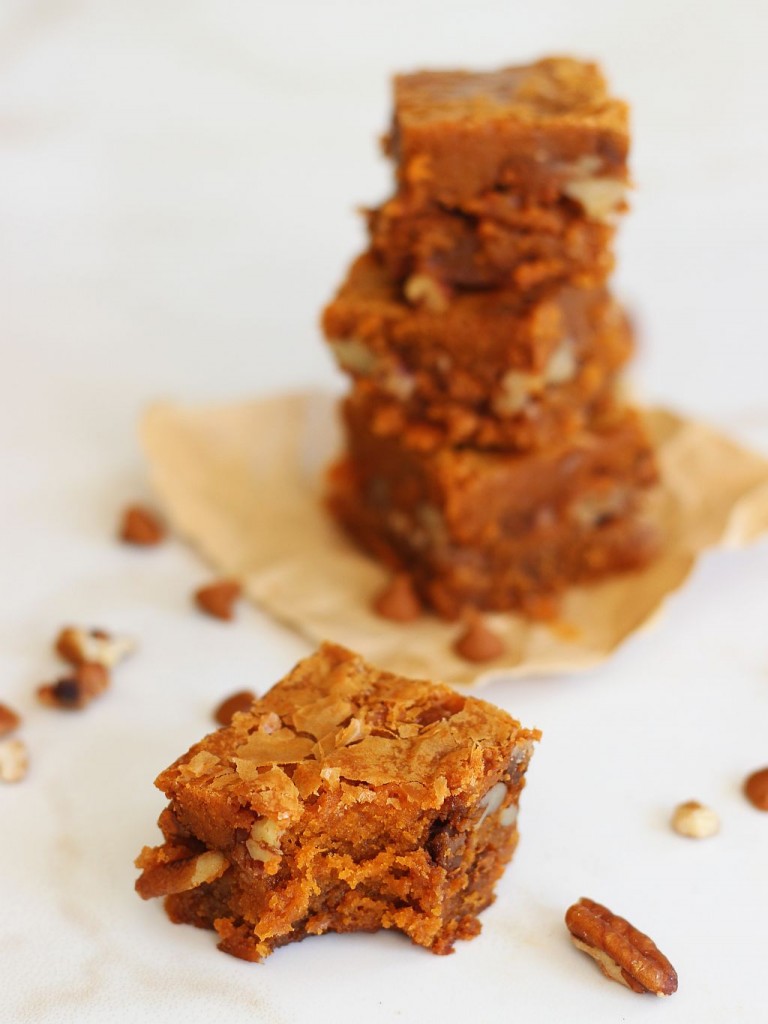 The way the ingredients come together, these taste like the best cinnamon rolls you've ever had, but in bar form. I am a big fan of bar cookies. They're just… easy? I think we all need that in our lives. So, in summary, these are like awesome and gooey cinnamon roll bars. Maybe I should have named them that?? Whatev! You get the gist!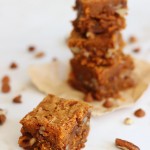 Cinnamon Chip Blondies with Brown Sugar Pecan Streusel
A blondie brownie made with cinnamon chips in the batter, and with a brown sugar-pecan streusel ribboned through the middle!
Total Time
1
hour
15
minutes
Ingredients
1/2

c.

butter

1 - 10

oz.

package cinnamon chips

divided

2

eggs

1/2

c.

sugar

1

c.

flour

3/4

c.

brown sugar

2

tbsp.

melted butter

2/3

c.

pecans
Instructions
In a medium saucepan, melt butter.

Remove from heat, and add half the cinnamon chips. Do not stir. Allow to sit for 4-5 minutes so the chips melt.

Meanwhile, in a large mixing bowl, combine eggs and sugar til well-combined.

Add in the flour, and mix until blended.

Add in the cinnamon chip/melted butter mixture, and mix until just combined.

Spread half the batter into a greased 9-inch square pan.

Bake at 325 degrees for 17-20 minutes or until golden brown on the edges.

Meanwhile, combine brown sugar and melted butter. It will be crumbly.

Sprinkle it over the warm crust.

Sprinkle the pecans over the brown sugar mixture.

Add remaining cinnamon chips to the remaining batter.

Drop the batter by tablespoonfuls on top of the pecans, and gently spread it.

Return it to the oven, and bake for another 30-35 minutes or until a toothpick inserted near center comes out clean.

Cool completely. Cut into bars.