These Cranberry Orange Coconut Oatmeal Cookie Bars feature a brown sugar, oat, coconut, and pecan streusel crust, with an easy filling of whole berry cranberry sauce, orange marmalade, and coconut!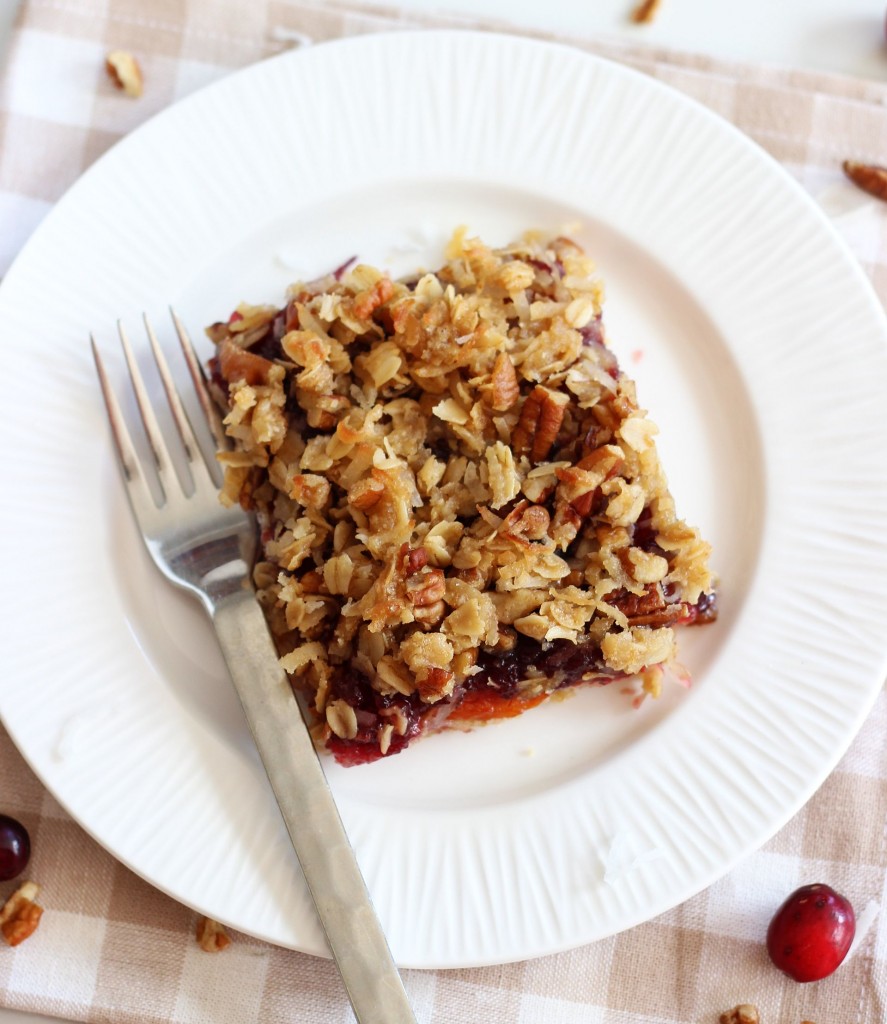 Over the weekend, I was confiding to S.O. that some days words flow freely as I'm writing and I could ramble on for hours. Other days, I'm a total blank. I got nothing. He looked at me, and without missing a beat, he said: "When you change the way you look at things, the things you look at change." He was dead serious. Lol! I was… flabbergasted.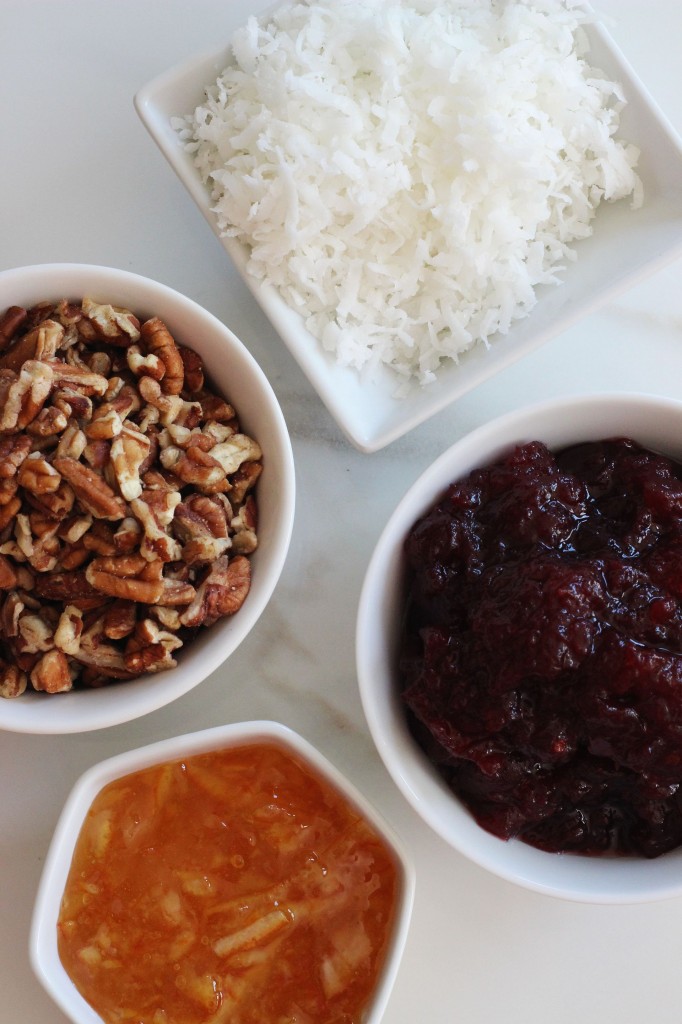 I didn't even know what to do with that! Or how to translate it to my situation! Not to say it wasn't helpful, but I still didn't know what to do with it. Maybe I'm just not 'deep' enough? I was also beyond stupefied that it came out of his mouth! Well, apparently it came out of Dr. Wayne W. Dyer's mouth first (who??), but for S.O. to repeat it took me by surprise. He's incredibly smart, sure, but I've never known him to drop quotes like that in an instant.
Ultimately, I didn't take the advice word for word, but I did take a breather. Getting out all my Christmas decorations is a process and it seriously takes forever. I take it a little at a time. I unpacked a few boxes, and that was a much-needed break from trying to force things. Plus now I get to look at lots of gold, red, and green glitter-encrusted items! 🙂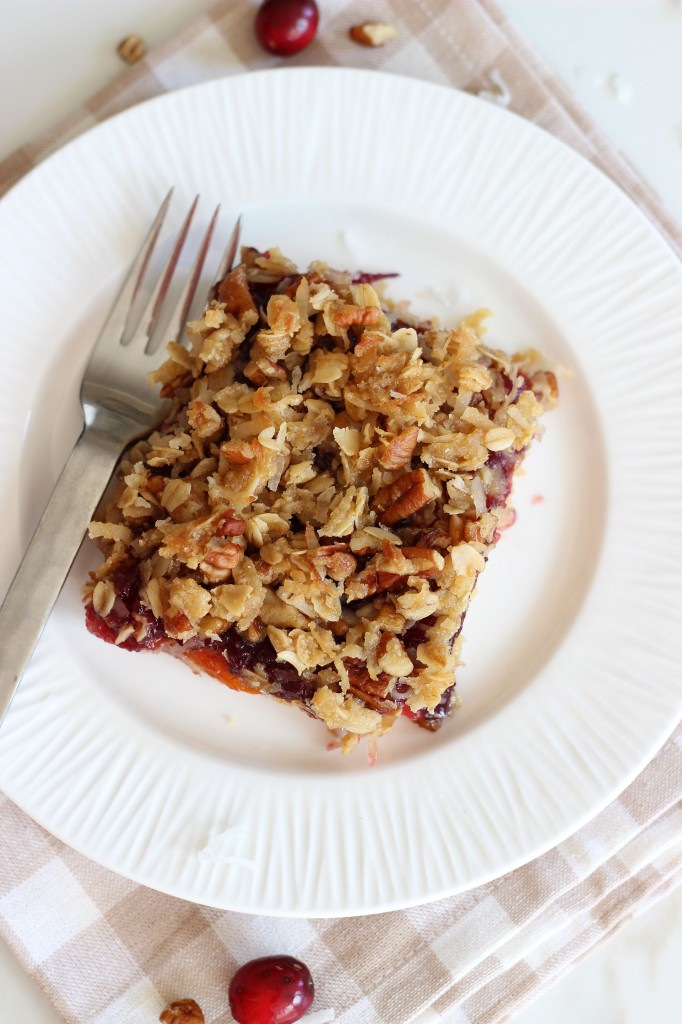 So while I did endlessly chat, I said nothing about these bars. Eeek, sorry. Here we go: they're truly a cinch to make, and pretty quick at that. They'll really stand out at your dessert table next to usual suspects like pumpkin pie! Although there is NOTHING wrong with a traditional pie!
These Cranberry Orange Coconut Oatmeal Cookie Bars pack so much brown sugar, pecans, and oats in a buttery crust, and a thick ribbon of a cranberry, orange, and coconut filling! They're completely delicious, pretty, and totally unique! These are a sure hit at your Thanksgiving feast!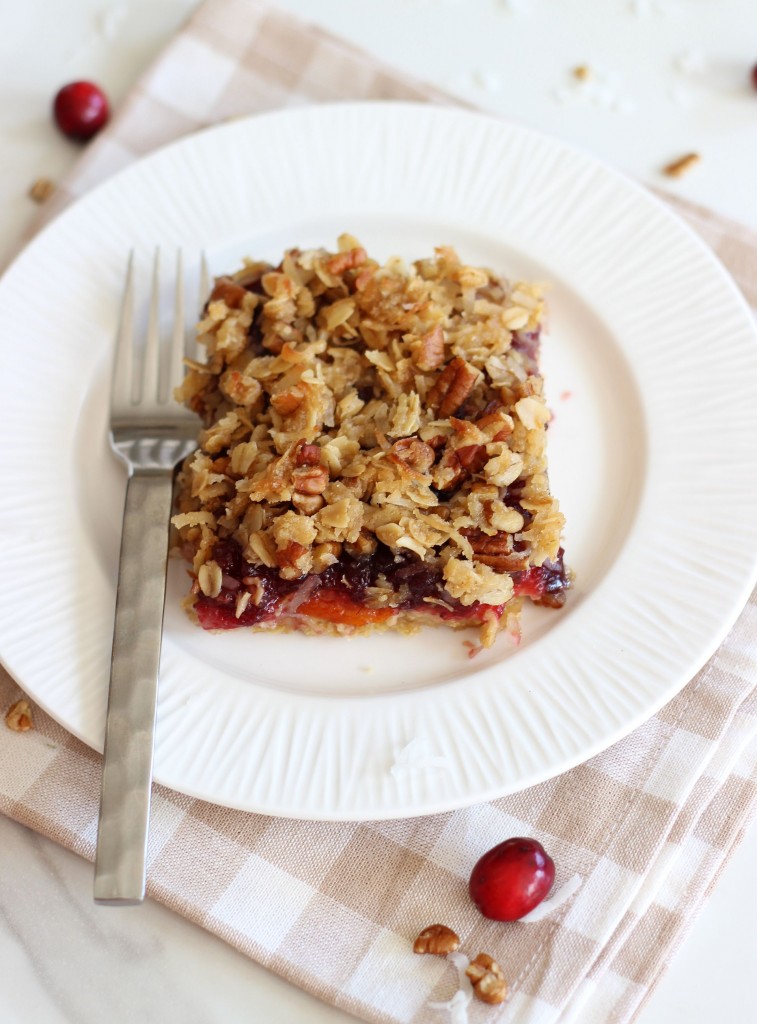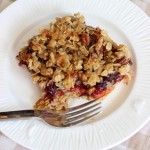 Cranberry Orange Coconut Oatmeal Cookie Bars
An oatmeal, brown sugar, coconut, and pecan cookie bar with a cranberry-orange filling!
Ingredients
1 1/4

c.

butter

softened, divided

1 1/2

c.

packed brown sugar

divided

3 1/2

c.

old-fashioned oats

divided

1

c.

flaked coconut

divided

1

c.

flour

1.5

cans - 14 oz. can whole cranberry sauce

1 whole can + 1/2 a second can

1/2

c.

orange marmalade

1/2

tsp.

coconut extract

1/2

c.

chopped pecans
Instructions
In a large mixing bowl, cream 1 c. butter and 1 c. brown sugar until light and fluffy.

In a small bowl, combine 2-1/2 cups oats, 1/2 c. coconut, and flour.

Add to mixing bowl and beat until thoroughly combined.

Press into a lightly greased 9x13 baking pan.

In a medium bowl, combine cranberry sauce, orange marmalade, and coconut extract. Mix well.

Spread evenly over crust.

In a small bowl, melt the remaining 1/4 c. butter in the microwave.

Stir in the pecans, and remaining 1/2 c. brown sugar, 1 c. oats, and 1/2 c. coconut.

Sprinkle over cranberry mixture. Bake at 375° for 25-30 minutes or until lightly browned. Cool on a wire rack.

Enjoy!