A rich and tender bread pudding recipe made with eggnog, vanilla, spices, and cinnamon-swirl bread, topped with a butterscotch sauce!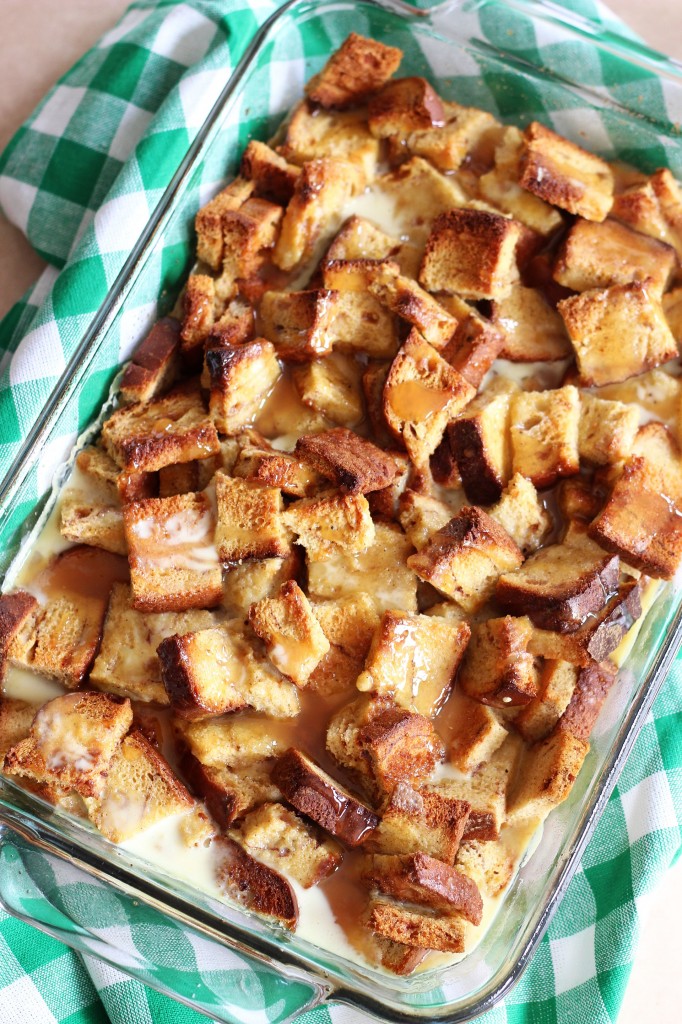 Other than eat, sleep, bake, and watch football, I've hardly done a thing since last Wednesday. It's been great. The last few days were relaxing and low-key. How about you? I hope everyone had a wonderful Thanksgiving! Even in times of stress and struggle, there is much to be thankful for. An entire day dedicated to gratitude – that's a beautiful thing.
Thursday was technically our third Thanksgiving of the season. We celebrated Thanksgiving earlier in the month up north in Buffalo with some of S.O.'s family, in Erie with my family, and then Thanksgiving Day we were down here in Tampa with more of S.O.'s family. It's my favorite holiday, so I'm not complaining!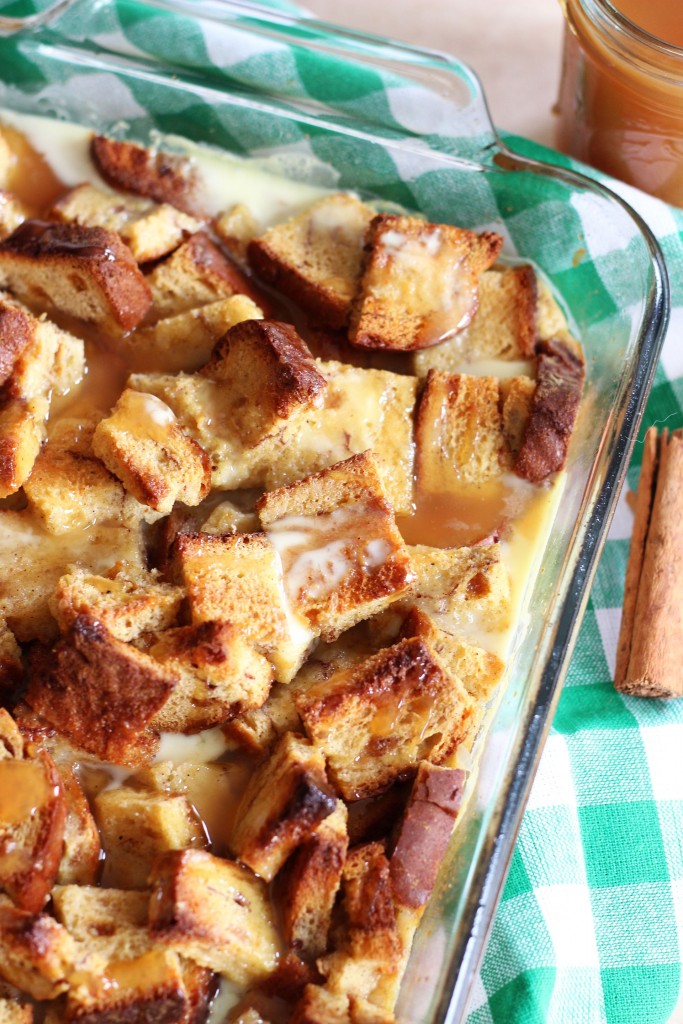 During some of our downtime this weekend, I *finally* finished unpacking Christmas decorations and getting up the trees. I feel so behind this year from my usual schedule. I love to have everything out in early November… yes, I'm one of those annoying people. This year though, I never even got out any fall or Thanksgiving decorations either. I decided I would just grab EVERYTHING from our storage locker and I put out glittery reindeer and turkey figurines all at the same time. Why not?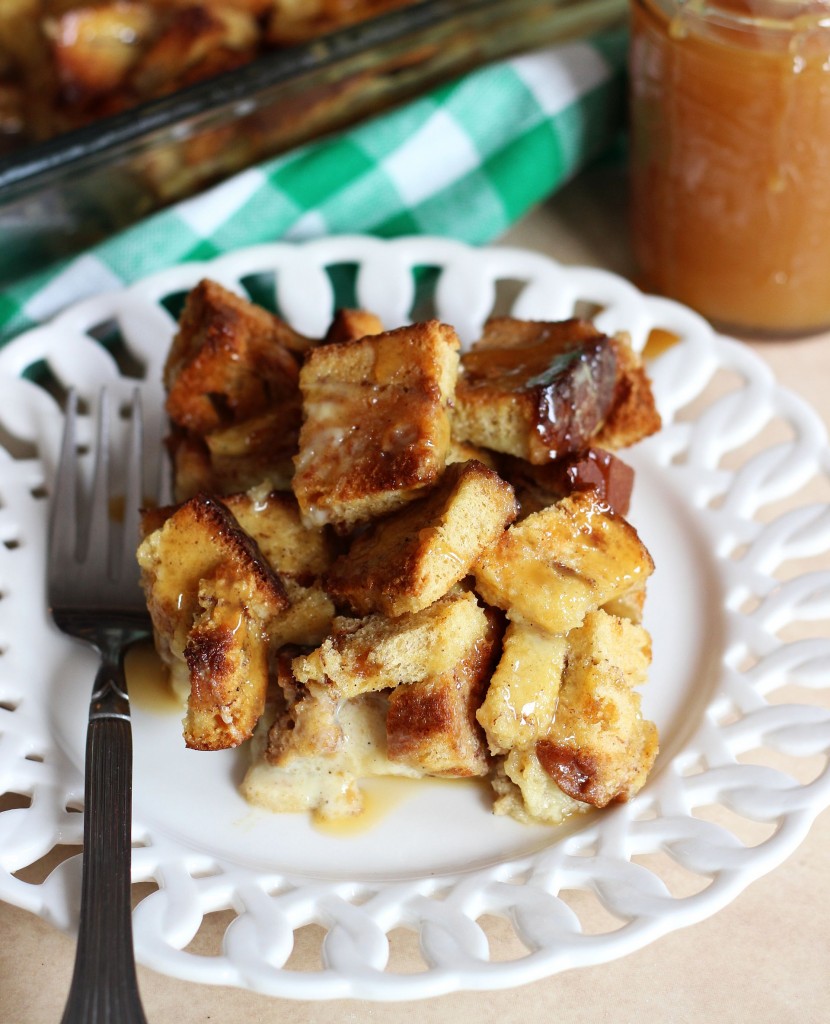 I also managed to get Christmas lights hung up outside, only to discover that one of the strands in the middle isn't working. So that's funnnn. And all the unraveling and untangling the strands? Also funnnnnn. But they're there now, and they look bright, festive, and lovely! The way this task normally goes here in Florida is that I'm hanging Christmas lights in shorts and a tank top, sweating my a** off, but we had a nice little cold spell last week so the weather was perfect for it. You can slap me if you want.
All in all, the last few days were really nice, and I hope yours were too!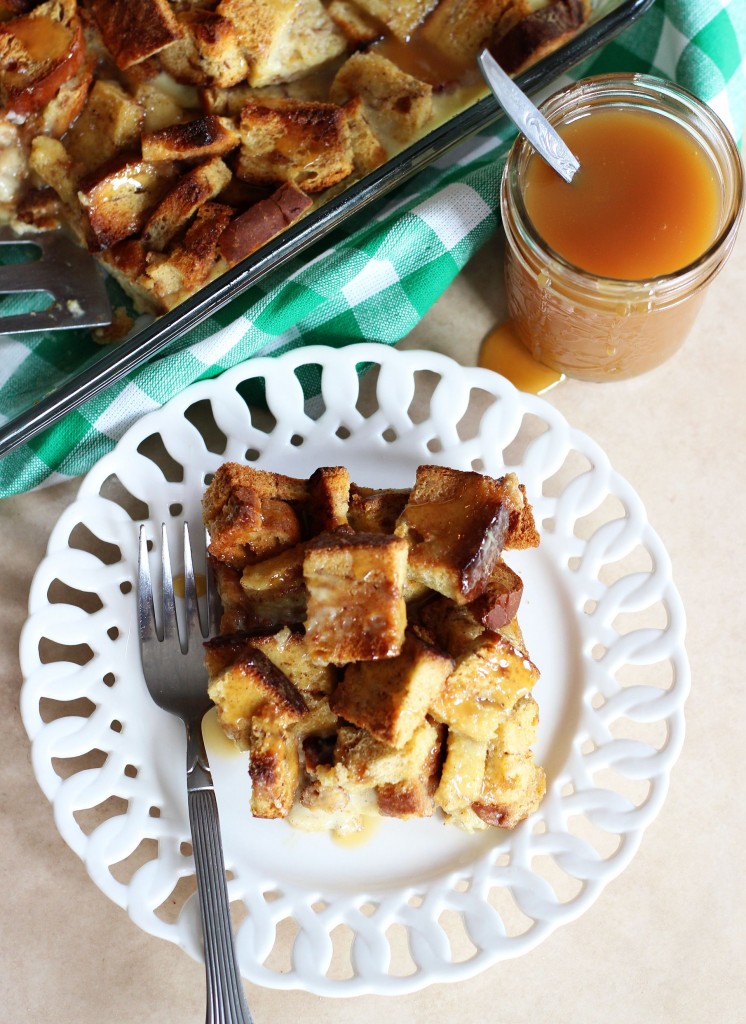 More seasonal flavors are coming at you over the next few weeks! You know… stuff like peppermint and gingerbread. Today though, we're going with eggnog. Just in case you were thinking that this is the eggnog recipe that I wrote down and lost, it isn't. That one still hasn't turned up again (again). It may be lost forever this time!
That's okay, this eggnog recipe is a really good one too. This bread pudding is made with cinnamon-swirl bread, drenched with eggnog, and topped with butterscotch sauce. It's a confectionery bliss! Lightly toasted cinnamon bread is soaked with eggnog, vanilla, and spices, and baked into a firm, but fluffy, bread pudding. Drizzled with butterscotch sauce, it just doesn't get better than that!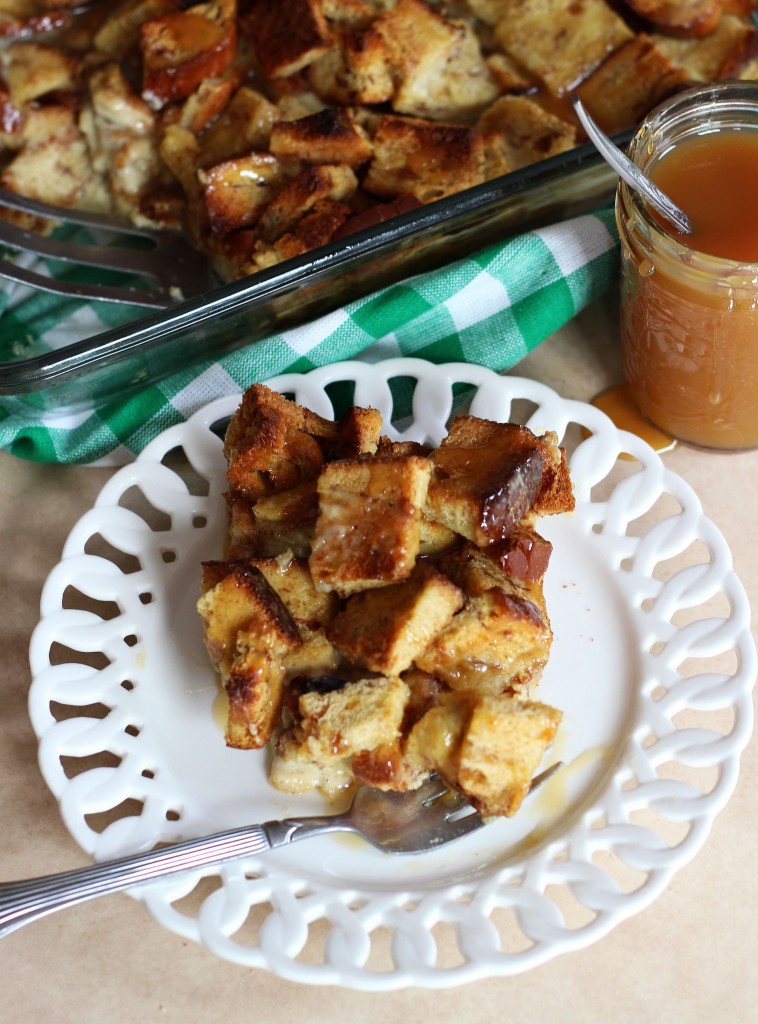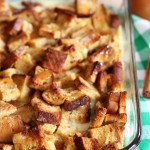 Eggnog Bread Pudding with Butterscotch Sauce
A rich and festive eggnog bread pudding made with cinnamon swirl bread, eggnog, and topped with a butterscotch sauce!
Ingredients
12

slices

or 1 loaf cinnamon-swirl bread

I don't like raisins, but you can certainly go that route

3 1/2

c.

eggnog

1

large egg

3

egg whites

2

tsp.

vanilla

1/4

tsp.

nutmeg

1/2

tsp.

cinnamon

1 - 12

oz.

jar butterscotch sauce
Instructions
Lightly toast bread and cut into bite-sized pieces.

Spread bread pieces evenly in a lightly greased 2-qt. baking dish.

In a large bowl, whisk together eggnog, egg, egg whites, vanilla, nutmeg, and cinnamon.

Pour over bread and let stand for 15 minutes.

Bake at 350 degrees for 35-45 minutes, or until it appears set when dish is lightly jiggled.

Allow bread pudding to cool for 15-20 minutes, then drizzle warmed butterscotch over it before serving.