A recipe for a super moist, light, and fluffy gingerbread cake full of ginger, molasses, spices, and topped with a lemon cream cheese icing!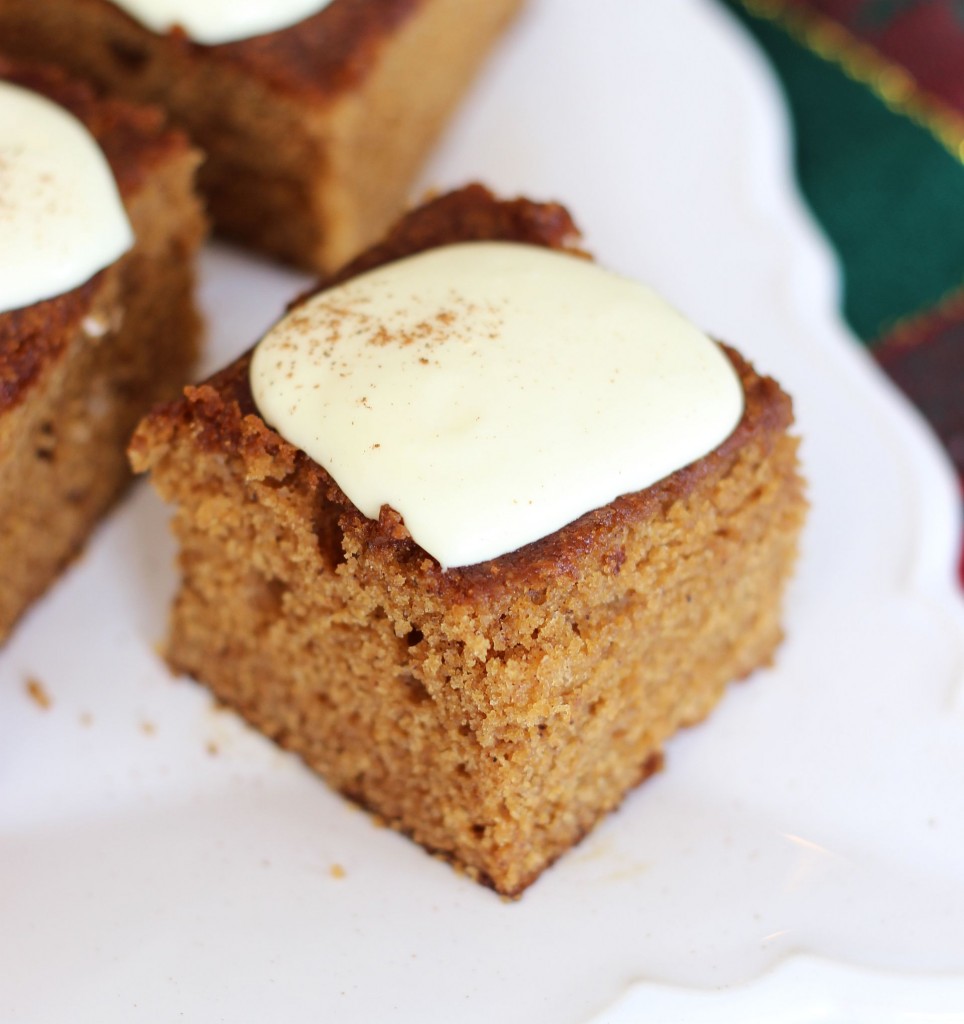 I've said before that I'm not a huge ginger person. It's weird to say that considering I'll still eat and thoroughly enjoy every single gingerbread-type item that you put in front of me. I just pick other things over it. There are exceptions though. Namely, my family's Cracked Top Ginger Cookies. They're the best. I was also a huge fan of these Gingersnap Chocolate Ganache Truffles. But again, I'd probably pick other things over gingery stuff most of the time.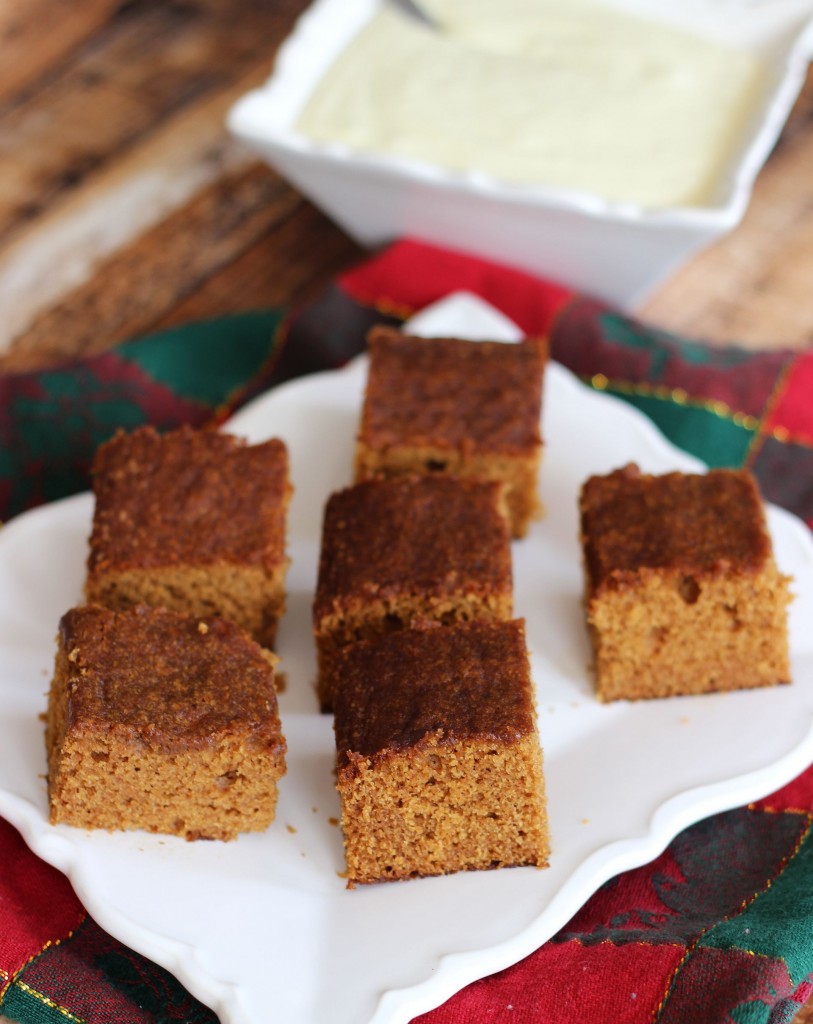 That said, I looooved this Gingerbread Cake with Lemon Icing. Every time I'd walk into the kitchen and see it on the counter, I'd stop to think "am I in the mood for ginger? Hmmmm." Then due to an overwhelming need for a little sugar rush, I'd take a bite and remember how good it is. This cake is soooo moist, spicy, and molasses-y. I underestimate the deliciousness of ginger over and over again.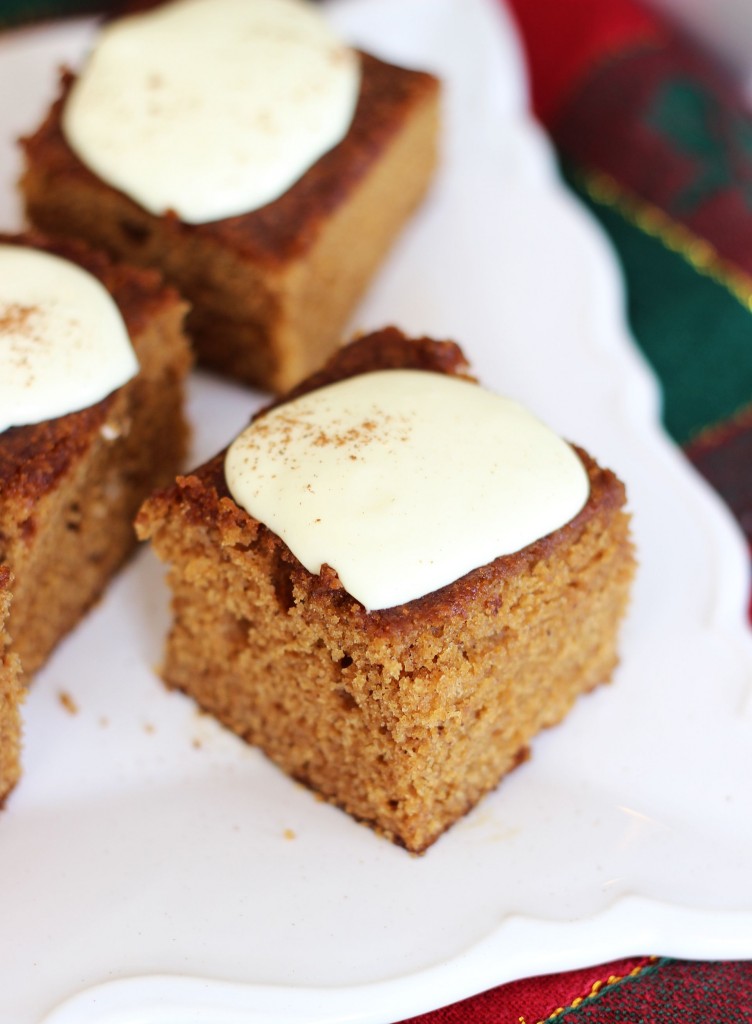 The bottom line is, I really do like it. Like, a lot. I just sort of forget until a sugar craving strikes and I give into whatever confectionery treat is nearby! Recently, it was this gingerbread cake, and I had to make it because… well… Christmas is coming. Obvi. The holidays are not the same to me without 3 things: eggnog, peppermint, and gingerbread. Okay, I can think of about 854 more things that I need for Christmas to feel like Christmas, but for now, we'll focus strictly on the gingerbread. It had to happen, for Christmas' sake.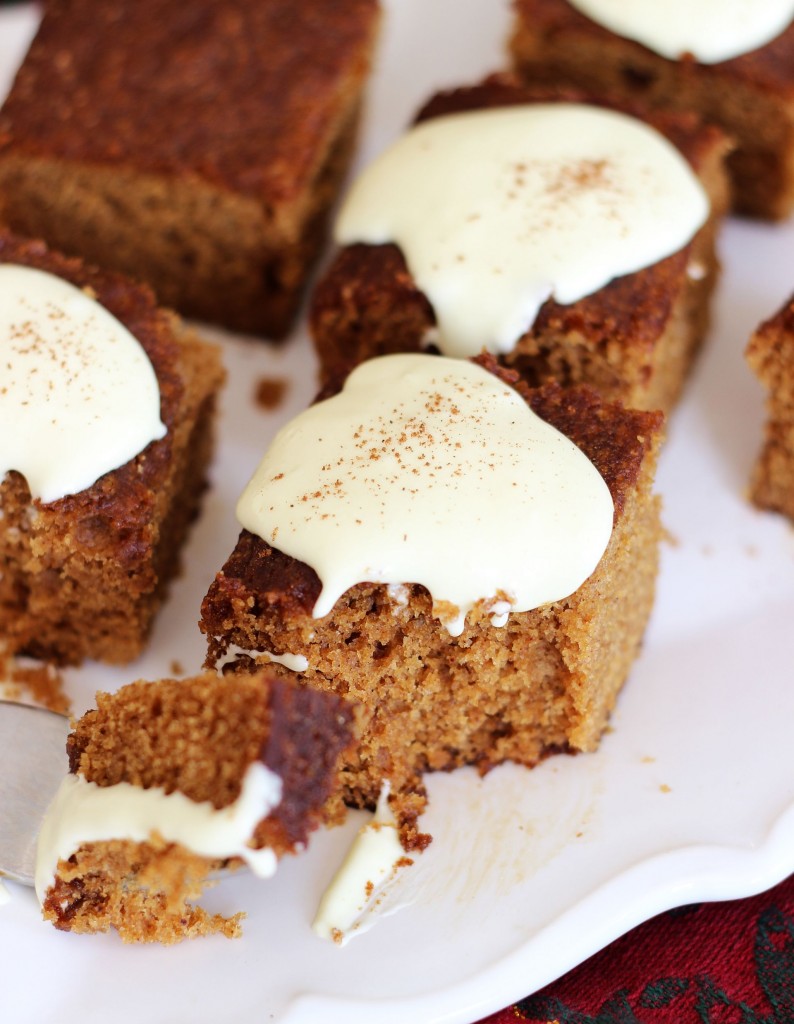 This was the kind of cake where S.O. and I left two forks right in the pan at all times, and were just eating it straight out of the pan anytime we walked through the kitchen. No semblance of manners whatsoever. We weren't shy about it. Totally unabashed, forks right in the cake. Not a care.
It literally is the most moist cake ever. It's fluffy, light, and bursting with molasses flavors, ginger and other spices. And the icing? A perfect counterpart to the cake. Gingerbread and lemon are a dynamic duo, after all. The lemon cream cheese icing is tangy, sweet, and creamy… you'll want to laden your cake with a whole mess of this stuff. I'm not going to say that the icing is the best part because both the cake and icing are fantastic, buuuuut the icing is really where the sugar's at. You get me?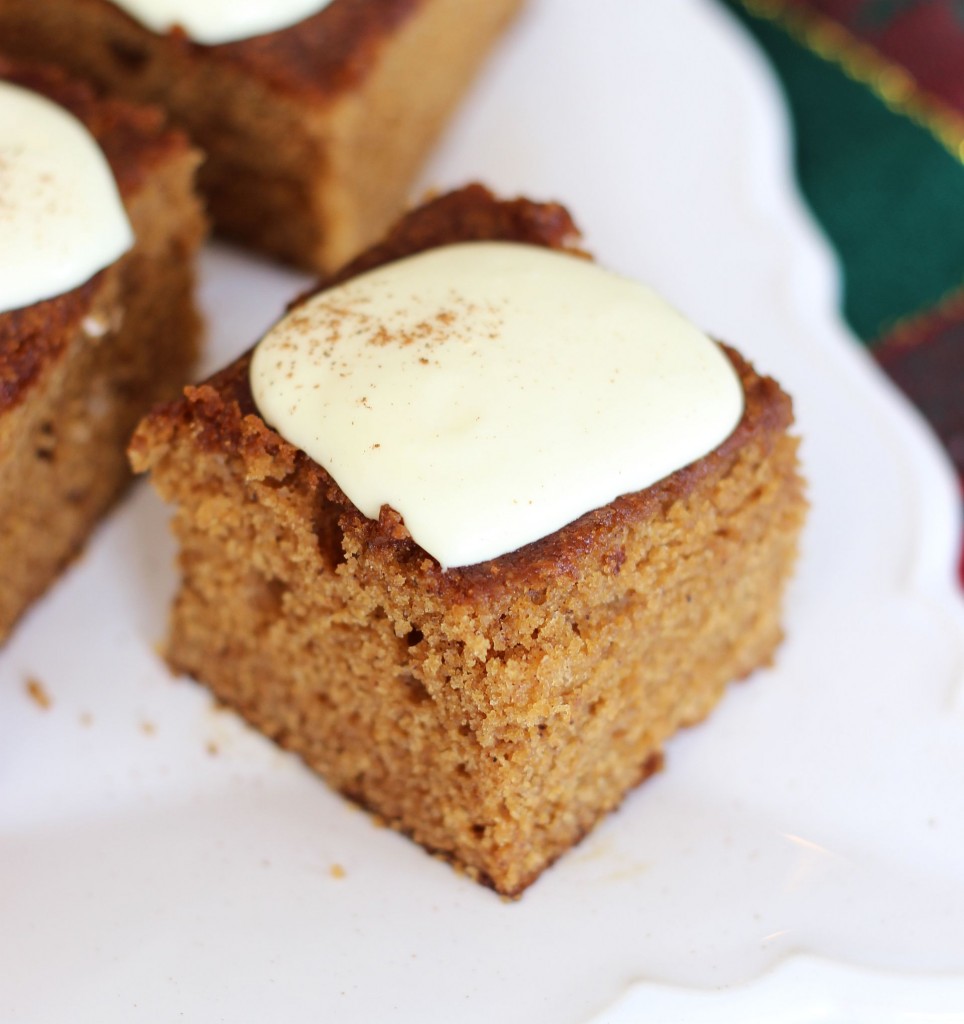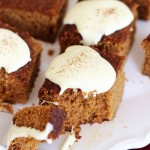 Easy Gingerbread Snack Cake with Lemon Cream Cheese Frosting
A recipe for a super moist, light, and fluffy gingerbread cake full of ginger, molasses, spices, and topped with a lemon cream cheese icing!
Ingredients
For cake:
1

c.

shortening

1/2

c.

packed brown sugar

1/2

c.

white sugar

2

eggs

1

c.

water

1/3

c.

molasses

2 1/2

c.

flour

1

tsp.

baking soda

1

tsp.

cinnamon

1/2

tsp.

cloves

1/2

tsp.

ginger

1/4

tsp.

pumpkin pie spice

pinch

of salt
For frosting:
4

oz.

cream cheese

softened

2

tbsp.

butter

softened

2

c.

powdered sugar

approximately

1

tsp.

lemon extract

1 - 7

oz.

jar marshmallow fluff

a few drops yellow food coloring

optional
Instructions
To prepare cake:
In a large mixing bowl, cream shortening and sugars until fluffy.

Add eggs and beat until well-combined.

Add in water and molasses. Beat until well-combined.

In a medium bowl, combine flour, baking soda, spices, and salt.

Add to mixing bowl and beat until just combined.

Pour into a greased 9x13 pan.

Bake at 350 degrees for about 30 minutes, or until a toothpick inserted near the center of the cake comes out clean.

Cool completely on a wire rack.
To prepare frosting:
In a large mixing bowl, combine cream cheese, butter, powdered sugar, and lemon extract.

Beat until smooth and well-combined.

Fold in marshmallow fluff.

If frosting needs to be slightly thicker, add powdered sugar as needed.

Frost cake. Enjoy!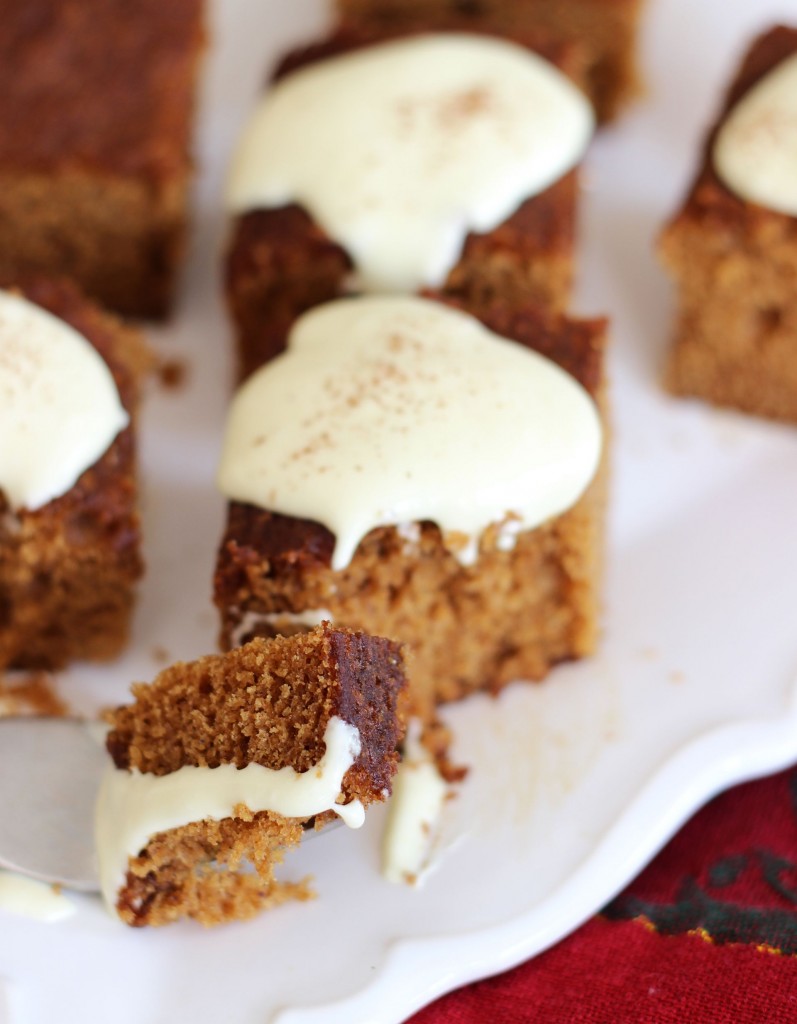 Cake is adapted from this recipe by Taste of Home.