Super moist red velvet and green velvet cake crumbs are mixed with a cream cheese frosting to make cake truffles! They're dipped in creamy white chocolate and decorated with sprinkles and edible glitter! They make a wonderful homemade gift!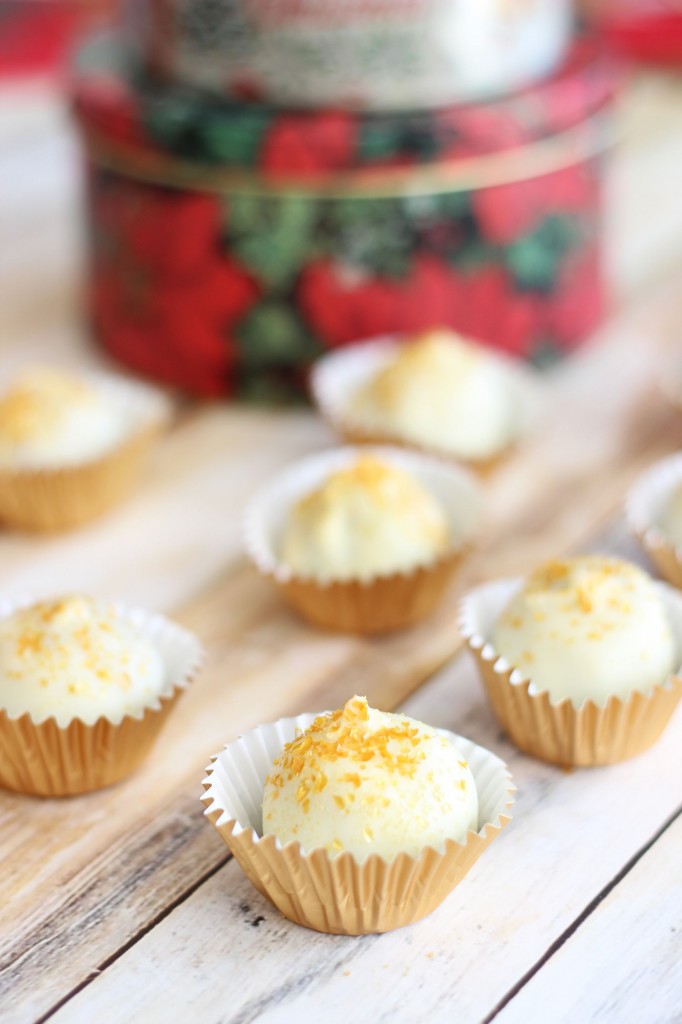 Christmas is 10 days away and I haven't made all that much headway on my gift shopping… still. Yeah, it's really getting dire now. Please tell me I'm not alone? I don't typically procrastinate, but maybe in this experience I will learn that I actually thrive under pressure?? That'd be nice! Either way, I've decided I'm going homemade again. Baking is going to save me. These Red Velvet and Green Velvet Cake Truffles are going to save me. I'm officially checking 'gifts' off my To Do list.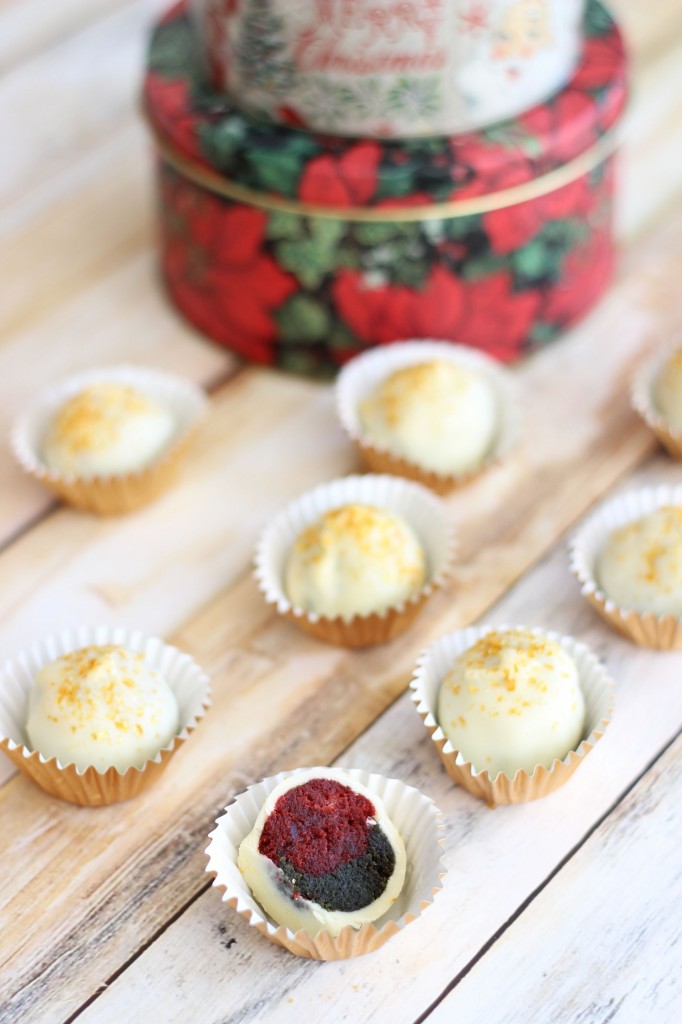 Part of the reason that gift ideas this year were harder than most is because I do typically like to give homemade items. However, I'm just not getting around to those projects this year. Fortunately, I can still go the homemade route. Instead, I'm gifting these elegant and delicious truffles! Who doesn't like the gift of baked goods, made from the heart? Plus, these have edible glitter on top. Yay!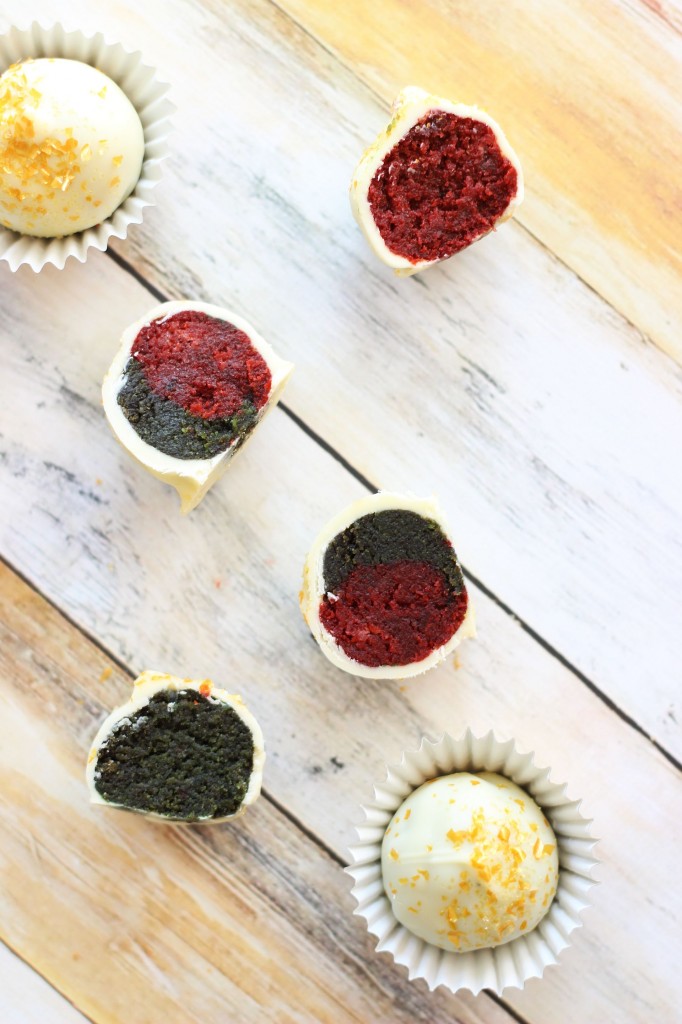 I know how I feel about receiving homemade gifts, and I know that my friends and family always cherish them too. They truly prefer it to anything I could buy for them. Not only will these nuggets of deliciousness save me time stressing over what to get for people, but making these truffles will save money too. It's not about the money you spend anyway. Homemade gifts are more thoughtful and personal, and I only needed to purchase a few ingredients, and a fun way to present them.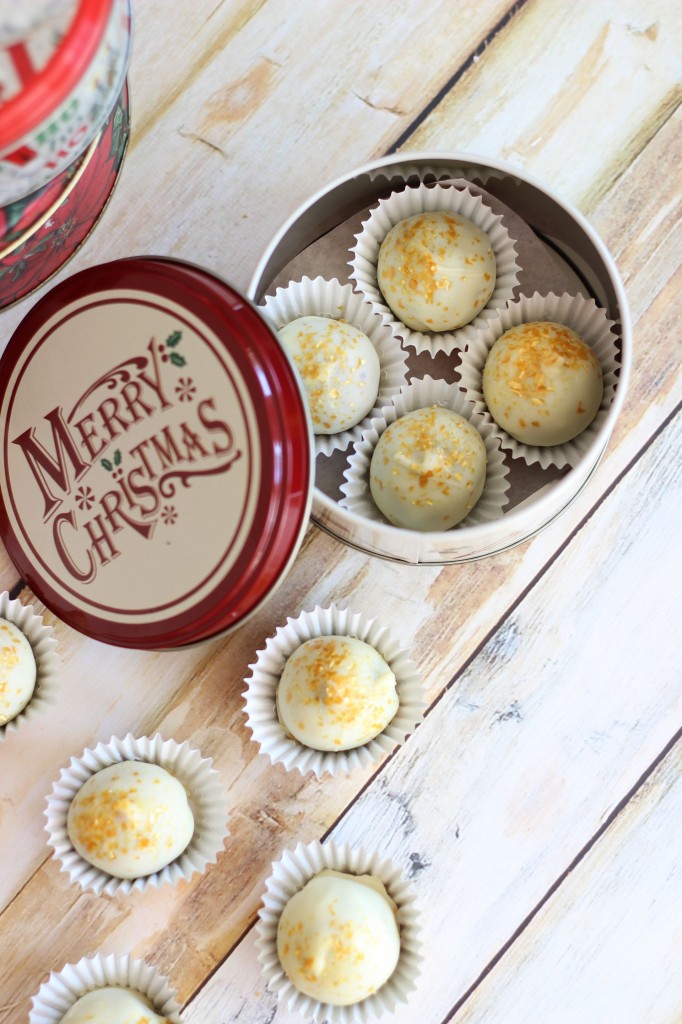 I hoard a serious collection of baking items, but because I do so much of it, I run out of stuff. I headed to the store to pick up Kraft Philadelphia Cream Cheese and Baker's White Chocolate for making these truffles. The baking aisle is like the mothership calling me home. I love that it's even more packed with amazing goodies during the holidays!
I wanted to incorporate a fun way of packaging the truffles. In my family, we are tin people. Candy and cookies go in tins. My Gma even has an entire cupboard dedicated to an array of tins in all different sizes. Since she usually has lots of sweets on hand, you always see a few tins on display in the kitchen. They're decorative and they keep baked goods fresh!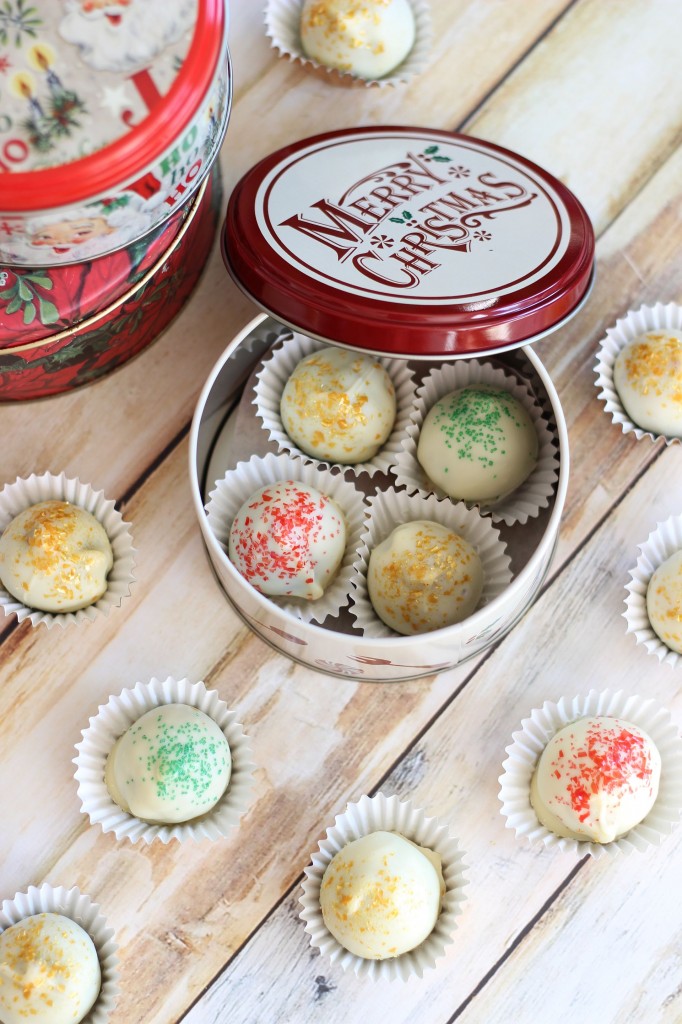 To make these beautiful and festive truffles, I whipped up my favorite milk chocolate cake batter. I divided it in half, and colored one half red, and one half green. Like magic, we have red velvet and green velvet! 😉
While the cakes are cooling, I threw together a quick cream cheese frosting!
I crumbled up the cake into a big bowl, and mixed in enough frosting that it was a consistency where I could roll it into balls. If I took a little of each, it made a really pretty swirled effect with the red and green colors!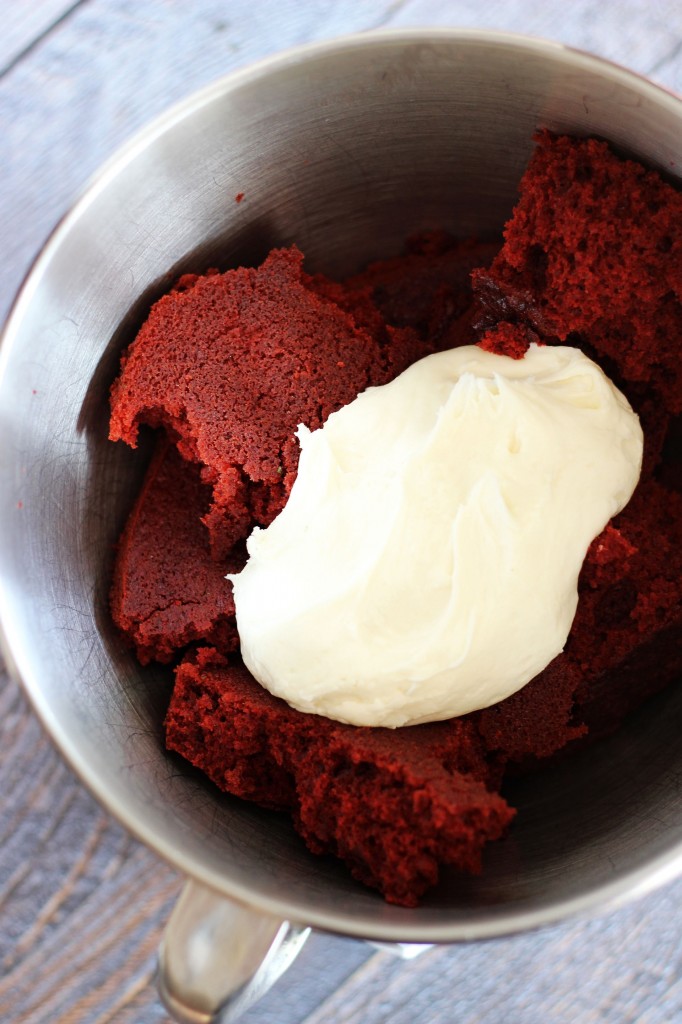 I dunked them into melted white chocolate, and decorated them with sprinkles and edible glitter!
I popped them into these lovely gold foil cups and stacked them in a pretty tin! Done!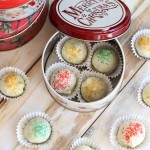 Red Velvet and Green Velvet Cake Truffles
Super moist red velvet and green velvet cake crumbs are mixed with a cream cheese frosting to make cake truffles!
Total Time
1
hour
30
minutes
Servings
50
-60 cake truffles
Ingredients
For cake:
1 1/2

c.

milk

1

tbsp.

white vinegar

1 1/4

c.

butter

softened

2 1/4

c.

sugar

3

eggs

2

tsp.

vanilla

3 3/4

c.

flour

1/3

c.

cocoa

1 1/2

tsp.

baking soda

green and red food coloring or gel paste
For frosting:
1 - 8

oz.

package Kraft Philadelphia cream cheese

softened

1/4

c.

butter

softened

4

c.

powdered sugar

approximately
For coating:
3 - 4

oz.

boxes Baker's white chocolate

1

tbsp.

shortening
Instructions
For cake:
In a small bowl, combine milk and vinegar. Set aside.

In a large mixing bowl, cream butter and sugar until light and fluffy.

Add eggs, and beat until well-combined. Mix in vanilla.

In a medium bowl, combine flour, cocoa, and baking soda.

Add dry ingredients to mixing bowl alternately with the sour milk (milk + vinegar mixture). Beat until just combined.

Divide cake batter evenly between 2 bowls. Color one portion with red food coloring, and one portion with green food coloring. For me, this required about 1 tsp. of gel paste for each color.

Pour each batter individually into a greased 8-inch round cake pan (red goes into one pan, green into a second pan).

Bake at 350 degrees for 20-25 minutes or until a toothpick comes out clean.

Cool completely. Meanwhile, prepare frosting.
For frosting:
In a large mixing bowl, combine cream cheese and butter. Beat until smooth.

Add powdered sugar until frosting is desired consistency. For me, this was about 4 cups.
To assemble cake truffles:
Crumble the cooled red velvet cake into a large bowl. Add about 1 c. frosting to the cake crumbs and mix until thoroughly combined. Gradually add more frosting, as needed, until dough easily forms into balls, but not so much that it's sticky. About 1 c. worked perfectly!

Repeat process with the green velvet cake.

Using a spoon or small scoop, roll the cake into 1-inch balls (approximately).

Set cake balls onto a foil-lined baking sheet. You can choose to roll red velvet separately, green velvet separately, or you can mix a little of both colors together, as you form each ball.

Refrigerate cake balls for at least 1 hour.
For coating:
In a large saucepan on low heat, melt white chocolate and shortening together. Whisk gently until smooth.

To dip the cake balls, insert a toothpick in the top of a ball. Dunk the cake ball into the white chocolate, or use a spoon to ladle white chocolate over the cake ball as you hold it by the toothpick. Tap it on the edge of the pan to remove excess chocolate.

Carefully set it back on the foil-lined baking sheet, and twist the toothpick out of the top.

Repeat until all cake truffles are dipped, and decorate with sprinkles or edible glitter. Allow to chill in the refrigerator. Enjoy!