This delicious popcorn is a totally unique snack, combining sweet and salty kettle corn flavors with brown butter, cinnamon, and sea salt. And you can make it in under 10 minutes!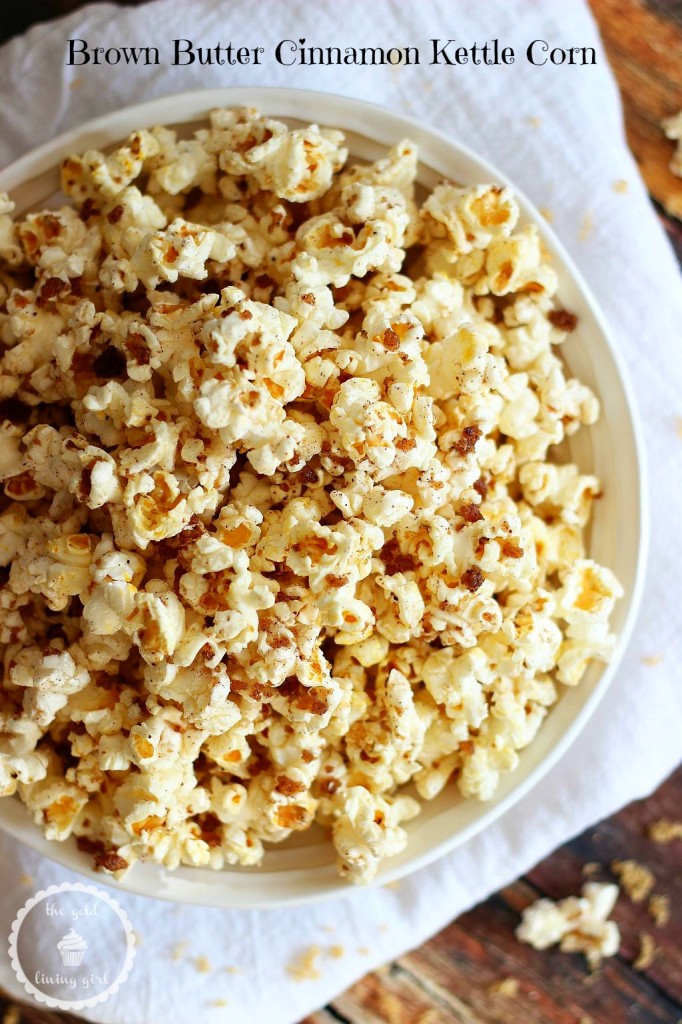 I consider myself a popcorn person. I'm a big fan. How do you feel about popcorn? Yay or nay? If you said 'nay'… how??? 🙂
We go through phases with it in my house. We'll be watching tv on the couch and one of us (read: me = late night snacker) will have a light bulb moment where we realize we haven't made it in a few months. What is it about a big bowl of popcorn as you're relaxing on the couch watching a movie that is so perfect and tasty? After polishing off a huge vat in about 2 minutes flat, we'll remember how much we love it, and then we'll again be eating big bowls of popcorn 3-4x/week for the next month.
I'm not strictly a traditionalist about my toppings. I have a few family members that are pretty particular about sticking to only butter and salt. Not me. I like popcorn in all its glorious flavor possibilities.
Like, plain, for example. Which is actually a lack of flavor altogether, but I really like it. Plain works for me. Classic butter and salt – cannot go wrong here either. Caramel corn, cheddar, white chocolate drizzle… those are all good too. Though, maybe not together. Definitely chocolate on popcorn. I mean, of course!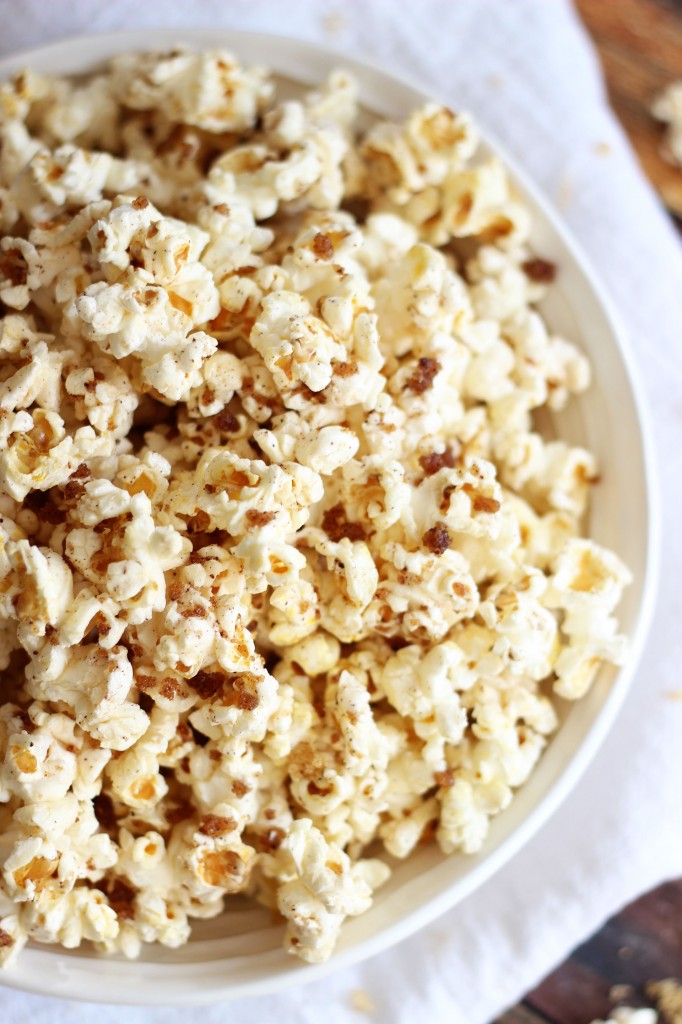 However, my absolute favorite popcorn flavor is kettle corn. There aren't a lot of foods that I find addicting or that I can't seem stop myself from consuming, but kettle corn is one of them. It might actually be the ONLY thing. Sure, I love donuts and peanut butter (together or separate), but I can pull myself away. I can cut myself off from overindulging in them. Kettle corn? I cannot. It's just one of those things. What is your "I'll just have one more bite" food that turns into an empty bag or container? For my best friend, it's gummy bears or goldfish crackers. For me, it is kettle corn.
Besides my love for popcorn as a snack, kettle corn is the perfect balance of sweet + salty! I keep going back for one more bite to see how much crunchy caramelized sugar coating it will have! And I want to find the next most sugary-covered pieces! And the next, and the next, and the next….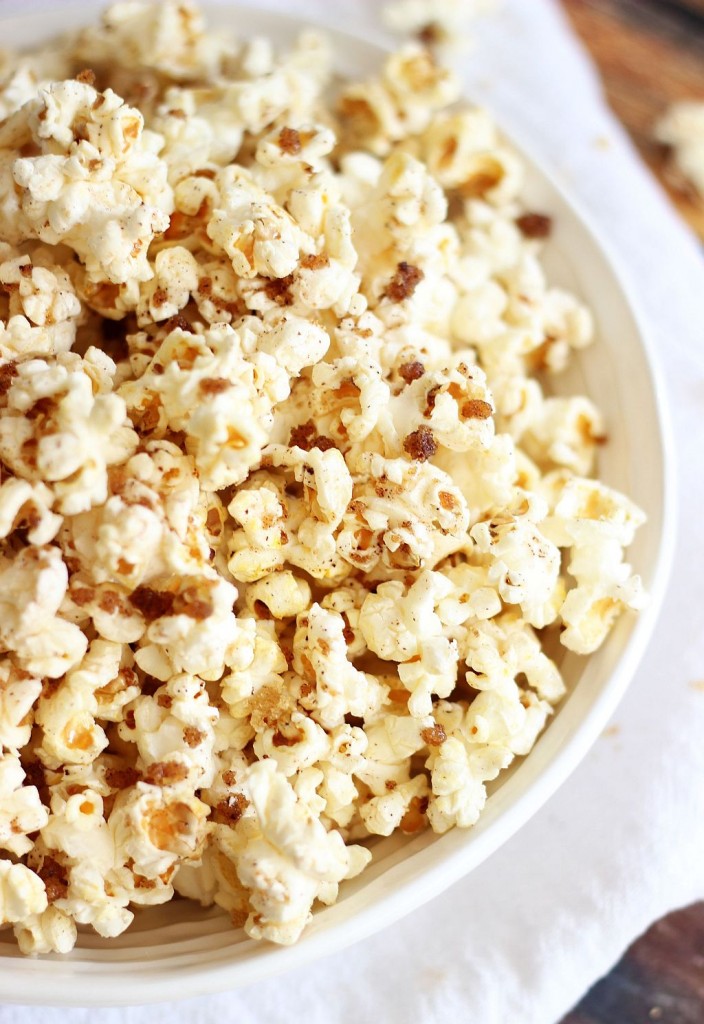 I caution you that when you make kettle corn with brown butter, the addictive qualities elevate to a WHOLE OTHER LEVEL. But you probably knew that before I had to tell you. Still, don't say I didn't warn you. Brown butter is, after all, nectar of the gods. That's just fact. I also never knew a food where cinnamon didn't automatically make it better! Okay, that's probably not completely true, but seriously, it's a great spice, and really lovely alongside the brown butter. Sea salt plays a key role too – something to cut through all that sugary goodness to give us that delightful sweet + salty combo!
You can be enjoying a bowl of this Brown Butter Cinnamon Kettle Corn in about 10 minutes and minimal effort. Enjoy!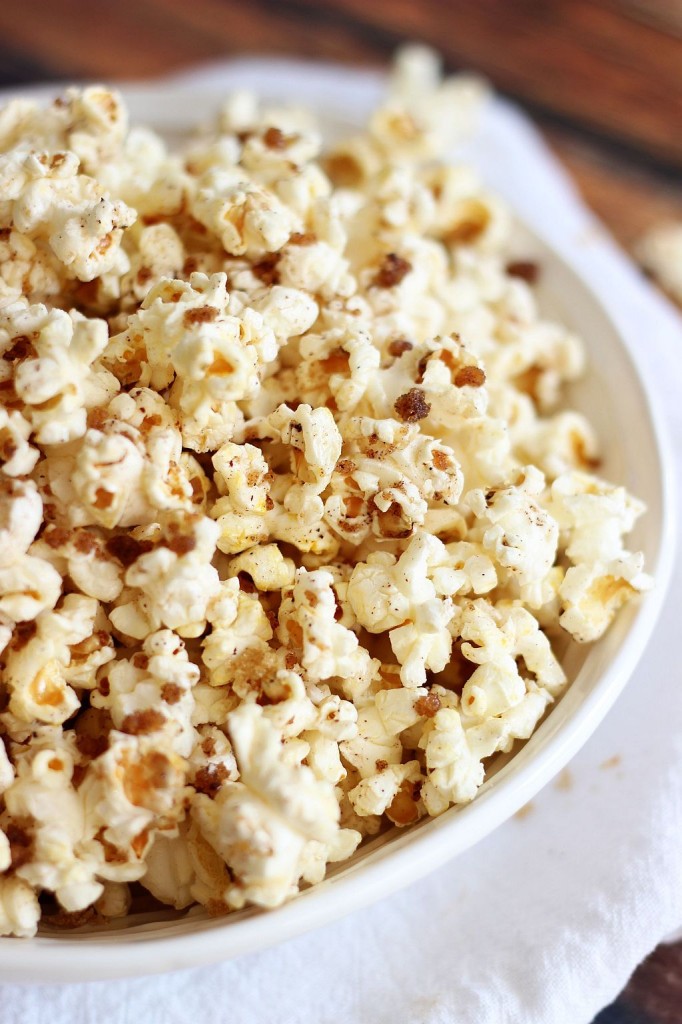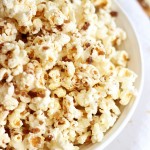 Brown Butter Cinnamon Kettle Corn
This delicious popcorn is a totally unique snack, combining sweet and salty kettle corn flavors with brown butter, cinnamon, and sea salt!
Ingredients
1 - 3.5

oz.

bag of microwave popcorn

plain or very light butter

6

tbsp.

unsalted butter

1/3

c.

packed brown sugar

1/2

tsp.

cinnamon

1

tsp.

vanilla

1/2

tsp.

sea salt
Instructions
Prepare microwave popcorn according to package instructions.

In a small saucepan over medium heat, melt butter, stirring occasionally, until it foams and browns, taking on a caramel-like color and a nutty fragrance.

Stir in brown sugar, cinnamon, and vanilla. Whisk until thoroughly combined, and continue cooking until sugar is dissolved, about 3 minutes.

Toss with popcorn.

Sprinkle popcorn with sea salt. Enjoy!
Don't expect to have any left over! That's probably a good thing anyway. Stale popcorn… eww.