Easy breakfast parfaits made with layers of cinnamon roll and sweet roll bites, orange-infused low-fat Greek yogurt, and pomegranate seeds!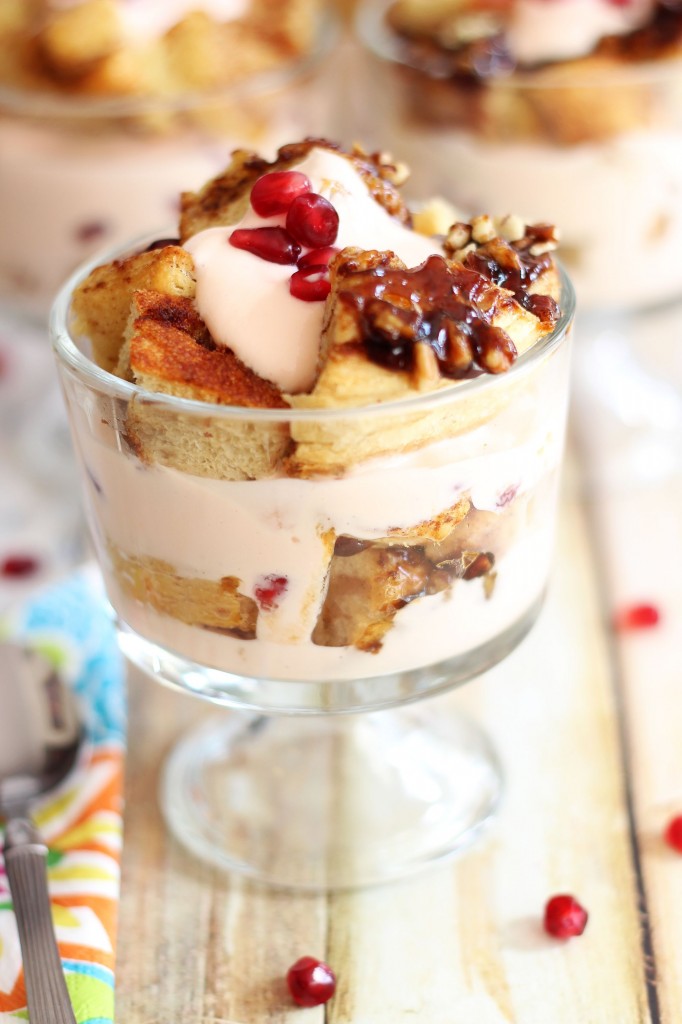 Cinnamon rolls are a source of nostalgia and family tradition for me. Cinnamon rolls make an appearance at pretty much every holiday brunch in my family. I can't remember the last time we didn't have them on a holiday morning!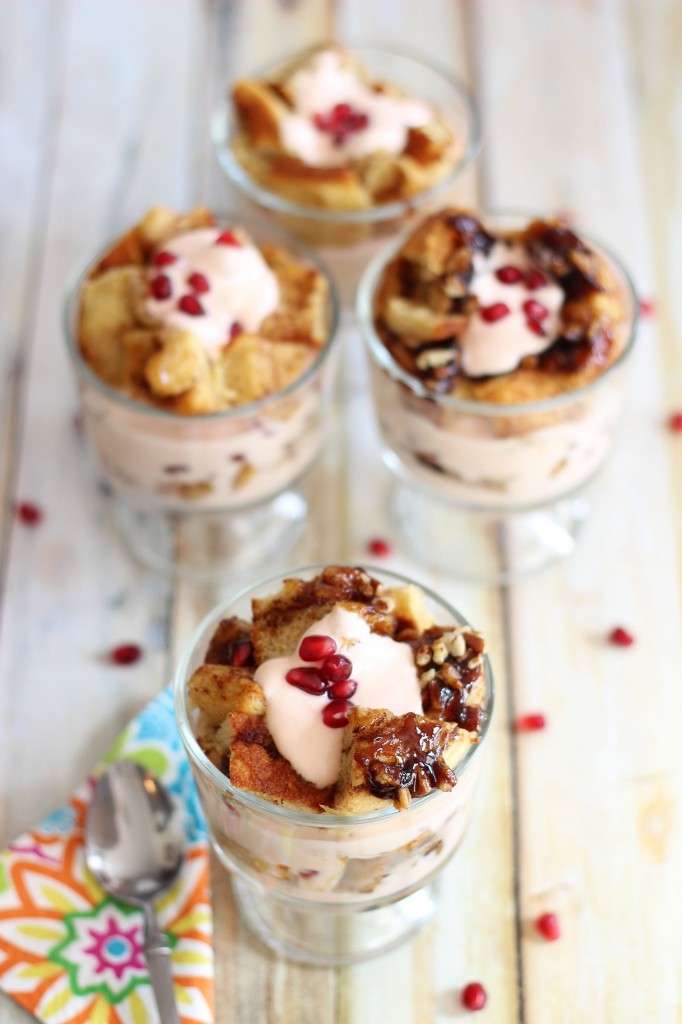 I've also come to think of my Grandma whenever I'm making cinnamon rolls. To this day, she never fails to have a can of them on hand in the fridge. It's just one of those things that she doesn't go without. And orange juice. I find this all totally relatable. They are both staples for us that I keep on hand too.
In my fam, we exclusively make the sweet rolls from a can. Other than the anxiety I get when I'm opening a can (the 'pop' scares the daylights out of me), it's easy to throw them in the oven and enjoy hot, fresh cinnamon rolls 15 minutes later.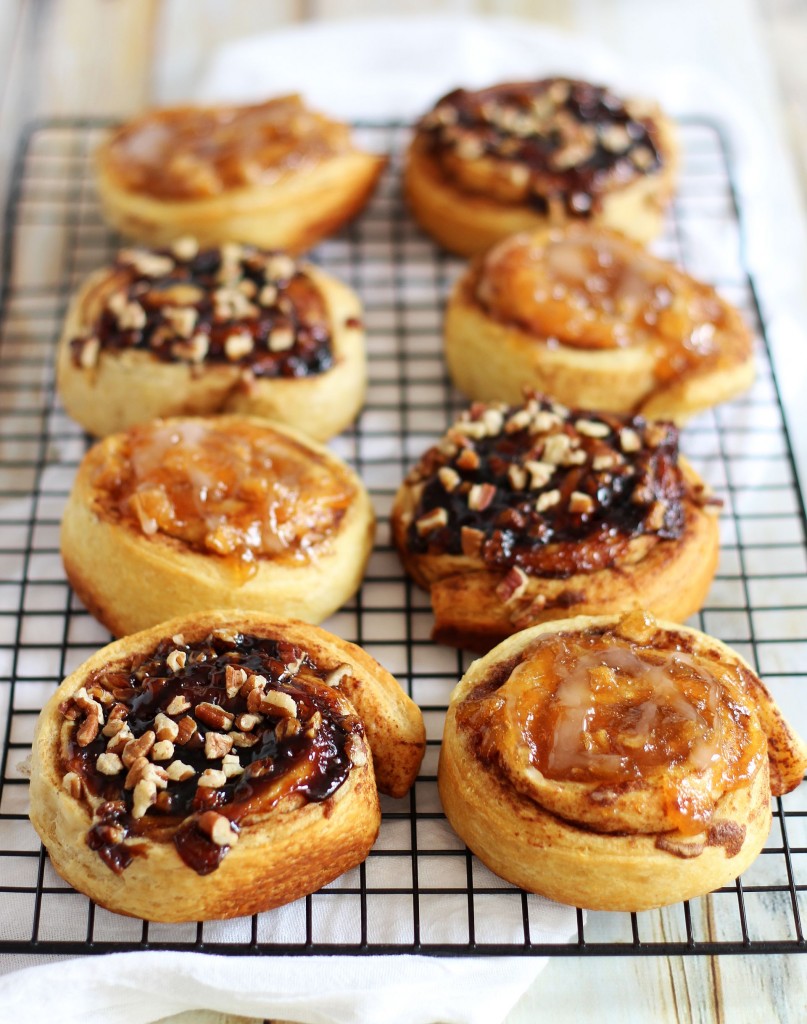 Have you tried the Pepperidge Farm ones? First of all, they are… gigantic. They are some serious cinnamon rolls. And the flavors are so tempting. I couldn't decide between Apple Cinnamon and Pecan Caramel, so I bought BOTH.
I thought it would be fun to use these family favorite foods in a less traditional and conventional way though! These 'Breakfast Parfaits' were a unique spin on cinnamon rolls, while still being easy and simple to make. I cut apart baked cinnamon rolls into bite-sized pieces and layered them with Greek yogurt that I sweetened with orange juice, and fresh, juicy pomegranate seeds. The different flavors and textures together were so delightful!
In our never-ending efforts to stuff my tiny Grandma with more food, I had her partly in mind while making these. Not only does she love cinnamon rolls, but she also loves yogurt. It's another item that gets stock-piled in her fridge. By combining several of her favorites, maybe we'll have discovered her dream meal? I know that I was a big fan of these parfaits, and S.O. really took to them as well!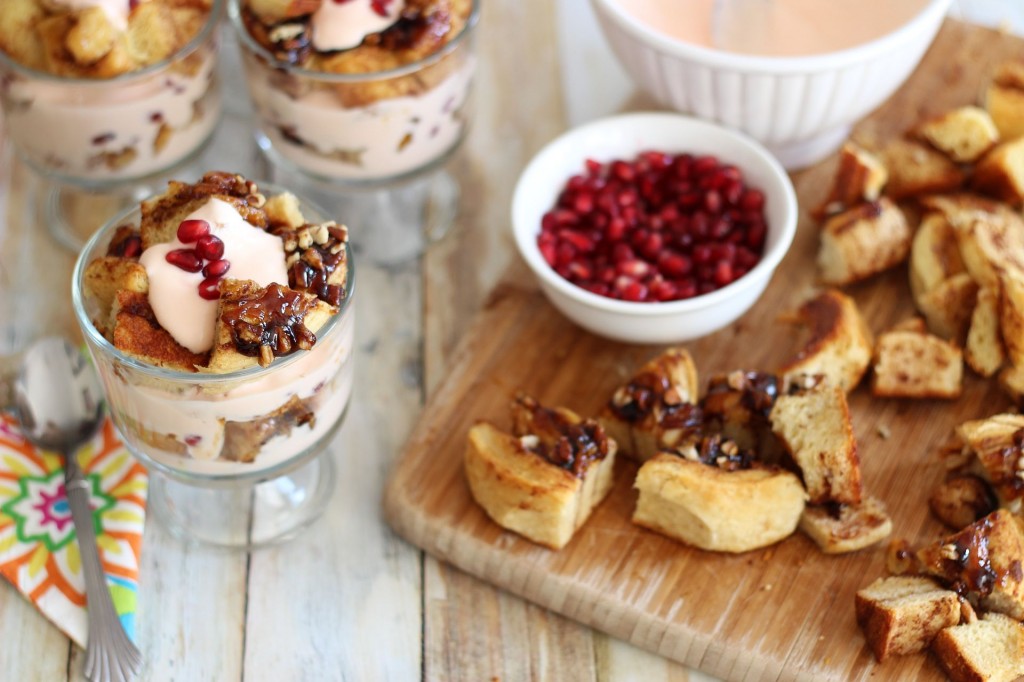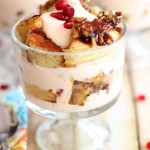 Cinnamon Roll, Greek Yogurt, and Orange-Pomegranate Breakfast Parfaits
Easy breakfast parfaits made with layers of baked and cut up sweet rolls, orange-infused low-fat Greek yogurt, and pomegranate seeds!
Ingredients
2 - 16.3

oz.cans of Pepperidge Farm Sweet Rolls

8 rolls total

2

c.

plain low-fat Greek yogurt

1/3

c.

orange juice

3/4

tsp.

orange extract

2

tbsp.

sugar

1/2

c.

pomegranate arils
Instructions
Prepare sweet rolls according to package instructions. Cool completely. Cut each roll into about 9 pieces.

Meanwhile, in a medium bowl, combine Greek yogurt, orange juice, orange extract, and sugar. Whisk until smooth.

To assemble the parfaits, in small parfait glasses, layer the sweet rolls, Greek yogurt mixture, and pomegranate seeds. Start with approximately 1/4 c. Greek yogurt on the bottom, top that with 6-7 cinnamon rolls pieces, and top the cinnamon roll pieces with 1 tbsp. of pomegranate seeds. Repeat the layers again in the same order. Garnish with 1 tbsp. of Greek yogurt mixture on top, and a few pomegranate seeds.

Assemble 6 mini parfaits in total. Enjoy!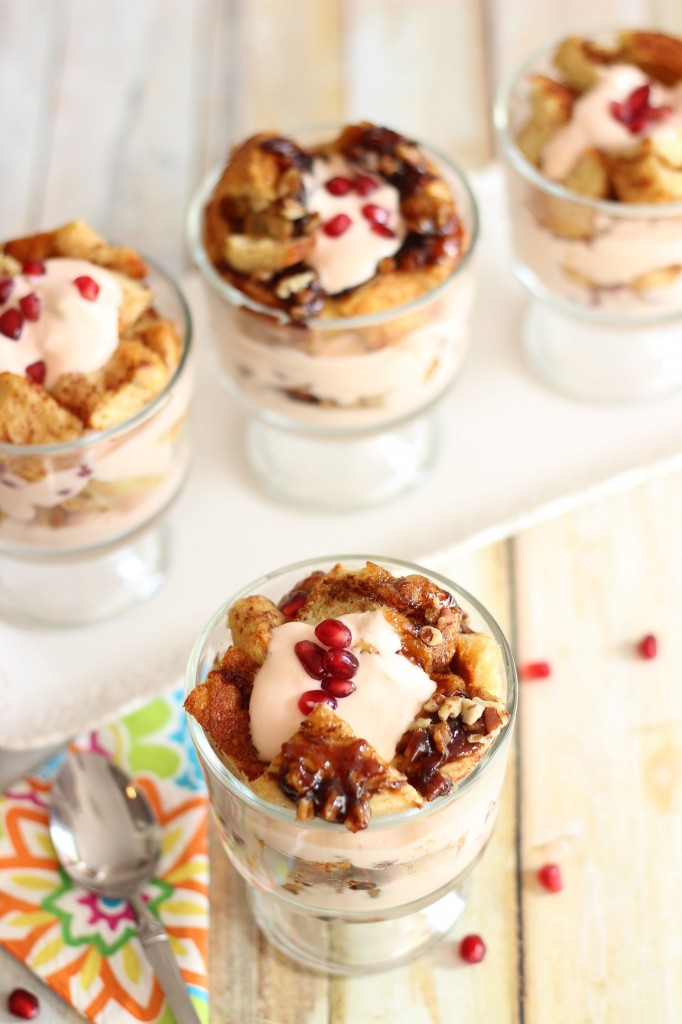 I hope you enjoy this super simple recipe!