This Dill Parmesan Garlic Popcorn is a delicious savory snack, and perfect for movie nights, game days, and the Super Bowl! Plus it's ready in 10 minutes!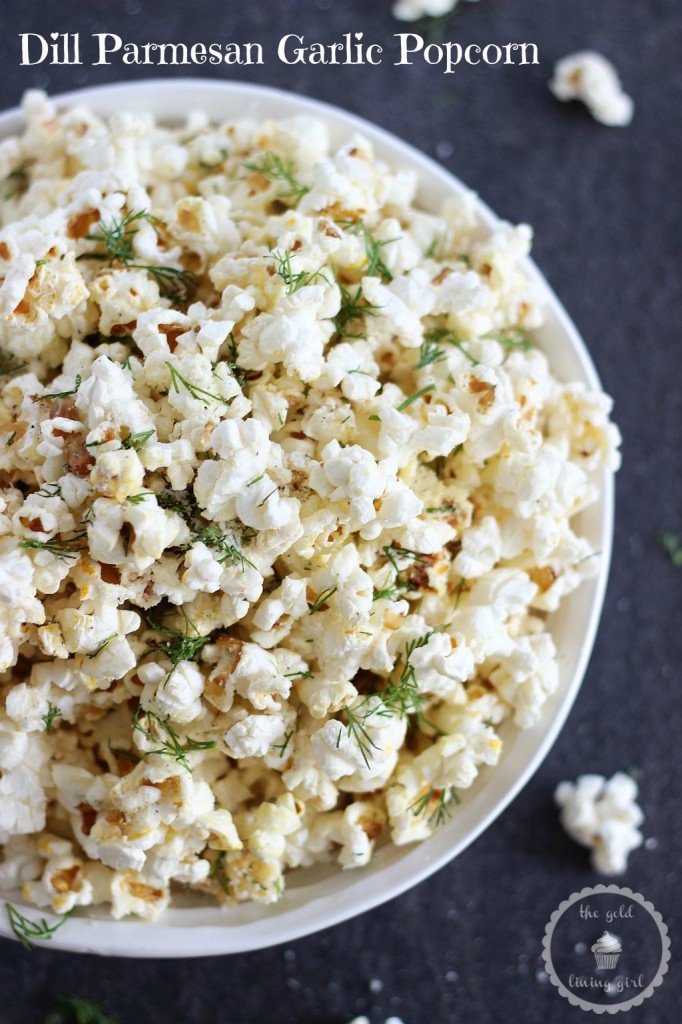 It's probably pretty obvious by now that I get fixated on things. Like, that time I ate French toast about 3x/day for 4 months. It started back up again for the first half of this month. I once had a similar phase with sauteed spinach. I haven't really eaten it since. Four months of non-stop sauteed spinach is A LOT of spinach, as you might've guessed. Spinach and I are taking a breather for an indefinite amount of time. Maybe a decade or so. We'll see.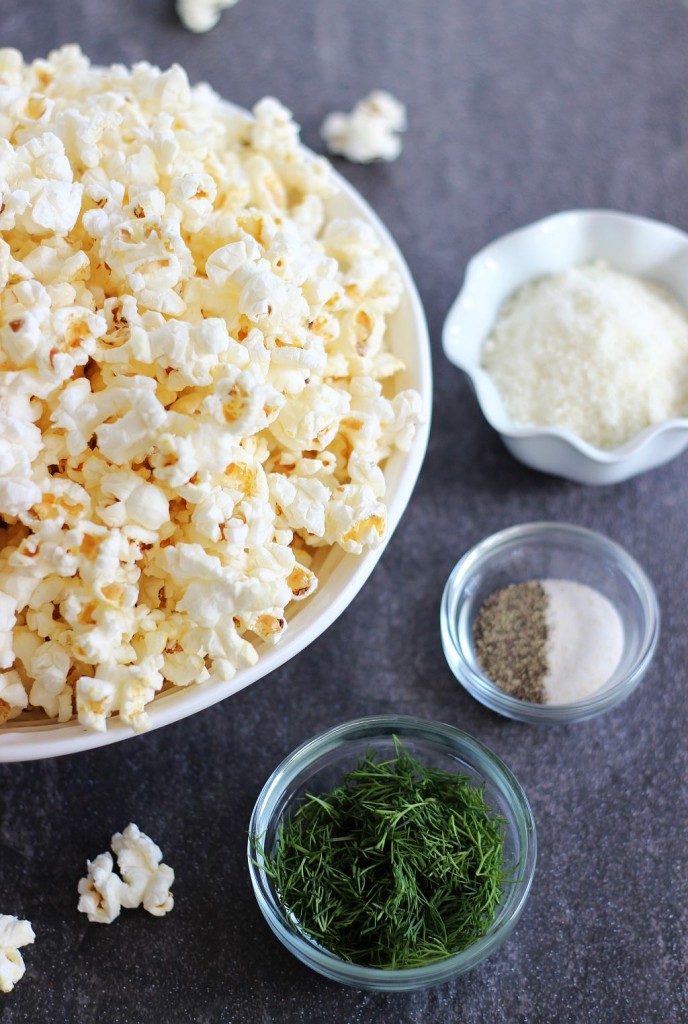 What else? I noticed today that I've posted 3 recipes that include bacon just in the last 2 weeks. Oops, I meant to spread those out. I have another one coming up soon too. Eek. There are also obsessions with brown butter, goat cheese, and peanut butter, among other things. As fellow foodie friends, I'm sure you can relate! What are you currently on a streak with?
Some of these are fleeting. Most of them are not. I will love them for life, and will stuff them into things however I can!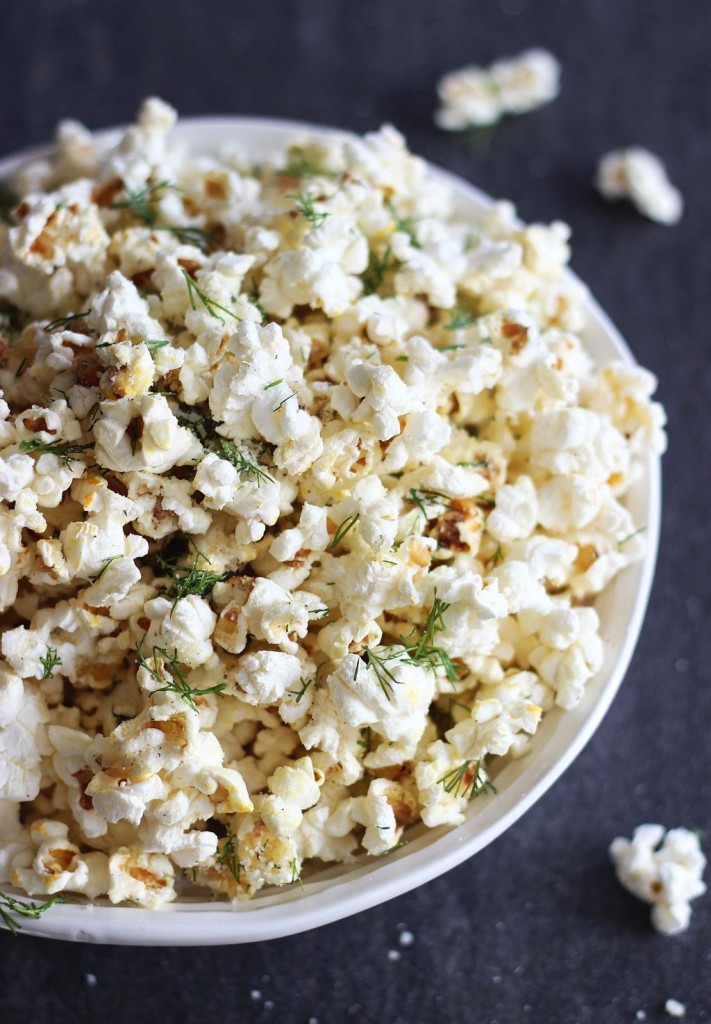 More recently, I am fixated on dill. And popcorn apparently – since I just posted a popcorn recipe yesterday! There's a method to my madness though. I want you guys to have super easy Super Bowl snacks, and popcorn is exactly that! You now have both sweet AND savory options for game day.
Anyhoo, I want dill in everything lately. The more I use it, the more I find that it has a time and place in… lots of places.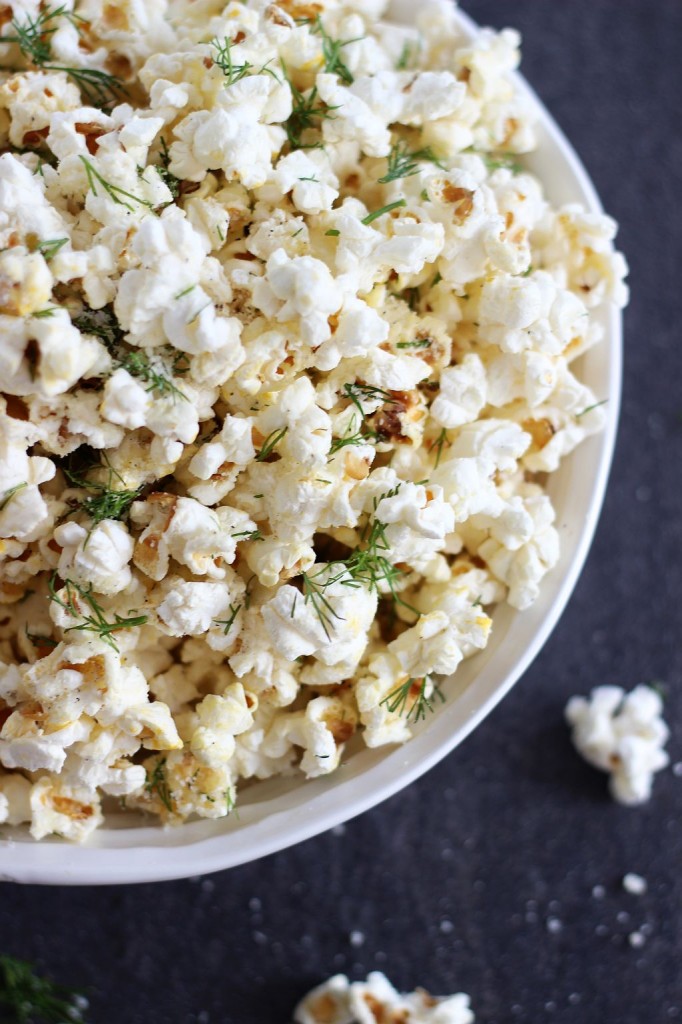 Like dill and popcorn. They are an obvious pairing. Ha! Maybe not, but I'm convinced now that they belong together, especially when combined with grated Parmesan cheese and garlic! The flavor trifecta of dill + Parmesan + garlic is truly a winner.
I don't turn down traditional butter-and-salt popcorn, but special occasions (and I consider the Super Bowl a big ol' special occasion!) call for something different. This popcorn will deliver a new spin on a classic snack!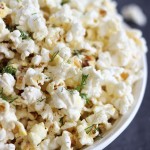 Dill Parmesan Garlic Popcorn
A savory popcorn with fresh dill weed, Parmesan cheese, and garlic powder!
Ingredients
1 - 3.5

oz.

bag microwave popcorn

plain or light butter

3

tbsp.

unsalted butter

melted

1/3

c.

grated Parmesan cheese

1/2

tsp.

garlic powder

3

tbsp.

fresh dill

chopped

salt & pepper

to taste
Instructions
Prepare popcorn according to package instructions.

Place popcorn in a large bowl.

Drizzle the melted butter over the popcorn, and toss gently to evenly coat.

In a small bowl, combine Parmesan cheese and garlic powder until thoroughly blended.

Spread the Parmesan cheese mixture and the fresh dill over the popcorn, and toss gently to evenly coat.

Salt and pepper to taste. Enjoy!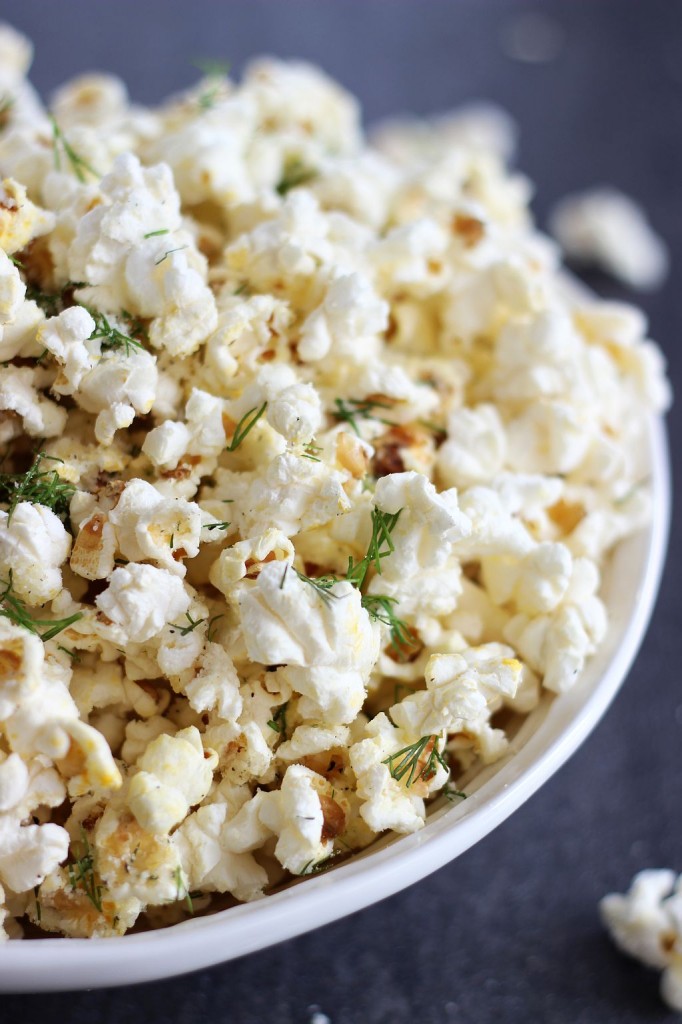 Btw, popcorn doesn't really 'pop' in photographs. Pun intended. These were tricky. Hopefully it looks yummy??