Ravioli are par-boiled and then pan-seared, served with a light creamy sauce, bacon, peas, and arugula! Lots of greens in this easy and springy dish!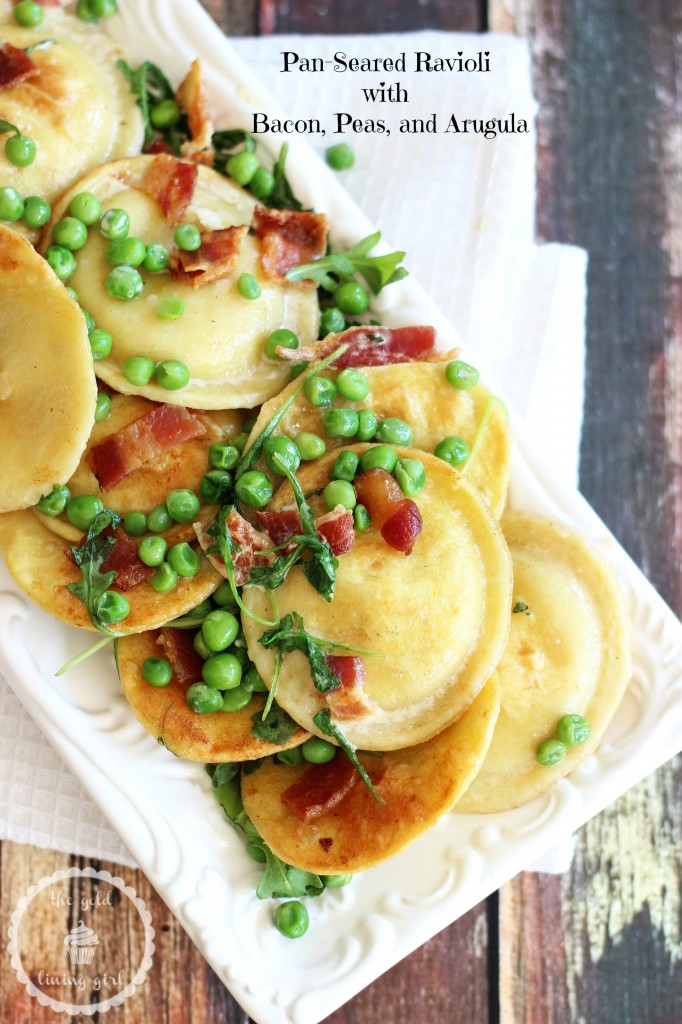 Something about ravioli and peas together must really appeal to me, though I can't say exactly why. Over the years, I've clipped 3 slightly different recipes for such a dish. Maybe it's the vibrant greens and the springy flavors. Of course, they all had bacon as an ingredient too, so maybe that was it.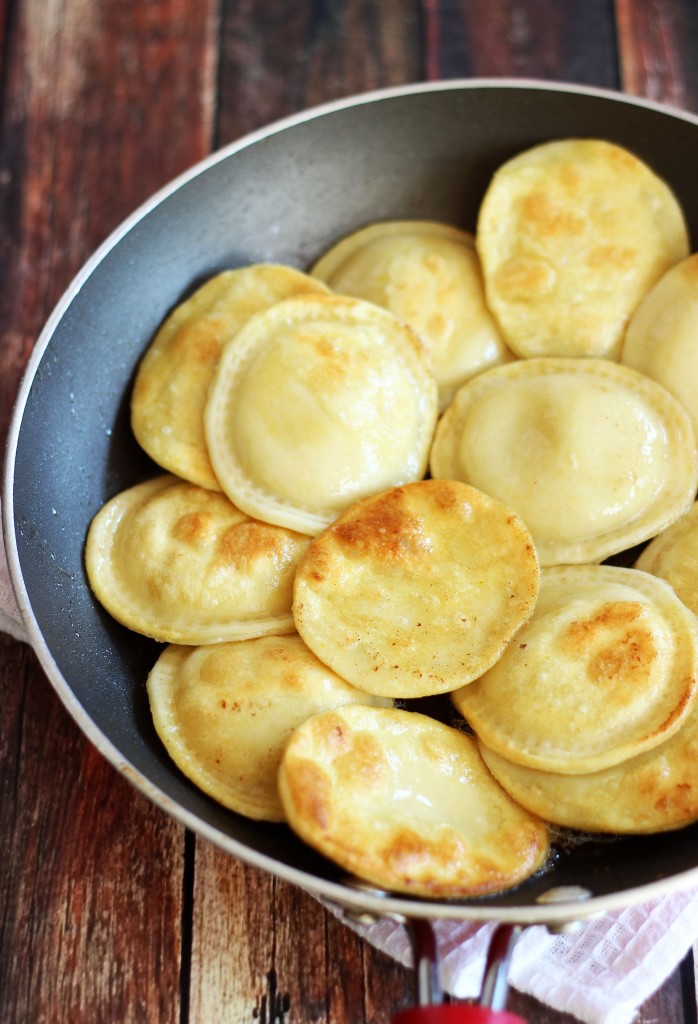 Or maybe it was because the recipes kind of reminded me of a favorite dish I used to make a lot in college: pierogis with peas and onions. Pierogis were a staple in my diet then, but these days, I haven't had a pierogi in more years than I can count (which I'm going to have to change soon). Have pierogis seen their heyday? Do people still eat them on the reg? I feel like you don't hear about them anymore!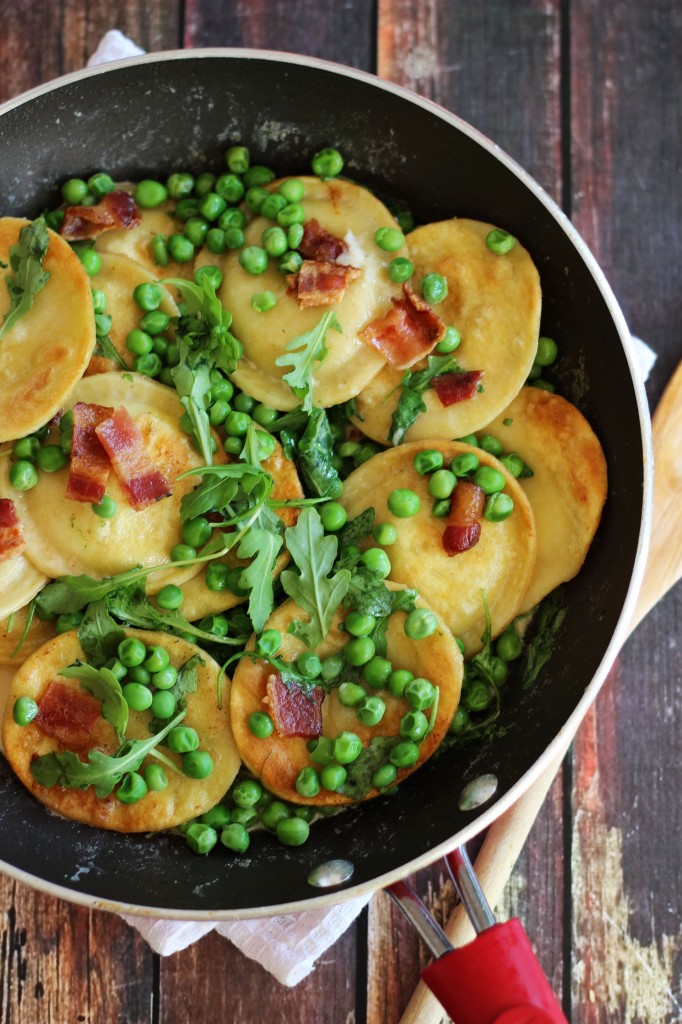 Anyway, my favorite way to prepare them was by boiling them first, and then pan-frying them in butter until they were crispy and golden brown. My roommate used to cook them the same way, but she'd also grill them with onions and peas. That was even better. We were very fancy college students. Uh-huh.
We ate pan-fried pierogis with peas and onions, then headed off to an 'apartment party' to drink jungle juice out of Solo cups. Jungle juice that was mixed together in a big plastic tub. YUMMMMMM.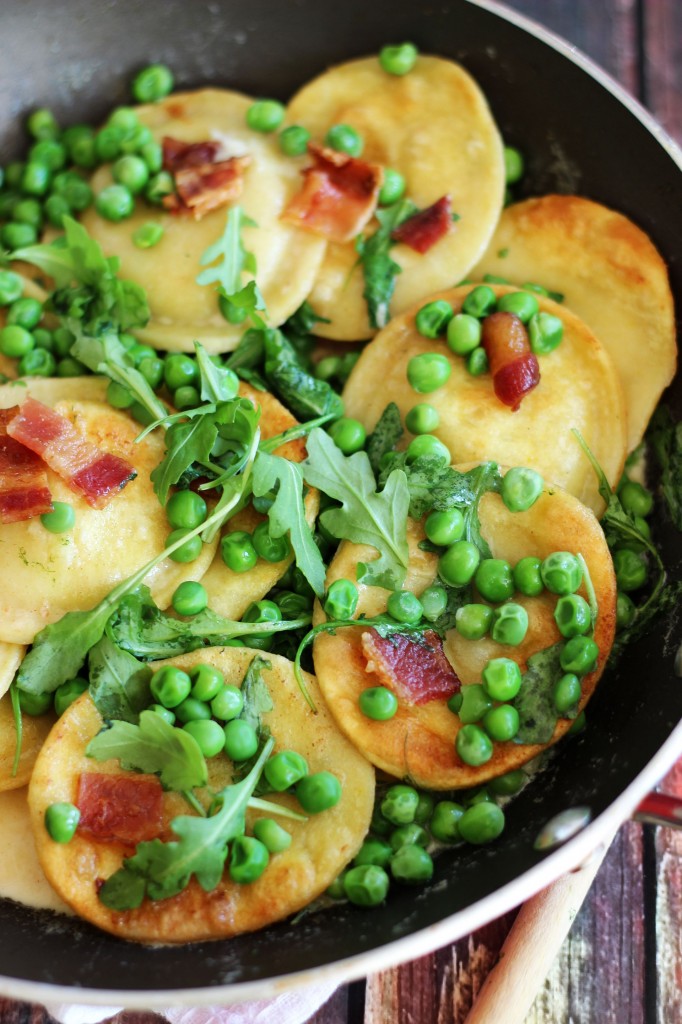 When I would see these recipes for pan-seared ravioli, in a weird way, it felt like a grown-up version of my old college favorite.
With cheesy ravioli, crispy bacon, and wilted arugula, this is MUCH better though. I'm not knocking pierogis, but I'll take cheesy carbs over potatoes any day. The ravioli are pan-fried in butter until golden brown, and tossed with sweet peas, and arugula. When arugula is wilted, it loses a little of its peppery edge, but the greenery still adds some earthy flavor and a spicy kick. A little cream creates a light sauce.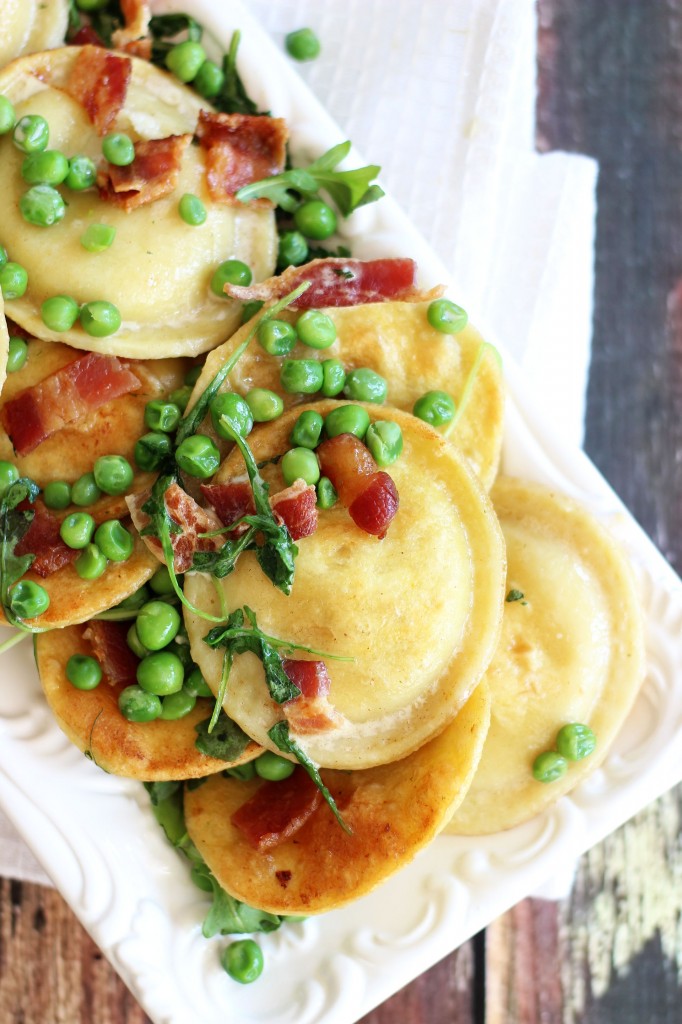 It's altogether… refreshing? It might sound heavy, but on the contrary, it's quite light, and the flavors give a feeling like we're ushering in springtime, even though the outdoors might indicate otherwise. 🙂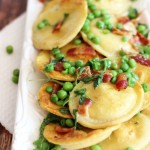 Pan-Seared Ravioli with Bacon, Peas, and Arugula
Ravioli are par-boiled and pan-seared, served with a light cream sauce, bacon, peas, and arugula! Lots of greens in this springy dish!
Ingredients
4

slices

bacon

cooked, chopped

3

tbsp.

butter

1 - 20

oz.

package fresh or frozen cheese ravioli

1

c.

frozen peas

1/2

c.

heavy cream

1/4

tsp.

garlic powder

3

c.

loosely packed arugula

Salt and pepper

to taste

1/3

c.

grated Parmesan cheese

optional
Instructions
In a large pot of boiling, salted water, cook the ravioli according to package directions, or until just tender. Drain ravioli.

In a large saucepan over medium-high heat, melt the butter.

Add the ravioli and cook until golden-brown, about 3-5 minutes.

Reduce heat to medium, and add the frozen peas, heavy cream, and garlic powder into the saucepan. Mix well.

Bring to a simmer, stirring occasionally. If a little water is needed to thin the sauce, add it 1 tbsp. at a time.

Toss and stir in the arugula until it begins to wilt, about 1 minute.

Serve with Parmesan cheese. Enjoy!
Inspired by a recipe from Rachael Ray.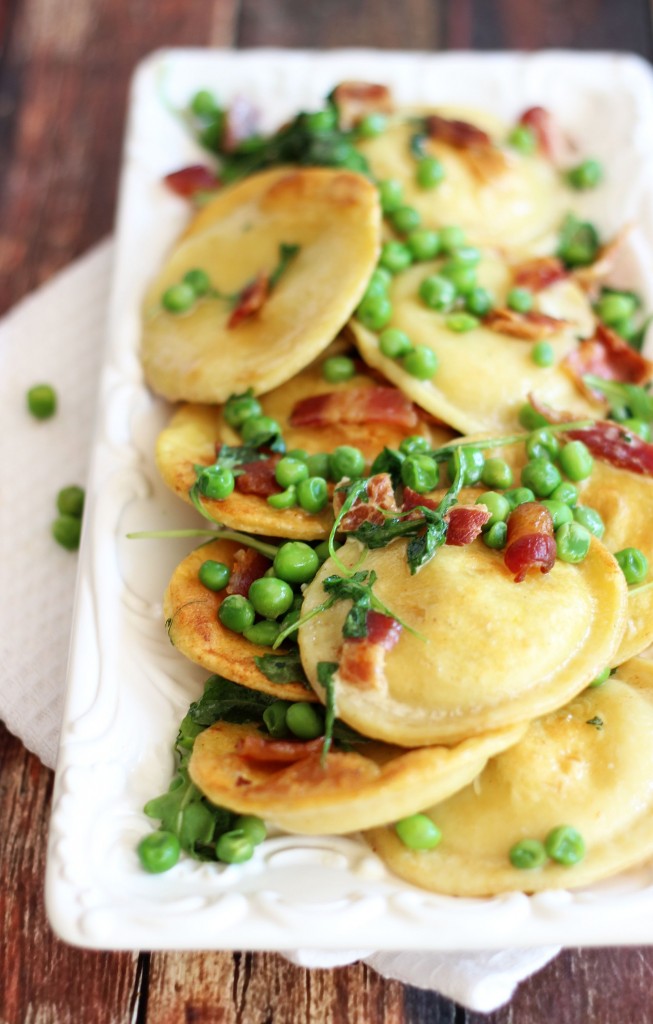 In an instance of terrible planning, we didn't have Parmesan cheese in the house which NEVER happens. This dish doesn't need it, but you definitely want it. It's cheese. On pasta. Why do I feel a need to persuade you of this… get the Parmesan cheese.