This slow cooker Peanut Butter and Jelly Oatmeal is super simple! It features steel cut oats, creamy peanut butter, strawberry jam, cinnamon, and chia seeds!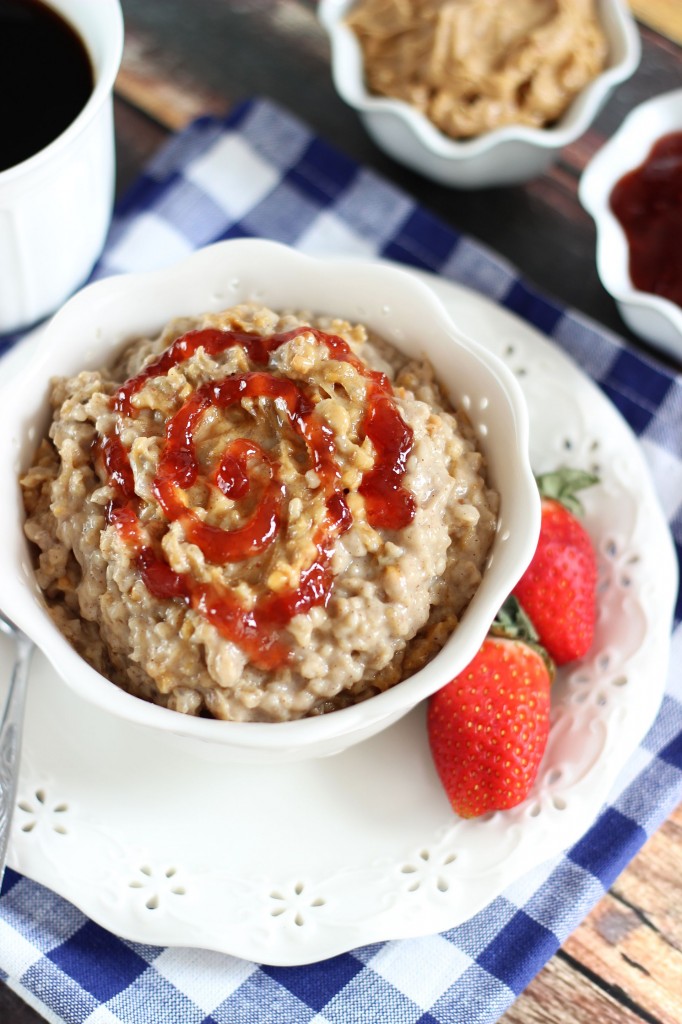 I said it a few days ago, but it's still true: I miss Christmas! Not over it yet. In denial. I have yet to take down the decorations, lights, or tree!
It's such a special time of year, and I really enjoyed indulging in all the glorious holiday foods. However, you get to a point where you're ready to turn over a new leaf, or return to your previous leaf… if it was working for you. My previous leaf was working for me. And I'm going back to my leaf. Okay, all these leaf references, do either of us know what I'm talking about anymore?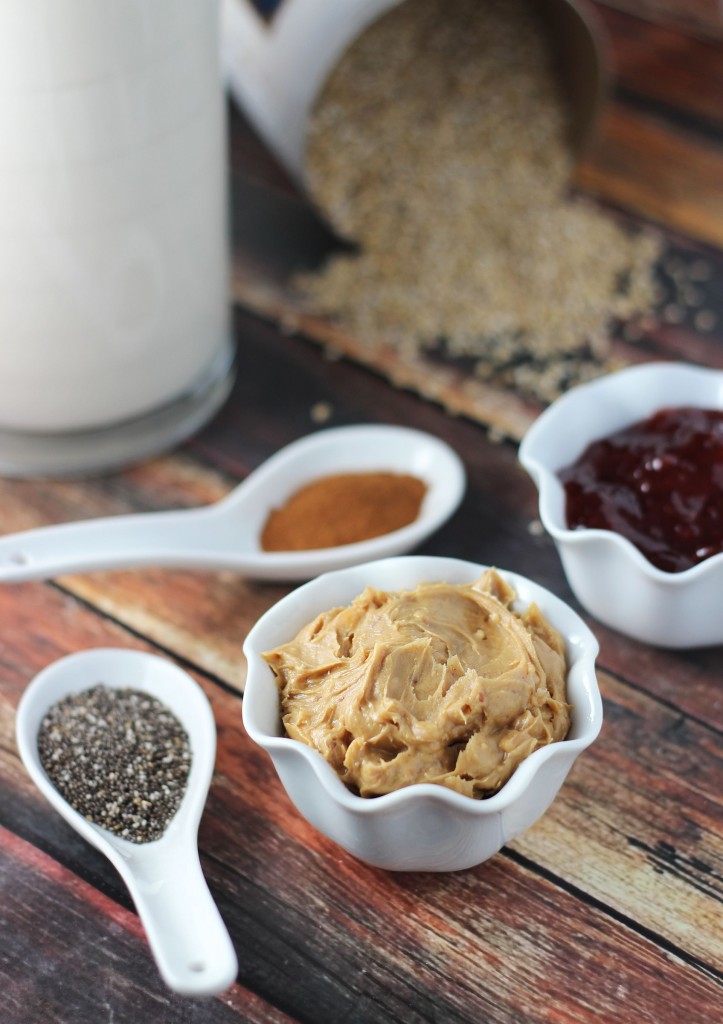 There's a number of staples that I eat regularly to feel good about what I'm putting in my body. One of those is oatmeal, of course. I eat it a TON. And because I eat it so much, I'm always looking for more oatmeal recipes and new ways of preparing it.
It's not that hard because oatmeal is so versatile. The options for what to mix into it are virtually endless! And since there's several different kinds of oatmeal to choose from, between quick oats (the packets are so convenient), old-fashioned oats (my favorite for baking), and steel cut, there's a world of opportunity!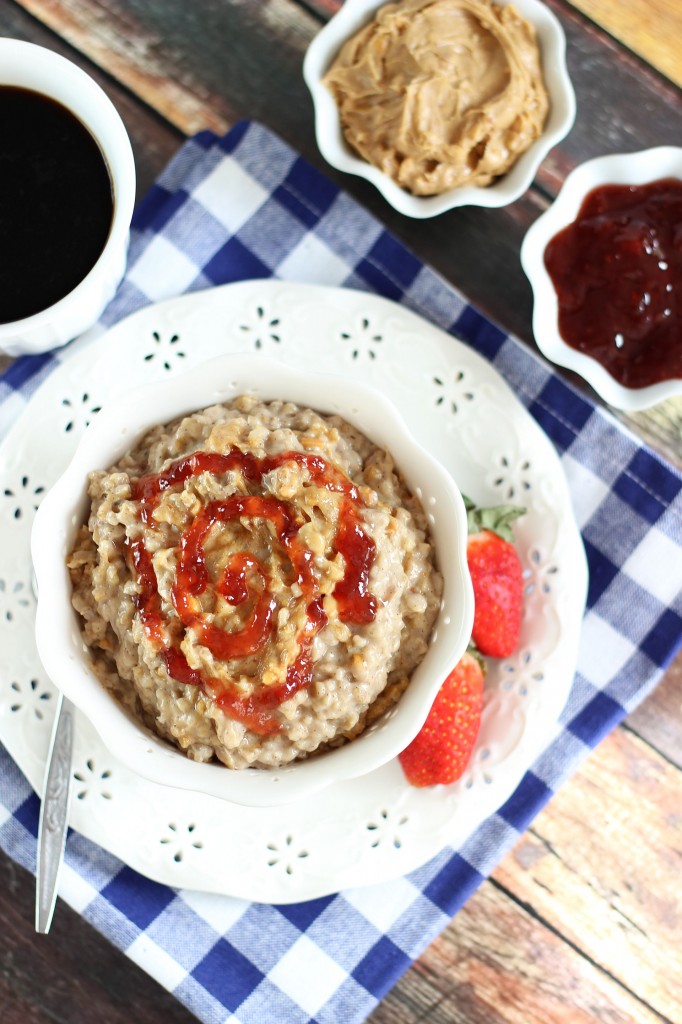 I like to switch things up, and hadn't had steel cut in a while. I needed to stock up, so while S.O. was at a hockey game on Friday night, I was having a wild and crazy night shopping at Target with my BFF. It was OUT. OF. CONTROL. Okay, it wasn't at all, but shopping at Target really was our planned entertainment for the evening, and we had ourselves a good old time. Afterward, we refueled from our Target spree with steak dinners. 🙂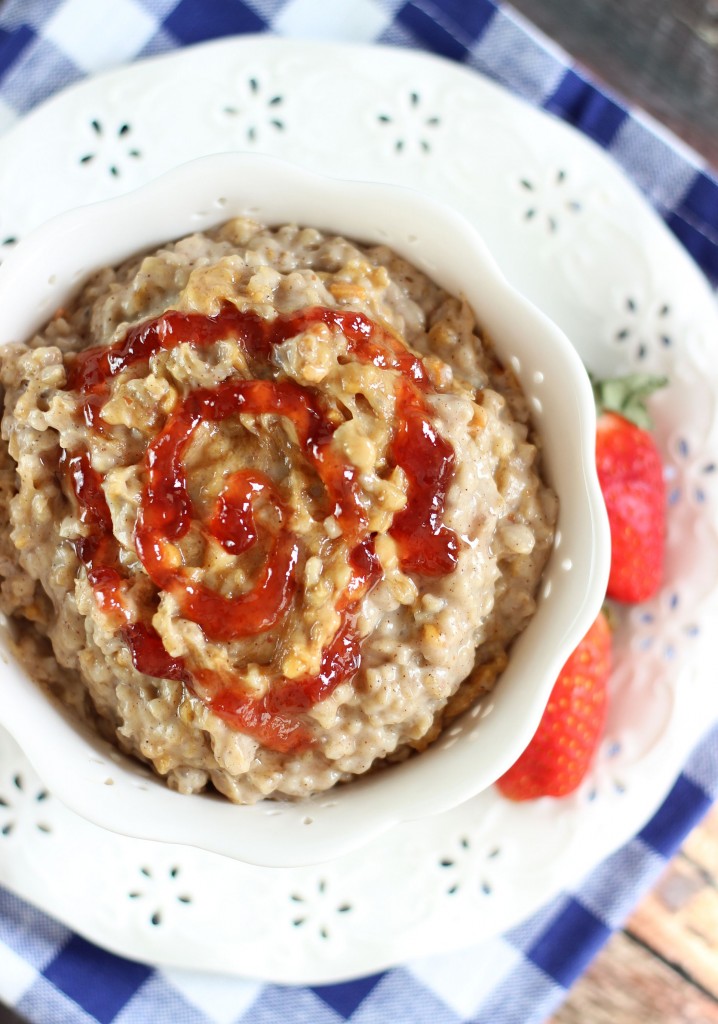 When we left for outlet shopping that morning, I packaged some of this oatmeal in a to-go container, grabbed a spoon, and stashed them both in my purse to eat with me while we were shopping. It's well known that this is one of my foibles. I take food with me everywhere I go, and you never know what snacks you'll find hiding out in my purse! Shopping is hard work and requires lots of good carbs and sustenance, you know.
This oatmeal stuck with me through our day of power shopping. It's creamy, satisfying, filling, and delicious with lots of peanut butter, lots of cinnamon, and a little bit of strawberry jam for sweetness. Steel cut oats are blessedly simple to prepare in a slow cooker too!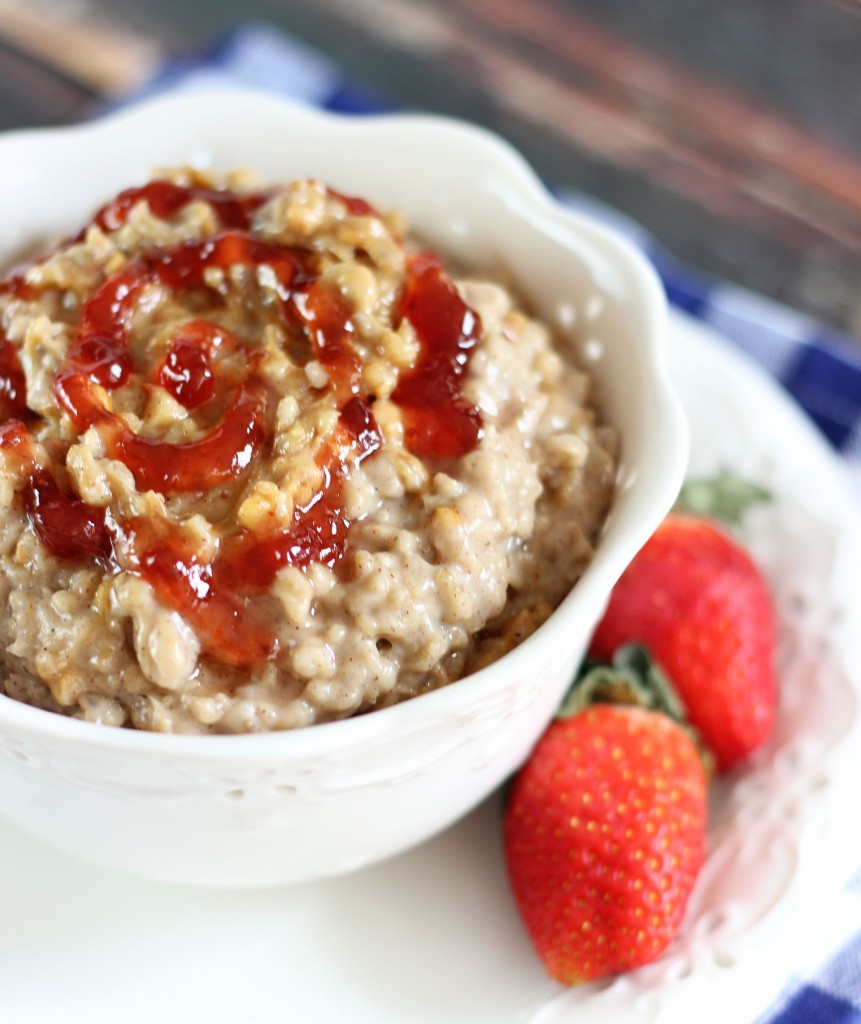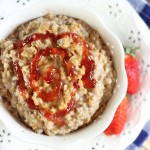 Slow Cooker Peanut Butter and Jelly Oatmeal
Super easy, hearty, and filling peanut butter and strawberry jam steel cut oats made in the slow cooker!
Total Time
4
hours
10
minutes
Ingredients
4

c.

unsweetened vanilla almond milk

1

c.

Quaker steel cut oats

1

tbsp.

chia seeds

1/4

c.

brown sugar

1

tsp.

cinnamon

1

c.

natural peanut butter

creamy or chunky is fine!

1/4

c.

strawberry jam
Instructions
Pour the almond milk, steel cut oats, and chia seeds into a slow cooker.

Cover and cook on low for about 6 hours, or on high for about 3 hours, stirring occasionally.

Once the oats are cooked and creamy, stir in the brown sugar and cinnamon until thoroughly blended.

Stir in the peanut butter until thoroughly blended.

Serve immediately, with approximately 1 tbsp. of strawberry jam on top. Enjoy!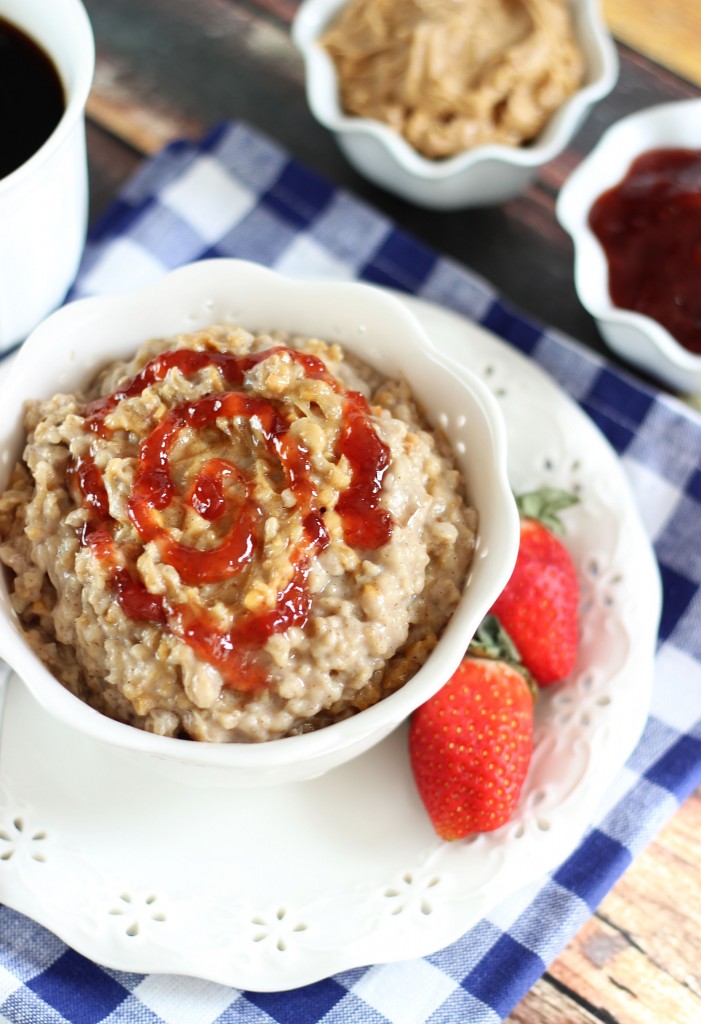 Next up, maybe we'll chat about my favorite blueberry and almond steel cut oats. YES!! Good plan. You'll love 'em.