Chocolate hazelnut crepes stuffed with a Nutella ricotta filling, and drizzled with raspberry jam! These are a great Valentine's Day breakfast or brunch idea!
Did I mention it's crepe week? It's crepe week. I didn't exactly plan for it to be a dedicated "Crepe Week", but on New Year's Day (yes, I made these that long ago!), I was making this other crepe recipe in anticipation of Valentine's Day, and I got very carried away. I couldn't stop making crepes. I made crepe after crepe after crepe. All sorts of flavors, all sorts of fillings… the ideas just kept coming.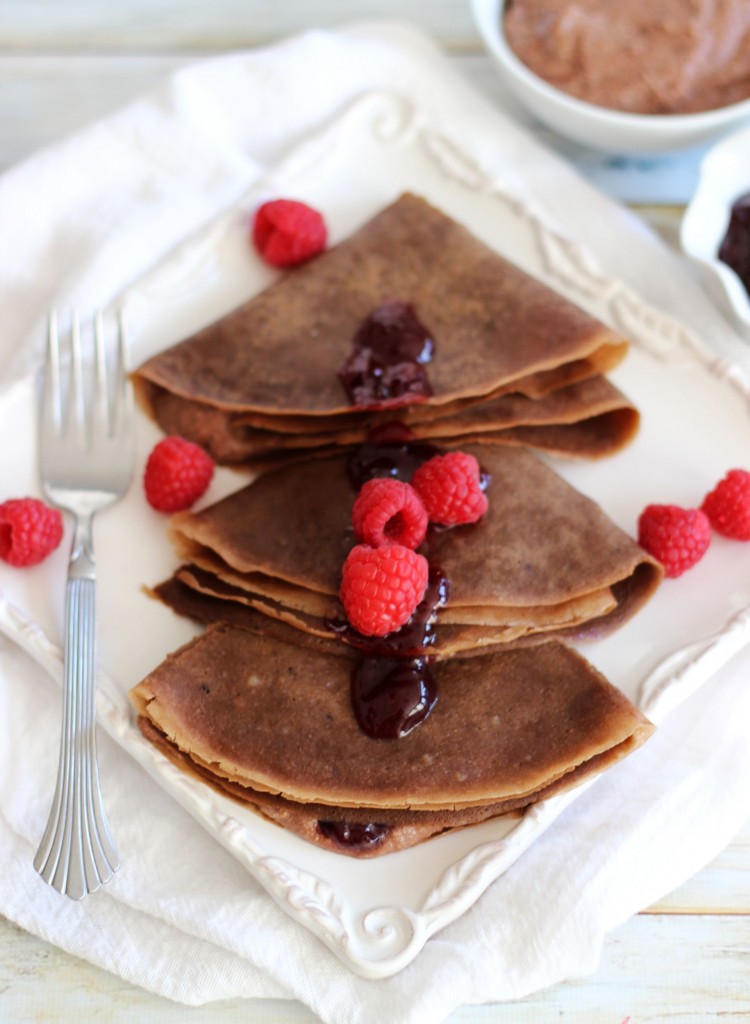 Then I endeavored to make a very ambitious crepe project and it was a big fat failure. A huge, devastating, catastrophic failure. Alright, maybe not quite that dramatic, but it was a tremendous and sad failure. I am going to attempt it again, but I may have to wait til next New Year's. It's still too fresh to think about right now.
So, yeah. On New Year's Day I drank leftover Prosecco and made about 85 crepes. Seriously. I made crepes for over 5 hours. At one point, I was splashing Prosecco haphazardly right into the batter. It all worked out. Other than the big fat failure that we're not going to talk about anymore for at least a year, I think the rest of the crepes taste good, and I don't attribute that to compromised taste buds from alcohol intake.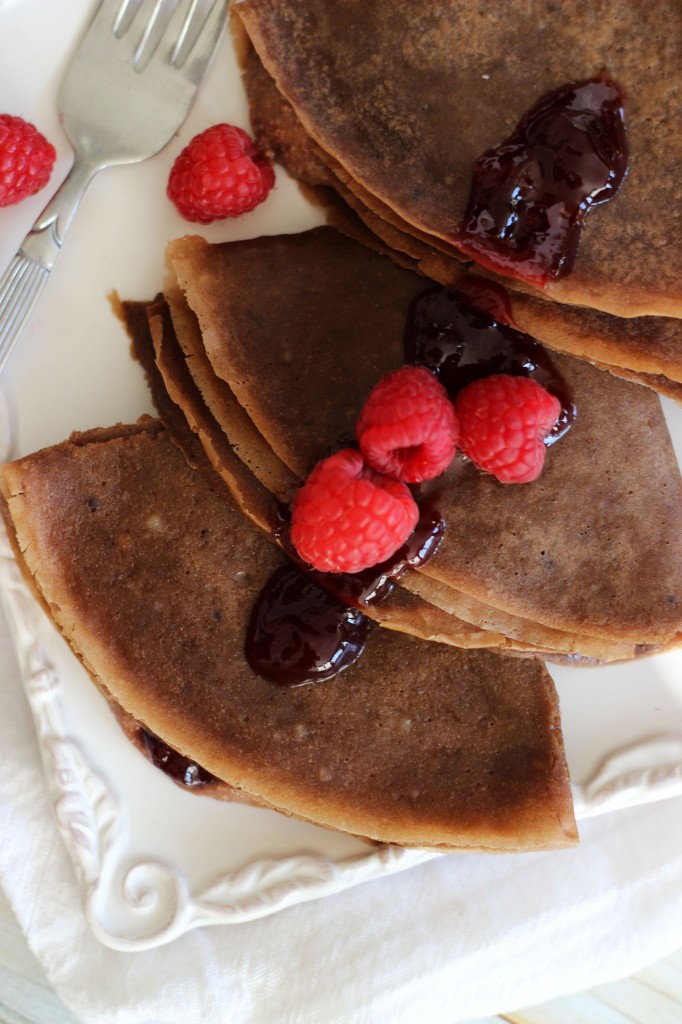 With this recipe in particular though, I ran out of steam. 5+ hours of crepe-making, and I was OVER IT. I was all in on the crepes and the filling, but when I got to the topping, and had made 4 billion crepes, I was done. Stick a fork in me. So I slapped some raspberry jam on top and called it a day.
Jam was a short cut, and I'm not afraid to tell you that. I knew I wanted to incorporate raspberry because it's *perfect* with Nutella and chocolate, but the easiest method at that point was a trusty old slather of raspberry jam. Is this my proudest moment? Maybe not, but it does taste delicious. Is it as pretty as it could be? No, but that is not what matters!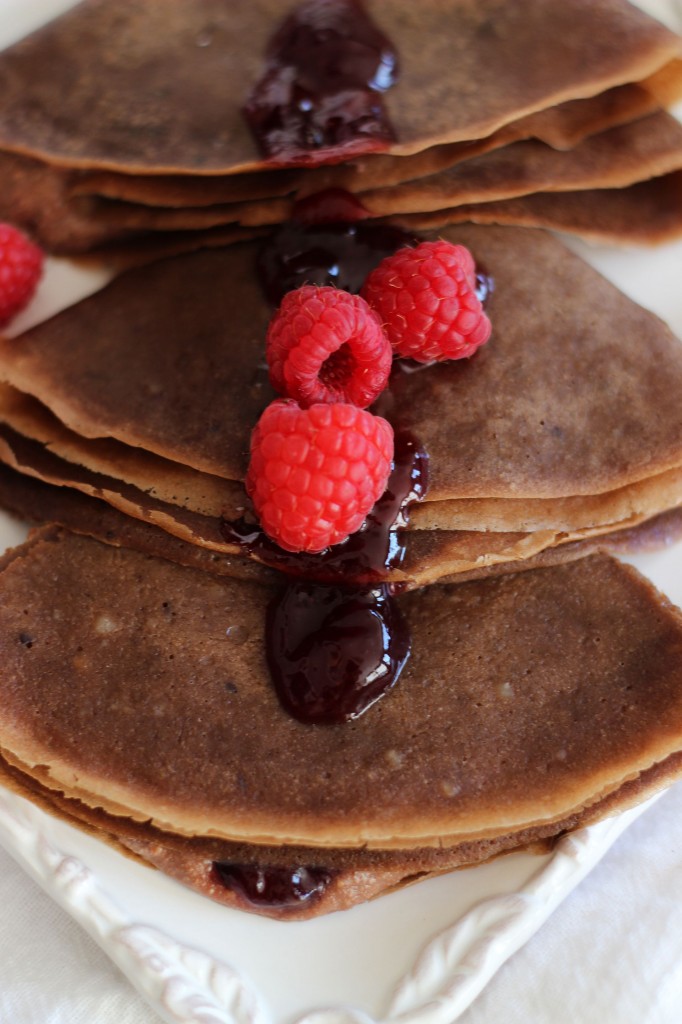 If you know how delicious the combination of chocolate, hazelnut, and raspberry is, then you know why we loved these so much. The crepes are a basic crepe recipe, doctored up with cocoa powder, sugar, and hazelnut liqueur (you can substitute for hazelnut extract). They're filled with a mixture of Nutella and ricotta cheese, so it has a little bit of a cheesecake flavor! Nutella is very sweet, and the ricotta tempers it perfectly. They only need each other to be a nice balance.
And if it wasn't already clear, just dollop some jam on top. Be lazy. Totally lazy. You worked hard on everything else in this dish, so just slap on some jam.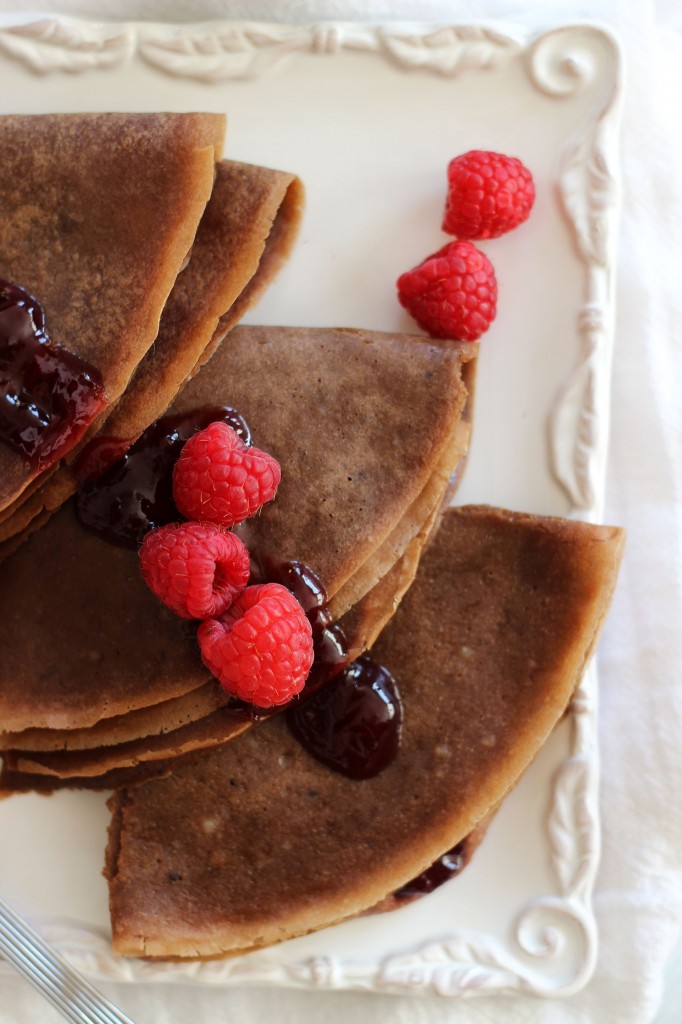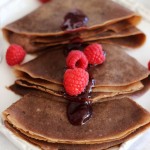 Chocolate Hazelnut Crepes with Nutella Ricotta and Raspberry Jam
Elegant chocolate hazelnut crepes are stuffed with a Nutella cheesecake filling, and drizzled with raspberry jam!
Ingredients
Chocolate Hazelnut Crepes:
4

eggs

1 1/2

c.

milk

2/3

c.

water

2

c.

flour

I used oat flour!

3

tbsp.

cocoa powder

1/2

c.

melted butter

slightly cooled

1/4

c.

sugar

1/4

c.

hazelnut liqueur

like Frangelico or 3/4 tsp. hazelnut extract
Nutella Cheesecake Filling:
1

c.

ricotta cheese

1/2

c.

Nutella
Raspberry Topping:
1/2

c.

seedless raspberry jam
Instructions
For Chocolate Hazelnut Crepes:
In a large bowl, combine all ingredients and whisk vigorously until smooth.

In a large saucepan over medium heat, pour about 1/3 - 1/2 c. batter, covering the entire bottom of the pan in a thin layer.

Cook for about 2-3 minutes, or until the top looks mostly cooked too, even before flipping. Carefully (it will be thin and delicate) flip the crepe over, and cook for about 30 seconds.

Remove crepe from the pan to a plate or platter, and continue making crepes with remaining batter. (If not serving immediately, they can be stored in the refrigerator for several days. They stack well between plastic wrap lightly greased with non-stick spray.)
For Nutella Ricotta Filling:
Combine ricotta cheese and Nutella in a food processor or blender. Pulse until smooth.

To assemble crepes, fold each crepe in half. Spoon about 2 tbsp. of Nutella mixture onto each crepe, and fold it in half again. It should resemble a triangle! If you prefer, you can roll them into tubes.

Arrange 2 or 3 crepes on a plate, per person, and drizzle 2 tbsp. of raspberry jam over each plate of crepes. Enjoy!

If desired, dust with powdered sugar.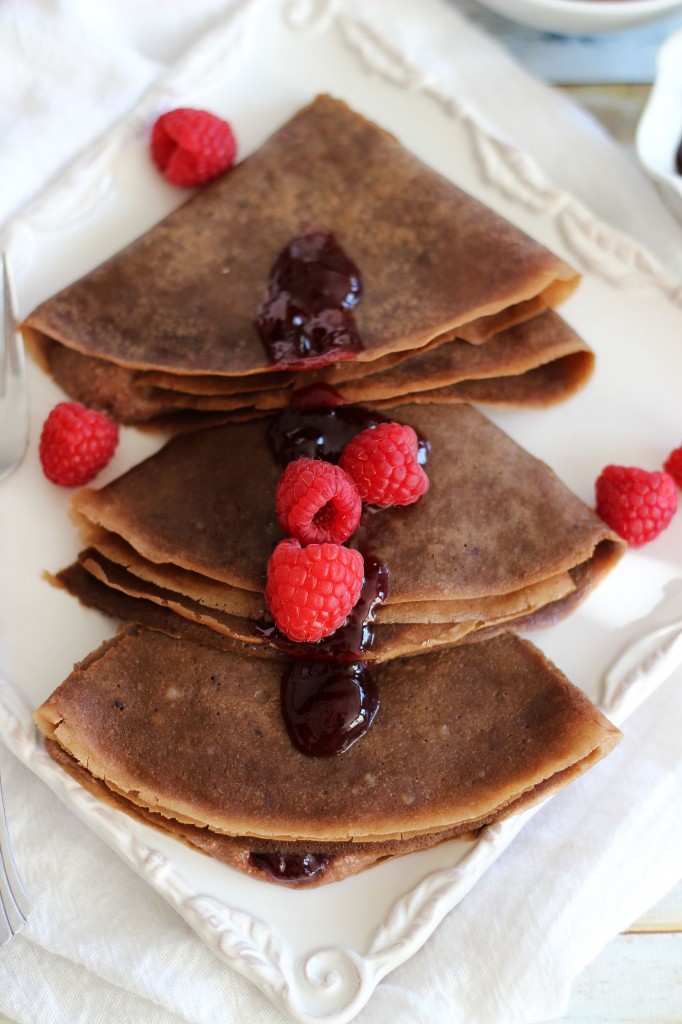 More crepes are on the way. Are you sick of them yet? Is it possible to be sick of crepes? By the way, the answer is no!!