Tender and moist scones chock-full of chocolate covered bacon, crushed espresso beans, and coffee-soaked figs.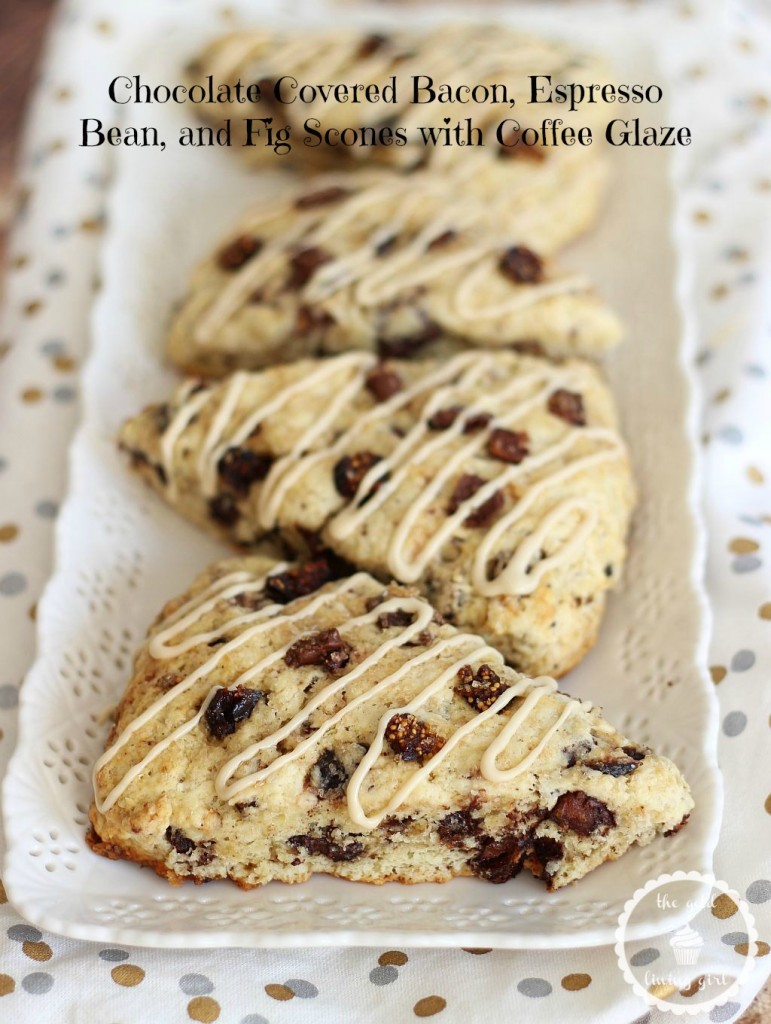 I know how these sound. I swear they just sound weirder than they are. This is one of those instances where you'll have to reaaally find it in yourself to trust me.
I have no earthly idea where this idea came from or why I thought chocolate covered bacon belonged in scones, but it happened. Why question it? Do we even want to retrace that thought process? Probably not. They exist now, and that's all we need to know.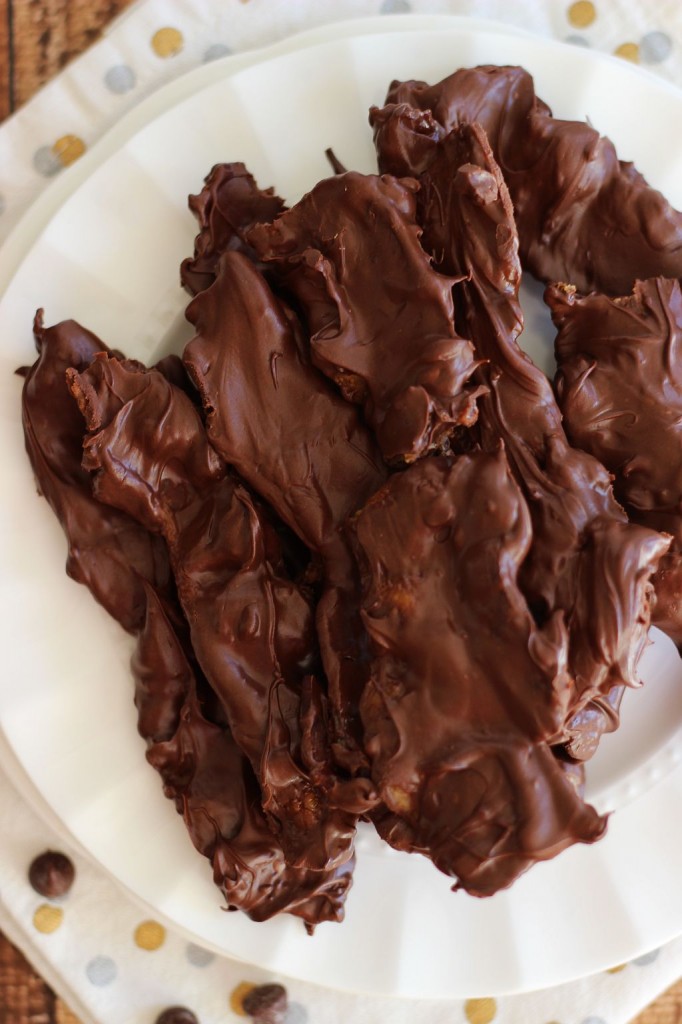 I'm sure you read the title, squinted a little in skepticism, and then thought: "Huh. Interesting." Or maybe it's optimistic of me to suggest that you could think these sound 'interesting.' Maybe you think these are not at all interesting and are just straight up weird. Too strange. Fair enough… I could see that.
Or maybe you're like me, and you saw "Chocolate Covered Bacon," stopped in your tracks, and didn't care what the rest of the title was. You've already seen the most important piece: CHOCOLATE COVERED BACON, and you were on board right from that point. That's what I was banking on when I carried out this idea. Maybe that was misplaced hopefulness!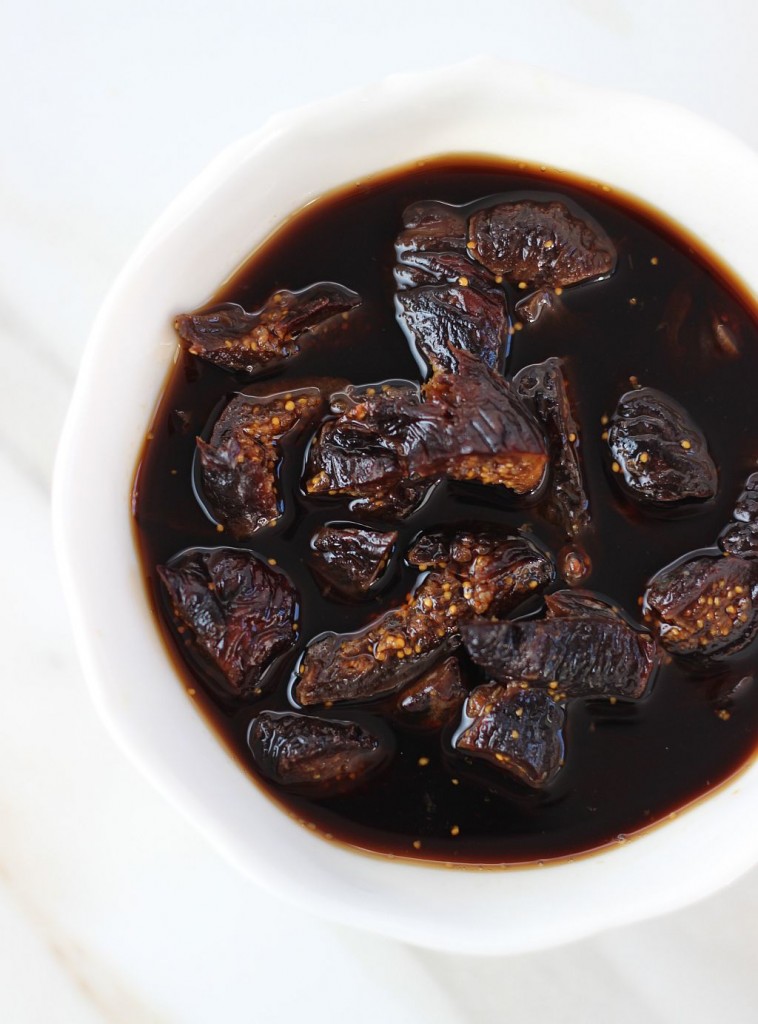 Either way, these happened and they were awesome. I love that they are off-the-wall, but that the flavors all still come together perfectly. They're a little more work than the other scone recipes I've posted on the blog that can typically be made in 30 minutes, start-to-finish. These require more prep. All worth it.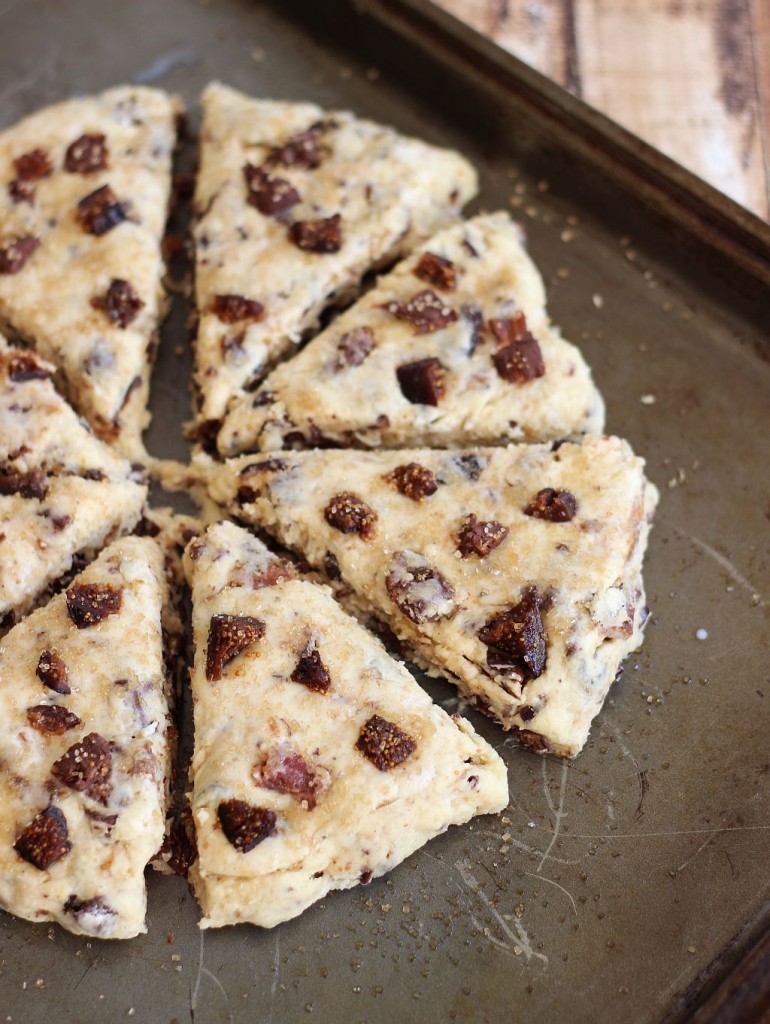 I used to think of scones as so dry and bland, but since learning to make them from scratch, I've become smitten. They're an underrated baked good, no doubt about that. When done right, scones are soft and tender in the middle, and have nice crispy edges. They're airy and flaky and moist. They're also typically very easy and versatile.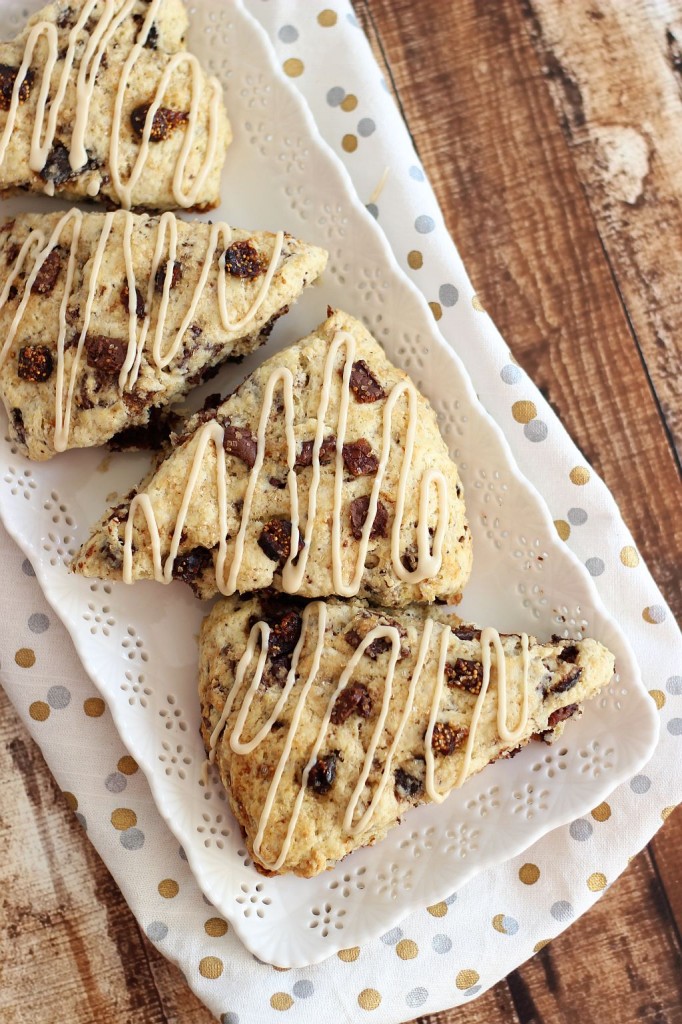 Except for these. As I hinted, these are slightly more work. You are probably wondering if the bacon really needs dunked in chocolate first. Yes, it does. I made these scones with plain cooked bacon that was not doused in chocolate, and then just added chocolate chips. It was not quite the same. Dunk the bacon in chocolate – the flavor impact is just so much better. The good thing about this step is that the dunked bacon doesn't have to look pretty! We chop it up anyway, so no need for the perfect chocolate coating… which, is pretty much impossible anyway. Bacon is all curly and stuff, ya know?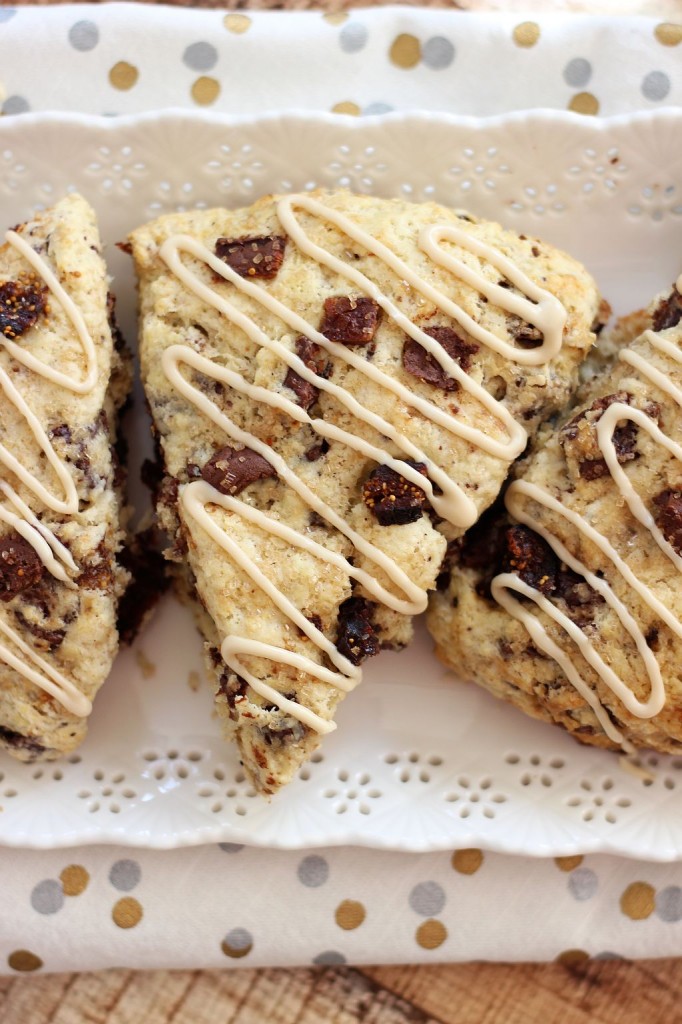 And the figs – they need to soak in the coffee. It matters. It just lends a deeper and richer flavor to the figs. The soaking doesn't require too much time, and it's idle work. Just toss the figs and coffee in a bowl, and be on your merry way to dipping bacon in chocolate. Bigger priorities. Once the prep work for the bacon and figs is out of the way, you are smooth sailing to slap these scones together.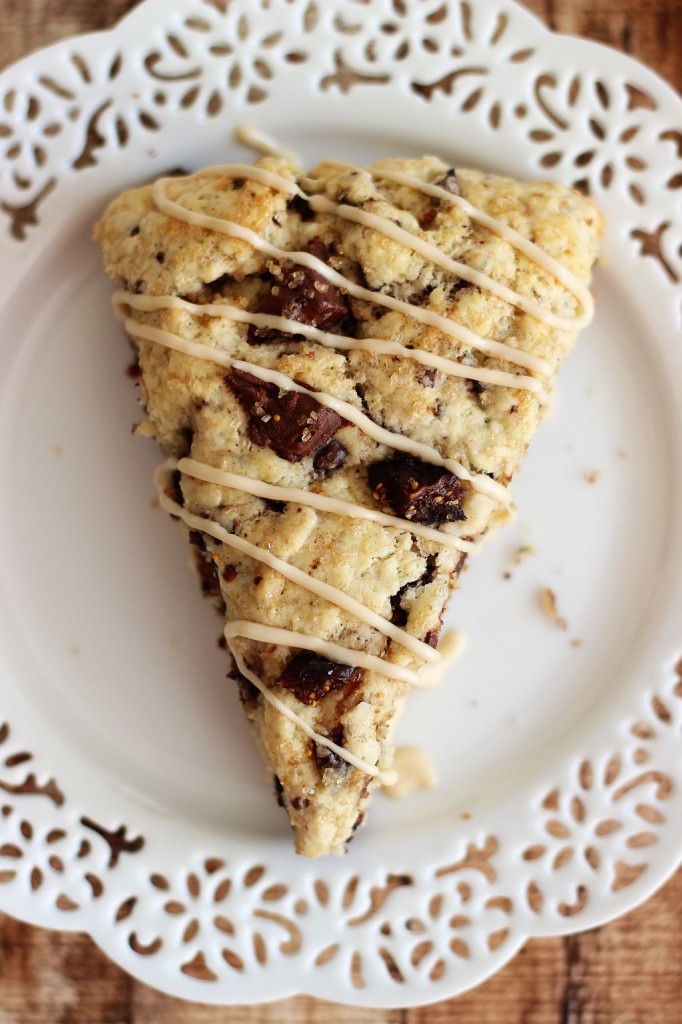 These are a very decadent and rich scone, as close to 'gourmet' as I personally know how to make something. I use the word 'gourmet' loosely here, but they had so much robust flavor from coffee, chocolate, espresso beans, figs, bacon… felt like something I could almost purchase at a fancier bakery. My favorite scone yet!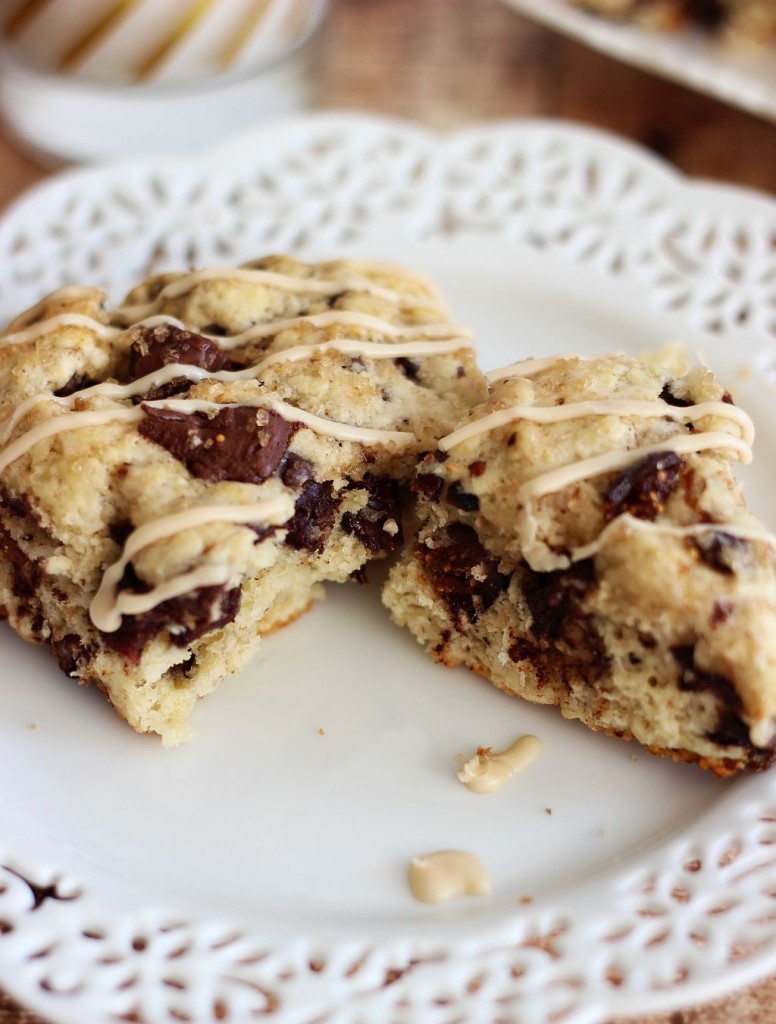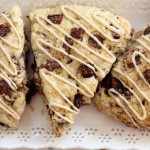 Chocolate Covered Bacon, Espresso Bean, and Fig Scones with Coffee Glaze
Scones chock-full of chocolate covered bacon, crushed espresso beans, and coffee-soaked figs.
Ingredients
Scones:
1

c.

freshly brewed hot coffee

1

c.

figs

coarsely chopped

1

c.

semi-sweet chocolate chips

2

tsp.

shortening

6

slices

thick cut bacon

cooked

2 1/2

c.

flour

3

tbsp.

sugar

1

tbsp.

baking powder

dash of salt

1/2

c.

cold unsalted butter

1/3

c.

chocolate covered espresso beans

store bought, coarsely chopped

2

eggs

lightly beaten

1/2

c.

cream or buttermilk

I've used them both interchangeably in this recipe and both yield excellent results

2

tsp.

vanilla

1-2

tbsp.

cream or milk

for brushing

2-3

tbsp.

coarse sugar

for sprinkling
Coffee Glaze:
1

c.

powdered sugar

2

tbsp.

coffee
Instructions
For scones:
In a medium bowl, combine chopped figs and coffee. Set aside, and allow to soak for at least an hour. After soaking, drain the figs thoroughly. Reserve the coffee.

Meanwhile, in a small saucepan on low heat, melt together chocolate chips and shortening. Whisk til smooth, and remove from heat.

Using tongs, dunk each piece of bacon in the melted chocolate, covering both sides. Tap off any excess chocolate, and place the bacon on a sheet of parchment paper. Allow to set - approximately 30 minutes (you can refrigerate to speed up the process).

Once the chocolate has set, chop the chocolate-covered bacon into 1/4-inch pieces.

In a large bowl, combine flour, sugar, baking powder, and salt.

Using a grater, grate the cold butter into the flour mixture. Fold butter into flour mixture until blended.

Add the figs, bacon, and espresso beans, tossing to combine well. (Mixing them into the dry scone ingredients will ensure they are evenly distributed, and will avoid over-kneading once we add the wet ingredients.)

In a small bowl, mix together eggs, cream, and vanilla.

Make a well in the center of the flour mixture, and pour the egg mixture into the well.

Mix altogether until just combined.

Turn dough out onto a lightly floured surface, and knead dough 10-12 times. Gently form it into a large ball.

Place the dough onto a well-greased baking sheet and flatten into a circle about 10-inches in diameter, and about 3/4-inch thick.

Brush the dough lightly with cream and sprinkle evenly with coarse sugar.

Using a long knife, cut into 8 wedges.

Carefully separate wedges on baking sheet, pulling them just slightly apart.

Bake at 400 degrees for 16-20 minutes, or until edges are golden brown.

Cool completely on wire racks.
For glaze:
In a small bowl, whisk together powdered sugar and coffee.

Drizzle over cooled scones. Enjoy!
Hey, don't knock 'em til you try 'em. 🙂