A pound cake made with brown butter, dark rum, and shredded coconut! It's beyond rich, but lightened up with fresh pineapple sauce! The ultimate tropical dessert!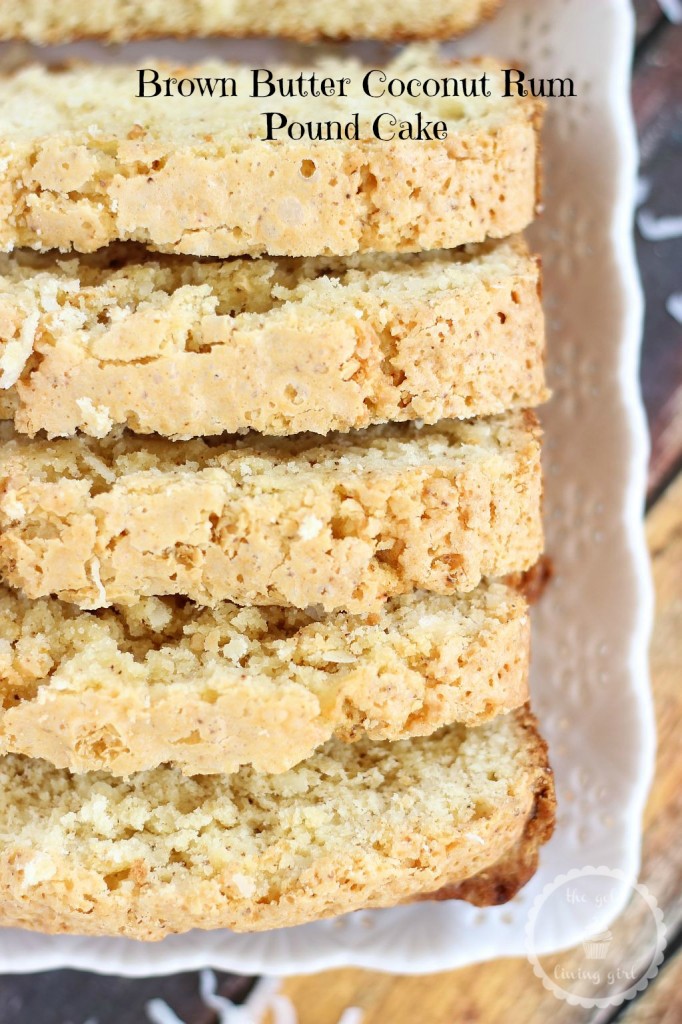 I can't tell you how good it tastes to combine brown butter, rum, and coconut in one delightfully dense, buttery, rich, and, ahem, highly-caloric cake. So you're going to have to make this. Stat. Words won't be able to describe it with enough oomph. Not my words anyway. I am not so good with the describing of things. See?
There is not getting around the fact that this cake is a big ol' calorie bomb. Hi, it's a pound cake. BUT, it lives up to the splurge-worthiness.
I don't eat just any sweets and desserts. I could, but I try to be selective. I really try (operative word: try) to only eat the desserts and indulgences that are totally worth it. I take a bite or two of something, and if I decide that it's completely delicious and wonderful, then I'll keep going. If it's just okay and it's not totally satisfying, then I don't keep eating…. usually. We all have our moments. I attempt to save my "cheats" for things that are truly worth it.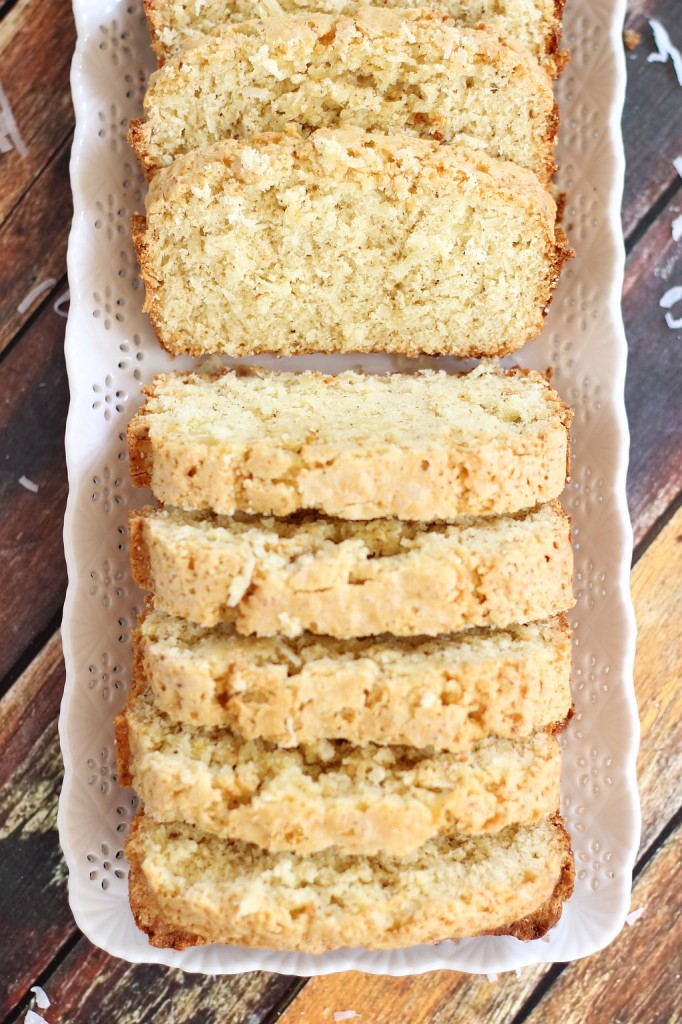 This is SO worth it. I made this twice in a week because it disappeared in about 3 days the first time around. Something about the nutty, caramel-y, and buttery flavors of brown butter (aka nectar of the gods) and dark rum, and the tropical flavors of the coconut all blend together so beautifully. They make an amazing trio. This cake is perfect all by itself. I mean, PERFECT. It doesn't need anything – nothing at all.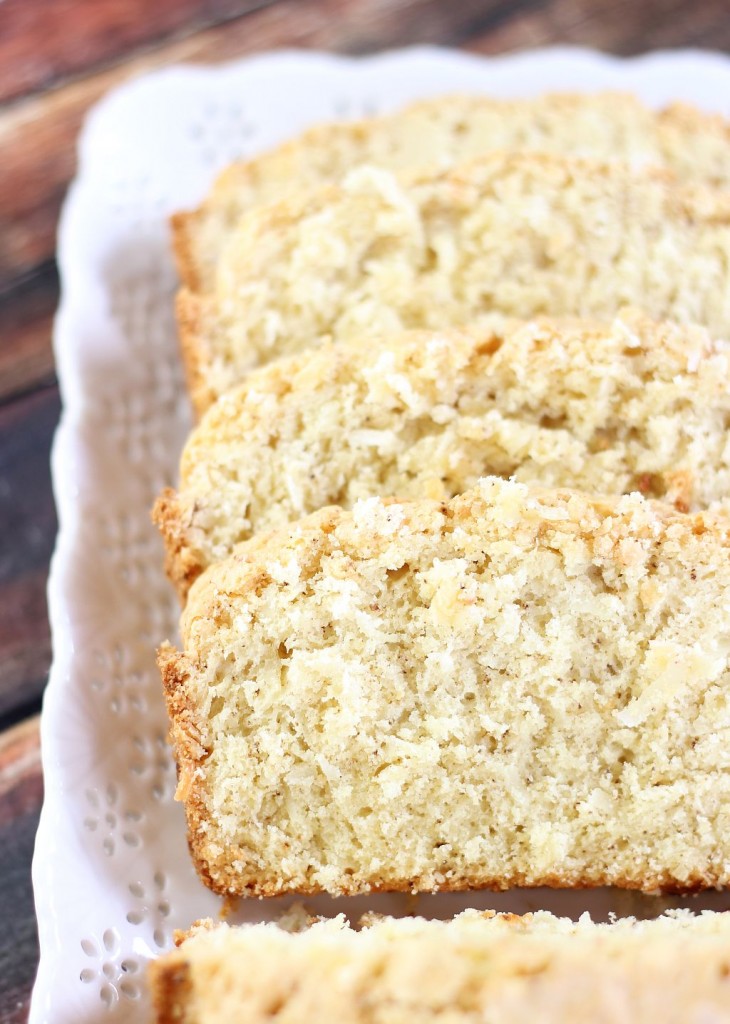 However, I've been on a pineapple bender lately, and since this cake is very tropical, it seemed only natural to top it with an easy pineapple sauce. You can just throw some fresh pineapple on top and that is plenty of effort. If you want to kick things up a notch, it only takes a few more minutes to caramelize the pineapple with just a little butter and brown sugar. Oh yes. That is how we do.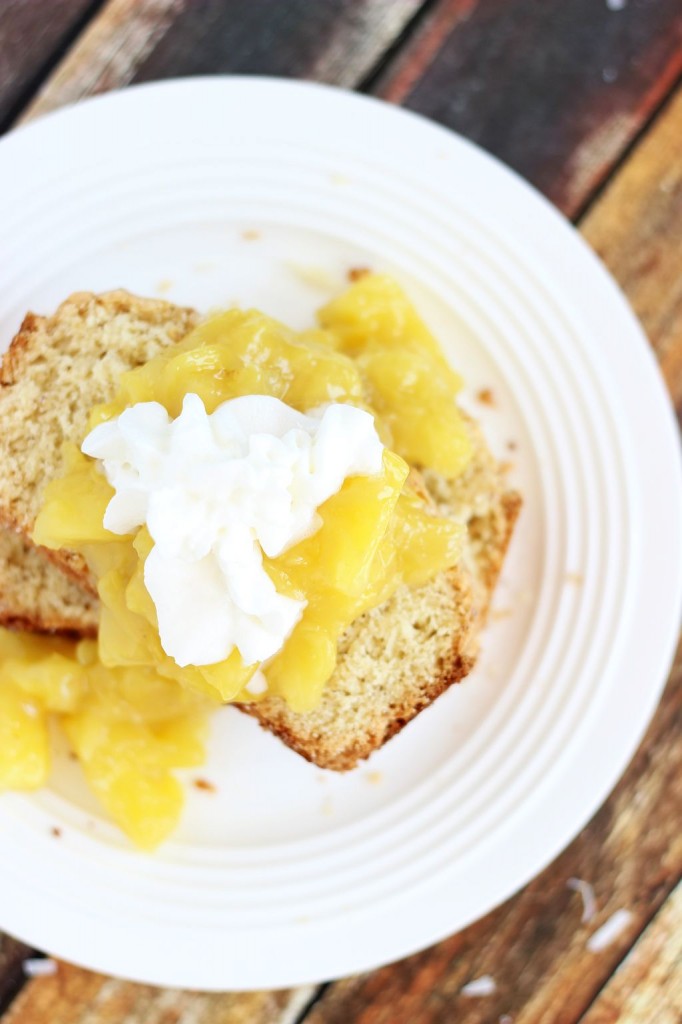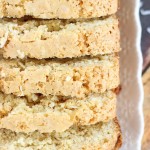 Brown Butter Coconut Rum Pound Cake with Pineapple Sauce
A pound cake made with brown butter, dark rum, and shredded coconut, and topped with fresh pineapple sauce!
Total Time
1
hour
5
minutes
Ingredients
For Pound Cake:
1 1/2

c.

cake flour

1

tsp.

baking powder

1/2

tsp.

salt

1

c.

unsalted butter

1 1/4

c.

sugar

1/4

c.

dark rum

4

large eggs

room temperature

1

tsp.

vanilla extract

1/2

tsp.

rum extract

3/4

c.

shredded coconut
For Pineapple Sauce:
2

c.

chopped fresh pineapple

2

tbsp.

butter

3

tbsp.

packed brown sugar
Instructions
For pound cake:
Grease and flour a 9x5-inch loaf pan.

In a medium bowl, combine cake flour, baking powder, and salt. Whisk until blended.

In a small saucepan over medium heat, melt the butter.

Continue cooking the butter until it turns golden brown and forms brown flecks, about 6-8 minutes. Stir frequently to prevent burning on the bottom.

Remove the butter from heat, set aside, and allow to cool for about 10 minutes.

In a large mixing bowl, combine sugar, dark rum, eggs, and extracts, beating until well-blended.

With the mixer running on low, add the melted butter in a slow and steady stream.

Add the flour mixture to the mixing bowl, and beat until just combined.

Fold in the shredded coconut.

Pour batter into prepared pan and level with a rubber spatula.

Bake at 350 degrees for 15 minutes, then reduce oven temperature to 325 degrees, and continue baking for about 40-45 minutes, or until the top is golden brown and a toothpick inserted near the center comes out clean.

Cool in pan for 10 minutes, then turn cake out onto a wire rack to cool completely.
For sauce:
Reusing the same saucepan that you used to brown the butter, combine the pineapple, butter, and brown sugar over medium-high heat.

Cook for 5-7 minutes, tossing occasionally to coat the pineapple, until it's golden brown. You want the heat to be on the higher side because the pineapple will shed some liquid as it cooks, and we want that liquid to burn off so that the sauce isn't too liquidy.

Slice the pound cake into 3/4-inch slices, and serve with pineapple sauce on top!