Perfectly spiced soft and chewy Carrot Cake Cookies, chock-full of coconut, walnuts, and oats, sandwiched with rum-spiked cream cheese buttercream! These Carrot Cake Whoopie Pies are perfect for Easter or springtime!
To easily view all the blog recipes, follow along on Pinterest!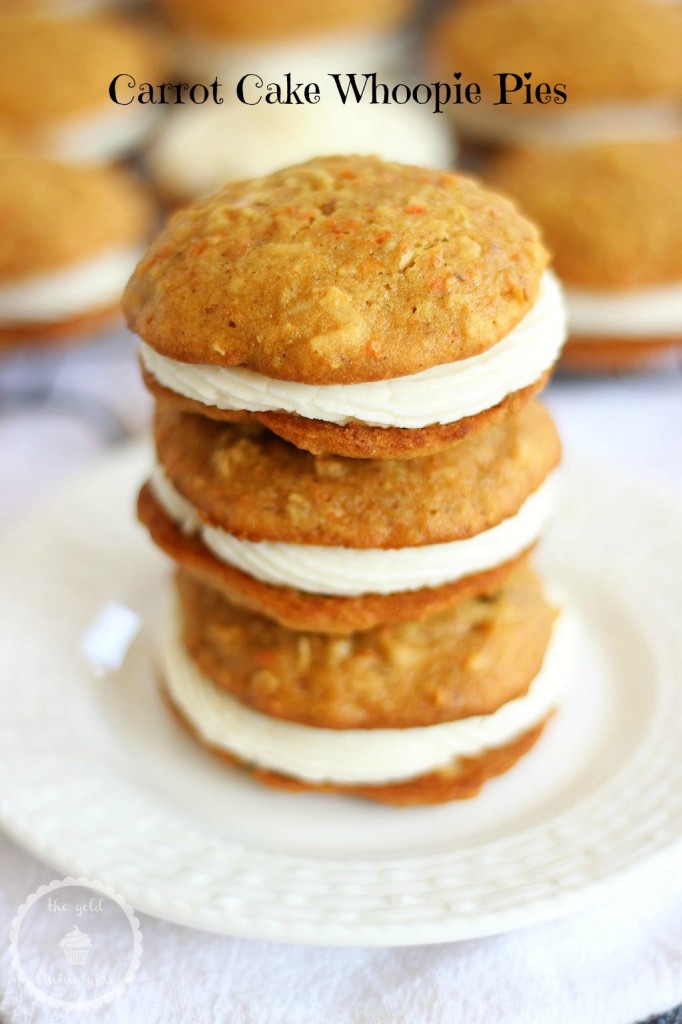 I think these Carrot Cake Whoopie Pies probably would've been good to know about a few days ago before Easter, but if you haven't already picked up on this, I suck at staying on top of things.
Carrot cake recipes are still "springy," or at least that's what I'm going with. Otherwise, I have to save 2 or 3 more carrot cake-themed desserts til next year. I don't think we want to see that happen, do we? I hope not.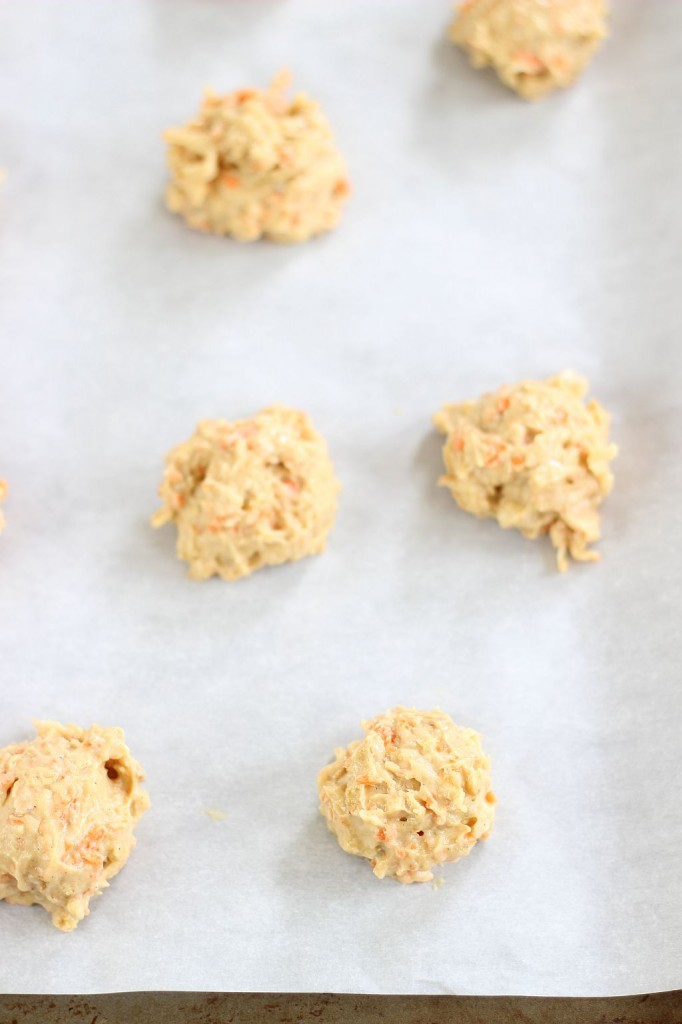 Fall is my favorite season, for sure. Spring is a close second though. Spring used to be my least favorite season when I lived up north, but here in Florida, spring is perfect! Up north, you expect that it will start to get warm and be sunny outside, but instead it stays cold longer than you anticipate and just seems rainy, dreary, and mucky.
Here? It's sunny and temperate every day. I'm sure my northerner friends are thrilled to hear me drone on about this.
Anyway, I've been baking up a storm on the weekends, opening up lots of windows, letting the sunshine and fresh air pour in, playing oldies music, and letting pies cool on the windowsill. Everything except the last part. I don't really make many pies. Pie crusts = PITA.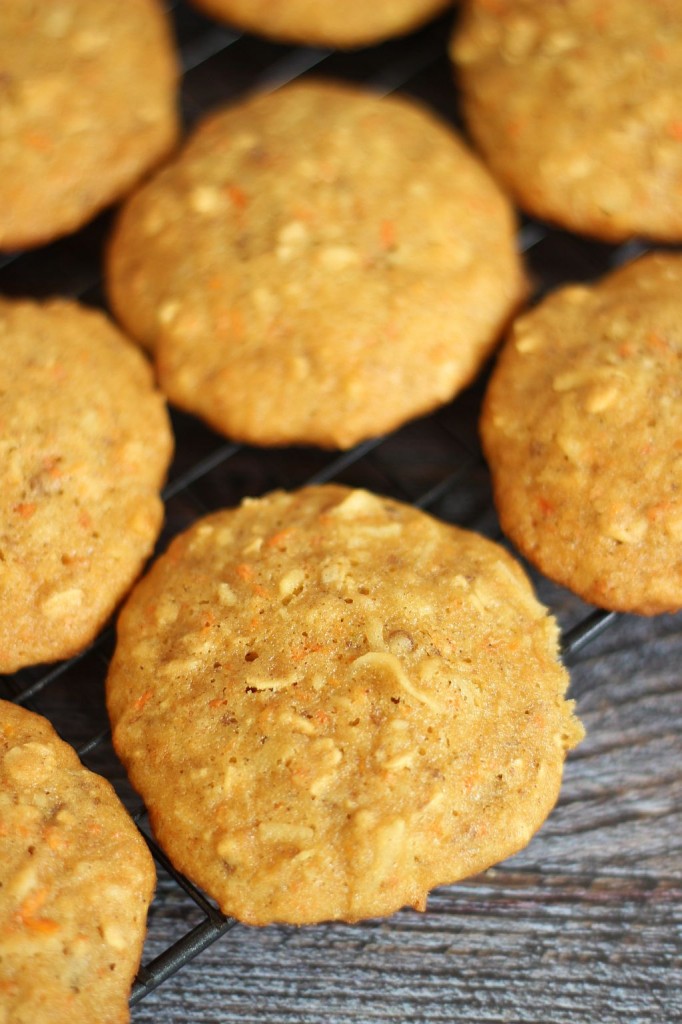 Something about summer-like weather gets me in the mood for oldies music, much to my S.O.'s chagrin. Lol.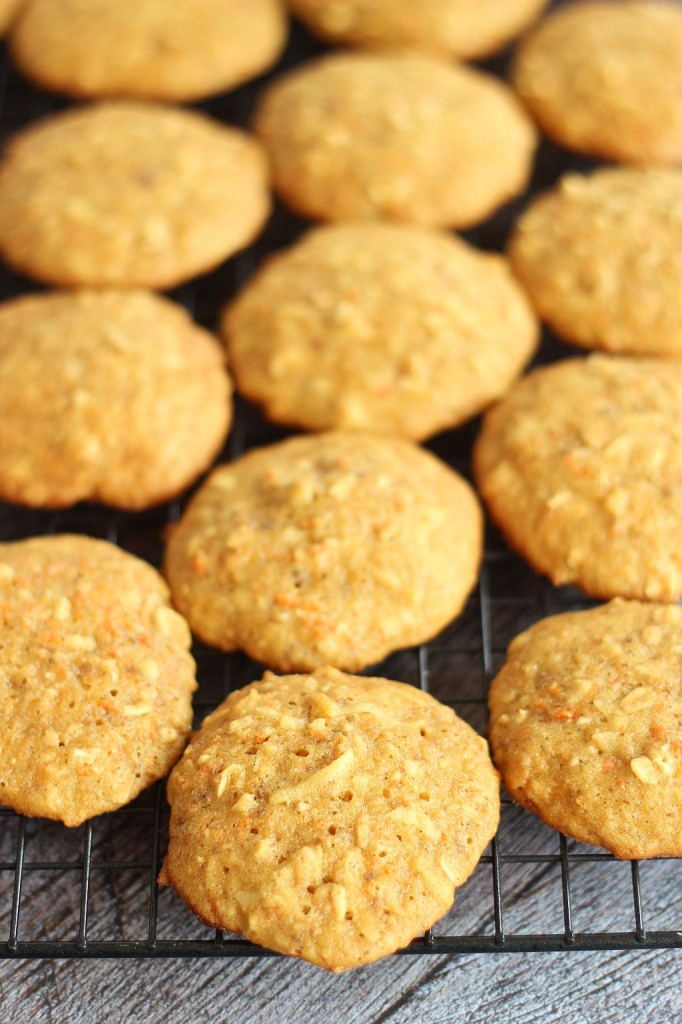 My weekend baking ritual has been really lovely and lately I feel like I've been 'in the zone'. Some days of bulk-baking go better than others. Lately, the number of recipe successes has been outnumbering the failures quite a bit, and I hope to keep this groove going.
I'm inclined to thank the Malt Shop Oldies, '60s Revolution, and Retro Disco (isn't that name redundant?) DirectTV channels for some of this mojo. They just keep me going during a long day of baking.
A recent favorite out of the kitchen was these Carrot Cake Whoopie Pies. These cookies are some of the softest and chewiest cookies I've ever had. They are perfectly spiced with lots of walnuts, coconut, and grated carrot to give that perfect carrot cake flavor. Carrot cake in a cookie.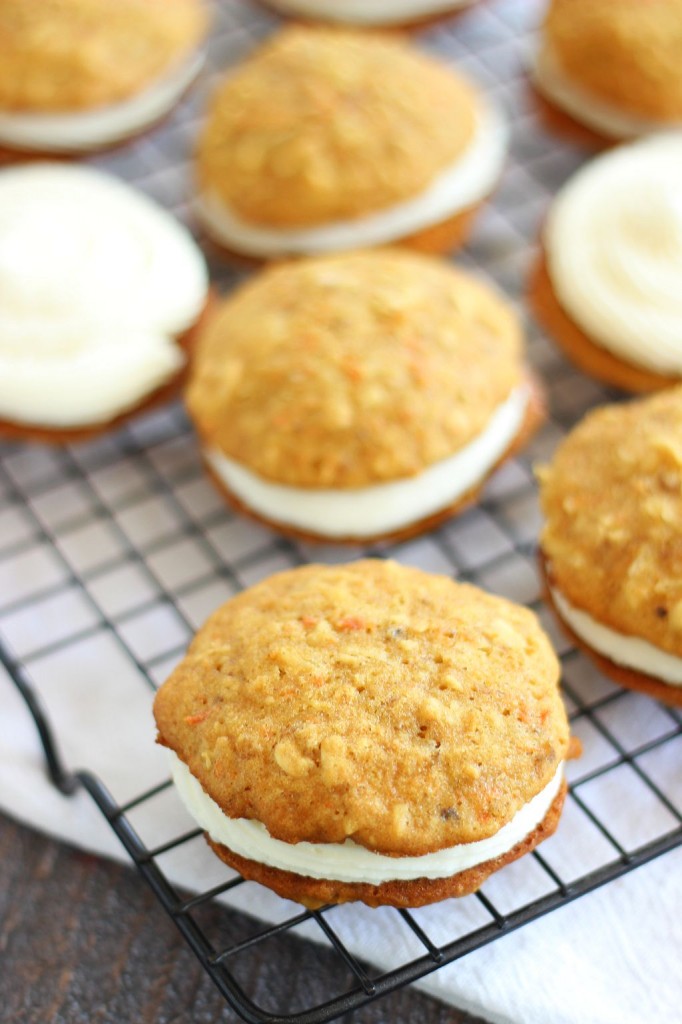 It wouldn't be a carrot cake recipe without cream cheese frosting. This is certainly nothing new, but after countless batches of cream cheese frosting in my lifetime, I have discovered that a little rum goes a long way toward giving cream cheese frosting a special flavor.
It's the frosting that I use on my favorite Banana Rum Cake, and it gives a little extra dimension by way of some warm, buttery, brown sugar-like notes.
So, while carrot cake and cream cheese frosting together are not original, two ultra-moist and chewy carrot cake cookies with rum cream cheese frosting sandwiched in between is definitely special! These Carrot Cake Whoopie Pies are so delectable and must-make.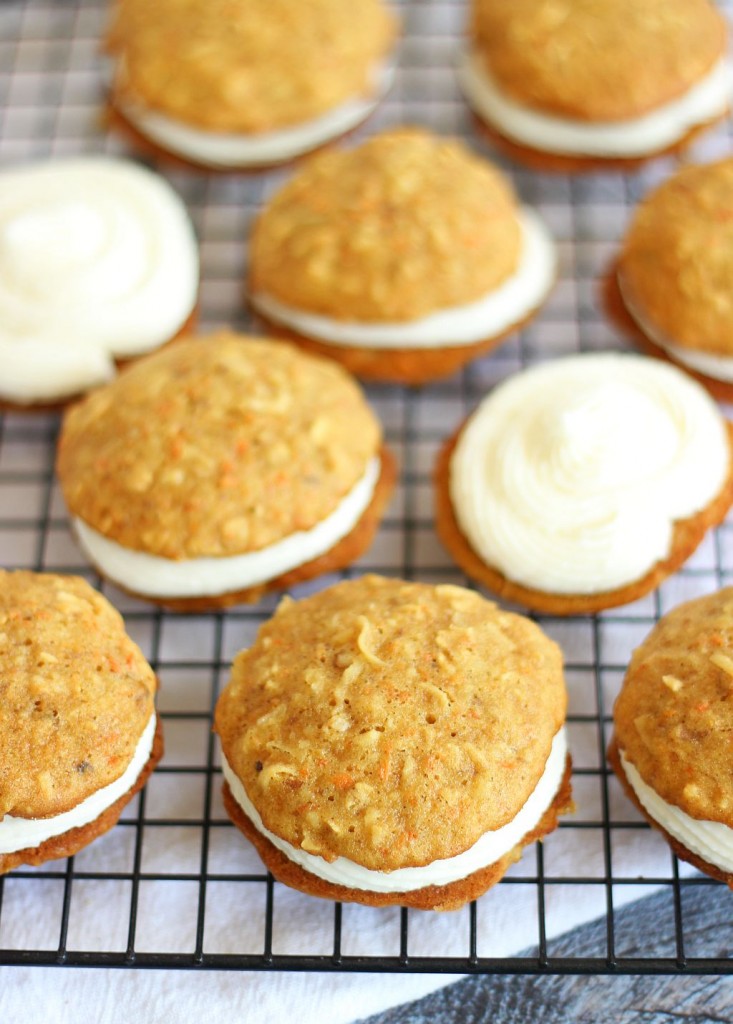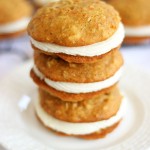 Carrot Cake Whoopie Pies with Cream Cheese Buttercream
Perfectly spiced carrot cake cookies with coconut and walnuts, filled with cream cheese frosting!
Ingredients
Carrot Cake Cookies:
1

c.

unsalted butter

softened

1

c.

packed brown sugar

1

c.

granulated sugar

1/4

tsp.

salt

1

tsp.

vanilla

2

eggs

2

c.

all-purpose flour

1

tsp.

baking soda

1

tsp.

baking powder

1

tsp.

ground cinnamon

1

c.

old-fashioned oats

1

c.

shredded coconut

1 1/2

c.

finely grated carrots

3/4

c.

chopped walnuts
Cream Cheese Buttercream:
8

oz.

reduced fat cream cheese

softened

4

tbsp.

butter

softened

1

lb.

powdered sugar

2

tbsp.

dark rum
Instructions
For cookies:
In a large mixing bowl, combine the butter, sugars, salt, and vanilla on low speed until light and fluffy.

Add the eggs one at a time, mixing well after each addition.

In a large bowl, combine the flour, baking soda, baking powder, and cinnamon.

Add the flour mixture to the mixing bowl, and beat on low until just combined.

Fold in the oats, coconut, carrots, and walnuts.

Chill dough for at least 30 minutes.

Drop by tablespoonfuls onto parchment paper-lined baking sheets, about 2 inches apart.

Bake at 350 degrees for 12 to 14 minutes, or until the tops feel set when you tap them with your finger. Edges will be golden brown.

Allow the cookies to cool for 1-2 minutes on the baking sheets before removing to a wire rack to cool completely.

Once completely cooled, assemble the whoopie pies.
For buttercream:
In a large mixing bowl, combine all frosting ingredients, and beat until light and fluffy.

Spread buttercream onto the bottom of a cookie, and top it with another cookie, forming a sandwich. EAT. 🙂
Some of the other carrot cake recipes on the blog, if you're interested, are this Chocolate Carrot Cake and Pumpkin Carrot Cake. Those carrot cake recipes are both completely excellent. I love the fresh spin on classic carrot cake in both those recipes.
My #1 Easter recipe, not related to carrot cake, but if you're looking for Easter recipes, check out these Easter Chicks Lemon Cookies or Easter Chick Cookies. They're a little different from each other, but generally both are lemon cake mix cookies decorated easily as adorable chicks!!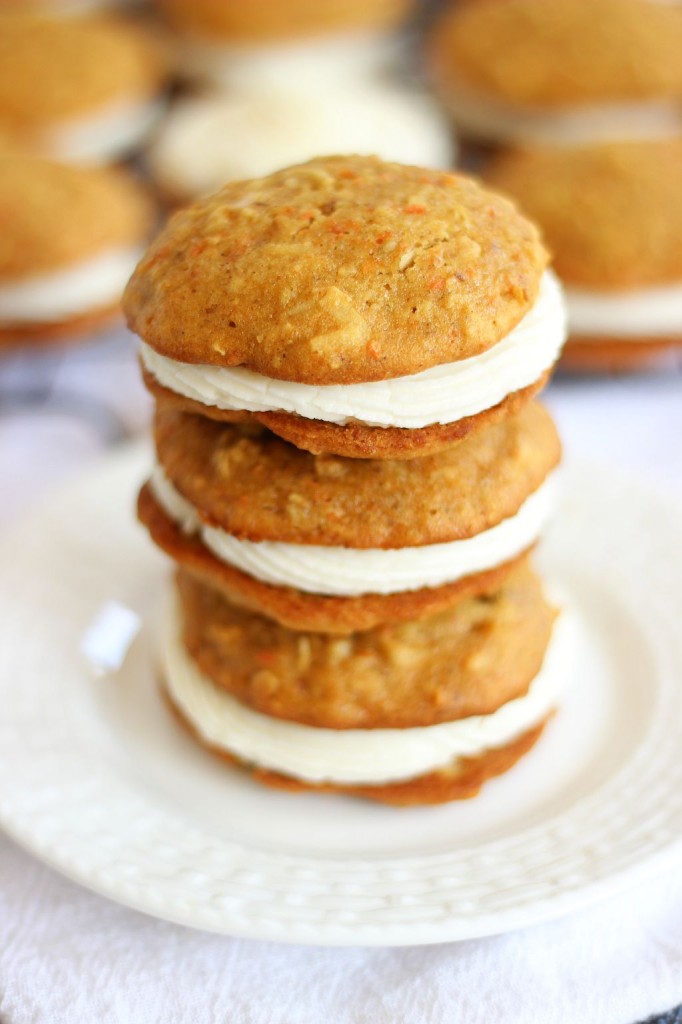 Cookies adapted from Cooking Channel.