Fluffy buttermilk pancakes with crispy bits of bacon, and topped with buttery, and brown sugary caramelized apples.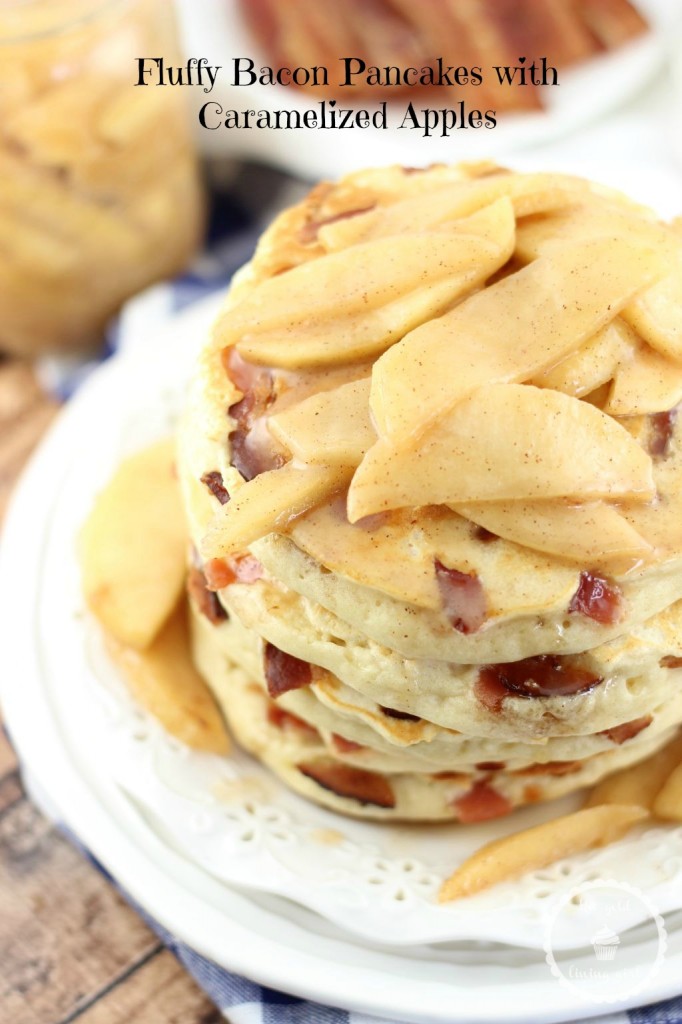 Last fall, I attempted to make a honey apple cornbread. It was disgusting. I won't go into detail because I'm trying to whet your appetite here, but just trust me when I tell you it was really, really bad.
A few months later, I saw a recipe for a caramelized apple cake. I hadn't considered caramelizing the apples prior to baking, but that might be the solution I was looking for to fix my cornbread. Honestly, I haven't gotten so far as to retry the cornbread yet. I'm waiting for fall to roll around.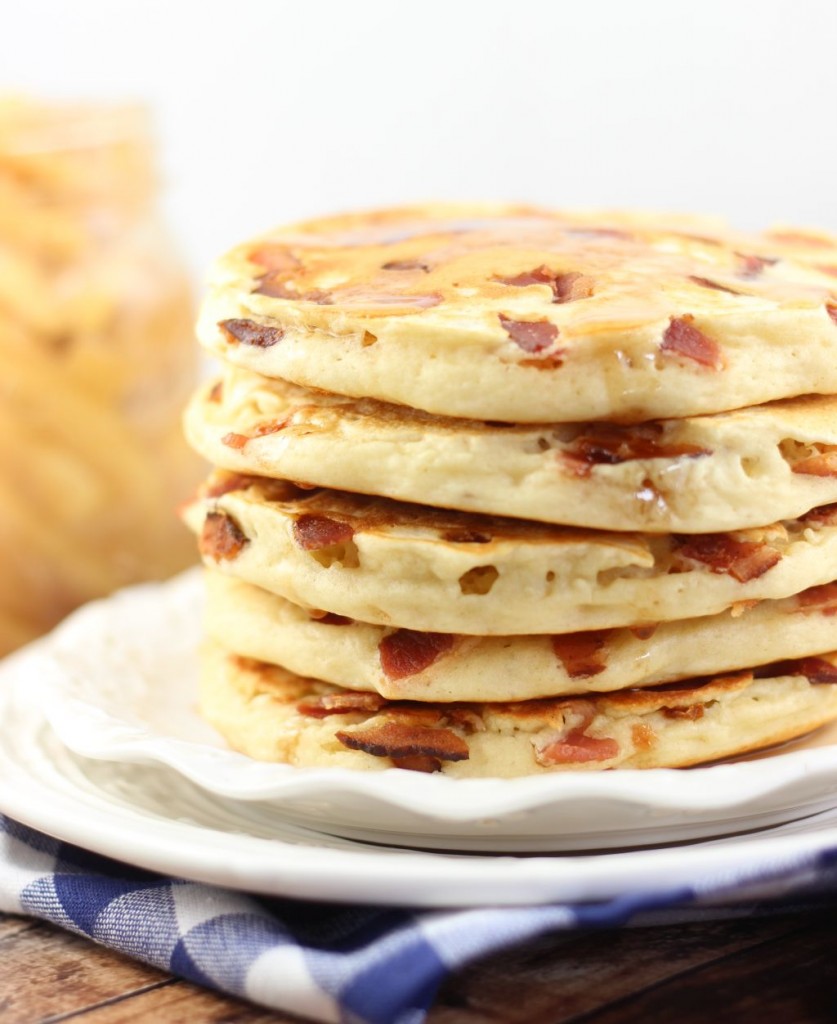 In the meantime though, I've been caramelizing the heck out of lots of fruit lately, especially apples, and I'm firmly a believer in the concept of sautéing fruit in lots of butter and brown sugar. I guess I already knew I was a fan of this when it comes to fruits like peaches, pineapple, and even cranberries, but apples weren't really on my radar.
I had the idea recently that I wanted to make bacon pancakes, and because I was already on a caramelized apple kick, it seemed pretty natural to put the two together.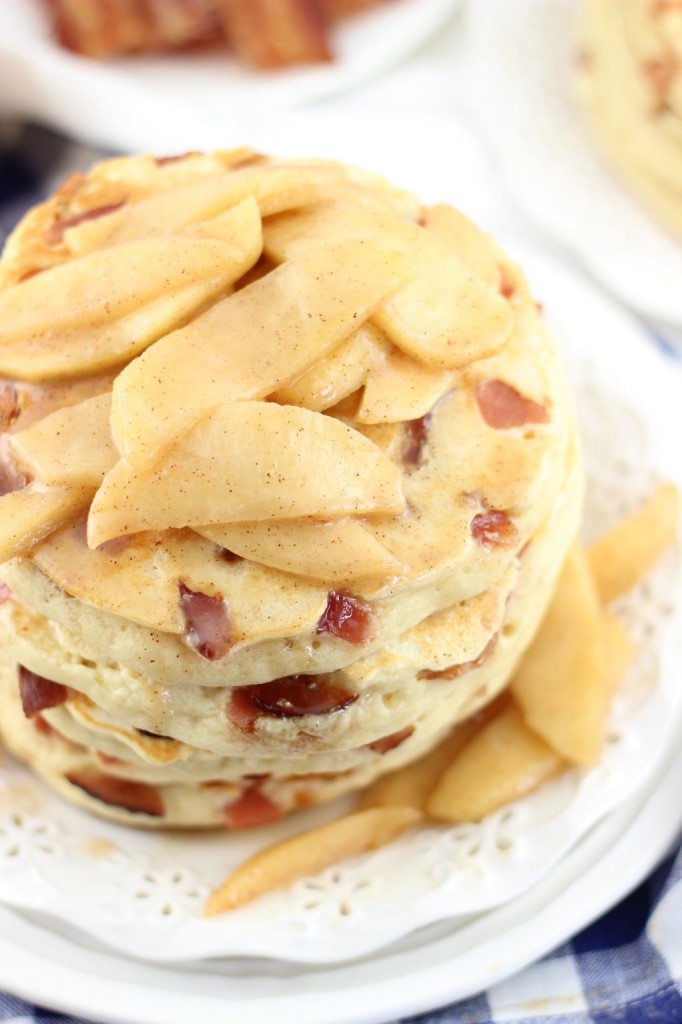 I used the America's Test Kitchen recipe for buttermilk pancakes because, well, that recipe is obviously very tried-and-true, and it does seem to produce the fluffiest and most tender pancakes I've experienced. When I dropped the batter into the griddle, just scatter a crumbled piece of bacon all over the top of each pancake. An entire slice of bacon per pancake, minimum. Don't be stingy. Add more if you like, but you definitely need a whole slice per pancake. YOLO.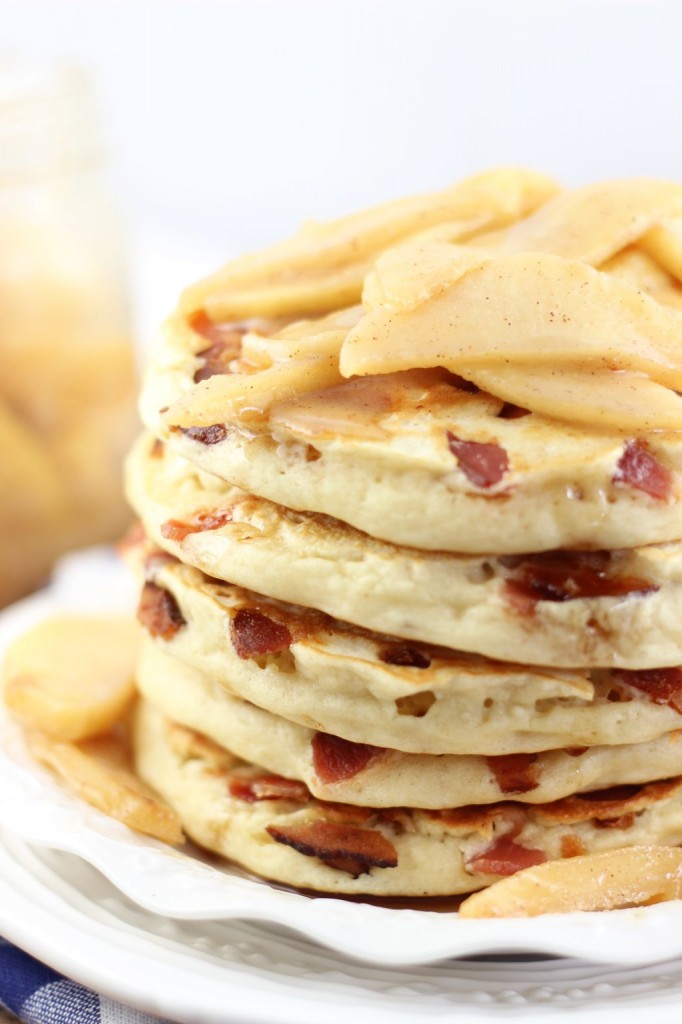 Once the pancakes are bubbly on top and all golden on the bottom, give 'em a quick flip, plate them, and then spoon a big scoop of gooey, sugary, and cinnamon-y caramelized apples on top.
Of course, don't forget the maple syrup. It brings it all together.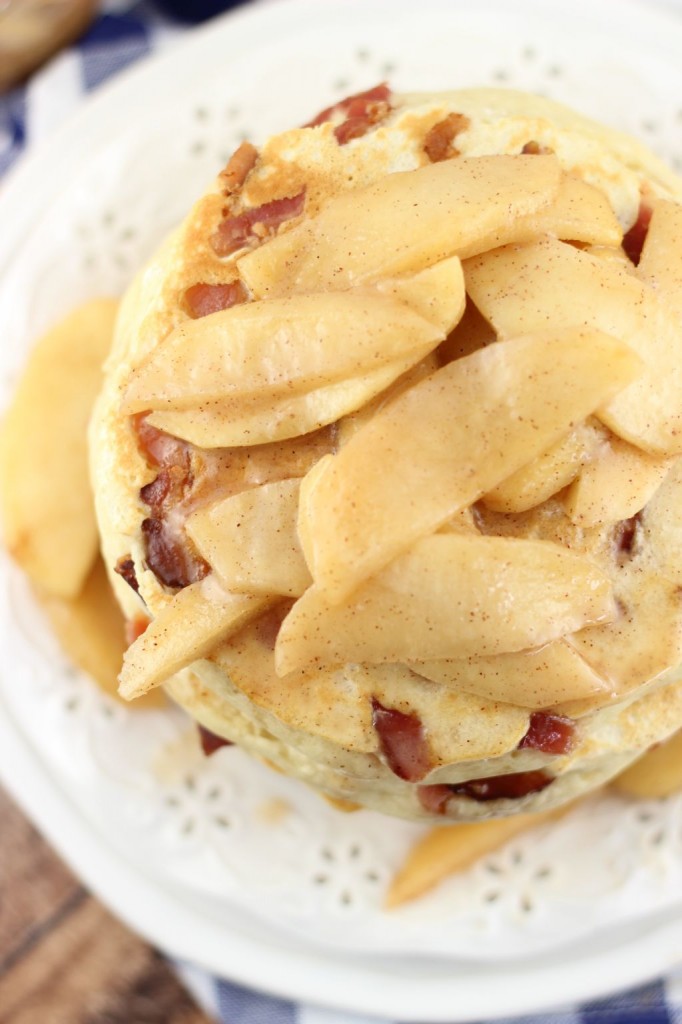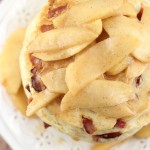 Bacon Pancakes with Caramelized Apples
Fluffy pancakes with crispy bits of bacon, and topped with buttery, and brown sugary caramelized apples.
Ingredients
For Caramelized Apples:
4

large Pink Lady apples

or similar, peeled and sliced

6

tbsp.

unsalted butter

1/3

c.

brown sugar

1/2

tsp.

cinnamon
For Bacon Pancakes:
2

c.

flour

2

tbsp.

sugar

2

tsp.

baking powder

1/2

tsp.

baking soda

1/2

tsp.

salt

2

c.

buttermilk

or sour milk

3

tbsp.

unsalted butter

melted and cooled

1

large egg

10

slices

bacon

fried and crumbled

maple syrup
Instructions
For apples:
Combine apples, butter, brown sugar, and cinnamon in a large saucepan over medium heat.

Bring the apples to a simmer, stirring occasionally.

Cook for about 10 minutes, or until apples are soft, but not soggy.
For pancakes:
In a large bowl, combine flour, sugar, baking powder, baking soda, and salt.

In another bowl, whisk together buttermilk, melted butter, and egg.

Add the wet ingredients to the dry ingredients, and stir together until just combined. Do not overmix. Lumpy batter is okay.

Heat a nonstick skillet over medium heat and add oil or butter in a very thin layer.

Drop pancakes by 1/4-1/3 c. batter and cook until edges are set and bubbles appear on the surface, 2-3 minutes.

Flip pancakes and cook until golden brown on both sides.

Repeat with remaining batter.

Serve immediately with the caramelized apples and maple syrup.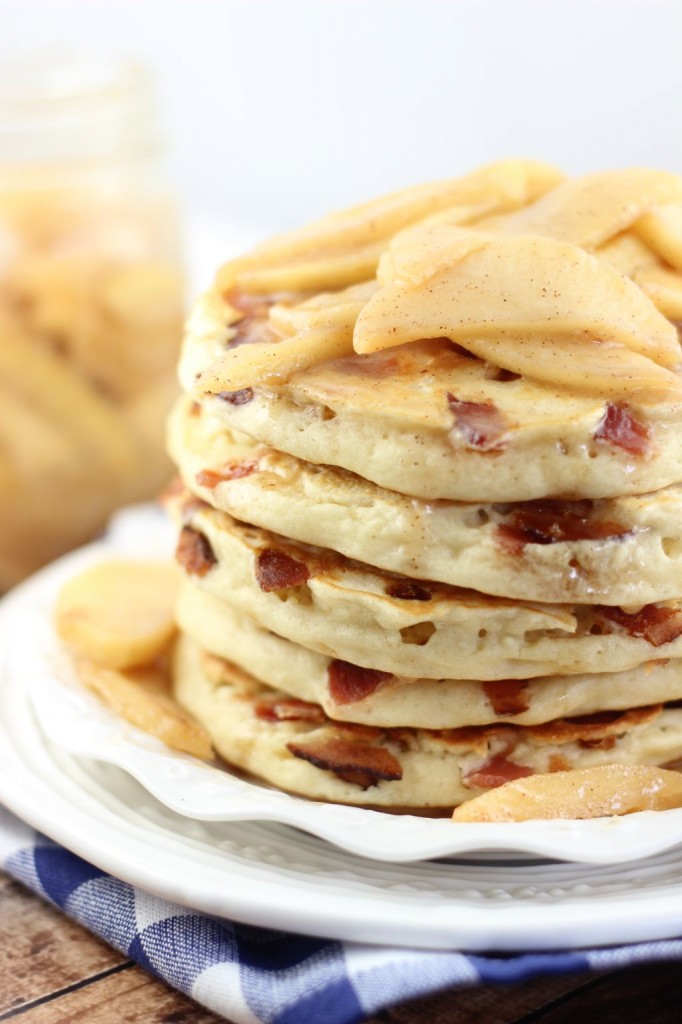 I think this is probably a recipe that's also perfect for making in the fall. I know it's May, but I can start looking forward to my favorite season now, right? As we head into summer in FL, a time of year we must endure and not look forward to – like winter for my northern friends, I am already dreaming of September…