Tender and moist scones bursting with candied pistachios, apricots, and orange juice-soaked figs! Fresh scones are surprisingly simple and quick to make!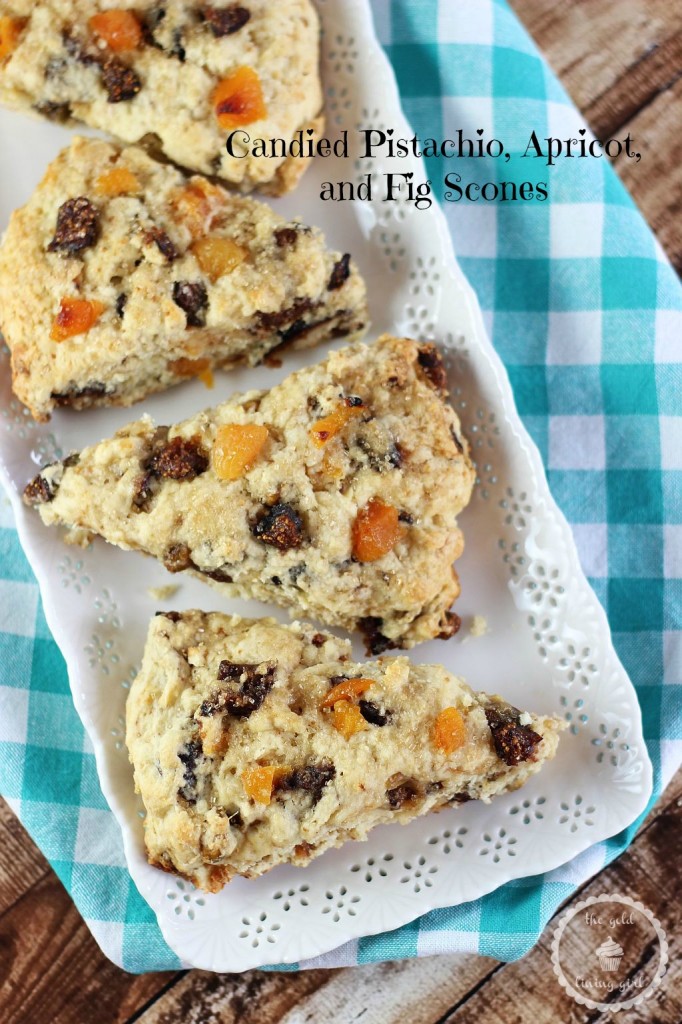 I have not posted a scone recipe in nearly three months, and seeing as though I'm getting the craving for more again, I thought I should get these posted and out of the way. They'll be happening again very soon, and I don't want to bore you with lack of variety. Too late?
Also, I made these in JANUARY. I remember thinking they would be good to share around EASTER!!! Then Easter came and went, so I thought: okay, we'll go with Mother's Day as a brunch idea. That holiday is also long gone.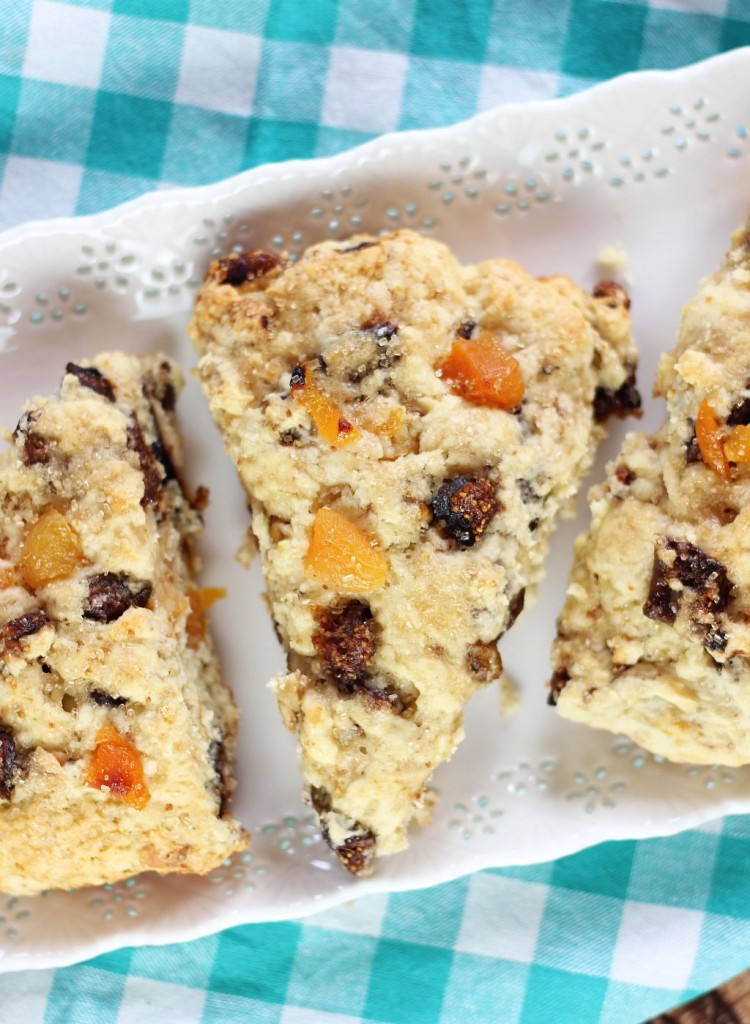 I *know* that with the arrival of June, you have scones on the brain. Summer and scones go hand in hand, don't you think? Just smile and nod at the crazy lady, and maybe I'll go away. Okay, I'll go away, but FIRST….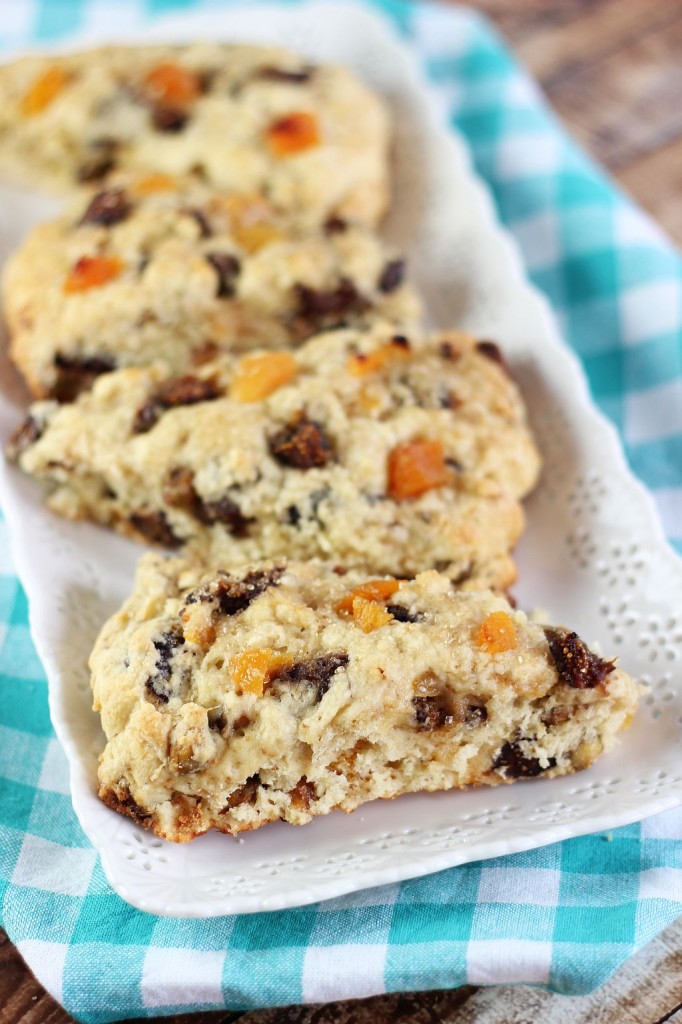 If you still haven't tried making scones from scratch, you really should. You'll love the satisfaction of fresh baked goods in 30 minutes, start-to-finish. They're so quick to have fresh from the oven, and it's so gratifying to enjoy the fruits of your labor so quickly. And homemade scones are incomparable to any scone you can buy. This recipe is my favorite and I use it over and over again – they always turn out moist, flavorful, buttery, and tender inside with crispy edges. Perfection.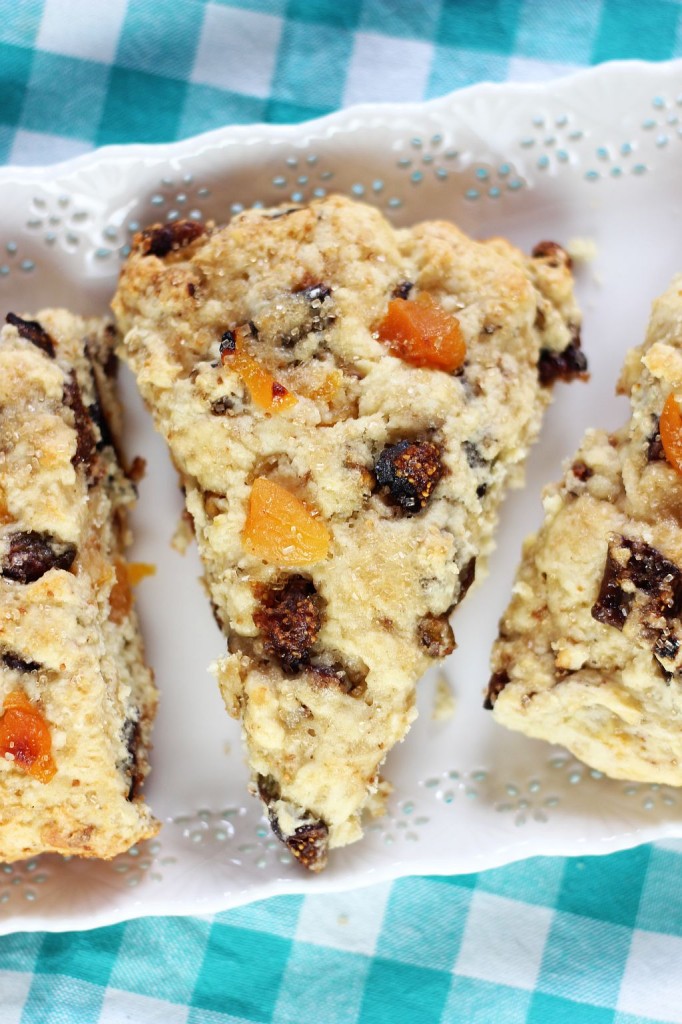 I love figs and had a month-long obsession with them at the beginning of the year. Dried figs are delicious as is, but even better when soaked and plumped up by coffee or OJ or even bourbon. Something that provides a complementary flavor… OJ, in this case. These scones take a leeeeetle longer to make, technically, because you have to soak the figs, but that's just idle time. With plump and sweet dried apricots, candied pistachios, and orange juice-soaked figs, these tender scones are perfect for a spring brunch.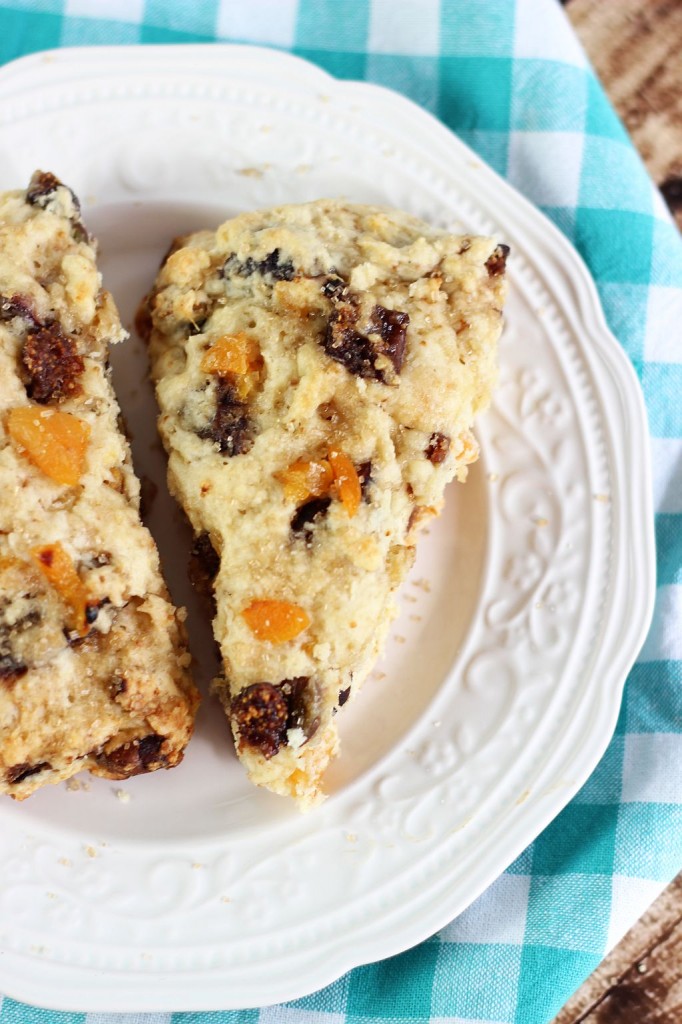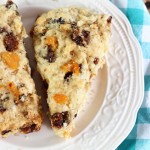 Pistachio, Apricot, and Fig Scones
Tender and moist scones bursting with candied pistachios, apricots, and orange juice-soaked figs!
Ingredients
1

c.

orange juice

1

c.

figs

coarsely chopped

2

tbsp.

brown sugar

1

tbsp.

water

1/2

c.

pistachios

2 1/2

c.

flour

3

tbsp.

sugar

1

tbsp.

baking powder

dash of salt

1/2

c.

cold unsalted butter

1

c.

apricots

chopped

2

eggs

lightly beaten

1/2

c.

cream or buttermilk

I've used them both interchangeably in this recipe and both yield excellent results

2

tsp.

vanilla

1-2

tbsp.

cream or milk

for brushing

2-3

tbsp.

coarse sugar

for sprinkling
Instructions
In a medium bowl, combine chopped figs and orange juice. Set aside, and allow to soak for at least an hour. After soaking, drain the figs thoroughly. (Discard the OJ or you can use it for a quick glaze!)

Meanwhile, in a small bowl, combine brown sugar and water. Stir until sugar is dissolved.

Add pistachios, and toss to coat.

Spread pistachios on a well-greased baking sheet, and bake at 350 degrees for 5-7 minutes, or until they're golden and toasted.

Allow pistachios to cool completely. Coarsely chop them, and set aside.

In a large bowl, combine flour, sugar, baking powder, and salt.

Using a grater, grate the cold butter into the flour mixture. Fold butter into flour mixture until blended.

Add the figs, pistachios, and apricots, tossing to combine well. (Mixing them into the dry scone ingredients will ensure they are evenly distributed, and will avoid over-kneading once we add the wet ingredients.)

In a small bowl, mix together eggs, cream, and vanilla.

Make a well in the center of the flour mixture, and pour the egg mixture into the well.

Mix altogether until just combined.

Turn dough out onto a lightly floured surface, and knead dough 10-12 times. Gently form it into a large ball.

Place the dough onto a well-greased baking sheet and flatten into a circle about 10-inches in diameter, and about 3/4-inch thick.

Brush the dough lightly with cream and sprinkle evenly with coarse sugar.

Using a long knife, cut into 8 wedges.

Carefully separate wedges on baking sheet, pulling them just slightly apart.

Bake at 400 degrees for 16-20 minutes, or until edges are golden brown.

Cool completely. Enjoy!