A silky and luscious coconut cream pie with a shortbread crust, a layer of caramelized pineapple, and topped with coconut whipped cream and toasted coconut!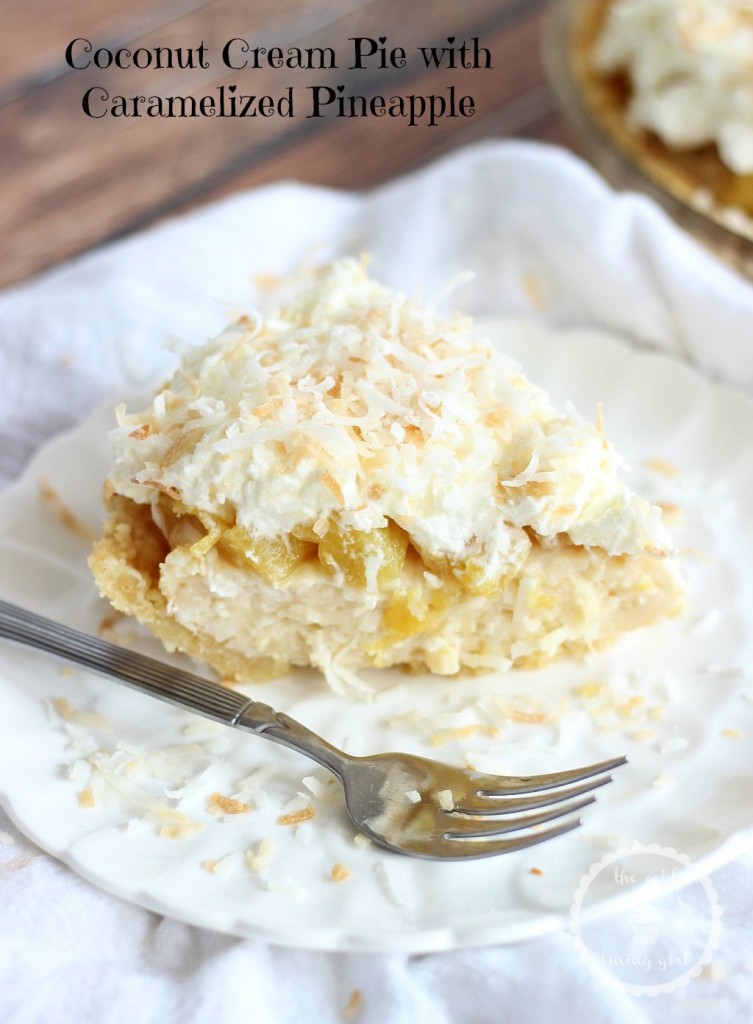 I made this pie in February!!! Ooops. Maybe even January. But in other news, that means I'm almost caught up on things! #not.
Since I'm already on a pie kick, I thought maybe I could finally knock this one out too… seeing as though it's been in the queue for about 5 months now. I was feeling spring and summer vibes all the way back then, and I haven't really stopped. I still want all the tropical things. For now.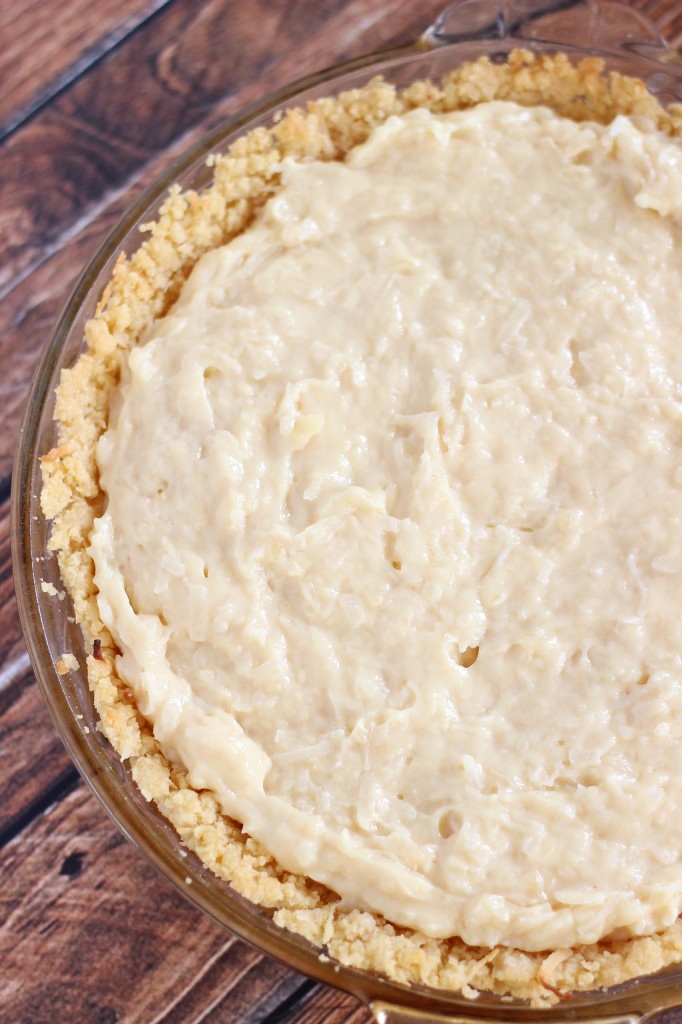 In about two weeks though, I'll want all the fall things. It will be blazin' hot here in Florida through at least October, but I start to get excited for all things fall sometime in July. It's probably unreasonably early at that point, but my mind is always looking ahead. Cue everything pumpkin. I will try to wait until at least August to actually post. We shall see.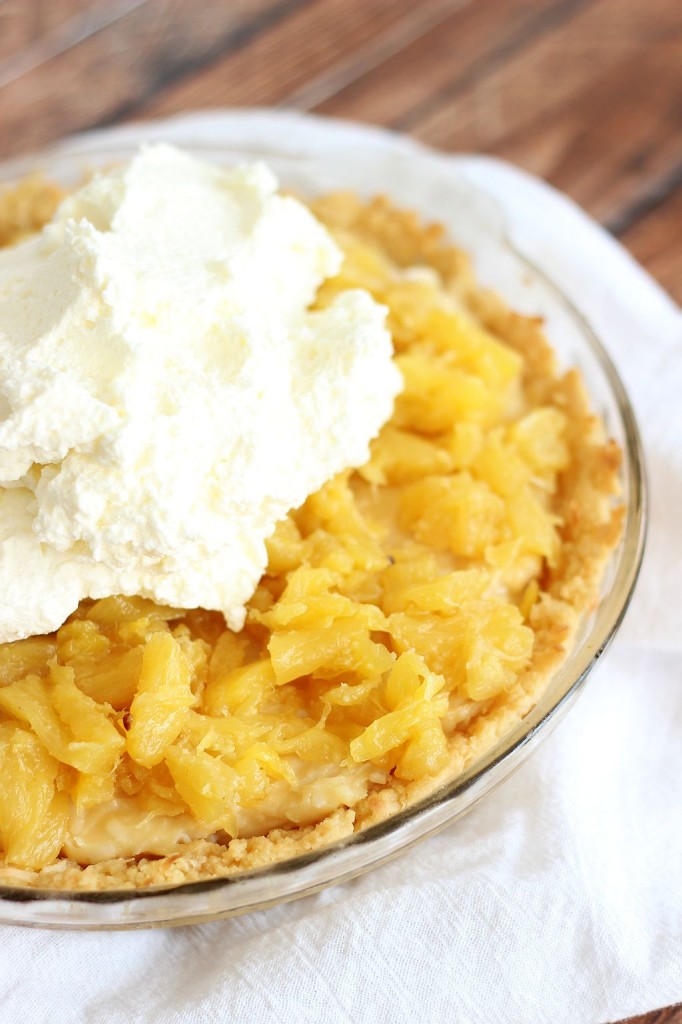 I think it has something to do with the 4th of July being over. Even though summer has really just begun, something about the 4th of July passing signals to me that fall is on the way. I'm not hatin' it. While we were in Buffalo this past weekend visiting family, it actually felt like fall. Maybe that's how summers up north feel to me now that I've lived in Florida for 7 years, but it definitely got me excited for the next season.
Meanwhile, Bath & Body Works is still pumping out all sorts of summery candles with essences like watermelon, lemonade, and maragarita. Nope, I'm over it.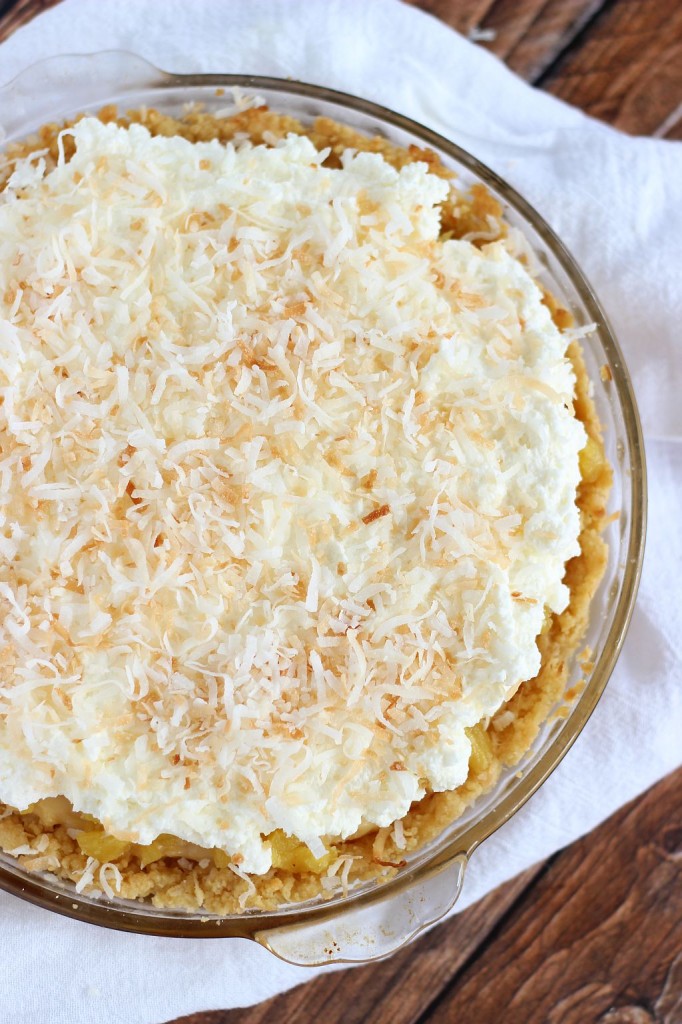 Since it's still summer now, let us enjoy the desserts that channel a summery vibe! A pie (again) with coconut, pineapple, and more coconut definitely fits the bill!
The crust for this pie – you will die. It starts with my favorite crust of all – the shortbread one that I use in most of my cheesecakes. Tons of crushed up buttery shortbread cookies, mixed with a little bit of sugar, and in this case, a whole lot of coconut. Altogether, the flavors are incredible. Baked for a few minutes until golden, the coconut and cookies get all toasted and crispy.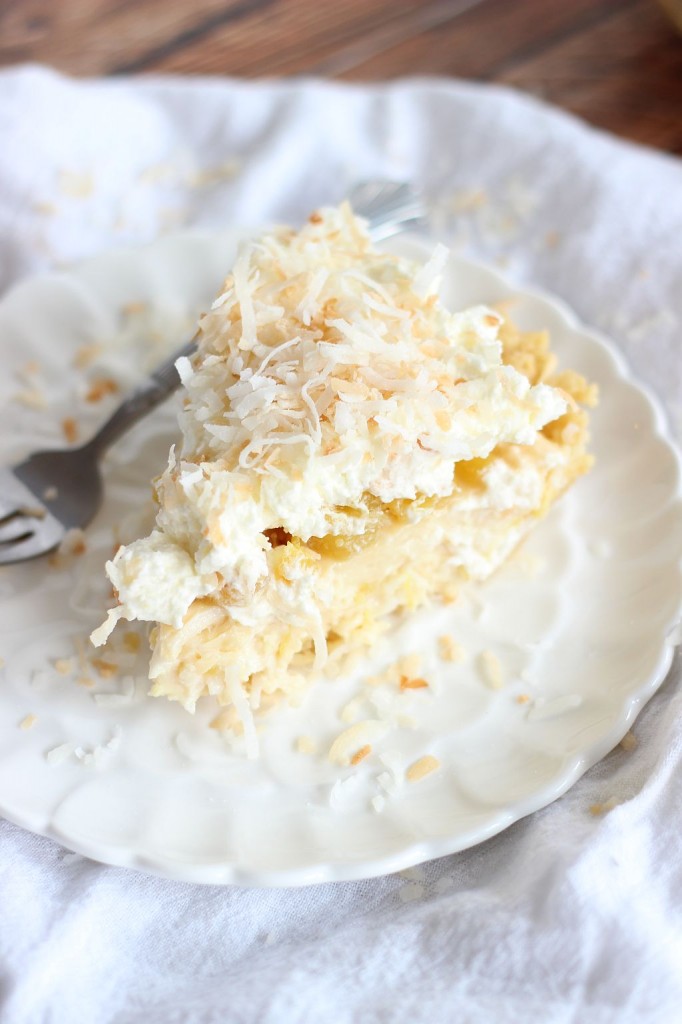 The coconut cream filling is so rich and luscious. It's super creamy and amazing. I 'borrowed' the filling from this awesome Food Network recipe, and it's a winner. The only change I made was to add extra coconut. I just can't help myself sometimes from taking things a step further. That is also how the caramelized pineapple came to be.
To me, pineapple and coconut go together like peanut butter and jelly. They're a super special power team. A perfectly tropical duo. I just thought: hey, there's a lot of traditional coconut cream pie recipes out there. Along with a shortbread-coconut crust, what else could make this different and unique? A layer of caramelized pineapple. Duh.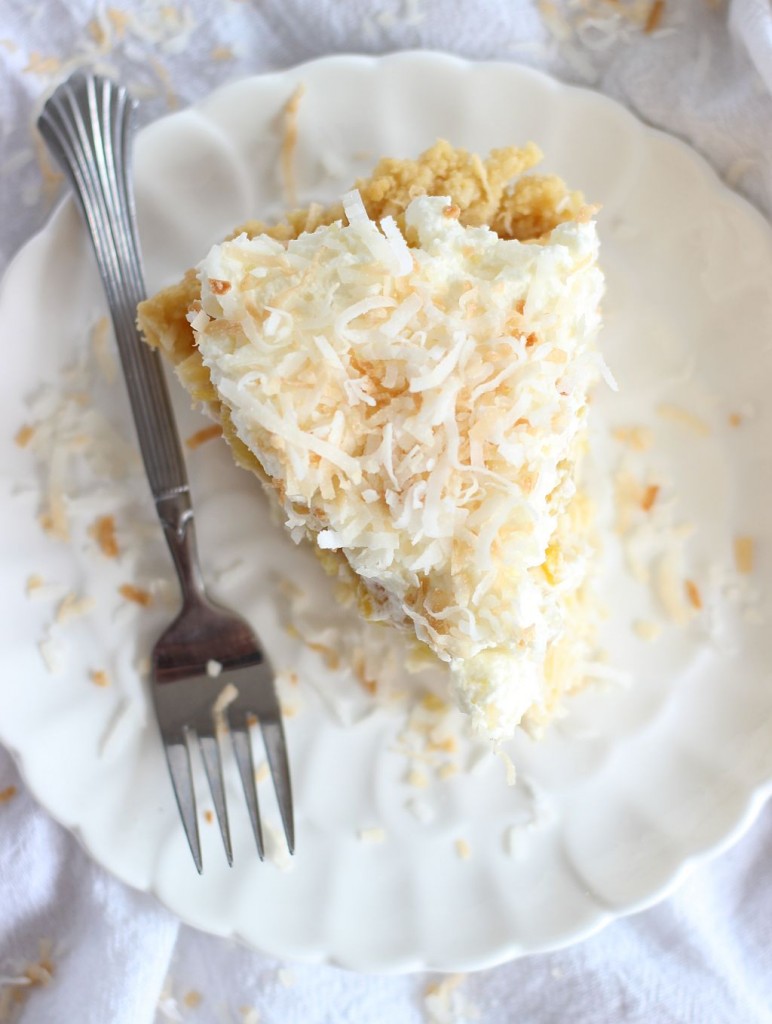 As you are savoring summer, this delicious pie will hit the spot.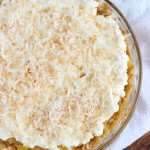 Coconut Cream Pie with Caramelized Pinapple and Coconut Whipped Topping
A silky and luscious coconut cream pie with a layer of caramelized pineapple, and topped with coconut whipped topping and toasted coconut!
Total Time
1
hour
20
minutes
Ingredients
Shortbread Crust:
1 - 11

oz.

package shortbread cookies

1/2

c.

shredded coconut

1

tbsp.

sugar

4

tbsp.

melted butter
Coconut Cream Filling:
3

cups

half-and-half

2

egg yolks

1/2

c.

sugar

1/3

c.

cornstarch

1

tsp.

vanilla

2

tbsp.

butter

1 1/2

c.

shredded coconut
Caramelized Pineapple:
1 1/2

c.

chopped pineapple

1/2-inch chunks

2

tbsp.

butter

3

tbsp.

brown sugar
Coconut Whipped Cream:
1 1/2

c.

heavy cream

2

tbsp.

sugar

1

tsp.

coconut extract

1/2

c.

shredded coconut

toasted
Instructions
For crust:
Process the shortbread cookies in a food processor until they are fine crumbs.

In a large bowl, combine cookie crumbs, coconut, sugar, and melted butter.

Press firmly into the bottom and up the sides of a deep-dish 9-inch pie pan.

Bake at 350 degrees for 5-7 minutes, or until edges are lightly golden, and remove from heat to cool completely.
For filling:
In a large saucepan, combine half-and-half, egg yolks, sugar, cornstarch, and vanilla.

Whisk until mixture is completely smooth, and until cornstarch has dissolved.

Over medium heat, bring the mixture to a simmer, whisking constantly.

Once the mixture is thick like pudding, remove from heat and stir in the butter and shredded coconut.

Pour the mixture into the cooled pie crust and refrigerate for at least 2 hours, or until set.
For pineapple:
In a large saucepan over medium-high heat, combine pineapple, butter, and brown sugar. The higher heat is important because the pineapple will shed water as it cooks, and you want that to cook off.

Cook and stir until pineapple is golden and caramelized, about 10 minutes.

If any liquid remains, drain the pineapple.

Set aside to cool completely.

Spoon pineapple on top of coconut cream filling, and return pie to the refrigerator while preparing the whipped cream.
For topping:
In a large mixing bowl, combine heavy cream and sugar.

Beat until it forms soft peaks, and is light and fluffy, about 5 minutes.

Add coconut extract.

Top the pie with the coconut whipped cream and the toasted coconut.

Serve and enjoy!