An easy protein-packed chia seed smoothie recipe featuring a favorite fruit combo – strawberries and kiwi! It's healthy and refreshing!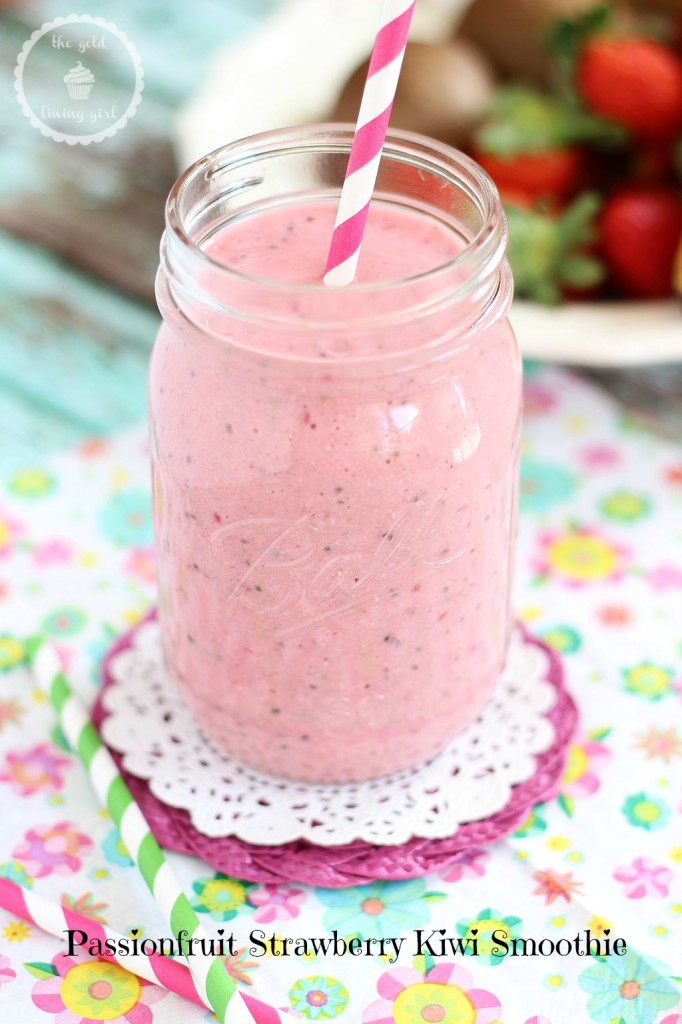 Fruit and protein smoothies were my life for several years. I made one every.single.morning for about two years, and they were so large and hearty that I got several meals out of each one. Smoothies probably made up 1/3 of my daily sustenance for a while there.
I am a serious creature of habit though. Similar to that time I ate French toast two or three times a day for like four months straight. I get fixated on a food and eat it constantly!
Smoothies are so creamy, refreshing, and filling though. Hard not to love 'em.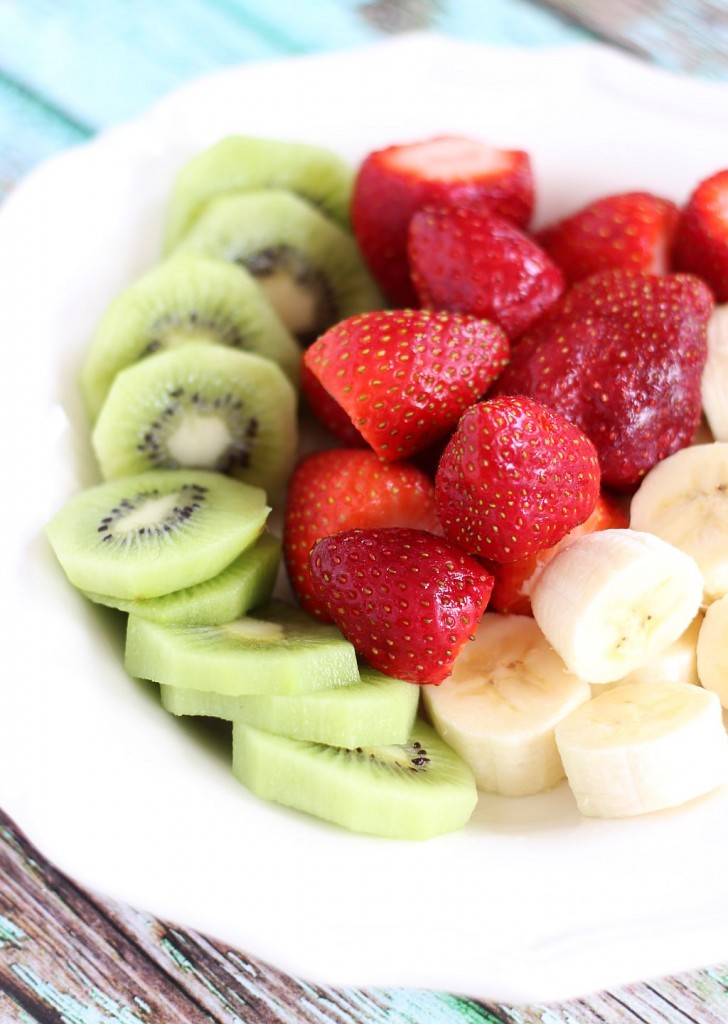 And you can put all kinds of things in smoothies. Flavored yogurt (frozen or regular!), ice cream, frozen coffee ice cubes, fruit, peanut butter, chocolate syrup, honey, juice, and even oatmeal. Maybe not all of those things together, but you get the idea – the list goes on and on. More recently, I've also been tossing chia seeds into my smoothies. They're all the rage right now.
Yep, those same seeds that grow to make Chia Pets. Chia Pets still exist, by the way, and have you Googled them lately? Don't. It'll shock you. There are some seriously creepy Chia Pets these days. Like, did you know that they make Shrek, Britney Spears, Sponge Bob, and Barack Obama Chia Pets now? I applaud the creativity behind those, but I can definitely confirm that I want NONE of them in my home.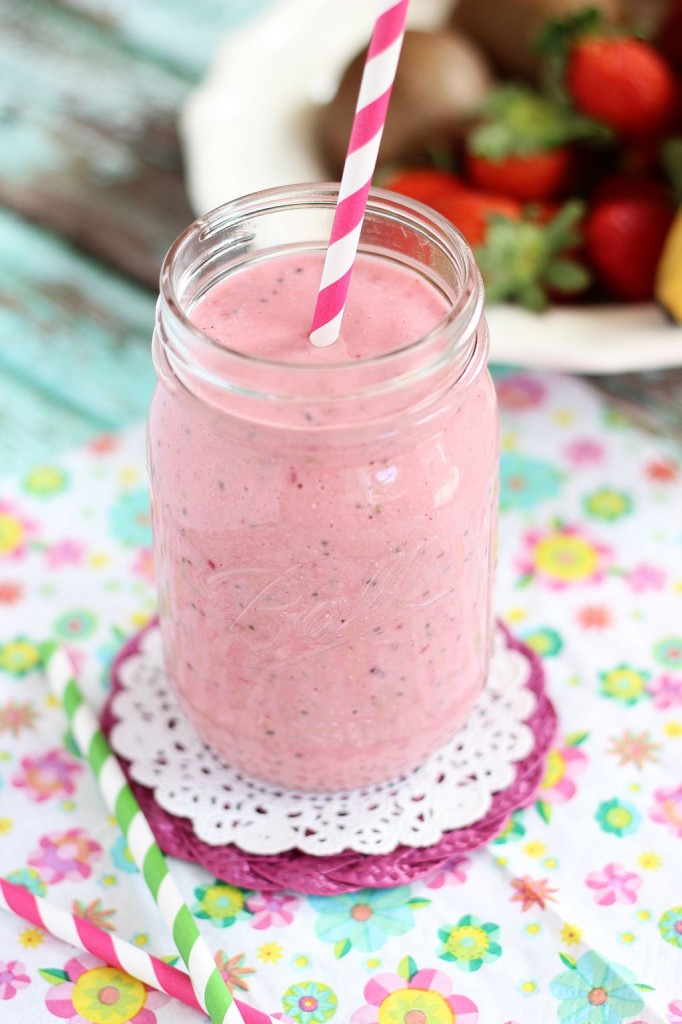 Anyway, chia seeds are tiny little seeds but they pack surprising nutritional punch! They're full of antioxidants, fiber, protein, and Omega-3 fatty acids. I don't even know how all those fabulous nutrients even fit into that itty bitty seed, but they do, and I'm glad for it.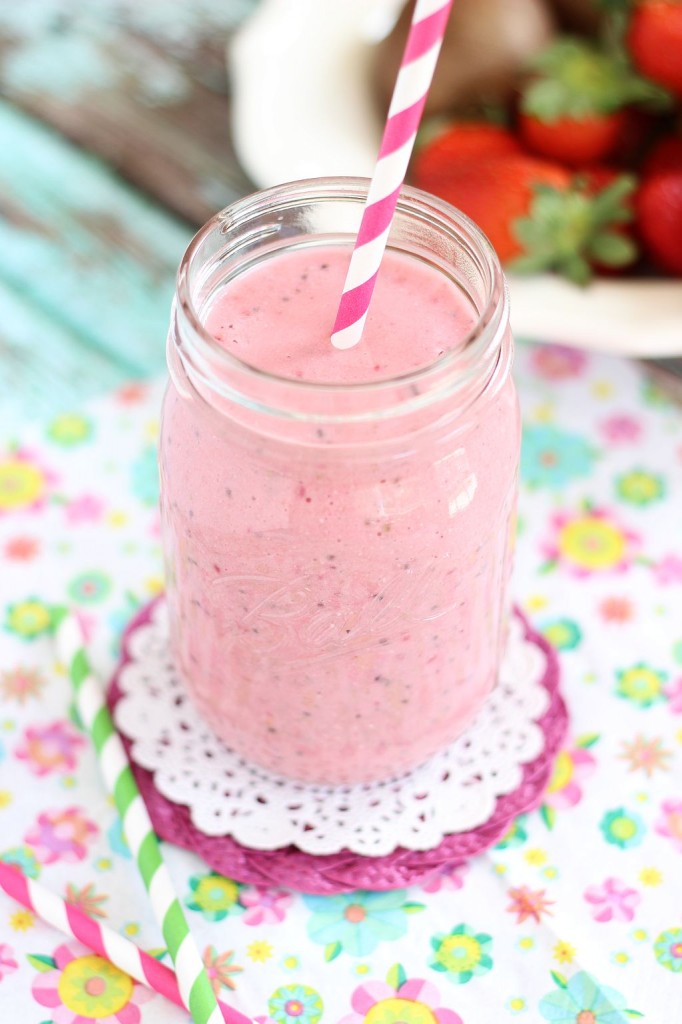 Using passionfruit nectar (found it easily at my local grocery store) as a base for this delicious beverage, I tossed in lots of fresh strawberries, kiwi, and even some banana for the perfect blend of fruit. It's sweet and creamy, with tons of wonderful tropical flavors. For extra nutritional power, I added vanilla protein powder, Greek yogurt, and a spoonful of chia seeds! This is a super refreshing and filling chia seed smoothie recipe that will make the perfect start to your day!