A soft and chewy butterscotch cookie bar with a butterscotch caramel and cashew topping!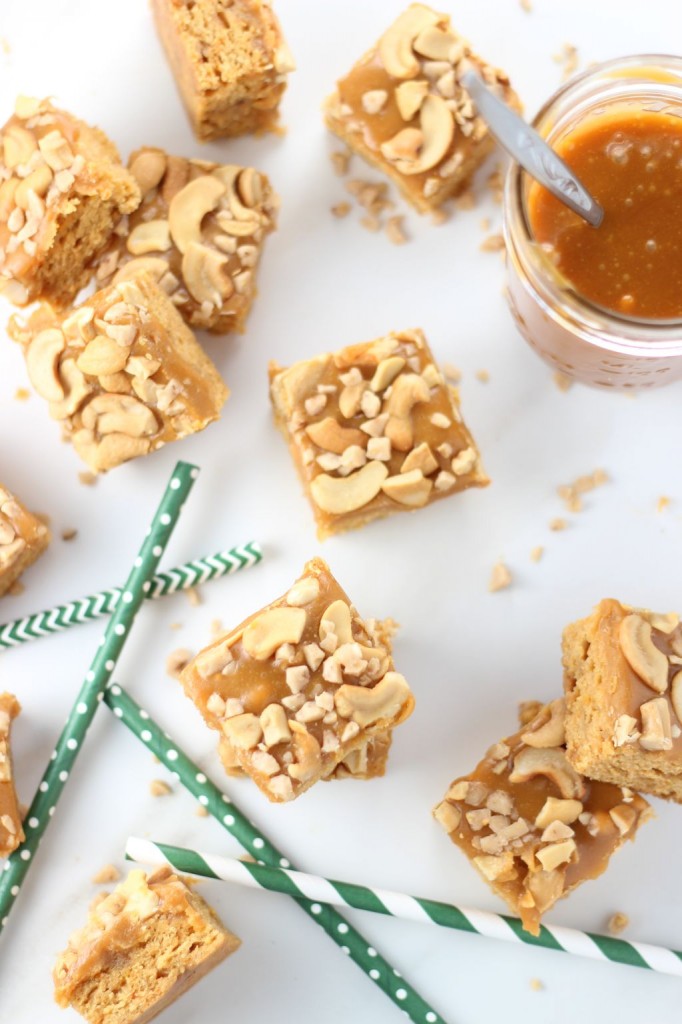 I'm writing this while watching pre-game coverage on the first Sunday of the official NFL season, and I'm so anxious and eager for real football to start that I can hardly concentrate. I'm suppressing squeals of excitement and nervousness. Yeah, #LOSER. Can't help it – I love the sport. I don't really even care who is playing. I'll find a reason to root for or against anyone.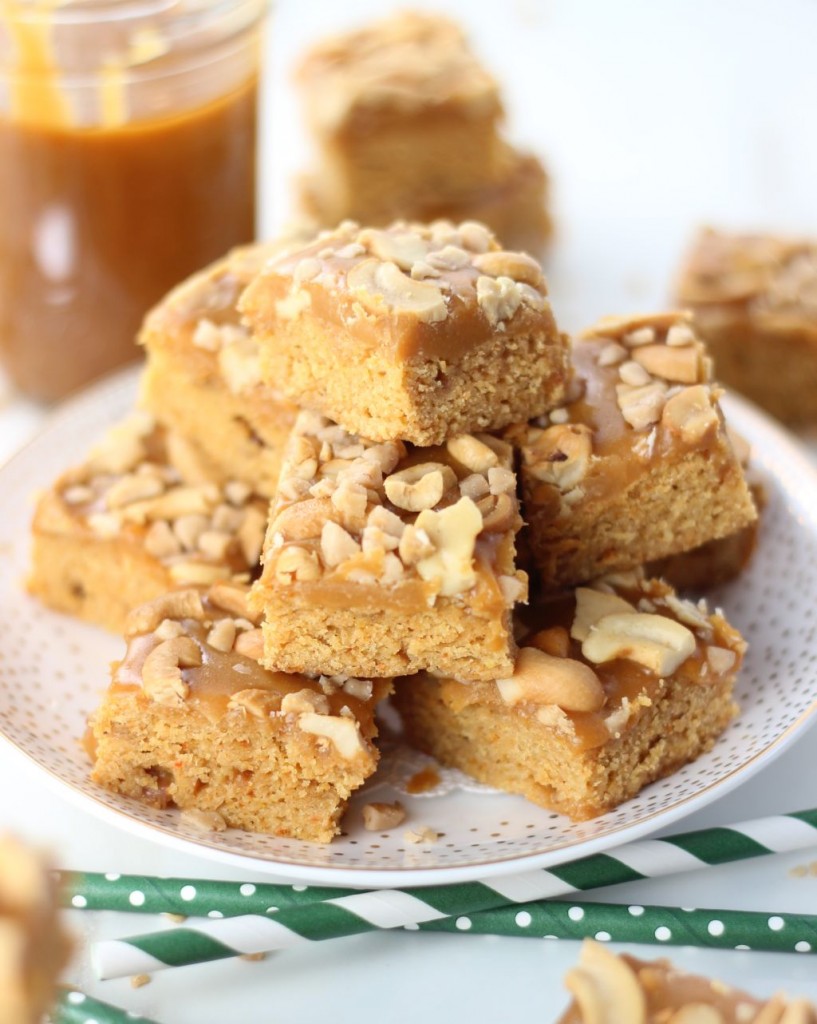 My S.O. is a Bills fan and nothing else. He doesn't care what any other teams are up to, unless the Bills are playing them. I am an avid Bills fan too (ahem, no choice here), but I also like to spread around the love a little bit.
I had big aspirations for a super busy day in the kitchen, baking up a storm, as I do almost every Sunday. Today, though, I am firmly planted in front of my tv for the next 12 hours or so. More #loser status hashtagging would be fitting here.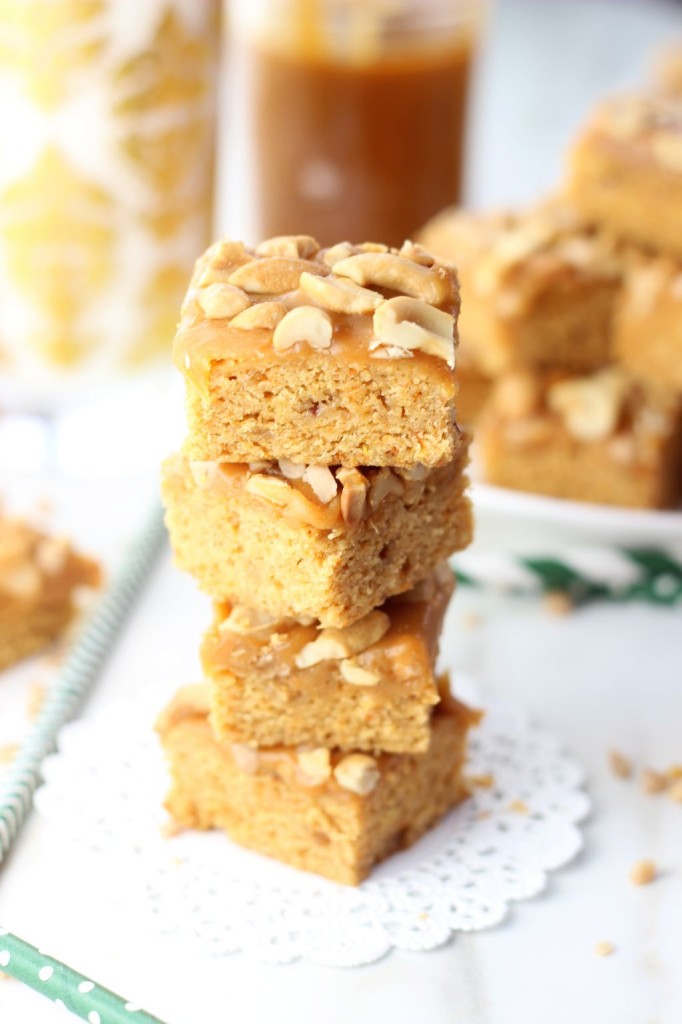 It's kinda the perfect day though for hours of football. I woke up to dark clouds, buckets of rain, and  leaves rustling on the trees. Here in FL, that's as close as it's going to get to feeling like fall. I'll take it. Football isn't the same when it's 90 degrees and sunny.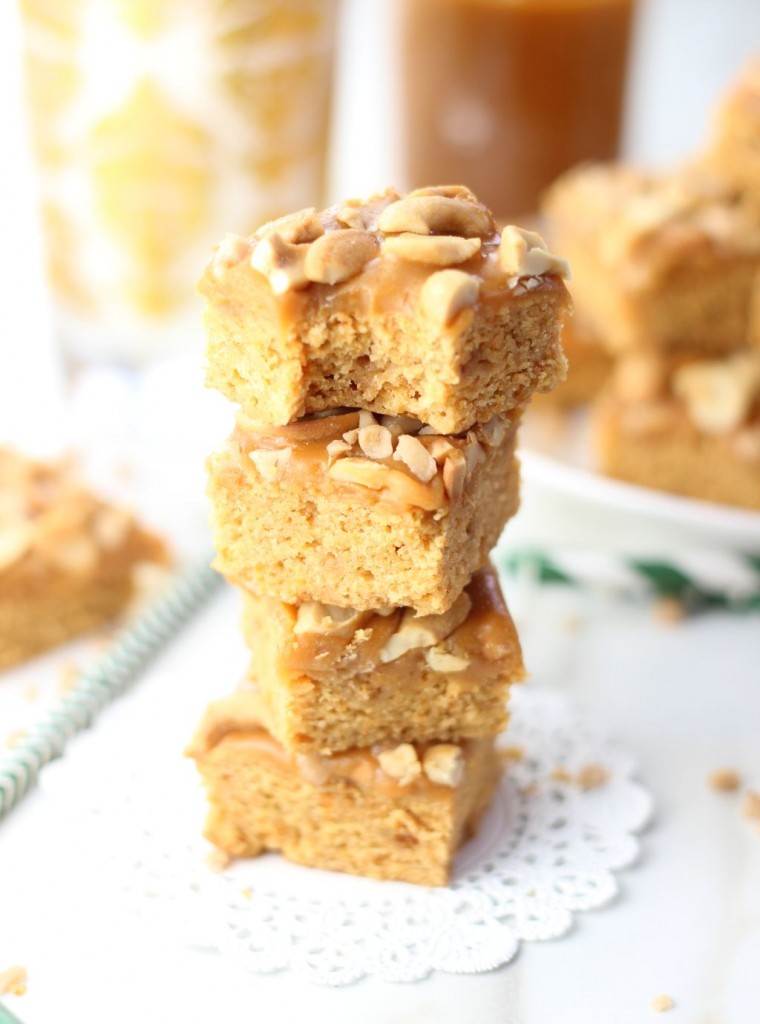 It's only late-morning so I'm drinking my pumpkin beer right alongside my coffee (why not?), and I skipped breakfast in favor of these Pumpkin Beer Soft Prezels, pizza, and other bad-for-me-but-delicious foods, like these Butterscotch Cashew Caramel Bars.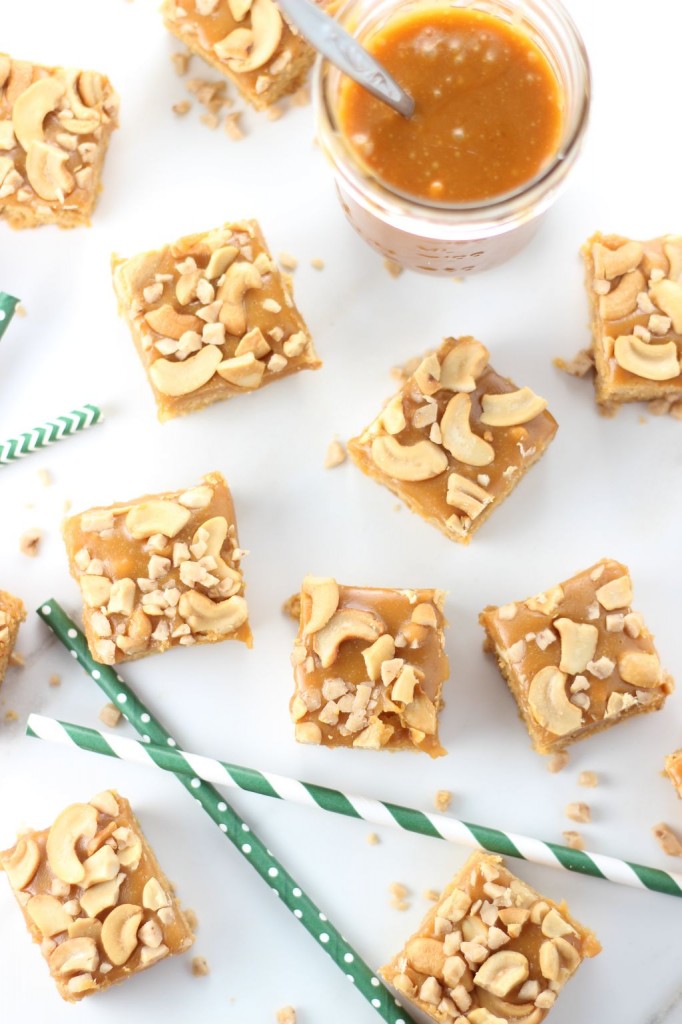 I'm a sucker for each of these flavors individually – butterscotch, cashews, and caramel – putting them altogether is such a triple threat. They didn't make it into the title of this recipe, but these bars also contain bits of toffee. Soooo, they're a quadruple threat, technically. Soft and moist butterscotch cookie bars are enhanced in brown sugary flavor with the addition of the toffee bits, and then topped with a unique homemade caramel sauce made with butterscotch chips. It's a butterscotch caramel sauce (!!!)… sweetness like you've never tasted before! For crunch and more buttery deliciousness, the bars are sprinkled with a generous layer of cashews.
Sounds like a lot of ingredients, but it's really not. And probably sounds like a lot of layers and work, but it's really not. Start-to-finish, you could be devouring these in about 40 minutes!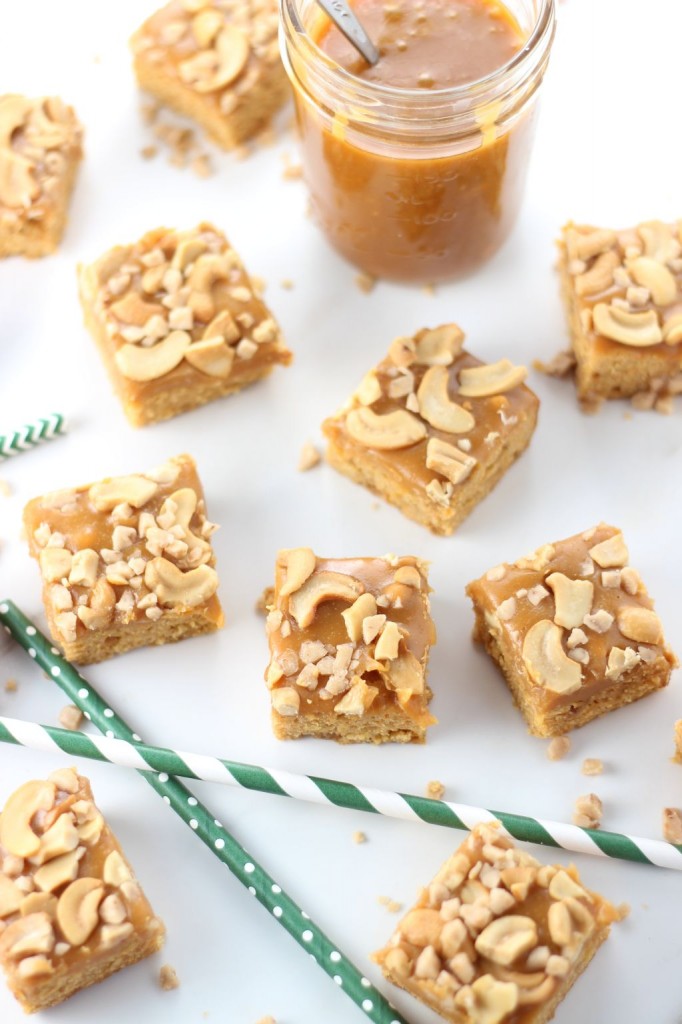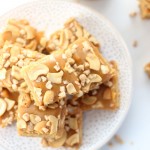 Butterscotch Cashew Caramel Bars
A soft and chewy butterscotch sugar cookie bar, with a butterscotch caramel and cashew topping!
Ingredients
For bars:
2

c.

flour

2 - 3.4

oz.

boxes instant butterscotch pudding mix

1/2

c.

sugar

1

tsp.

baking powder

1

egg

1/2

c.

butter

melted

1/4

c.

vegetable oil

1/2

c.

milk

1

tsp.

vanilla

1/2

c.

toffee bits
For topping:
1 - 12

oz.

package butterscotch chips

1/2

c.

light corn syrup

4

tbsp.

unsalted butter

1

tbsp.

water

2

c.

salted cashew halves and pieces
Instructions
For bars:
In a large bowl, combine flour, pudding mix, sugar, and baking powder.

In another bowl, combine egg, melted butter, oil, milk, and vanilla.

Mix the egg mixture into the flour mixture, stirring until just blended.

Mix in toffee bits.

Press the dough into a lightly greased 9x13-inch pan.

Bake at 350 degrees for 18-22 minutes, or until edges are lightly browned.

Place on a wire rack to cool completely.
For topping:
In a large saucepan over medium heat, combine butterscotch chips, corn syrup, butter, and water.

Cook and stir until the chips and butter are melted, and the mixture is completely smooth.

Spread evenly over the butterscotch bars.

Sprinkle with cashews, lightly pressing them into the butterscotch caramel.

Allow to set for at least 10-15 minutes, then cut into bars. EAT!!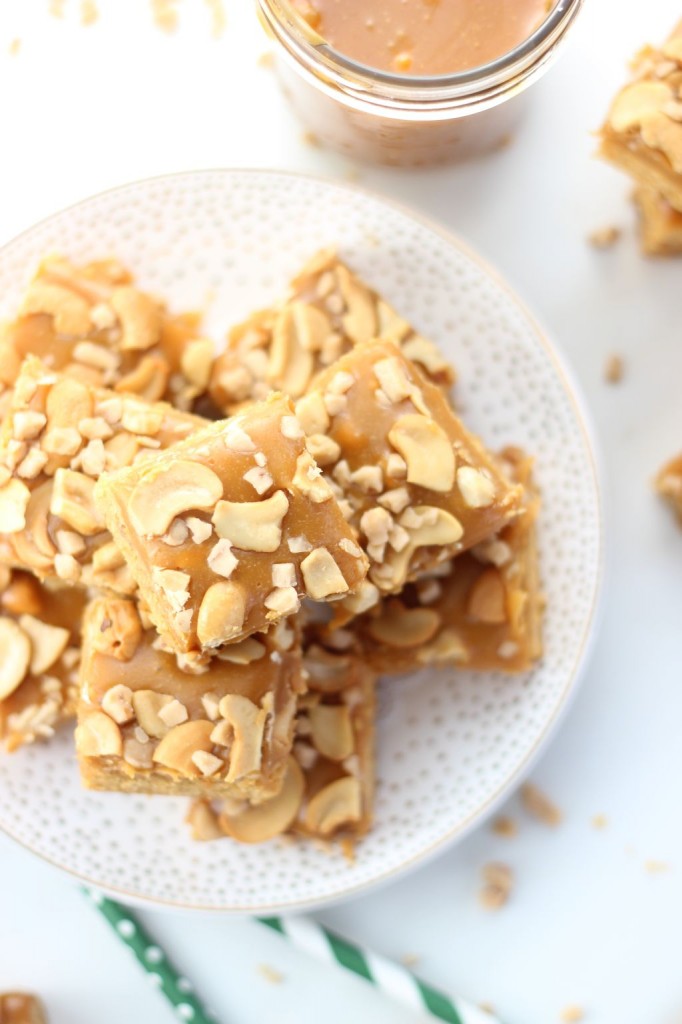 Happy football Sunday! GO BILLS!! (And Broncos and Seahawks!)