Pumpkin-infused crepes filled with creamy Mascarpone cheese and pumpkin, for a pumpkin cheesecake center!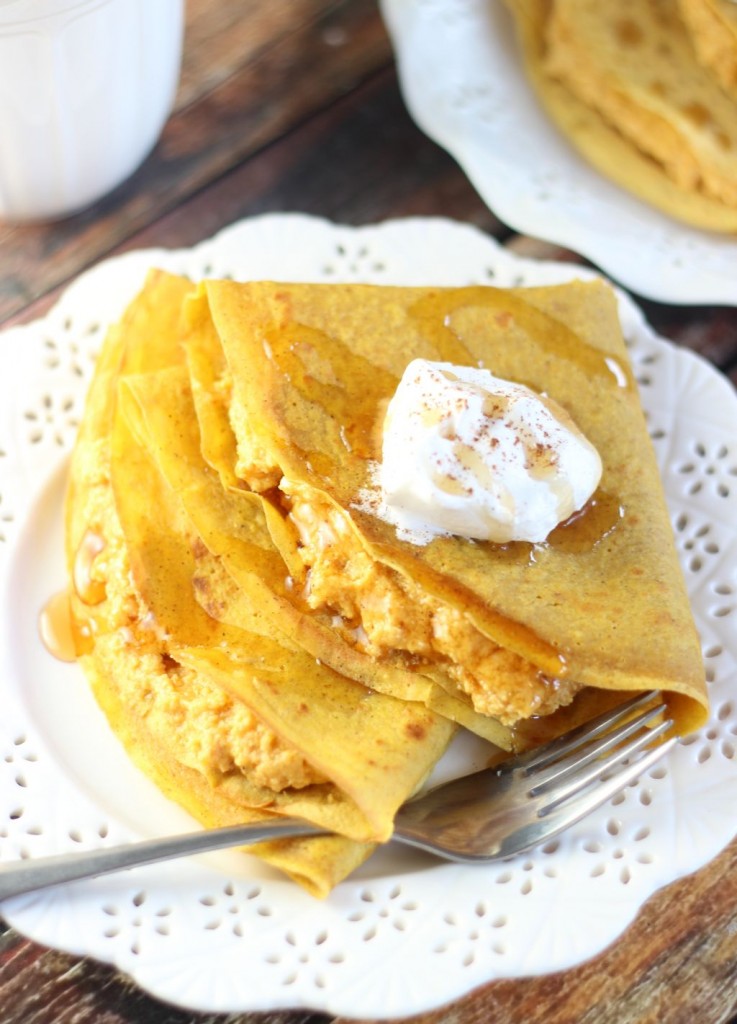 Given my love for crepes, and my general household's love for pumpkin cheesecake, this combination was bound to happen. Predictable, yes, but necessary. I mean, pumpkin crepes with pumpkin cheesecake filling!!! When the idea came together in my head, it went to the top of the list.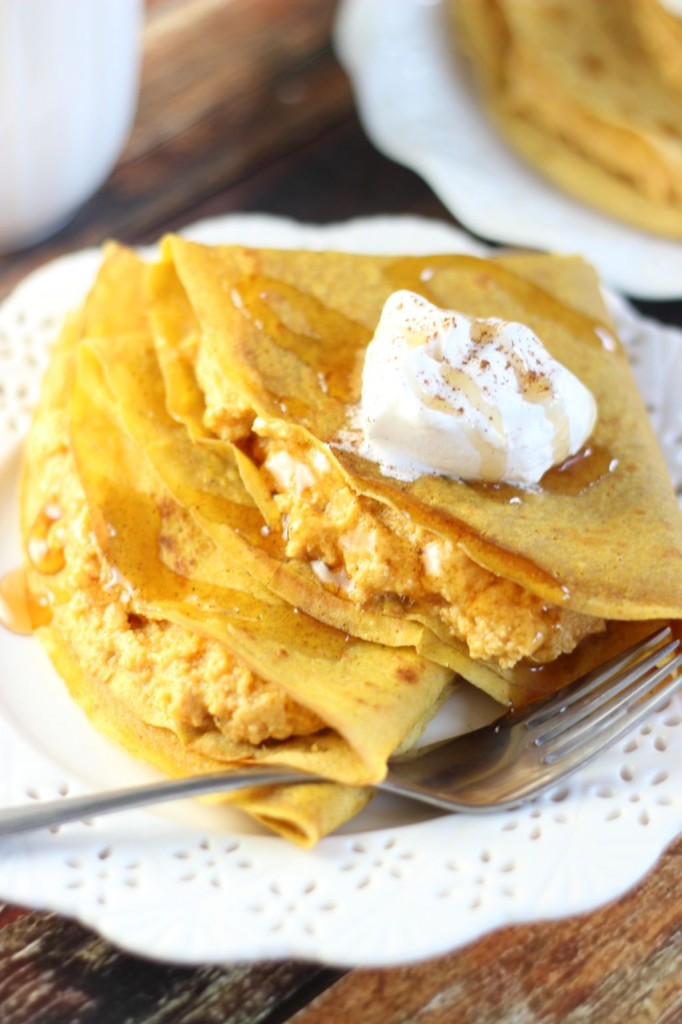 Let's divert to talk about social media for a sec. I'm not a big fan.
Because of this blogging gig though, I actually have to use social media a whole heck of a lot. If I don't blast my posts out on Pinterest, Instagram, Facebook (follow me, btw! Ha!), and about 8 other social media channels that you might not have even heard of yet, then people don't find it.
In the course of spending too much time (against my will) on social media, I've learned nearly a whole new language. It's not something I'm proud of, but I'll demonstrate:
#slay: You're hot. You look so good, you're slayin' it. Often written with way too many y's… like slayyyyyyy.
#ship: Evidently, this means that you endorse or approve of a new couple. Like, I ship Russell Wilson and Ciara. I don't understand this at all, but I'm okay with that. I don't need to understand why 'ship' means this. It's a generational thing and I'm old now.
#basic: You're a simpleton who likes to shop at Target a lot, so you're #basic.
#goals: You post a cute selfie with your best friend, and people might write #friendshipgoals. Or a nice pic with your significant other = #relationshipgoals.
#squad: a la Taylor Swift at the VMAs, you and your crew of close friends are your #squad.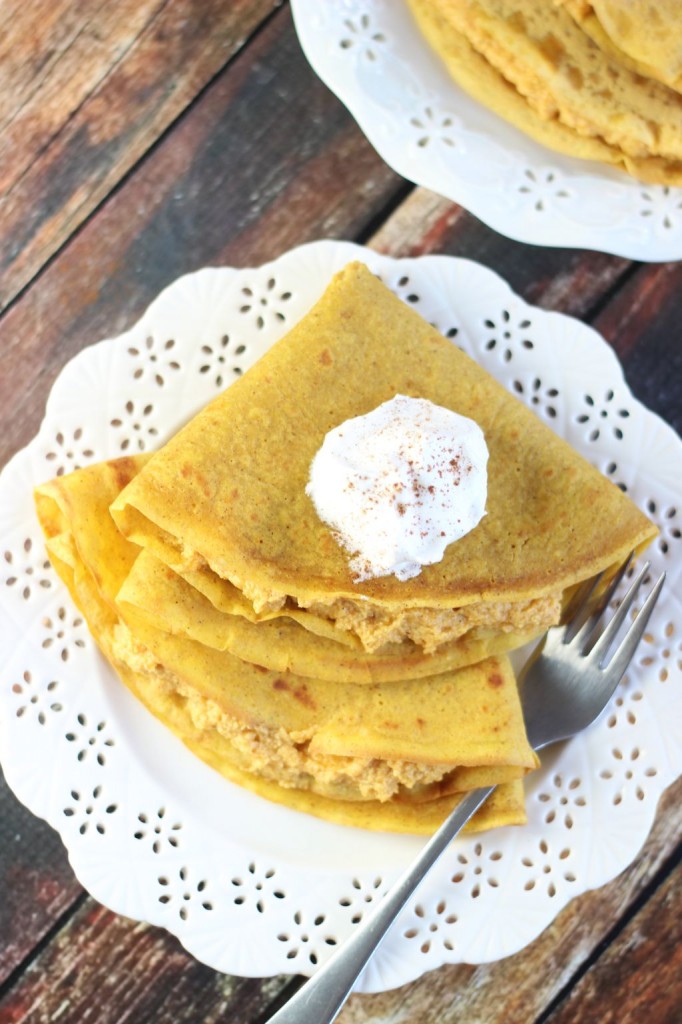 Just to be clear, I've never actually used any of these terms, but I do know what they mean now.
Here's another one for you: amazeballs. I have never said that before in my life until talking about these crepes. Never said it out loud, but after reading it so many times on social media, it must've inadvertently absorbed into my vocabulary. Because I said it. I was talking to S.O. about these Pumpkin Crepes and… it just came out.
He stared at me like a lunatic. Rightly so. He also had no idea what I said. Bless him.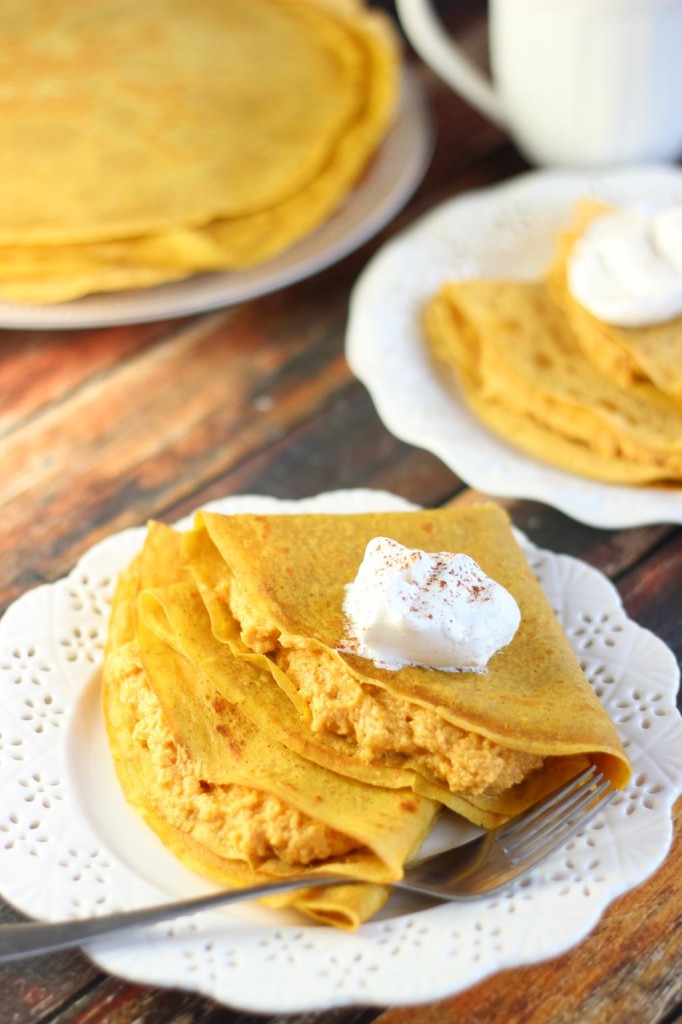 I guess that was the best word to describe them in that moment? They are amazeballs. There's no denying it.
The crepes are crispy at the edges, light and buttery, with hints of pumpkin and spice. They have luxurious and silky smooth texture, and a creamy Mascarpone and pumpkin filling. They're elegant and fancy, but easy to make. Start to finish, you can enjoy these fancy pancakes for a fall weekend brunch in about a half hour. They are autumn on a plate.
And completely delicious. Amazeballs, even.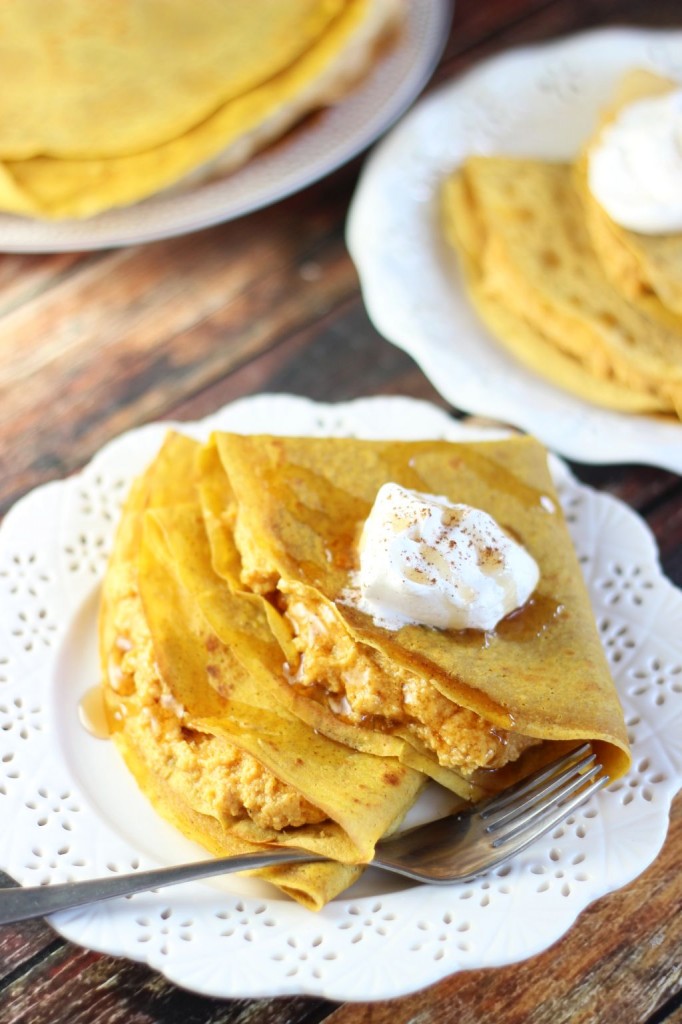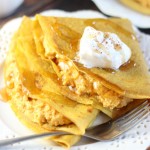 Pumpkin Crepes with Pumpkin Cheesecake Filling
Pumpkin crepes with a pumpkin and Mascarpone filling!
Ingredients
For crepes:
2

large eggs

1

c.

whole milk

or at least 2% milk

1/2

c.

water

1/3

c.

canned pumpkin puree

4

tbsp.

melted butter

slightly cooled

1

c.

flour

1/2

tsp.

cinnamon

1/2

tsp.

pumpkin pie spice

1/4

c.

packed brown sugar
For filling:
1 - 8

oz.

container Mascarpone cheese

softened

1/2

c.

canned pumpkin puree

1/4

c.

packed brown sugar

1/2

tsp.

cinnamon

maple syrup for drizzling

if desired
Instructions
For crepes:
In a large bowl, combine all crepe batter ingredients and whisk until smooth.

In a large saucepan over medium heat, pour about 1/3 c. batter, covering the entire bottom of the pan in a thin layer.

Cook for 2-3 minutes, or until the top looks mostly cooked too, even before flipping. Carefully (it will be thin and delicate) flip the crepe over, and cook for about 30 seconds.

Remove crepe from pan, and continue making crepes with remaining batter.
For filling:
In a small mixing bowl, combine all ingredients, and beat until smooth.

Spread each crepe evenly with pumpkin-Mascarpone mixture, approximately 1-2 tbsp. Fold or roll the crepe to serve.

Drizzle with maple syrup, if desired. Enjoy!
So there you go. Along with a lengthy social media tutorial that you didn't ask for, at least you also got a recipe for amazeballs Pumpkin Crepes with Pumpkin Cheesecake Filling.