With just a few ingredients, this Pumpkin French Toast Casserole captures your favorite fall flavors in one easy breakfast casserole!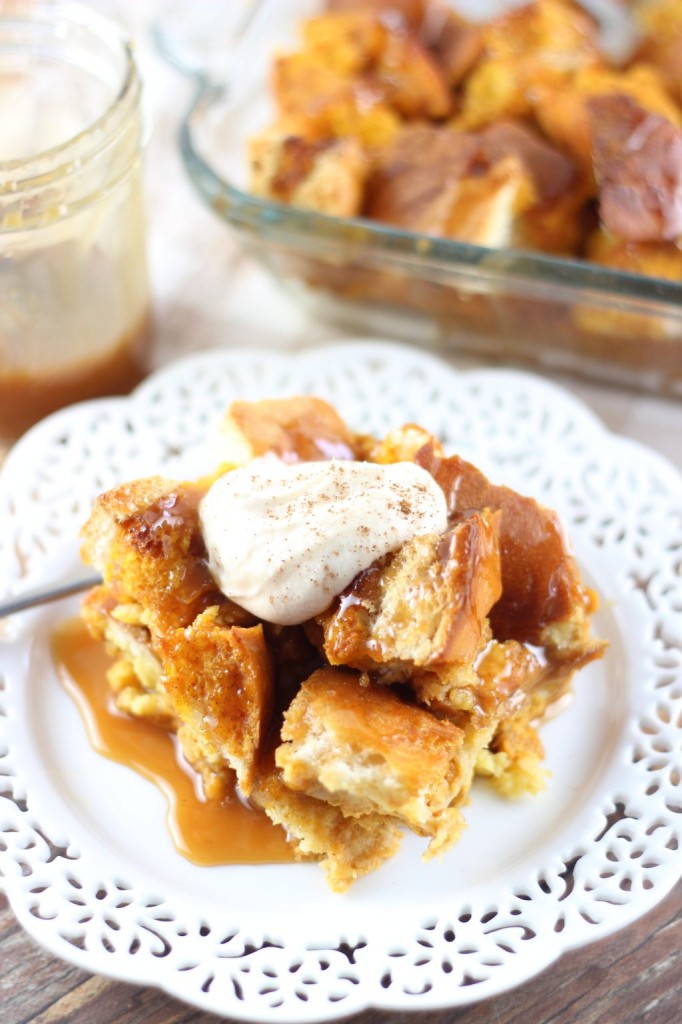 I've seen many a post this week starting with "Now that it's officially fall…," but see, it's NOT officially fall. The first day of autumn is actually September 23rd. However, the season of all things pumpkin is definitely in full swing. There is no doubt about that. And while we aren't technically into the fall season just yet, I am still hopping on board the all-things-pumpkin bandwagon.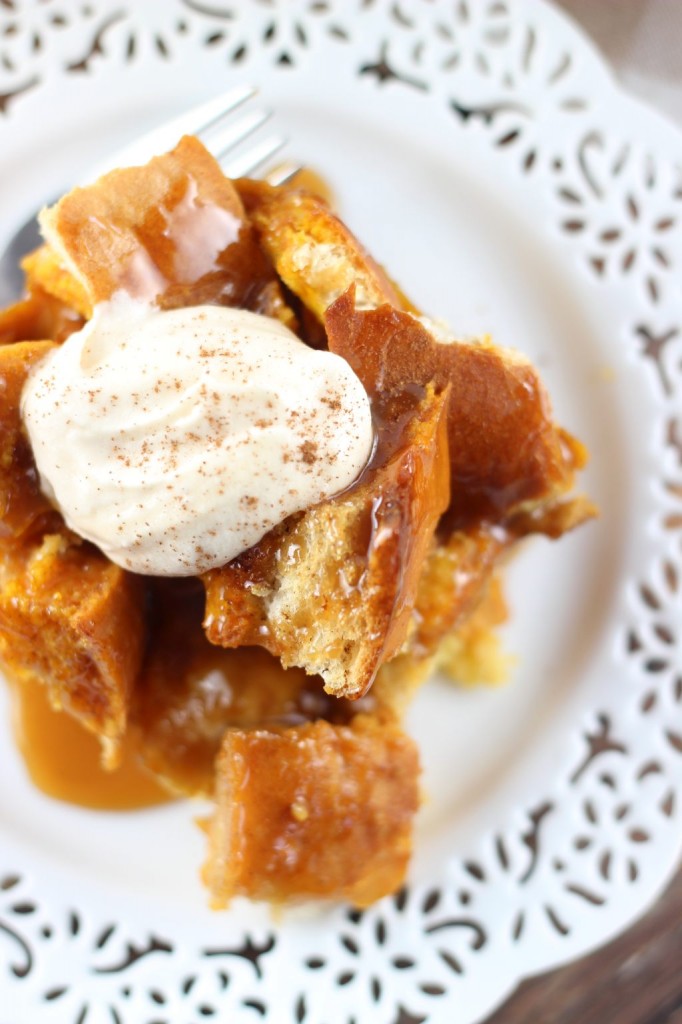 In many ways, I can barely distinguish between them anymore! Sure, it's not 'officially' fall, but to me, it's pumpkin season, and isn't that kinda the same thing? I barely know a difference. Either way, I love this time of year. The later part of summer where fall is impending, and I have my favorite season to look forward to. Then when fall finally hits, it's what I've looked forward to for months. Seriously, months. I wait all year for it to be fall.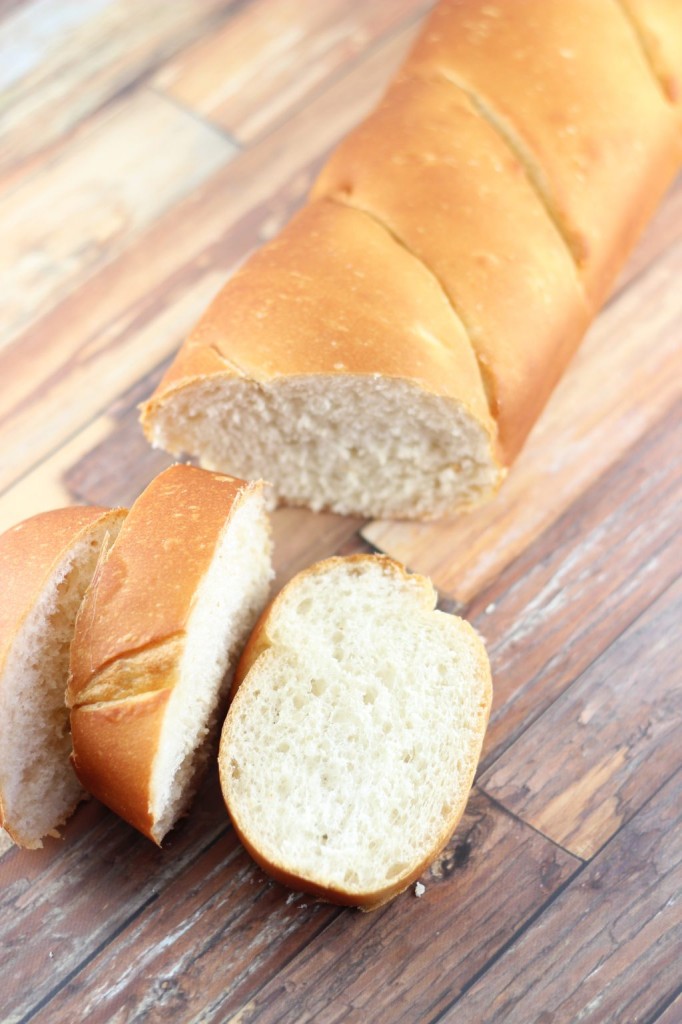 The weather FINALLY cools off in Florida, the sunlight beams through the trees and into the house at different angles, the leaves change (as much as they can in this climate), and I get to bake with all my favorite ingredients. Let's not forget that it's also football season. Don't make me pick which I love more – fall baking or football?? I couldn't possibly choose.
When I was brainstorming for all the seasonal things I wanted to make, a Pumpkin French Toast Casserole recipe was near the top of the list. I made an Eggnog version last year for Christmas (eek, I didn't mean to say Christmas!), and I couldn't wait to transform it into a pumpkin version for fall.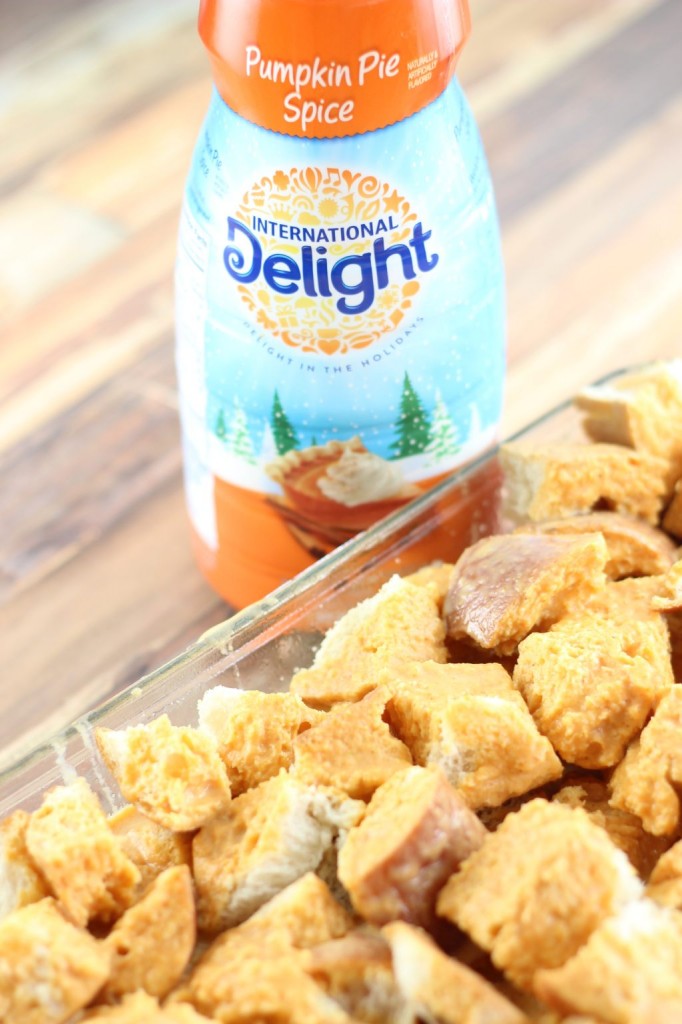 The first round didn't go so well. If you think this Pumpkin French Toast Casserole is orange, you really should've seen the first one. It was…. not pretty. I actually scrapped the idea altogether because it was so unpresentable in the looks department, and I didn't know if it could be improved without sacrificing pumpkin flavor. But that was before I discovered International Delight's Pumpkin Pie Spice flavored creamer. I resurrected the Pumpkin French Toast Casserole idea.
This creamer was the perfect answer to making this recipe work. It's creamy, sweet, full of pumpkin flavor, and a wonderful blend of spices. It's practically an ideal base for this casserole as-is, and it barely needs any help whatsoever. I gave it a jolt of pumpkin, of course, but other than that, and a few other necessities for making a French toast casserole (hello, eggs!), it was good to go! It's so rich, sweet, and flavorful, that it was a fantastic base for this simple breakfast casserole.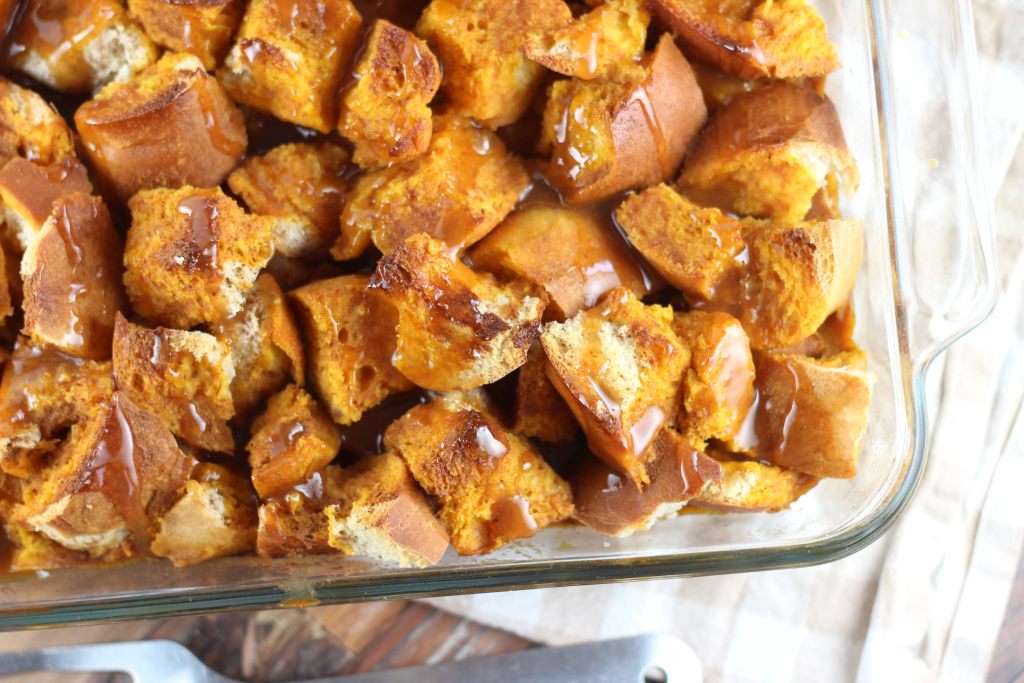 It obviously makes for a delicious coffee creamer too, but that's a given, right?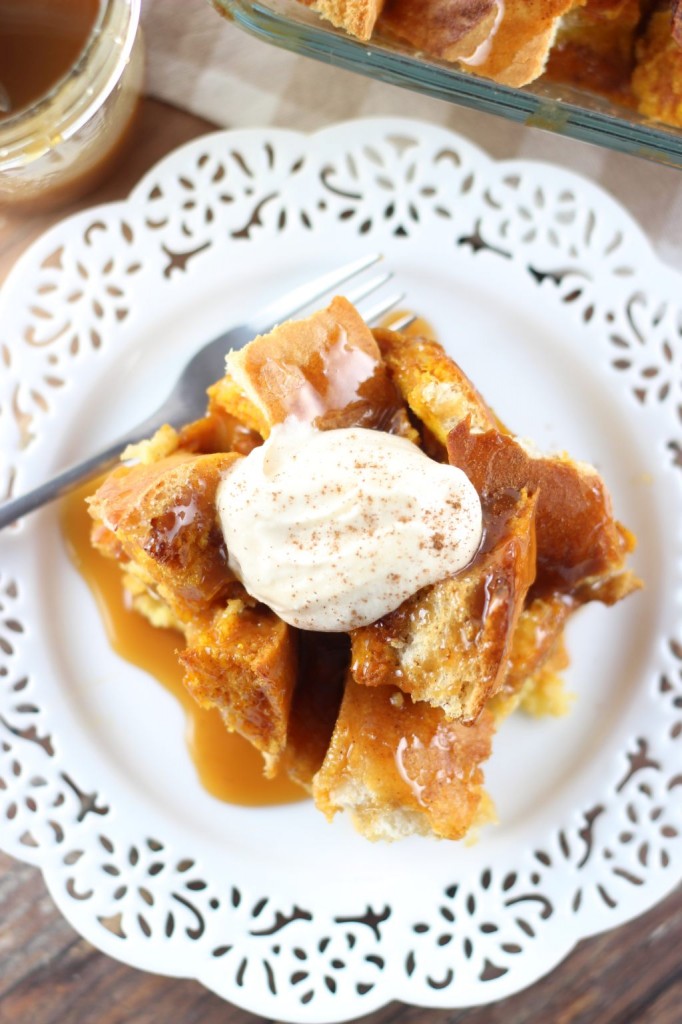 That said, my household runs on coffee, and we love flavored coffee creamers. I especially love the seasonal flavors, so the Pumpkin Pie Spice is always an edition that I look forward to! All in all, your weekend brunch is looking pretty good with this Pumpkin French Toast Casserole and a mug of coffee with Pumpkin Pie Spice creamer!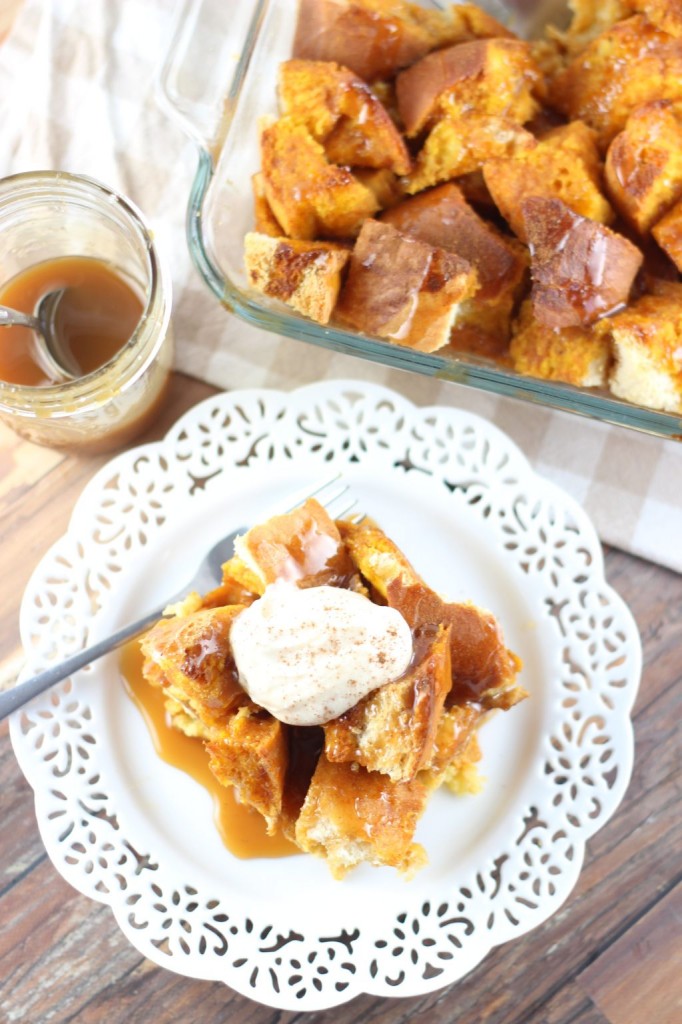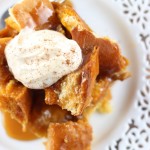 Pumpkin French Toast Casserole
With just a few ingredients, this pumpkin french toast casserole captures your favorite fall flavors in one easy breakfast casserole!
Ingredients
1 - 14

oz.

loaf French bread

diced into bite-sized pieces

2

c.

International Delight Pumpkin Pie Spice flavored liquid creamer

1

c.

canned pumpkin puree

3

large eggs

1/4

c.

sugar

2

tsp.

vanilla extract

1/2

tsp.

cinnamon

1/2

tsp.

pumpkin pie spice

1 - 12

oz.

jar caramel sauce

whipped cream

optional
Instructions
Preheat oven to 350 degrees.

Scatter the bread onto a large cookie sheet, and toast the bread until lightly browned, about 4-5 minutes.

Arrange the bread pieces evenly into a lightly greased 2-quart baking dish.

In a large bowl, whisk together the creamer, pumpkin puree, eggs, sugar, vanilla, cinnamon, and pumpkin pie spice.

Pour evenly over the bread.

Bake for 45 minutes, or until the edges are golden brown, and the casserole appears set when jiggled.

Warm the caramel sauce in the microwave according to the jar instructions, and drizzle over the casserole.

Serve warm, with whipped cream, if desired. Enjoy!