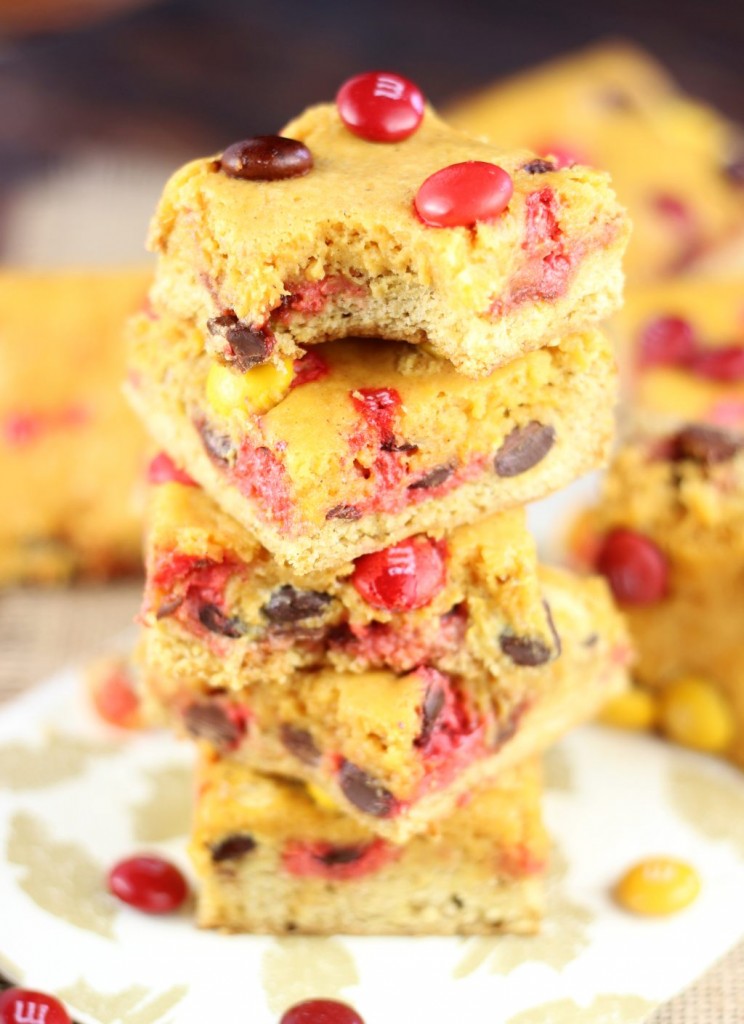 Today is a brisk 82 degrees! And in the mornings and evenings it is getting down into the 70s. Believe it or not, after spending the summer in the upper 90s, the low 80s really does start to feel 'cool'. The air has a little edge to it that isn't there from May-August in Florida. It's all relative, right? Here, these temperatures do feel like fall to me. And there are other signs that fall is here. The signs might be a lot more subtle than in other parts of the country, but you still feel the different seasons here, even though the shifts are much less dramatic.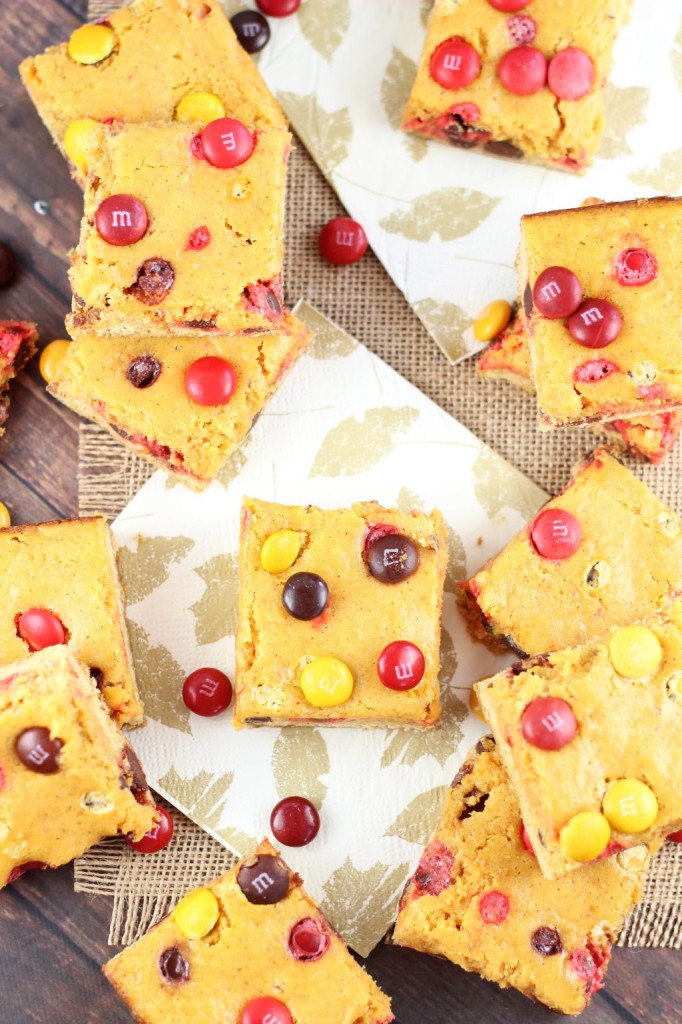 My S.O. and I were in Buffalo last weekend, and there it truly felt like fall in the traditional sense, but the most *perfect* days of fall, thankfully. Not the bitter and dreary days, but the crisp and sunny days. I could still get by wearing sundresses, and only needed a light jacket in the evenings. The leaves were not changing yet, but I'm hoping to make another trip up north in time to see that happen!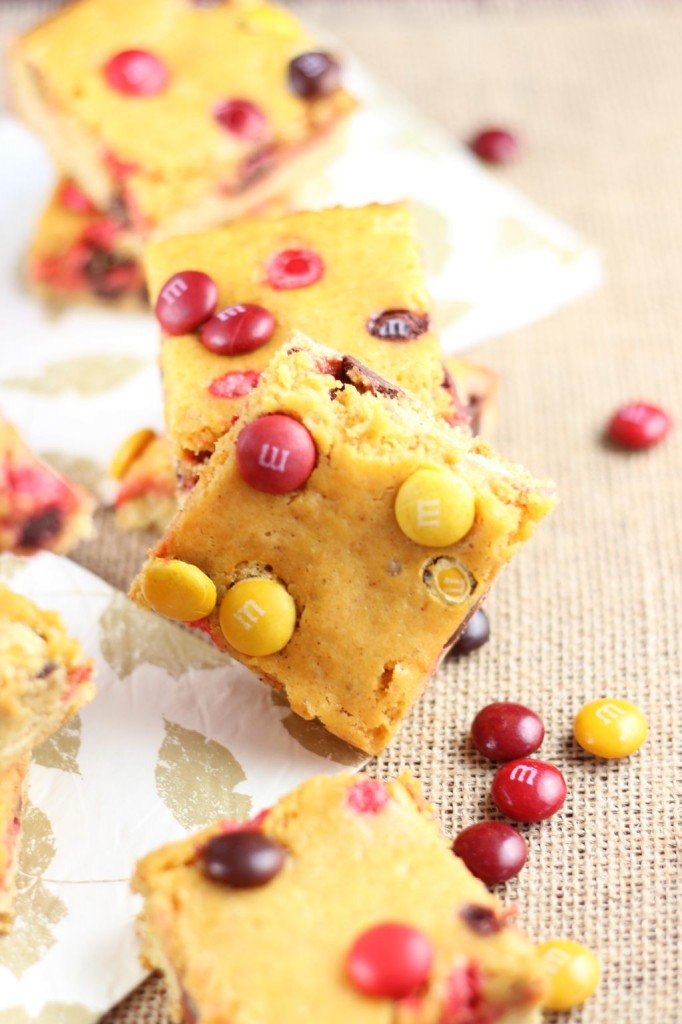 We also went to a football game on Sunday, and although my team lost (noooooooo!!), it was still an awesome way to cap off a lovely fall weekend.
Cooler weather, football season, baking with all things pumpkin and apple – these are just a few of my favorite things about this season.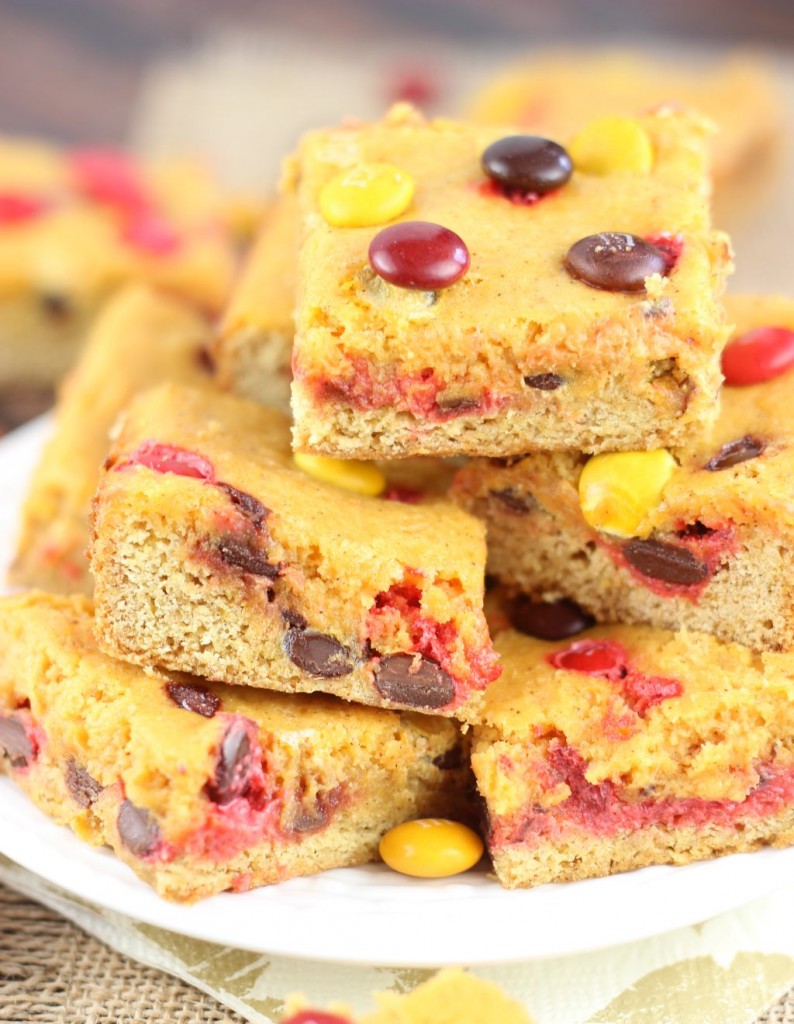 In yet another ode to my favorite season, I made these delicious Pumpkin Pie Gooey Butter Bars when I was inspired by some goodies I spotted in the candy and baking aisles. This is the best time of year for baking, partly because there are so many limited edition and seasonal items to be found.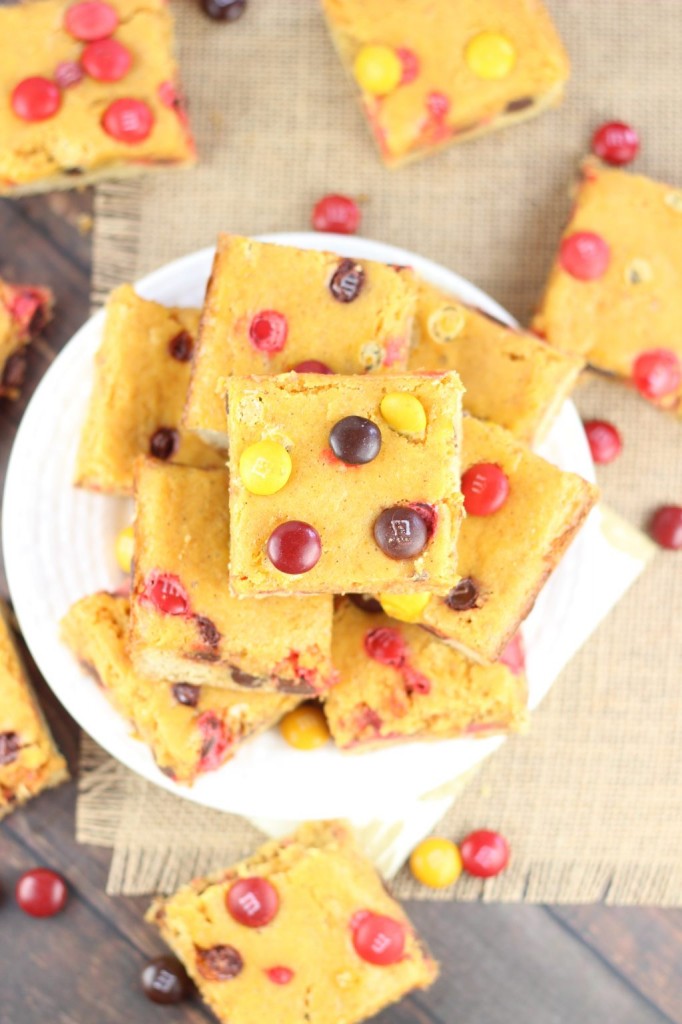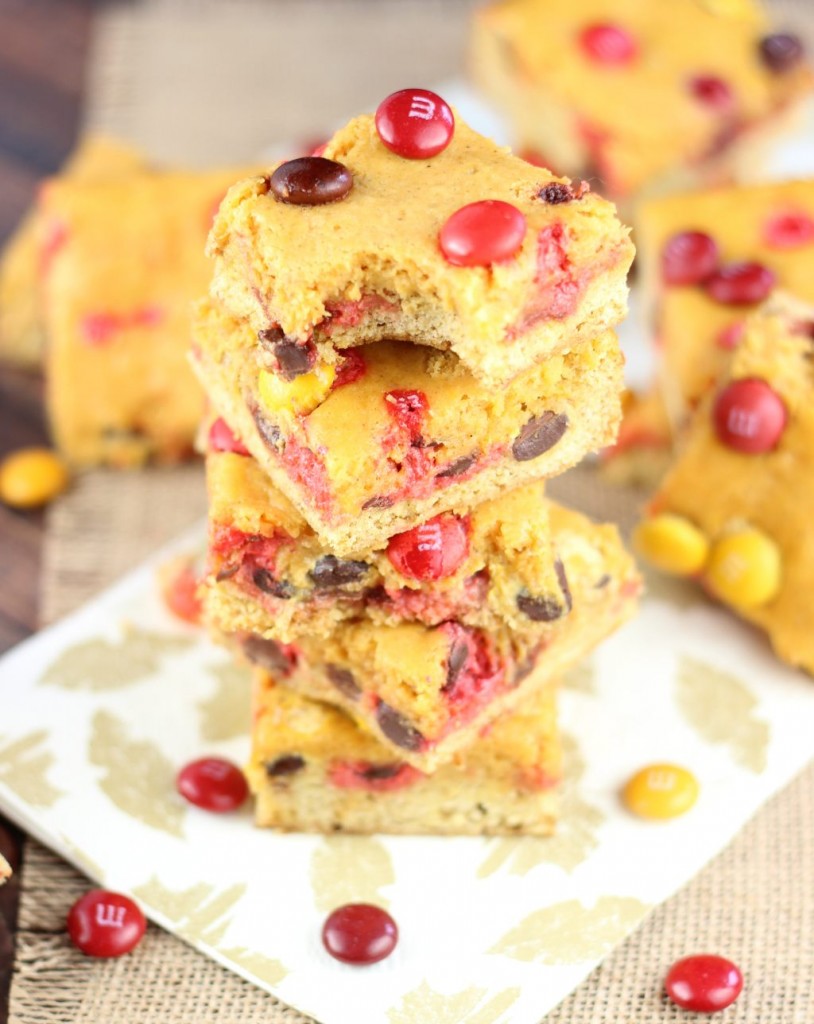 These bars are super simple to make, and they embody some of the best flavors of fall!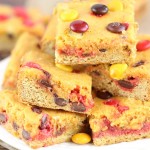 Pumpkin Pie Gooey Butter Bars
Pumpkin cake mix is made into pumpkin pie gooey butter bars, studded with M&Ms!
Ingredients
1

box Pillsbury™ Moist Supreme® Perfectly Pumpkin Cake Mix

1

egg

6

tbsp.

melted butter

1/3

c.

Mott's® Applesauce Cinnamon or Original

1 - 9.9

oz.

bag M&M's® Milk Chocolate Harvest or Pecan Pie

divided

1 - 8

oz.

package reduced fat cream cheese

softened

2

eggs

2/3

c.

canned pumpkin puree

1

tsp.

pumpkin pie spice

1 1/2

c.

powdered sugar
Instructions
In a medium bowl, combine cake mix, egg, melted butter, and applesauce.

Stir until well-blended, and press evenly into the bottom of a greased 9x13 pan.

Sprinkle with half of the M&M's®, and press them lightly into the dough.

In a large mixing bowl, beat cream cheese until smooth.

Add the eggs, one at a time, beating well after each addition.

Add the pumpkin puree, pumpkin pie spice, and powdered sugar, beating until smooth and blended.

Pour the pumpkin mixture over the cake mix layer.

Sprinkle with remaining M&M's®.

Bake at 350 degrees for 25-30 minutes, or until edges are golden brown and the center is set. Do not overbake.

Remove from heat to a wire rack to cool completely. Cut into bars. Enjoy!